In Rainbows – Meet the Maker Therese Lyons
If you want to know what it's like inside a rainbow, step into Therese Lyons' home studio. The Coffs Coast artist and maker creates physical manifestations of joy. We meet Therese and watch her weave magic and use a gun to paint flowers. Step inside the rainbow with us!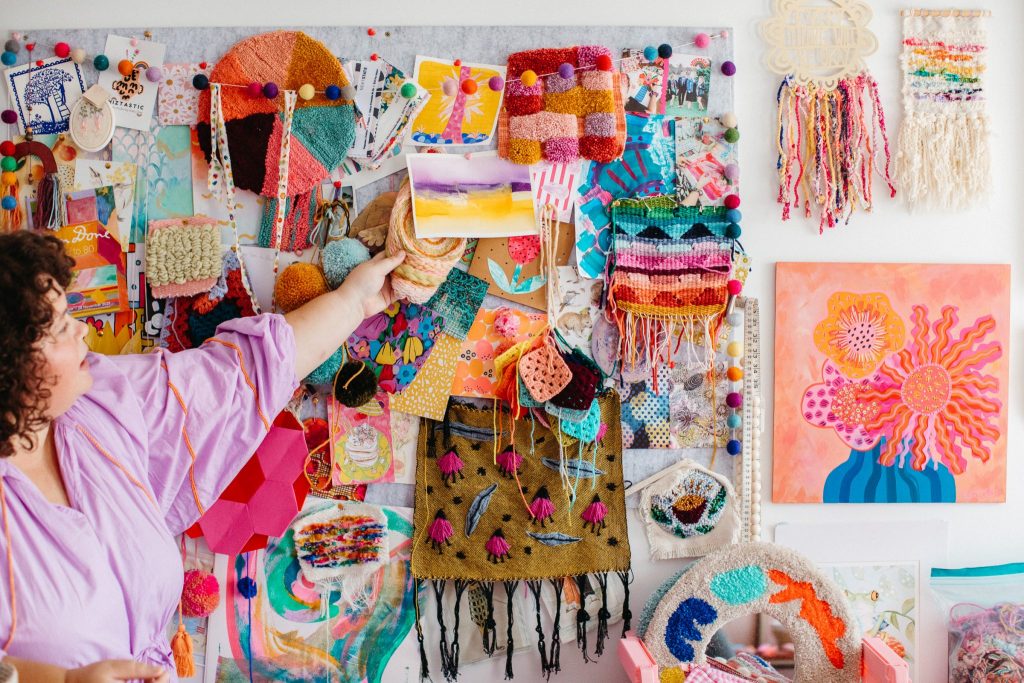 "I spend so much time trying to develop colour combinations and they always end up the same," she laughs. "I make a rainbow – I can't NOT do it!"
Whether it's her weavings, rugs, paintings or jewellery, Therese's unique handcrafted pieces inspire joy. A lifelong curiosity for all things art and craft took her to university where she studied textiles. Therese started her business Ena & Albert while living in Sydney and taught workshops around the country. Ena & Albert products were stocked across the city and things were humming along nicely. She was an Etsy darling and enjoying exciting opportunities like the David Jones Christmas markets. The move to the Coffs Coast came about 12 years after Therese's partner first suggested it.
"We got together when I was 20 and he started saying he wanted to leave Sydney pretty much straight away," she recalls. "When I got into my thirties, I closed down my business and felt ready to leave."
"We wanted to buy a house and get another dog plus we both love the beach," Therese continues. "It's four years this year here and we have absolutely no regrets."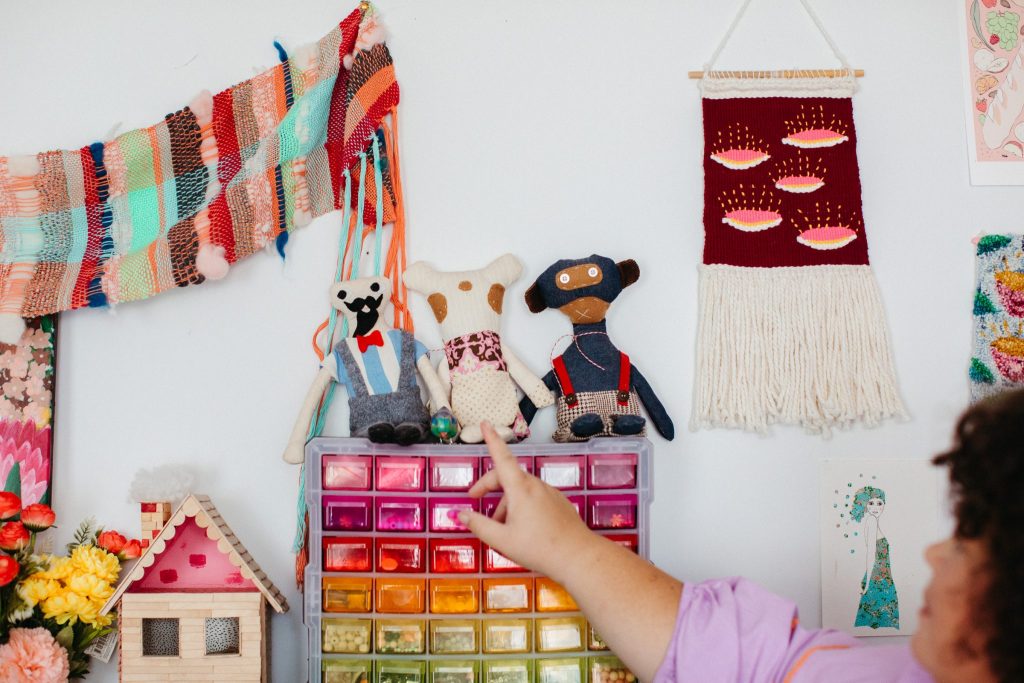 Colours in Kaleidoscope
As Therese settled into her new life on the coast, she enjoyed creating just for the fun of it. When she caught wind of Kaleidoscope Coffs Central's opening, the small fire inside her was stoked.
"The idea of Kaleidoscope got me really excited – I felt ready to make and sell again."
Therese is inspired by the space and her fellow makers. She only set up shop a few weeks ago but she's already thinking of possible collaborations. Therese acknowledges that the price of handmade items can be daunting for some but explains that each piece requires serious time, skill and love. She's working on smaller pieces like woven eye patches to make her work a tad more accessible.
"Little handmade things are like a gateway drug," Therese laughs. "You buy one small thing then turn around and realise your whole house is full of handmade items!"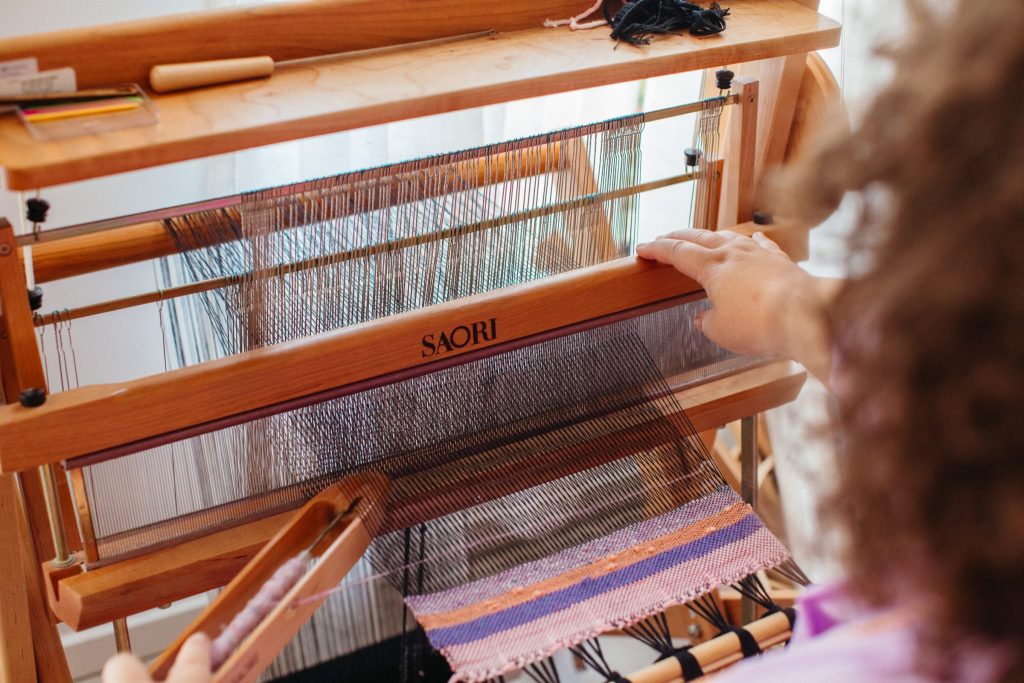 Shooting and Weaving
It can be difficult to grasp just how much work goes into Therese's textile pieces. A quick demonstration in her home studio puts the pieces together. Tufting is Therese's current obsession. She uses the technique to create her retro-looking patterned rugs.
"You thread your yarn through what looks like a gun, then "draw" onto fabric that is stretched over a frame," Therese explains. "I've been tufting about nine months and it's the scale that appeals to me – you can go big with it quite quickly."
Therese's pride and joy sits by the window at the front of her studio. The Japanese wooden floor loom was a gift for ten years of service at her last job. The Saori weaving method was founded by Misao Jo when she was in her fifties.
"A lot of weaving is about perfection whereas the Saori way is about creative expression – finding the joy in making so there's no such thing as a mistake, that's just part of the cloth," says Therese. "It suits me because while there are definitely proper ways to do things, my style is to figure it out myself."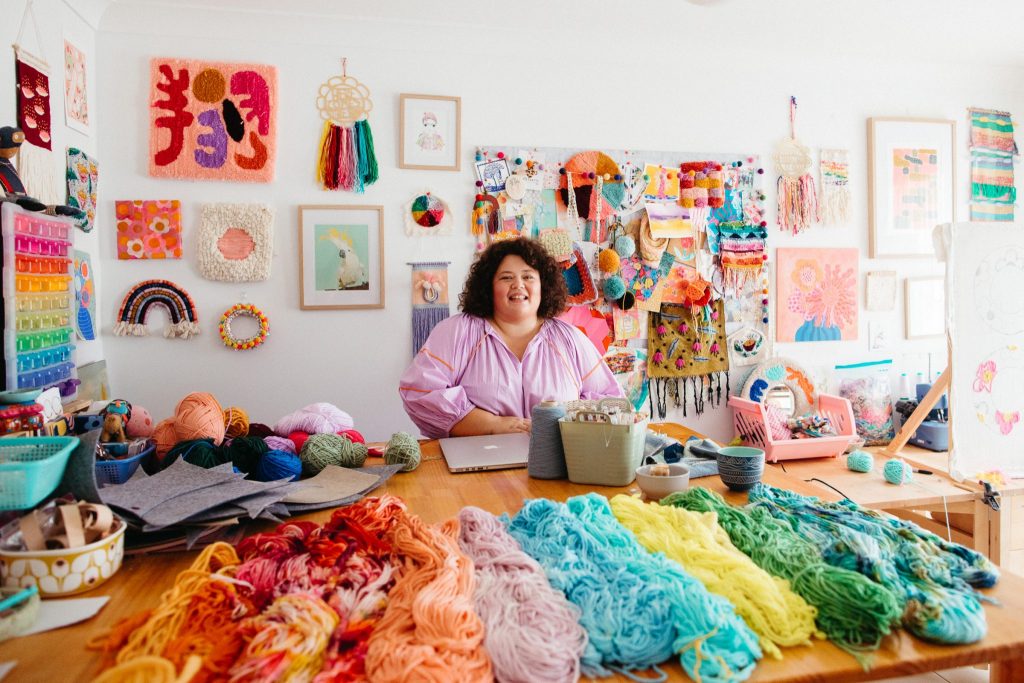 Find Therese's textile rugs, bags, mirrors and more at Kaleidoscope Coffs Central and follow her on Instagram.