Horse riding experiences of the north coast
Perhaps you were horse mad as a kid and found inspiration in great Aussie classics like 'The Man from Snowy River' or 'Phar Lap' or maybe you've harboured a secret desire to saddle up since becoming a grown-up? Regardless of your reasons, there are many horseback riding experiences to be enjoyed on the north coast. Here are some of Coastbeat's favourites…
Horseabout Tours – Tuncurry 
Whether it's the popular Beach and Bush Ride or a full day Pack Horse Lunch Ride, Horseabout Tours owner Craig Cross says 90% of riders who come to him are hopping on a horse for the first time. He says Horseabout Tours understand what it's like to be a beginner and are well placed to cater to a wide range of needs and preferences.
Riders are collected from Tuncurry and transported to Horseabout's property where they are fitted for safety equipment and matched with a horse before setting out on a family-friendly one and a half hour Bush and Rainforest Ride ($130), a two hour Beach and Bush  ($160) along oceanside tracks to the northern end of Nine Mile Beach, a monthly sunrise / sunset ride ($250) or even a half day Cowboy Up Lunch Ride ($280) (chaps provided!).
"It's a really special part of the world," Craig explains. "We're surrounded by beautiful bushland, lakes and beaches. Our guides know the area well and are committed to preserving it."
After ten years on the job, Craig says he still can't wait to get to work each day. "It's a hard game to be in at times but it's a great lifestyle!"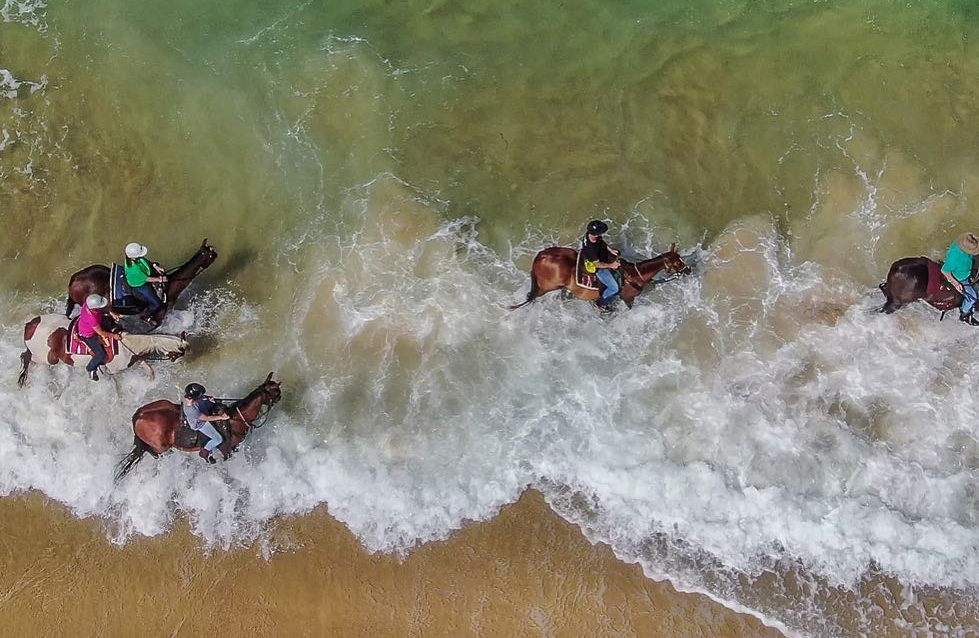 Riding on the north coast means you can enjoy the best of the bush and the beach. Image courtesy of Horseabout Tours
Port Macquarie Horse Riding Centre – Port Macquarie
You may have visited the stunning Cassegrain Winery and sampled its range of full flavoured yet soft and elegantly styled wines, but did you realise the grounds are also home to the Port Macquarie Horse Riding Centre?
Catering to small groups ($110 per person) and couples ($120 per person), riders are escorted on a relaxed one-and-a-half-hour meander around the Cassegrain property and surrounding bush trails. Multiple guides accompany riders which means the group is able to split to allow experienced riders to trot or canter if they wish.
You can choose from one of four daily ride times (8am, 10:30am, 1pm, 3pm) or opt for the Ride and Dine package if you'd like to enjoy brunch, lunch or high tea with bubbles. The Riding Centre also offers a school holiday program, an express trail ride, pony parties and social rides.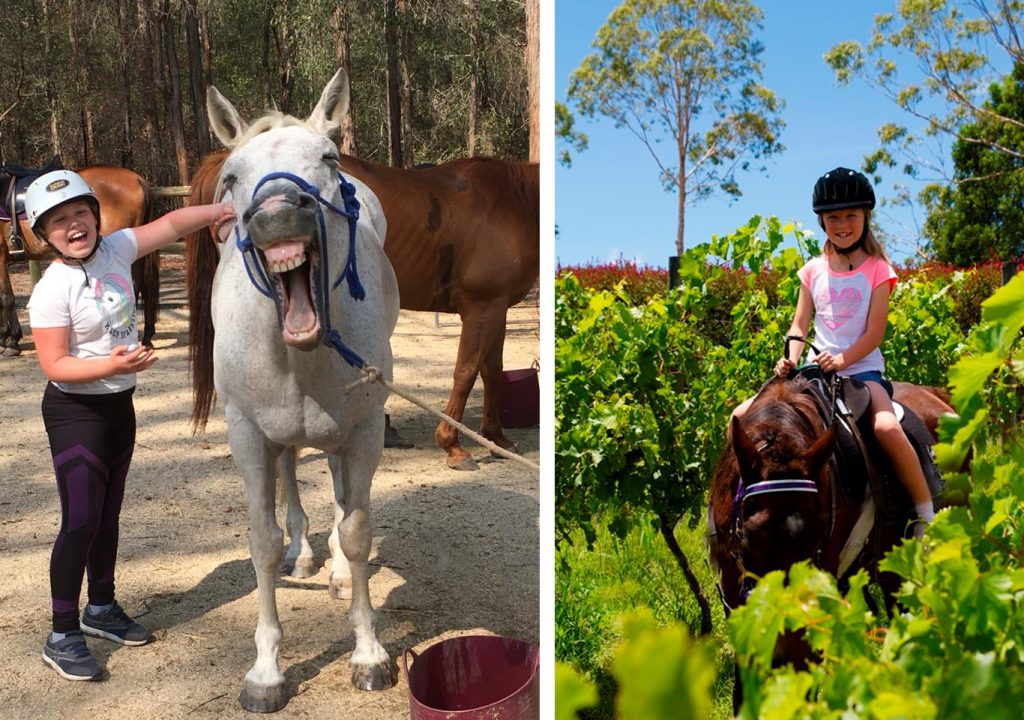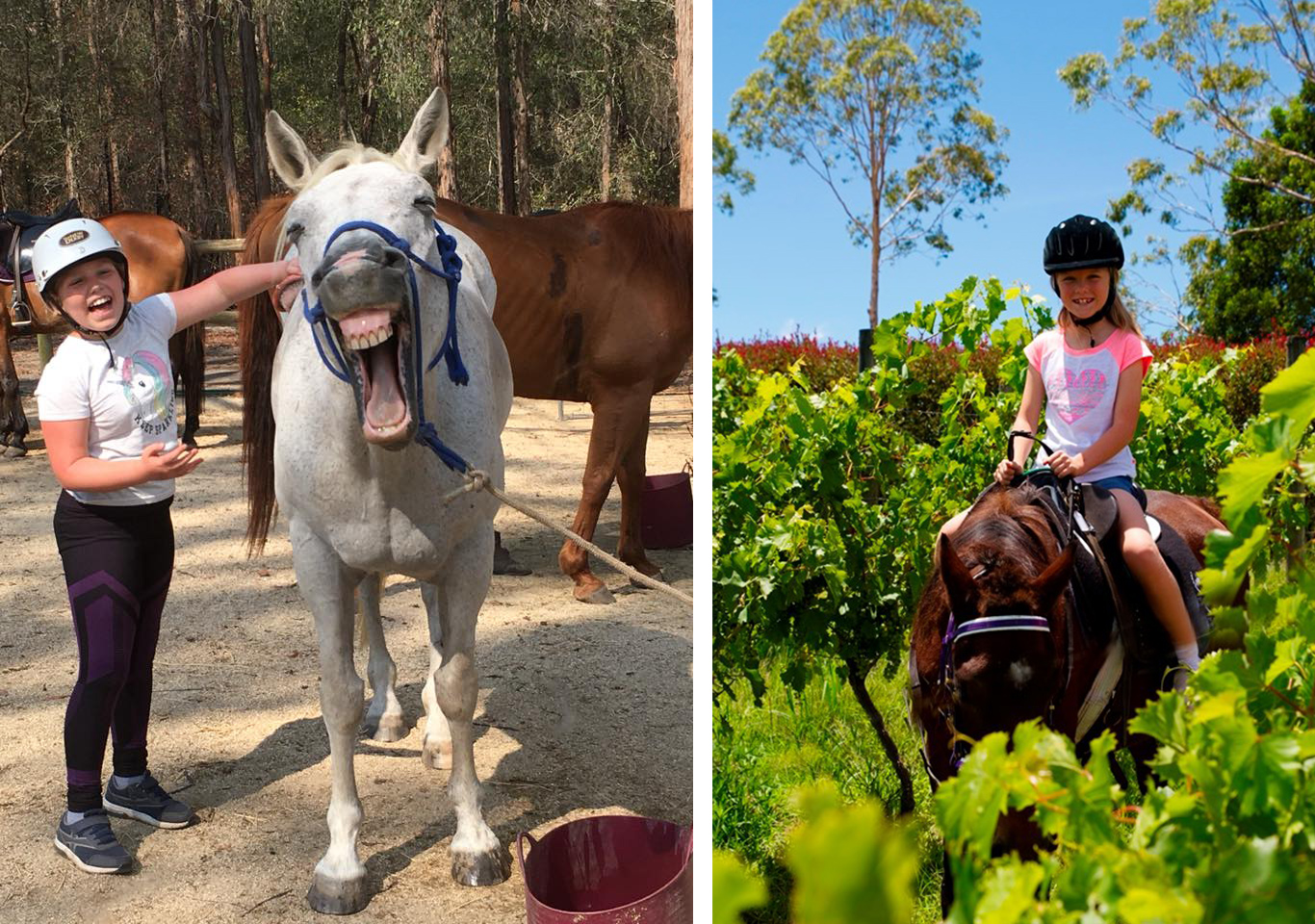 Children as young as six can enjoy the trails in Port Macquarie. Images courtesy of Port Macquarie Horse Riding Centre
Valery Horse Trails – Valery 
21 years ago, South Africans Clarry and Mary Quirk visited the Coffs Coast and fell in love with the region. So much so, they decided to buy Valery Horse Trails and relocate to the lush, green hills of Valery, half an hour south-west of Coffs Harbour.
Step onto their 250-acre property and it's not hard to see what won them over: dense rainforests, deep valleys, babbling creeks and winding rivers.
Valery Horse Trails offers a leisurely ride through the rainforest or a faster paced adventure over the hills and valleys of the surrounding state forest. Qualified guides accompany riders at 10am and 2pm every day (except Christmas Day).
Clarry says they want horse riding to be accessible to all and try to keep it affordable for families. A two hour trail ride is $80 for adults and $70 for children while a one hour ride is $70 for adults and $60 for children. As well as trail rides, Valery offers lessons and a kid's club, as well as a Riding for the Disabled program.
There's a ladies' ride every Friday morning, monthly rides for those wanting to build their confidence and birthday parties for groups of six or more. If you're not riding, you're welcome to relax by the pool, walk through the trails or ride a mountain bike around the farm.
Clarry says it's rewarding to see people develop strong bonds with the horses and notes that many people who rode at Valery as children are now bringing their own kids back to enjoy the special experience.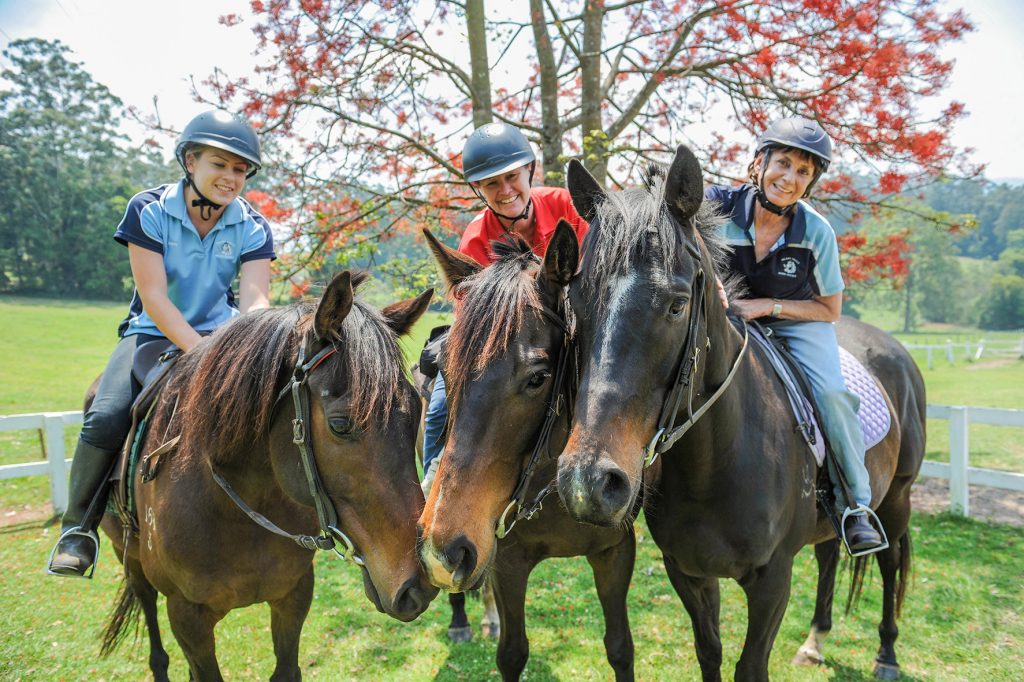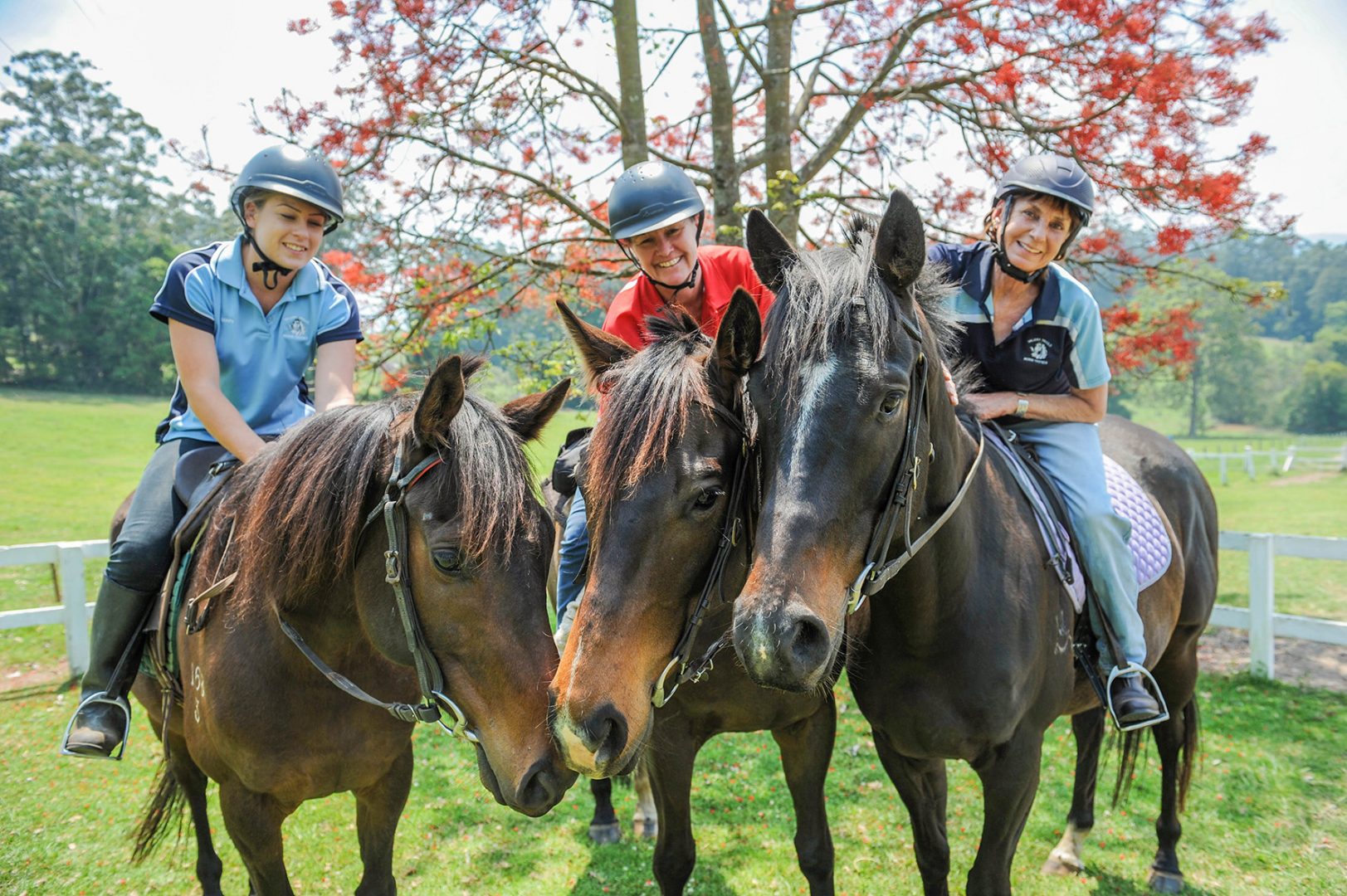 Valery Trails offers weekly ladies' rides for local women. Image courtesy of Valery Trails
HWH Stables – Upper Orara
When Chris Fenech and his family moved from the Kimberly to the Coffs Coast, he was looking for a way to continue the initiative he set up to support those with Huntington's Disease (HD), Holidays With Heart (HWH). After 14 years managing cattle stations, Chris was still mad about horses and wanted to honour his passion while raising money for HD research.
Chris opened HWH Stables at Upper Orara and began to offer horse riding lessons and group trail rides. As well as donating a portion of his profits, he decided to make HWH Stables available to families affected by HD and provide a free respite service.
"It's certainly a cause close to my heart," Chris explains. "I wanted to give other families the chance to spend the day on our beautiful property, ride a horse if they're able, and generally take their minds off the disease for a while." However, HWH Stables is open to all and the majority of visitors are not affected by HD.
Chris says the popular Beach Rides ($120 for one hour and $200 for two hours) take place on the picturesque Boambee Beach and give riders the unique option of splashing in the waves or swimming in the lagoon with their horse.
"One day I was at the beach and saw people riding camels," he explains. "I figured I could apply to bring horses down to Boambee, too!"
For Chris, a major focus is making sure his horses are trained to meet the individual needs of riders. Aware of the psychology behind such an activity, he says he's sensitive to the responses of new riders and tailors rides depending on their confidence and ability. "I can see when people are anxious, and I respond to that," Chris says. "I know how to ease the nerves and assure people they're in safe hands."
A keen photographer, Chris takes photos on every ride, so participants can focus on being present and enjoying themselves.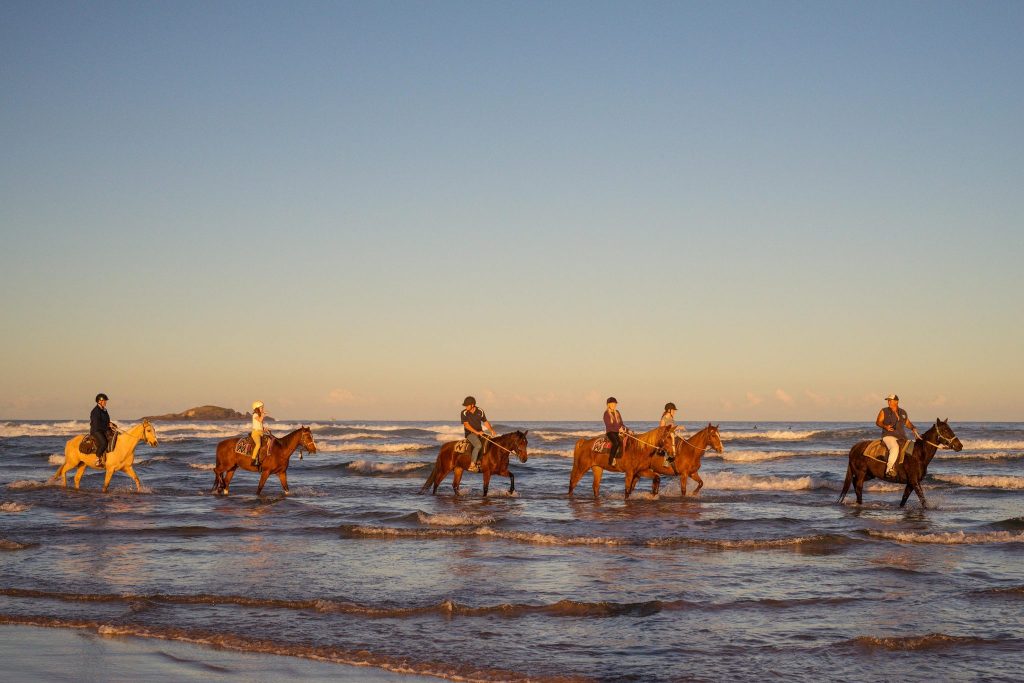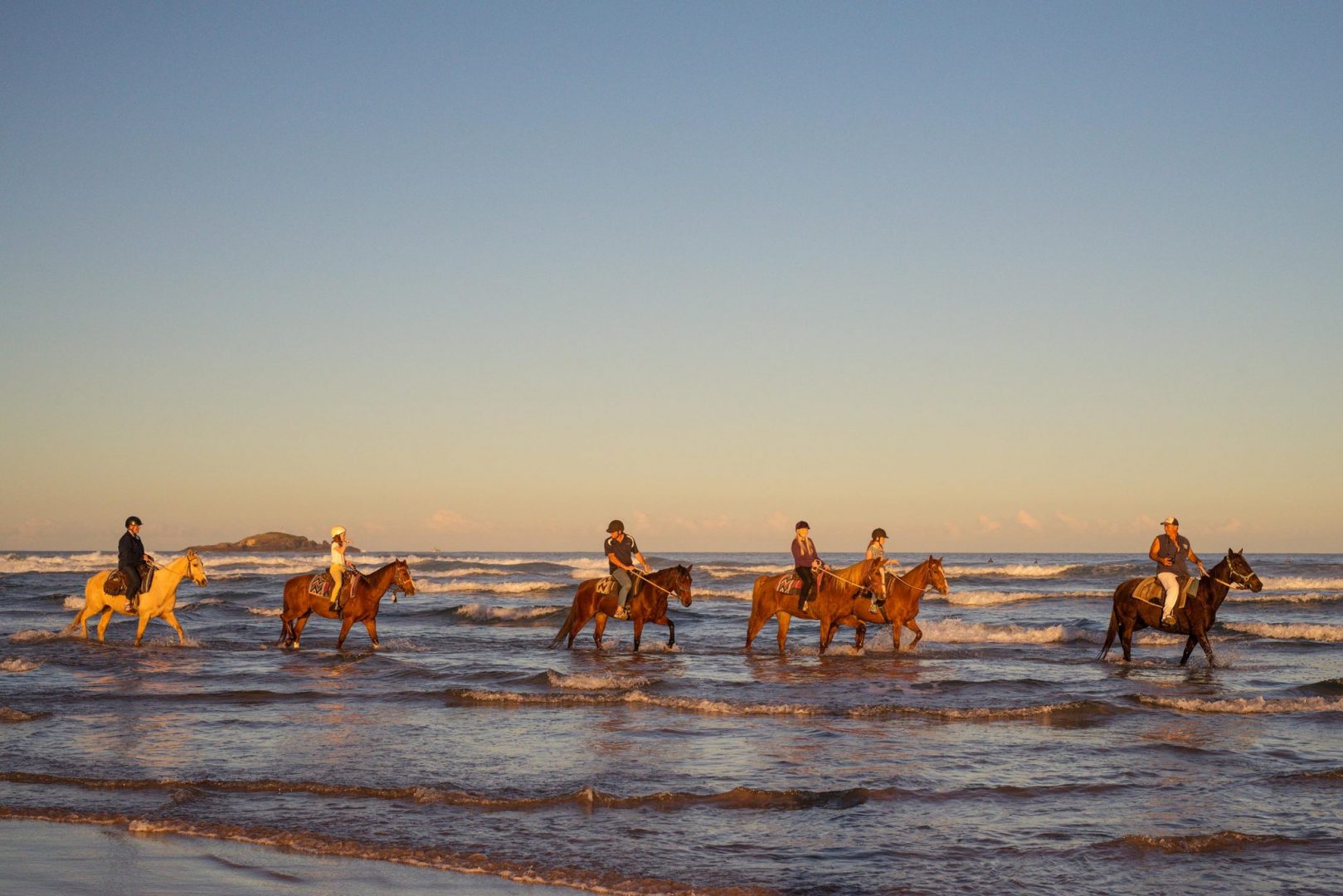 Chris Fenech says Boambee is the perfect beach for a sunrise or sunset ride. Image courtesy of HWH Stables
Zephyr Horses – Byron Bay 
Just a few minutes from the Pacific Highway, on the eastern side of the Byron Bay Arts and Industrial Estate, you'll find Zephyr Horses' coastal ranch.
Founded by Kate Noller, Zephyr began with the aim of providing personalised and indulgent horse-riding experiences for those desiring connection with the animals. Now specialising in small group horse tours through the forest and on the beach, Zephyr Horses also offer mounted archery and trick riding clinics, horseback pub tours, mustering camps, private lessons, Mini-Zephyrs (pony) Club and team-building activities.
You can enjoy a one-hour Forest Trail ride ($99 per person) which is a great way to get a glimpse of Byron Bay's diverse flora and fauna. You'll ride through the native Tea Tree swamp and may navigate water on some parts of the track. The Extended Forest Trail ($130 per person) with a Beach View is 1.5 hours and takes riders along the dunes overlooking the beach. The Forest to Beach ($140 per person) follows the diverse forest trail before arriving at a spectacular entrance to the beach. The group then rides along the water's edge and back through the forest to the Zephyr ranch.
Zephyr recently began Weekend Escape Muster Camps. The overnight adventures include mustering, yarding and penning lessons, a horseback swim in the dam, whip cracking and a working dog demo. Horses, equipment, meals and tents are provided.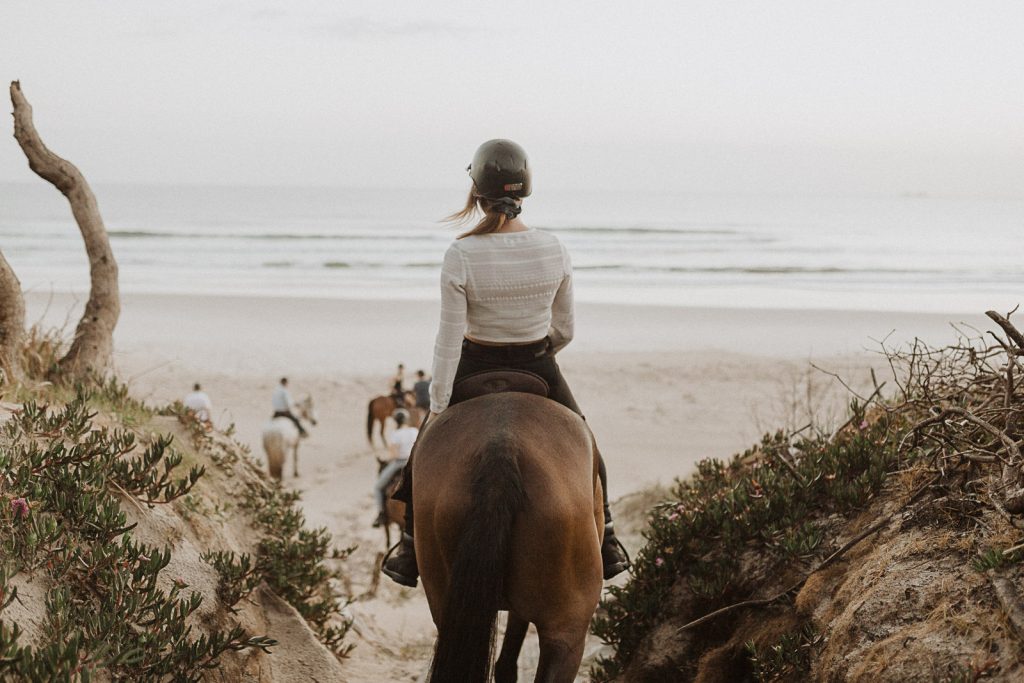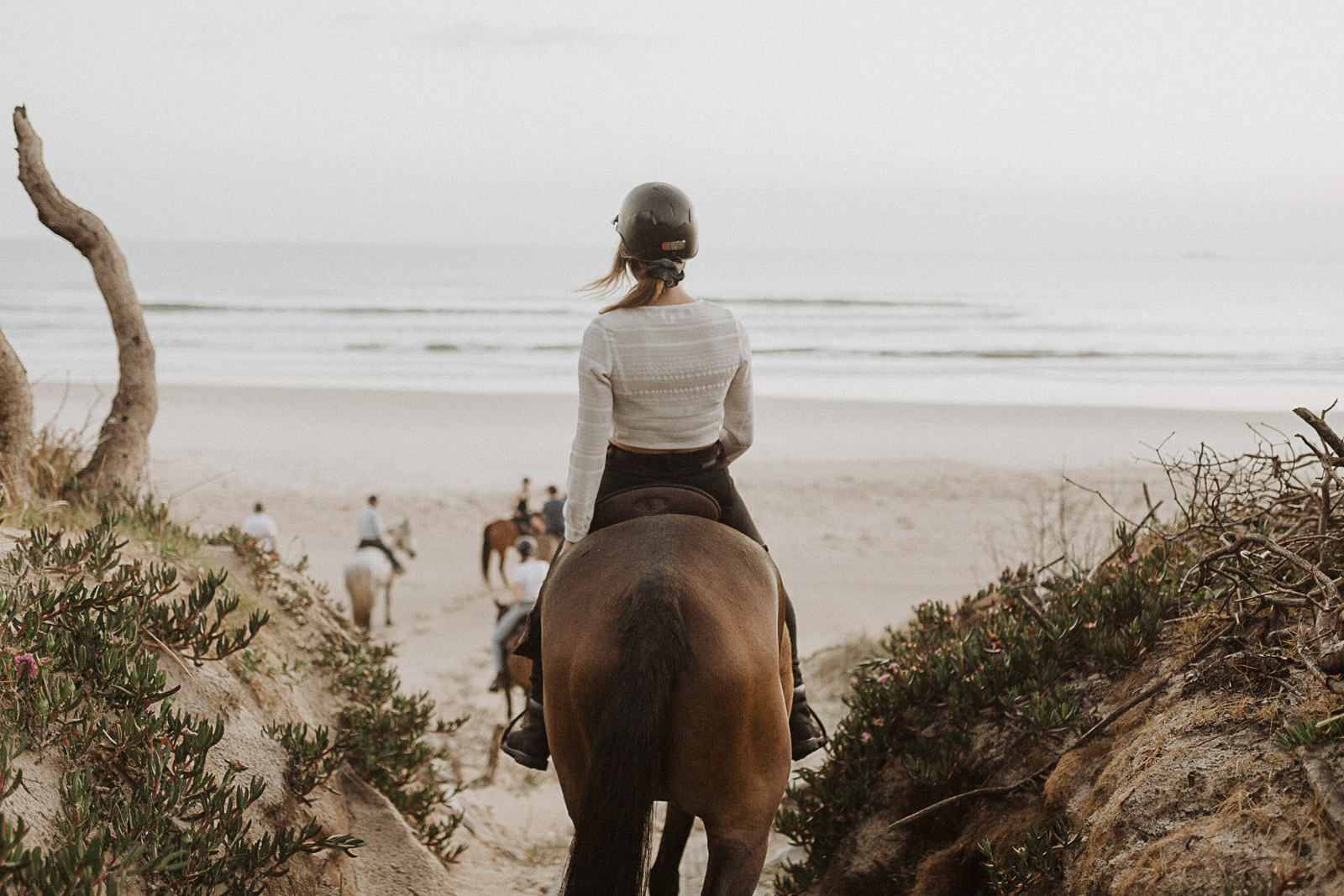 Zephyr Horses in Byron Bay specialises in small group tours through the forest and on the beach. Image by Elize Strydom

Love outdoor adventures? See our website for lots of great activities across the region.