Häuslein Tiny House Co.
'Looking at life in a different way'. This is the vision of husband and wife duo Scott and Sarah Rohdich and their best friends David Boyd and Sam Verlaan. Together they are changing the views of first homebuyers, retirees and savvy investors around the country who are choosing to live life a little more simply, smartly and most importantly – sustainably.
It's been five years since Sarah and Scott Rohdich were inspired to launch Häuslein Tiny House Co. The word 'Häuslein' is German for 'little cottage' – a reference to their heritage and love of fine German quality finishes.
After living in a 'tiny house' for two years on a property belonging to Sarah's parents in Alpine Victoria, the pair was surprised at how quickly they adapted to the 'simple life'. "You don't need as much as you think you do," says Sarah. "Scott and I were amazed at how easily we adjusted to small living; even once our first child turned one and started walking. Yes, it was a little tricky for a while but we all just loved it."
"We believe reducing debt and living more simply can be part of the solution for a more wholesome lifestyle that many of us long for."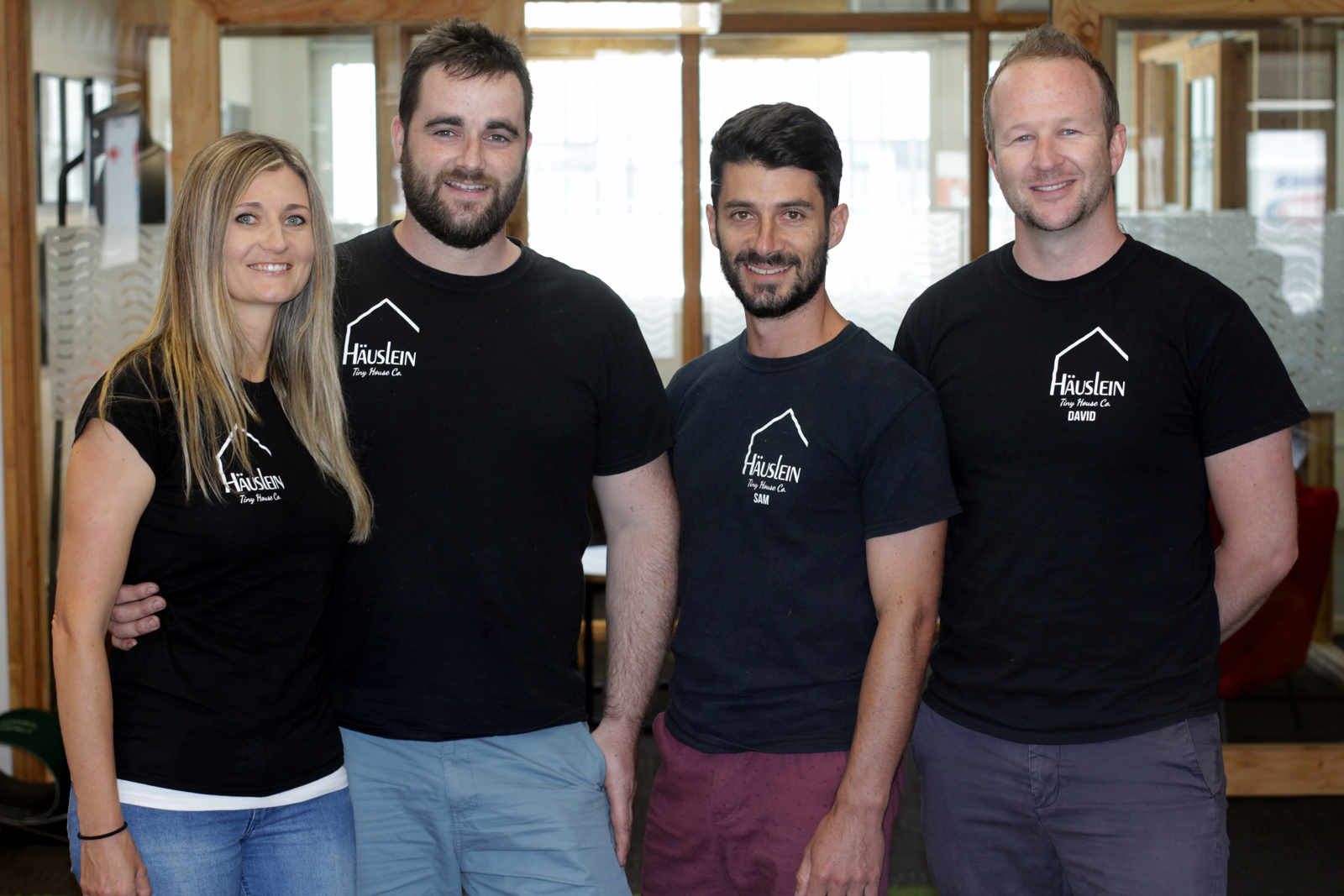 The Häuslein team Sarah, Scott, Sam and David
While many would cringe at the thought of life in a confined space with a toddler, for the Rohdich family, it was an adventure. "We spent most of our time in the great outdoors or getting in the garden to run off energy," says Sarah.
"Inside, we created 'zones' and we'd place different books and toys in these areas to create variety. Living in a tiny house also meant getting serious about house-training Micah early for safety (we had a fireplace in our first tiny home!). But it was so much fun and even now, Micah who is four and our 18-month-old son Judah plead with us to go back to the 'little house'!"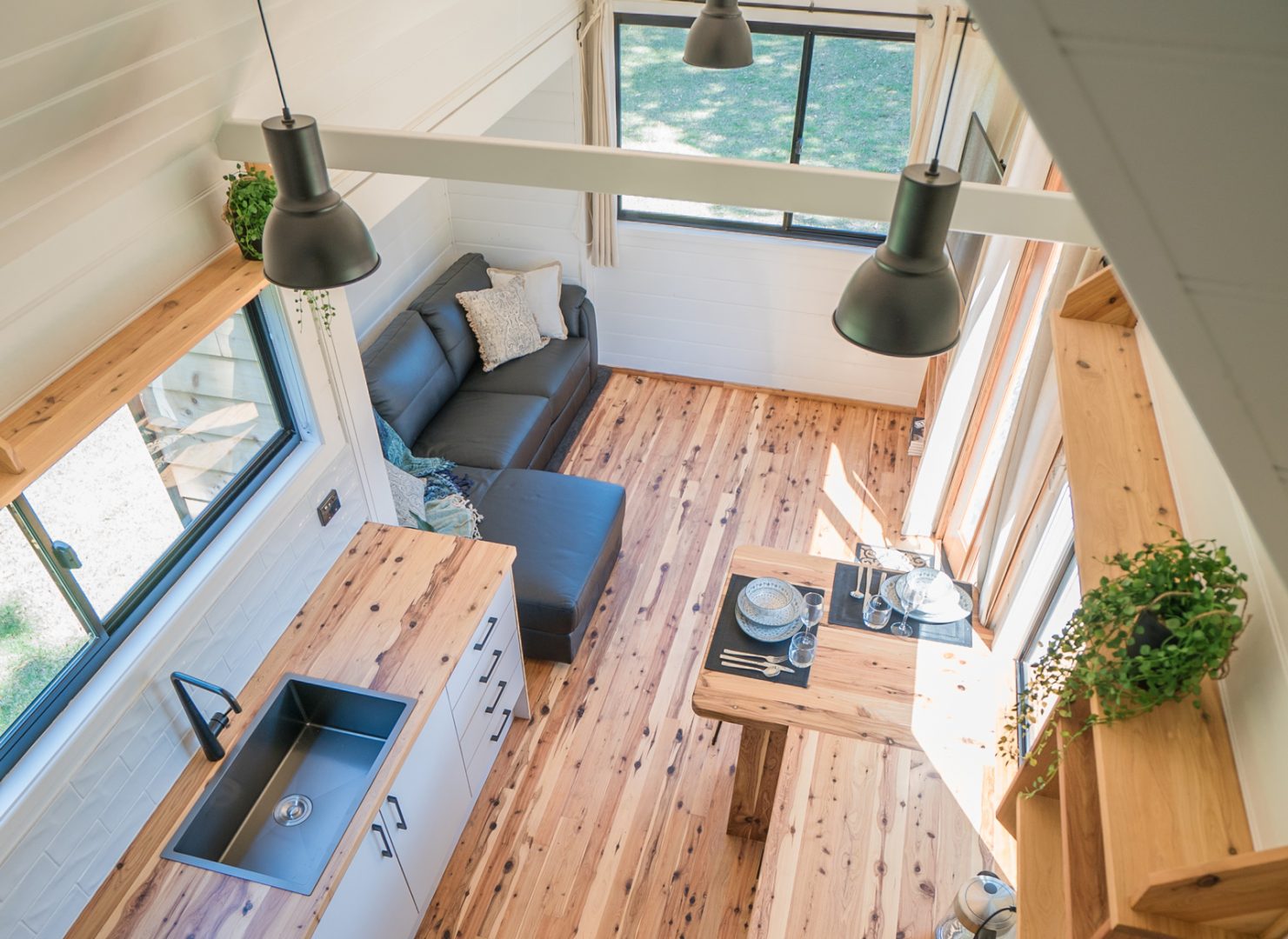 View from the upstairs loft bedroom. Image by Zane Wilson
After their life-changing tiny house experience down South, Sarah and Scott decided to relocate back to Port Macquarie, where they'd met and married, in pursuit of their new venture. According to Sarah, there's a Häuslein Tiny House to suit just about anyone.
"Whether it's for extra 'granny flat' type accommodation in the backyard, a weekender, downsizing, a mobile business or a stepping stone to being able to build or buy a bigger house if you're struggling to break into the housing market, Häuslein is for you. It is all about encouraging people to consider a simpler life, less debt, less stress and more of the important things in life."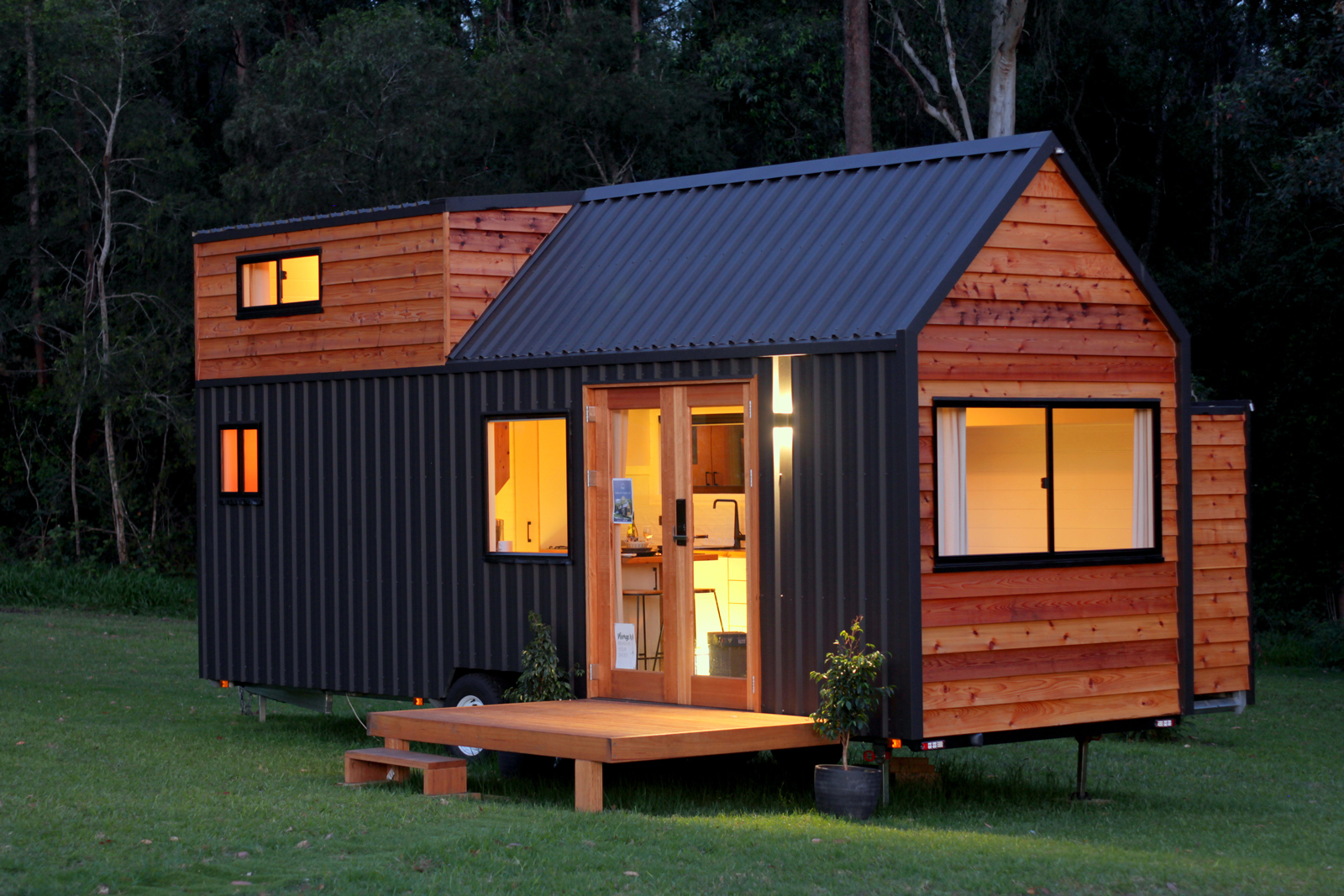 A Häuslein house by night. Image by Scott Rohdich
It seems this different perspective has made quite an impression on the local community with the pair overwhelmed by the support they've received. "We had around 300 people turn up to our first open day to see our display and many more since then. Lots of people were already interested in the tiny home movement and were therefore very excited to have a local company that would be able to build them a high-quality tiny house," Sarah says.
Taking between two to four months to build, there are three models of the tiny house to choose from; the Little Sojourner, the Sojourner and the Grand Sojourner.
"At 20 metres in size with one bedroom, one bathroom and a loft upstairs, the Little Sojourner is a little more compact and ideal for someone looking for a really plush caravan and who is keen to travel."
View from the loungeroom to the kitchen, bathroom and loft. Image by Zane Wilson
The next step up, The Sojourner, features a pitched roof and has one bedroom, one bathroom and is slightly bigger in size. The largest home, The Grand Sojourner, features three bedrooms, one bathroom and, at 32 square metres in size, could fit the whole family.
Functionality is key to the design, according to Sarah, with all homes featuring clever storage spaces and full size appliances.  "We found this really invaluable when we were living in our little house. You don't feel like you're living in a cramped caravan because you can do everything you would normally do in a larger home. There is a full-size fridge, oven, four-burner stove and a huge kitchen sink. Everything is as it would be in a traditional home."
Plus, all homes are capable of going completely off grid with solar and battery powered systems, a composting toilet, water collection system and eco-friendly drainage systems.
"It's all about making it comfortable, sustainable and, if you want to just pack up and go and live somewhere remote, you can!"
For the team behind Häuslein Tiny Houses, it's all about creating a lifestyle that gives people the time to appreciate the little things – a life without the financial pressures of a mortgage. "We believe reducing debt and living life more simply can be part of the solution for a more wholesome lifestyle that many of us long for," says Sarah.
Sarah, Scott, David and Sam are all about offering people a 'less-stressed life.'  Sarah adds, "We believe life is for living and for enjoying."
Sounds good to me. I wonder how much a deposit is?
For more information on Häuslein Tiny House Co, visit www.hauslein.com.au