Green Gully Adventures
This 65km hike may be a little outside Coastbeat territory but as the only hut-to-hut multi-day walk in NSW and just 2.5 hours from Port Macquarie, it's perfect for long weekend exploration. The award-winning Green Gully track is considered one of the best in the state and takes hikers deep into one of the largest gorge systems in Australia. Read on to find out more…
Words and photos by Matthew Gunn for Great Walks, where this article was first published.
It's not very often you get that feeling of having an entire national park for your exclusive use, but if you tackle the spectacular Green Gully track within the Oxley Wild Rivers National Park in the NSW Northern Tablelands, that's exactly the experience you'll get. And it's as cheap as chips!
It's the only hut-to-hut multi-day walk within NSW NPWS and as such, needs to be booked in advance. As a result, only one group – (ranging from two to six walkers with no single walkers allowed) can walk one of the four legs on a given day. And due to its location, there's minimal chance you'll encounter day trippers.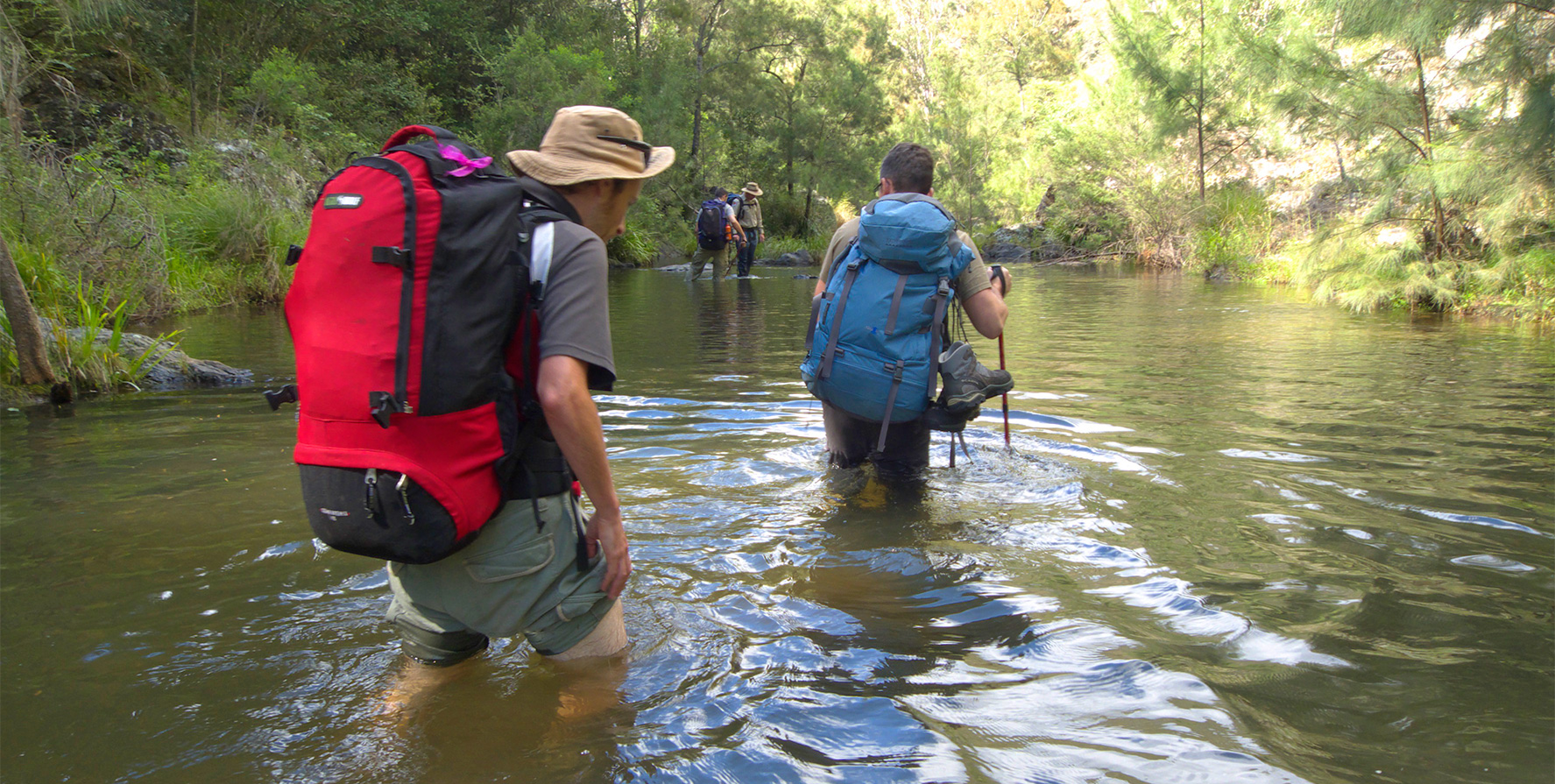 The walk presents more than 20 creek crossings
The trek showcases the heart of the Aspley-Macleay gorge system. Sure, the accommodation with indoor and outdoor fireplaces in rustic huts lays the foundation for a comfy night's sleep, but if you think this is an easy multi-day hike, think again.
The 65km loop walk is challenging and certainly beyond the capabilities of a novice walker, particularly given the need to pack hike with four days of supplies. But those who are fit and have multi-day hiking experience will be rewarded with a spectacular adventure. Personally, it's the best multi-day hike I've been on in NSW!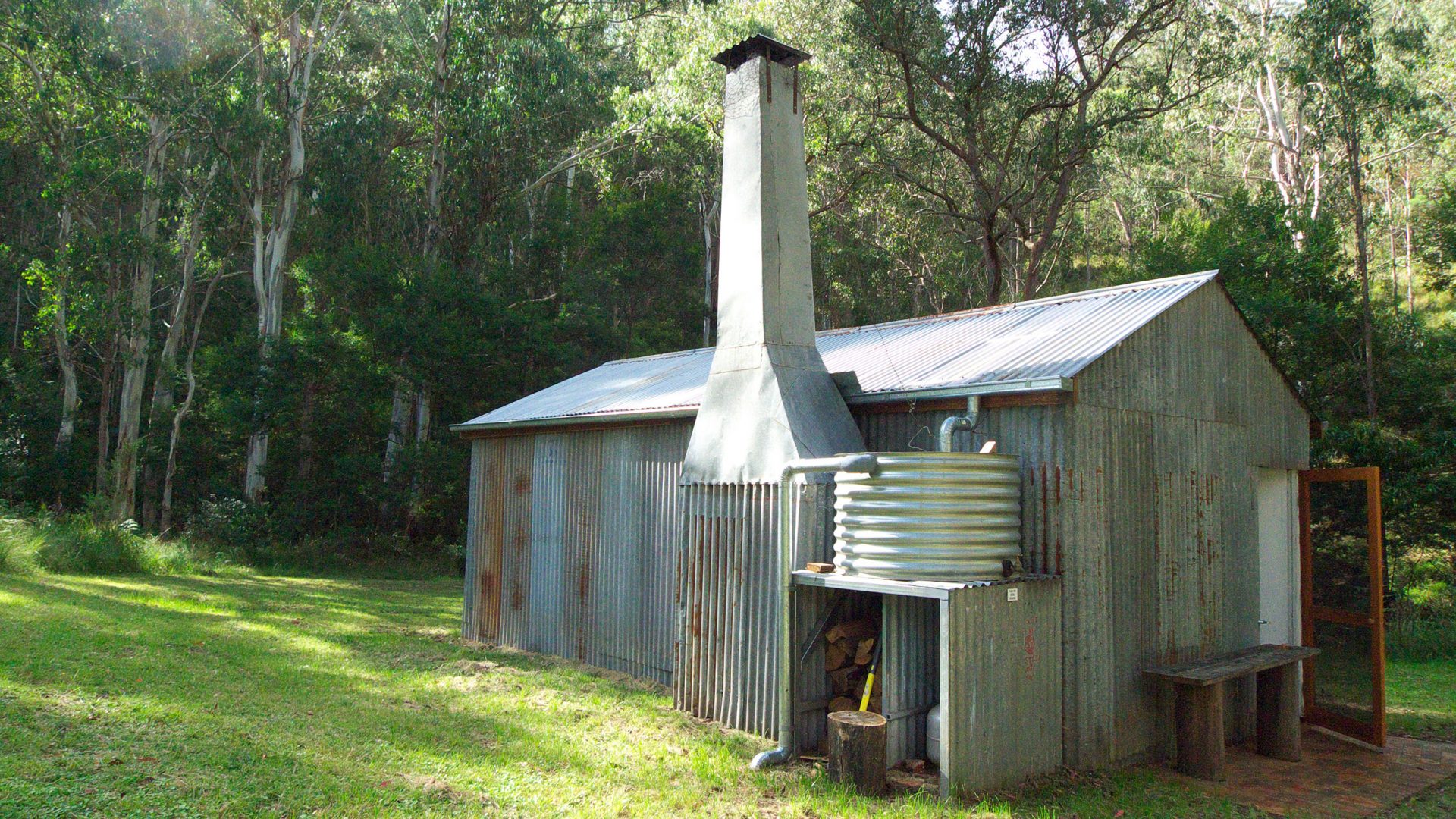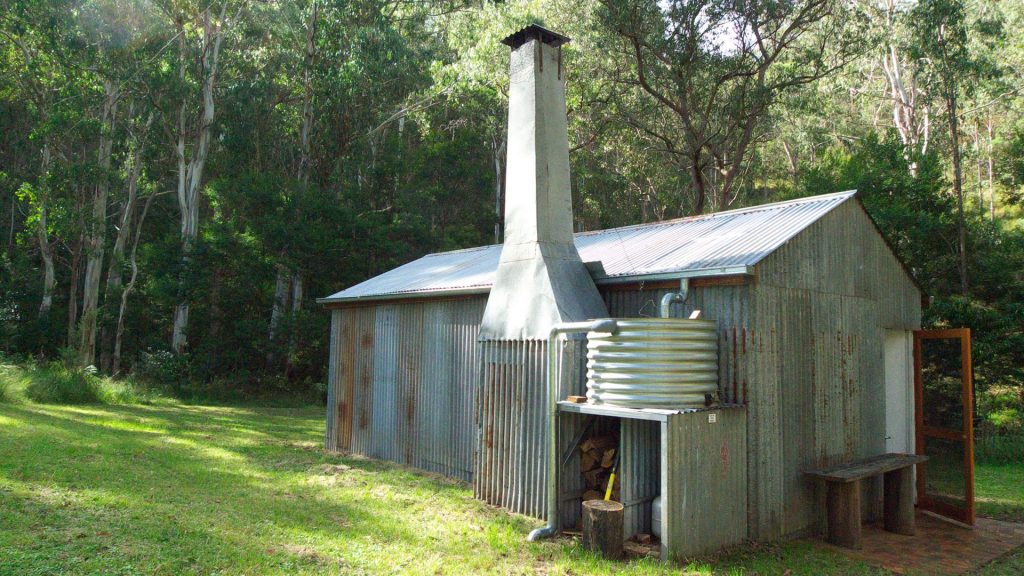 Birds Nest Hut
Day 1: Cedar Creek Cottage to Birds Nest Hut. After a night at the Cedar Creek Cottage, the first walking day is a comfortable introduction, guiding you 18km along an undulating management trail. Spectacular views over the Kunderang Brook valley and visiting the Colwells stockyards are highlights.
Day 2: Birds Nest Hut to Green Gully Hut. You immediately leave the wide management trail behind and there's only the faintest outline of single track as you make your way to the walk's highest peak at 1200m which boasts some magnificent views down to Green Gully Creek before a quad-killing 800m descent to Green Gully Hut. You experience a great sense of creating your own trail.
Day 3: Green Gully Hut to Colwells Hut. Ditch the boots and put on an old pair of trail runners or Dunlop Volleys, because today your feet are going to get wet. There are more than 20 creek crossings over 14km and you spend just as much time trudging in Green Gully Creek as you do alongside it. From ankle to thigh deep, it's an adventure. Around mid-walk there's an awesome pass between two cliff faces and a spectacular swimming hole.
Day 4: Colwells Hut back to Cedar Creek Cottage – A definite lung-buster. A 500m seemingly vertical climb out of the gorge certainly warms you up on a chilly morning. Thankfully, the pack is much lighter with fewer supplies by now. Again, there are amazing views over pockets of dry rainforest before you rejoin the management trail back to your starting point for an optional night again where it all began – Cedar Creek Cottage.
For more information on how to get there and to book, the NPWS has all the info you need.