Girl Meets Shark
The Grey Nurse Shark
I am lucky enough to call the sunny coastal town of Forster, home. I consider it paradise on earth. I love the crisp mornings on the beach with my dog, the peaceful afternoons on my property with my horses. I love the buzz during summer when we get visitors from far and wide enjoying our world-class beaches and incredible lake system. And of course, I live for the quiet times either side of the busy season when the weather is lovely, and the town is back to her normal self.
One of my earliest memories is of snorkelling with my dad at Latitude Rock off the front of the Cape Hawke headland. I remember looking at the fish, kelp, turtles and rays and feeling so at home – like an actual mermaid. It was during this snorkel that I saw my first Grey Nurse Shark.
One of our coast's most vulnerable residents
They were difficult to see from the surface – their backs are a dark bronze-grey colour and they prefer hanging down low near the bottom. At the time they just looked like slow moving shapes. It dawned on six-year-old me that there was no need to fear these sharks – they were placid, relaxed and posed absolutely no threat to the humans snorkelling above them. I was in love!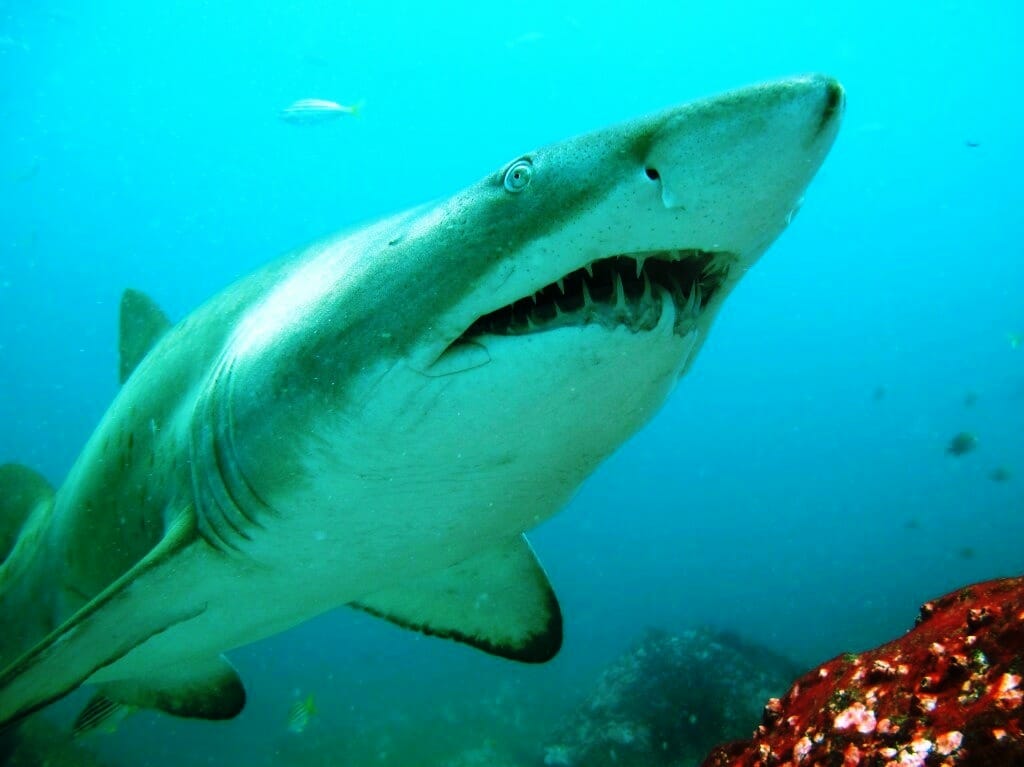 After this snorkel, my dad, who has always been a passionate conservationist, told me about the Grey Nurse Shark and how they were heading toward extinction. Even at the age of six, this news awakened my inner conservationist and I wrote a letter to Parliament, entitled 'Bob Carr – Please Save Our Grey Nurse Shark.'
These sharks have an embattled history. In the 1960s they were observed to aggregate at around 60 different sites along the east coast of Australia. Some 40 years later, in a subsequent survey conducted by NSW Dive Centres and clubs, the sharks were present at less than a quarter of the previously observed aggregating breeding grounds.
For those of us who love and appreciate the Grey Nurse, it's devastating to realise that this particular species has experienced such a catastrophic decline in their population.
The decline is mostly attributed to selective targeting of these placid sharks by spear fishers in the 1970s who even went as far as using exploding spear tips. Grey Nurse Sharks had a false, 'man-eating' reputation and were easy marks as they aggregate in schools at the same spots. From a spearfishing perspective, it was easy pickings due to the shark's docile temperament. Their meat was used as flake for fish and chips, and the fishermen were hailed as heroes for ridding our coastline of these allegedly, 'terrifying beasts.'.
After the population was decimated and almost wiped out, they were declared a vulnerable species in 1984 and the Grey Nurse Shark became the first shark in the world to be protected.
However, it wasn't enough. In the mid-90s, dive centres and clubs up and down the NSW coast, from Batemans Bay all the way up to Byron, began to talk amongst themselves; where were all the sharks going? They weren't migrating and moving up and down the coast; they were dying. Something had to be done; the sharks may have been protected but it wasn't working.
Together with NSW Fisheries, our dive centre and many others in NSW participated in a two-year survey noting numbers and sizes of individuals at our dive sites. This data was forwarded to the NSW Government. It showed what we feared: there had been a notable decline in numbers across the state and many sharks were affected by fishing hooks and nets.
Professional fishers were using set-lines to catch wobbegong sharks (predominantly); Grey Nurse Sharks who inhabit the same reef systems were bycatch. They were drowning on the set-lines, an unfortunate consequence of this non-discriminatory fishing method.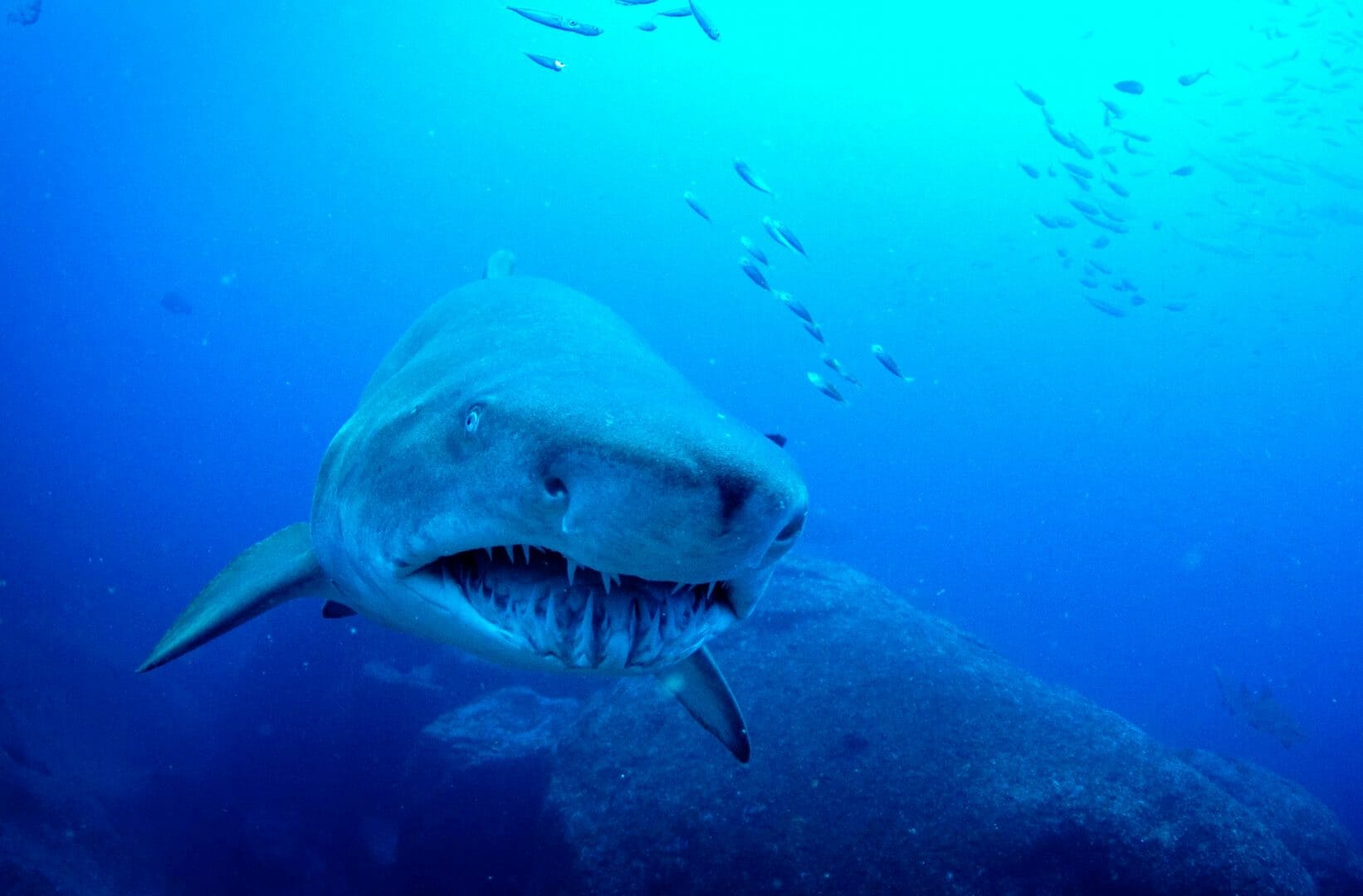 This data showing the massive decline in GNS numbers was a grim victory for us – it proved what we had suspected. NSW Fisheries examined the results of the survey and concluded that the Grey Nurse Shark was in dire straights. Estimates indicated that our east coast population had dwindled to less than 1,000 sharks.
Following a massive community push by these conservationists and SCUBA divers, the GNS was declared critically endangered in 2003. The east coast population is still considered critically endangered.
Declaring this shark critically endangered was an important turning point – the NSW Government now had an obligation to protect the Grey Nurse Shark's habitat as a part of Australia's signing of the United Nations Convention on the Law of the Sea. Ostensibly, by acknowledging how dire the situation was for this species, Australia had to do whatever it could to preserve the habitats and aggregation sites of these sharks.
They were, and still are, very affected by fishing in their habitats. Through constant lobbying from the Conservation bodies together with the NSW Dive Centres & Clubs, we finally managed to get protection areas for these sharks in the form of NSW Marine Park Sanctuary Zones.
After all that, it may seem like the battle has been won. To my knowledge, there are thankfully no plans to modify our coast's existing Marine Parks. This is great for everyone –  not only have we seen a marked increase in fish life, numbers and diversity of species in our Marine Park, we have also seen a massive spill over of fish and sharks into areas outside the sanctuary zones. After all, the fish can't see the invisible lines drawn on the map!
Australia wide (particularly in the Coral Sea) there have been changes and scaling back of protection areas. If you feel passionate about marine conservation as I do, head to http://saveourmarinelife.org.au/ for more information and to pledge your support.
About Gabby 
Gabby is 26 years old – she lives and works in Forster. She spends around three months of the year overseas SCUBA Diving and experiencing wonderful adventures. When not enjoying underwater experiences in destinations like New Zealand, Tonga and West Papua, she is based at the family-run dive centre, Dive Forster at Fisherman's Wharf. Gabby was just 22 when she attained her Commercial Vessel Master's licence and is regularly seen around the Forster waterways, at the helm of charter boat The Avanti.
Diving image of Gabby by Kerry Miller