A New Farm to Plate Dining Experience in the Byron Bay Hinterland
Frida's Field is a family-owned farm and restaurant inland from Byron Bay at Nashua. With a focus on holistic and ecological farming practices, owners Jeanie Wylie and Edward Rawlings aim to actively reverse environmental degradation while producing food that is more natural and nutritious. For months last year, excited locals and social media followers eagerly observed the construction of an on-site restaurant which is now open to the public for a series of springtime long lunches. Coastbeat enjoyed a taste of what's in store.    
Picture yourself at a long table with an abundance of fresh, local food laid out in front of you. Each course has been thoughtfully prepared by a top-notch chef and the flowing feast is served over the course of a few hours. You have the time and space to enjoy your meal slowly and mindfully as you gaze out onto lush green fields dotted with trees and a small herd of healthy cattle. A gentle breeze moves through the large barn-style doors, rolled back to allow the outside in. You don't need to imagine it; this is the Frida's Field experience.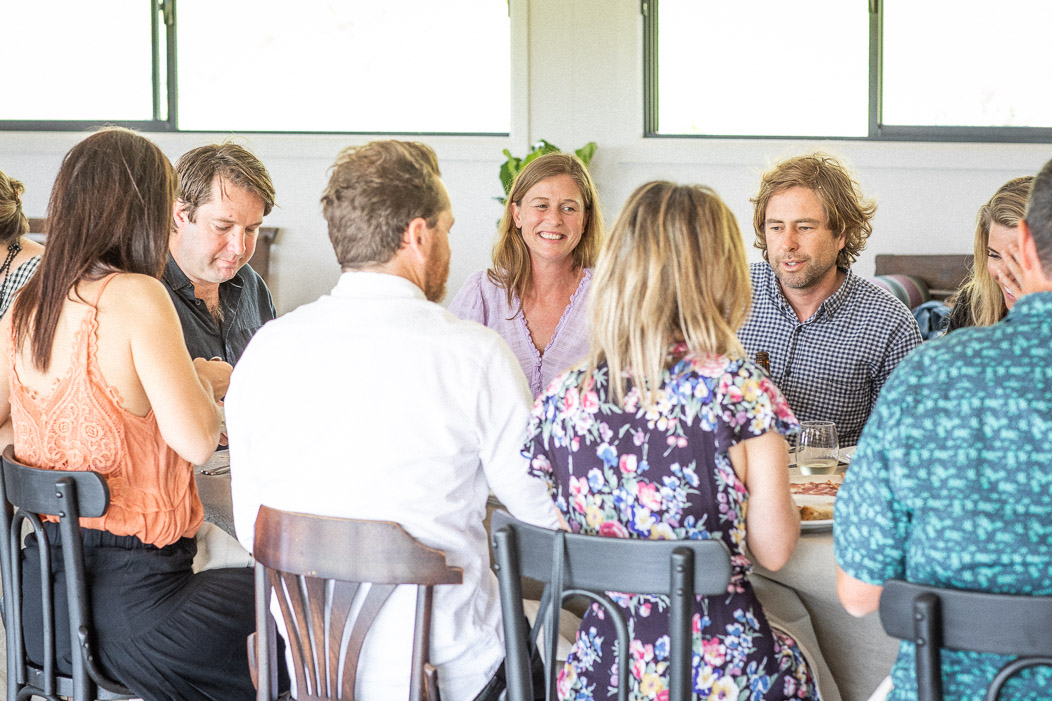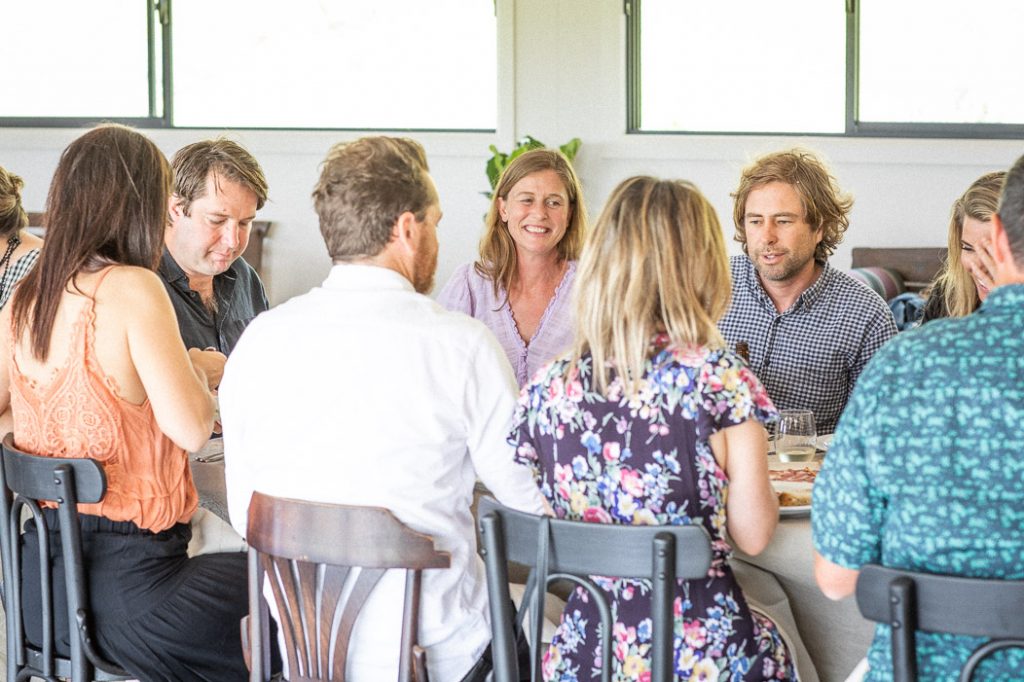 Finding Frida's Field
Named after a big ginger pig that Jeanie and Edward bought when they first moved to the country, Frida's Field has been five years in the making. After a stint on Edward's parents' farm in Ipswich, the couple felt ready to take the plunge and purchase their own property. 
"We were looking for a region where we could grow food in the way we wanted and know there would be a market for it," Jeanie explains. "We were also on the hunt for a good place to raise our three kids."
They found what they were looking for in Nashua, just inland from Byron Bay. Edward divided the 120-acre property into 16 paddocks and began to breed a Wagyu bull with Angus cattle. 
Ecological Farming Systems
The herd of 50 are rotated every few days, in line with Jeanie and Edward's goal to sequester carbon, build soil health and foster diversity through holistic farming and animal management techniques.
"If grasses are chewed down to reveal bare earth, the soil starts releasing carbon rather than taking it in," Jeanie says. "If you manage cattle in a way that has them moving around, it helps to build humus and top soil which takes carbon out of the atmosphere."
They've planted trees across the pasture which have the double benefit of promoting animal welfare and increasing soil fertility.
"It means the cattle eat the whole field and spread their manure, rather than just huddling under a few trees when it's hot," Jeanie says. "Tree roots are able to pull different nutrients from lower down in the soil because they are a lot deeper than grass."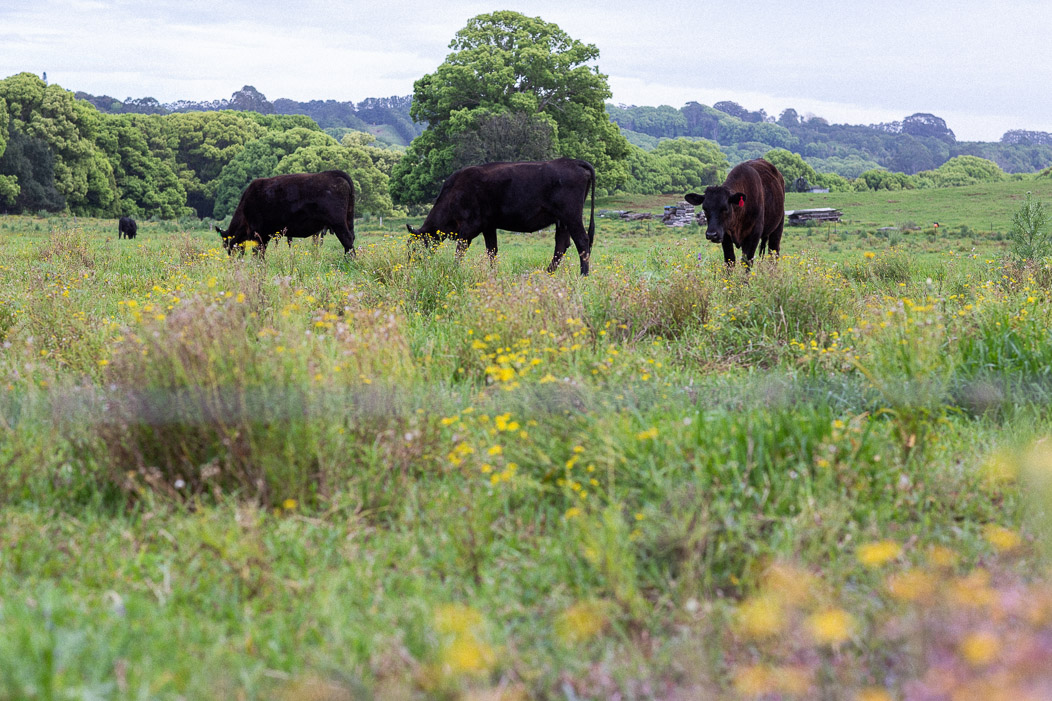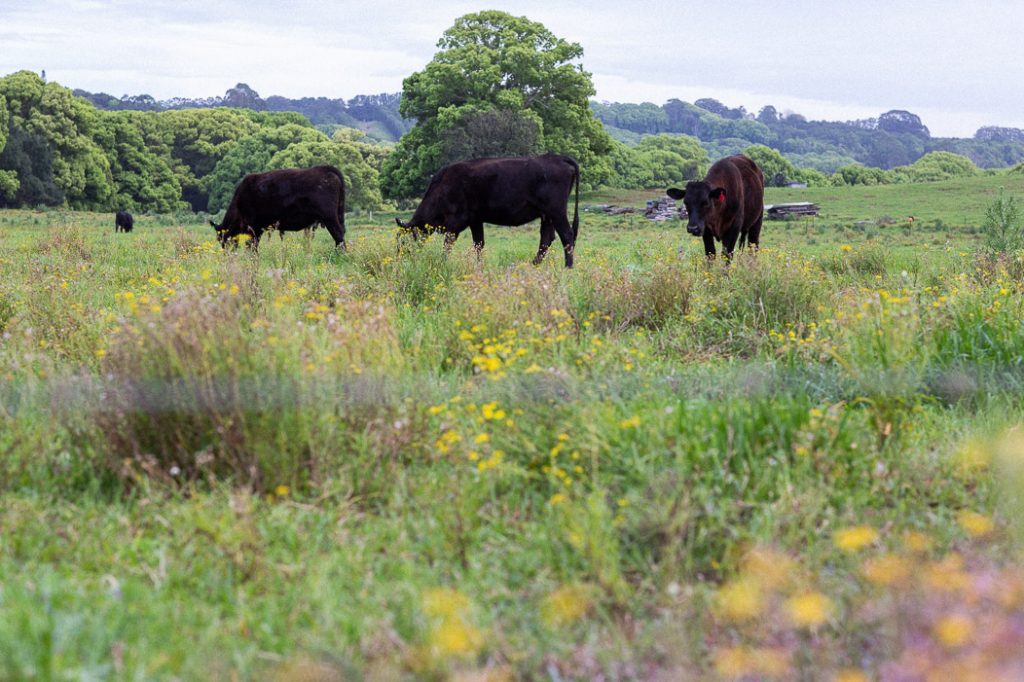 Latest Posts
Farm to Table
The food-loving family has always dreamt of opening a restaurant and offering a genuine farm to table dining experience. Over the last three years, Jeanie and Edward have been making that dream a reality, planning and constructing a large event space on their property. However, navigating the approvals and development process slowed things down somewhat and they were then faced with a drought and the COVID-19 shut down. Originally planning to partner with different chefs for pop-up events, Jeanie and Edward crossed paths with chef Daniel Medcalf, a Byron Bay local who had moved away to hone his skills and work in some of Sydney's top restaurants as well as a boutique hotel in Bali. Back in the region to weather the COVID storm, Daniel joined the team and committed to a series of long lunches.  
Spring Long Lunches
The announcement of a the spring long lunches was met with eagerness and delight. Tickets went on sale in early September and were quickly snapped up before more dates in October and November were added. Jeanie describes the lunches as a bountiful flowing feast, served slowly and continually over a few hours. Designed by Daniel, the menu features his own cured local pork as well as bresaola made with Frida's Field beef and a chicken, pork, pistachio and Sherry terrine with house-made Piccalilli. And that's just the start!
"It then flows on to two main dishes and three seasonal salads as well as a yummy dessert, currently a chocolate and caramel mousse with fresh berries," Jeanie explains. 
Jeanie hopes the momentum will continue so more long lunches can be added to the calendar. She'd also like to introduce a Friday family night once COVID-19 regulations ease. Frida's Field is clearly the flavour of the month, but we have a sneaking suspicion that it may remain so for years to come. 

Follow Frida's Field on Instagram
---
Farm to Fridge is connecting Mid North Coast producers to the community. Read our story here