Fresh is Best: Enjoy Delicious Mid North Coast Produce at Ricardoes Tomatoes and Strawberries
Experience the joy and satisfaction of picking your own fruit from the source at a farm on the Mid North Coast. Owned by former hoteliers Richard and Anthony Sarks, Ricardoes Tomatoes and Strawberries is just up the road from Port Macquarie. Greenhouses cover two acres of the property where five strawberry and eight tomato varieties are grown hydroponically. Coastbeat's Belinda Gaul recently visited Ricardoes and discovered why fresh really is best.  
My partner and I ventured out to Ricardoes to pick our own strawberries because there's just something special about eating produce you have gathered yourself! Before heading into the strawberry tents, we visited the onsite eatery, Café Red. They offer breakfast and lunch as well as lots of sweet treats for in between. After enjoying warm scones with cream and fresh, house-made strawberry jam (of course!), we made our way to the greenhouse allocated for the day's picking armed with an empty bucket and a pair of scissors. 
Upon entering the greenhouse, we observed rows and rows of pipes full of vines, bursting with beautiful red strawberries ready to be picked. The fun is simply cutting the strawberries on the stems and placing them in your bucket to take home, the hardest part is trying not to eat them before they're weighed! You have the option of filling your bucket to the brim or only adding a few berries as the cost is calculated by weight. Once our buckets were nice and full, we went back into the main building and put our strawberries on the scales.
If you'd like to sample a few more Ricardoes products, be sure to check out their tomato soup, pasta sauce, tomato paste, strawberry jam and of course bags of tomatoes. They also sell products from other local suppliers such as eggs, honey and macadamia nuts so you are always guaranteed to leave with something delicious, no matter what your tastes.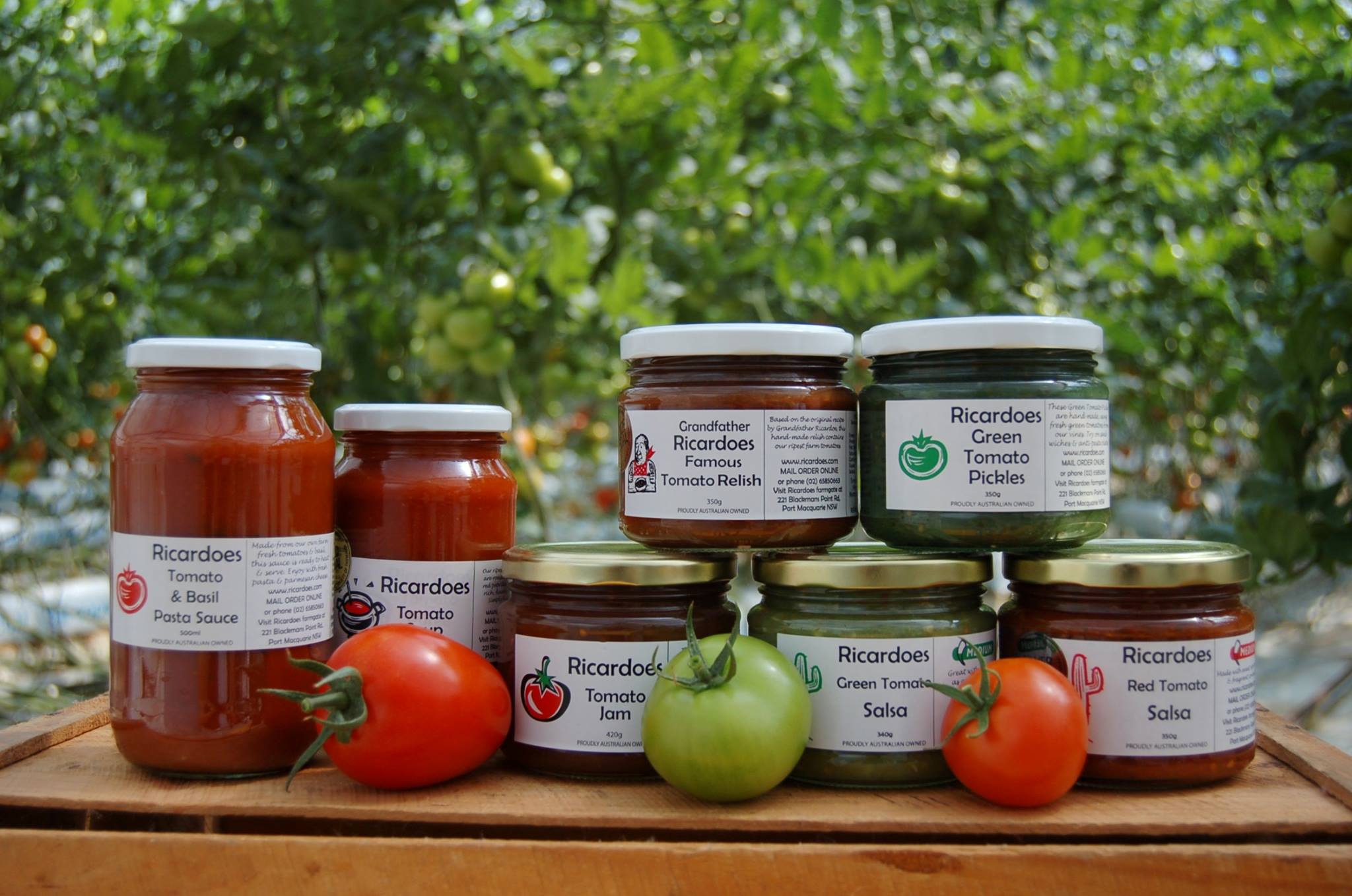 If you would like to taste Ricardoes premium produce but can't get to Port Macquarie, it is also available in Coffs Harbour. Fresco Marketplace at Coffs Central stocks a range of Ricardoes goodies. You'll find tomatoes, jams, tomato sauce, tomato soup, pasta sauce, relishes and salsa. 
A visit to Ricardoes Tomatoes and Strawberries is an excellent weekend activity or perfect for some school holiday fun. They are open seven days a week with the farm gate sales open from 7am to 5pm and Café Red open from 9am to 3pm. Guided tours run every weekday from 11am and provide a behind the scenes glimpse into the growing process.  
If you're looking for more farm-fresh produce, read about Frida's Field – a new dining experience in the Byron Bay hinterland here.