Yamba's French Pan Tree Restaurant
The online search function reads: Sorry, we could not calculate distance from "Yamba, NSW" to "Paris, France". This is not an algorithm error. This is because Yamba has actually moved closer to Paris and the proof is clear to anyone who dines at Yamba restaurant, The French Pan Tree. What has caused this tectonic shift? The ground-moving power of love, that's what.
Chef Charles-Etienne Pretét or Charly, as he is known, was busy living a classic Parisian life: running Cuistance, his restaurant beside the Louvre, holidaying on the coast and socialising with the myriad creative folk who flock to Paris for an artistic life like no other. One such artist was a young Australian dancer from Yamba, Merindah Byrne, in Paris to dance at the legendary Moulin Rouge.
They met and fell in love on the streets of Paris…so romantic, but not even Paris can replace home.
"I danced in Paris for 10 years, including closing a Lido show which is an historic moment, so I was ready for home," says Merindah. "I wanted to be with my mum, who has always been such a great support to me, and Charly would do anything to spend his time fishing, camping and surfing."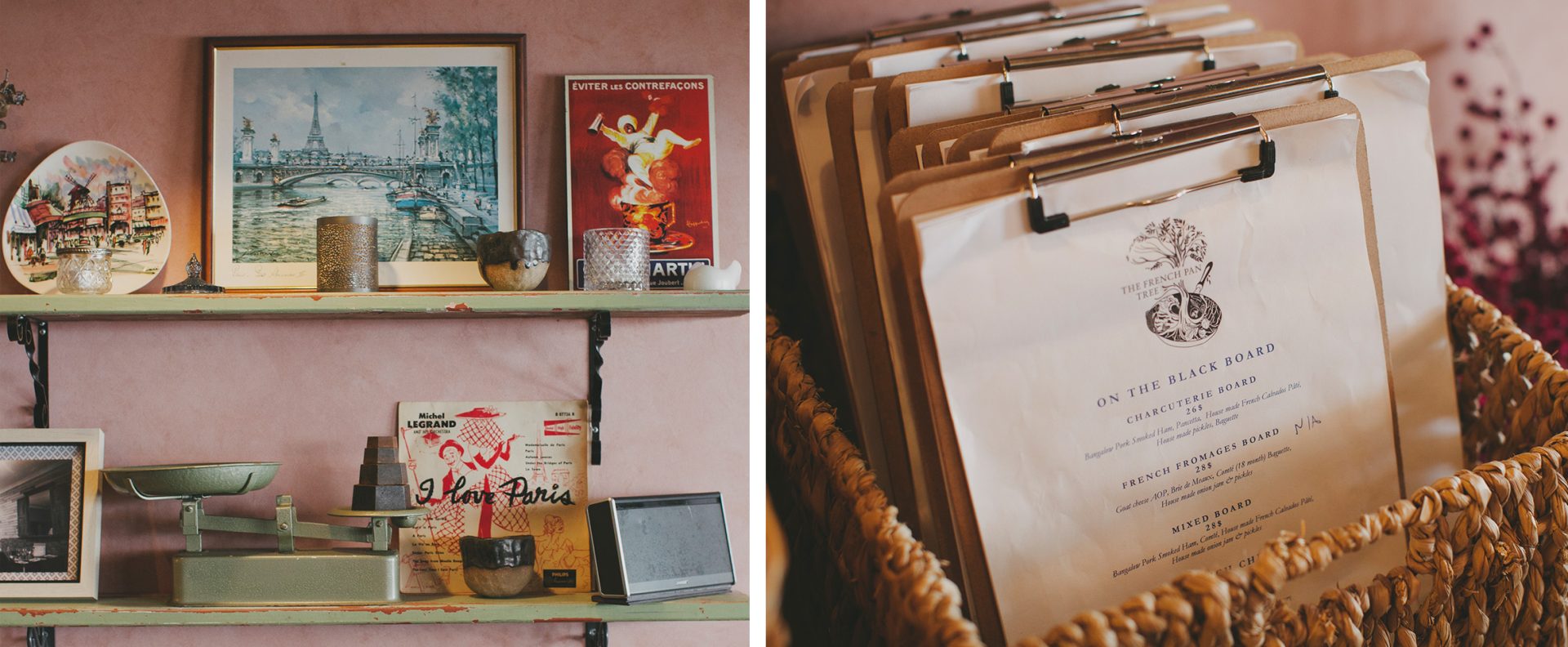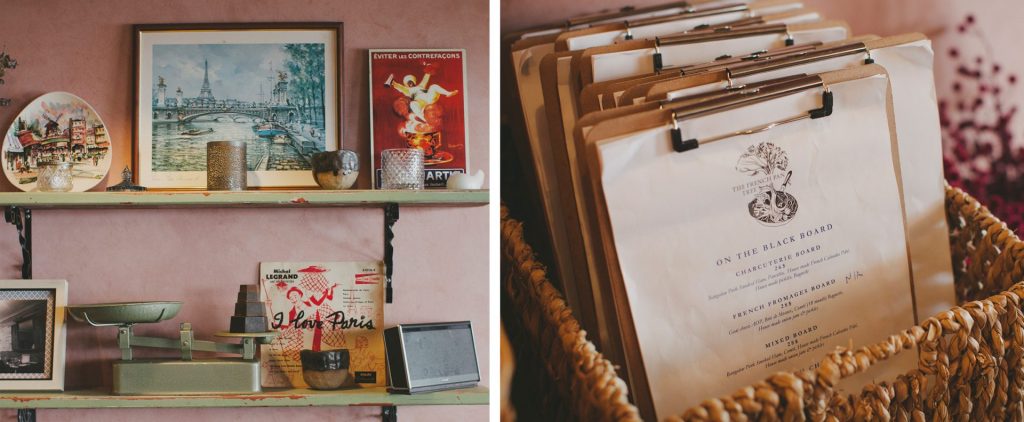 The restaurant offers modern French dishes influenced by other cultures 
Indeed, much of Charly's own childhood was spent on the west coast of France at his grandfather's farm, enjoying working in the vegetable garden and fishing. He brings this understanding of fresh produce to The French Pan Tree, always offering seasonal, local ingredients.
"We close on Tuesdays so I can be at the Yamba Farmers Market early Wednesday," says Charly. "What is fresh will guide what I prepare, using organic produce from local suppliers."
The French Pan Tree offers modern French dishes influenced by other cultures, particularly Japanese cuisine. "I include just one element that is different, to adapt traditional French recipes from my own knowledge and experience, making them contemporary."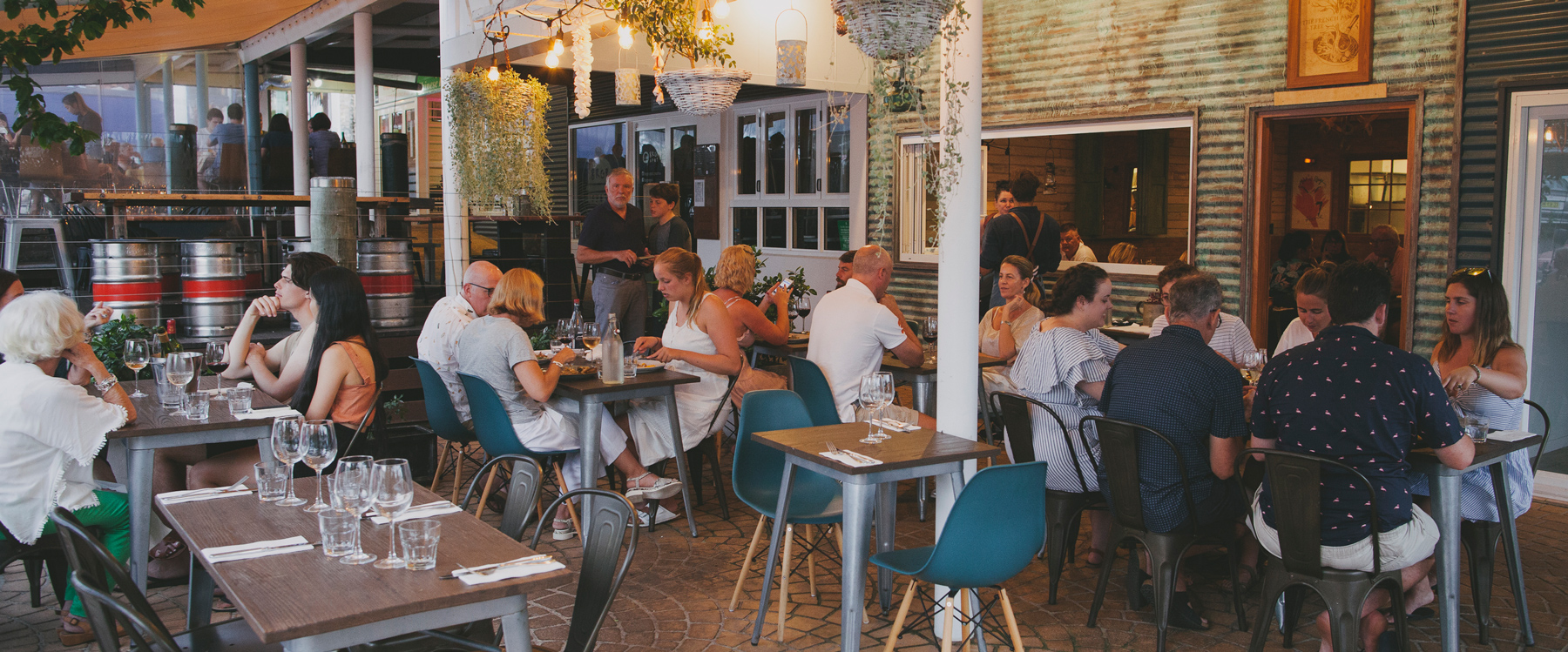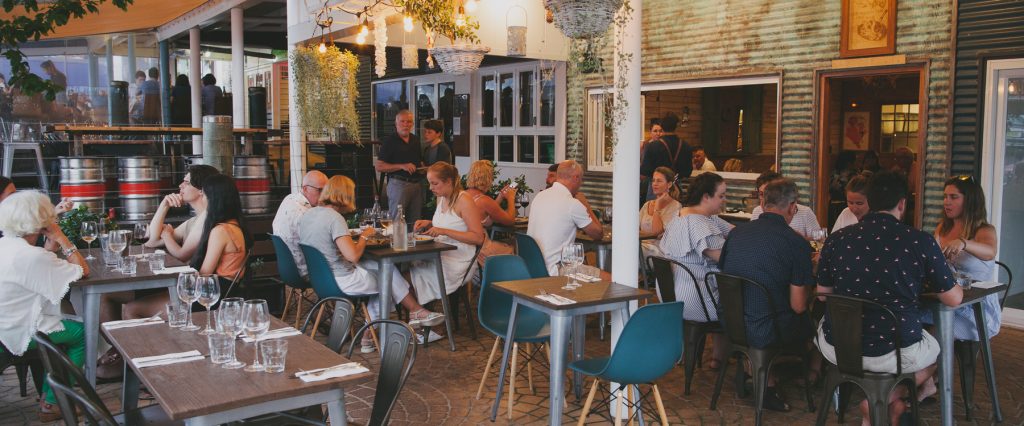 Diners enjoying The French Pan Tree in Yamba. Photography by Elize Strydom
On cue, Merindah brings us a dish called ceviché: fresh salmon 'cooked' in citrus juice. The fish ribbons melt in the mouth, bathed in a zesty juice aromatic with coriander, complemented by crisp almonds and a delightful cucumber and granny smith apple sorbet. It looks like art and tastes divine.
Charly changes the menu every day, and even the most popular dishes will only be available for a few weeks. "For example, I work with a farmer who raises free-range pigs. So, I start by making a pigs-head terrine. The bones I keep for jus. Then next I might do a rack, then the loin. Sometimes diners return because they loved the rack they had the week before and I have to say 'sorry, it's gone – but I can offer you loin tonight.' Ask me Monday what we will serve Wednesday and I will say: I don't know!" However, classics like confit duck and bouillabaisse are always on the menu.
Charly and Merindah's business partner Kevin, himself a Parisian, invites us to sample a few dishes. We share a beef tartare and pickled beetroot carpaccio with goat's cheese. All delicious, but the stand-out is the pickled local white fish with shaved fennel and cucumber, spiced yoghurt, sweet pomegranate seeds and an aromatic flavour that Merindah tells me is wattle seed. Every mouthful is different: the flavours are fresh, delicious and interesting.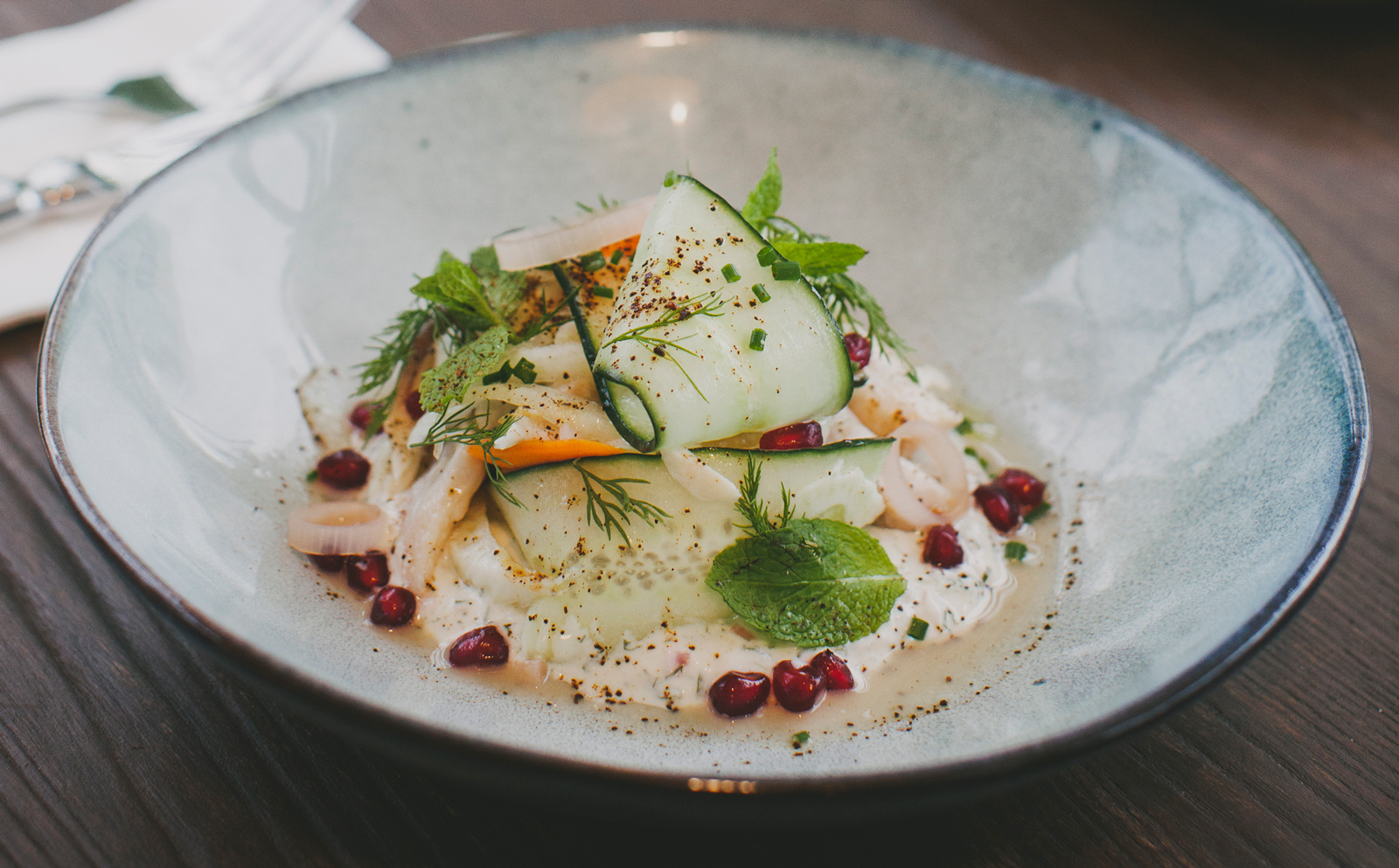 The pickled local white fish is a standout
Both Charly and Merindah are perfectionists. Before becoming a restauranteur, Charly was an equestrienne, reaching the French National Show Jumping Championships. Merindah trained at the Adele Lewis School of Dance in Maclean, a respected dance academy that has launched many international careers. She was shortlisted for the Moulin Rouge at 17.
"They asked me to wait until I was 18. I thought they'd forgotten about me until January 2006 when I received a card wishing me happy New Year and hoping I hadn't forgotten about them!" Merindah laughs. Dancing in Paris was a dream for Merindah, who grew up in a completely self-sufficient home, running on solar panels, deep in the rainforest of Yamba. "But my father always believed that I was going to be a dancer in Paris. He passed away before I went, but he knew."
There were many Australian dancers at the Moulin Rouge, contracted for their height, beauty, skill and work ethic. Merindah says she could have stuck with the Aussies, but she wanted to experience Paris like a local…with wonderful consequences. She and Charly met on Christmas Eve of 2010 and married four years later. Now he gets to experience her world and we get to experience their restaurant.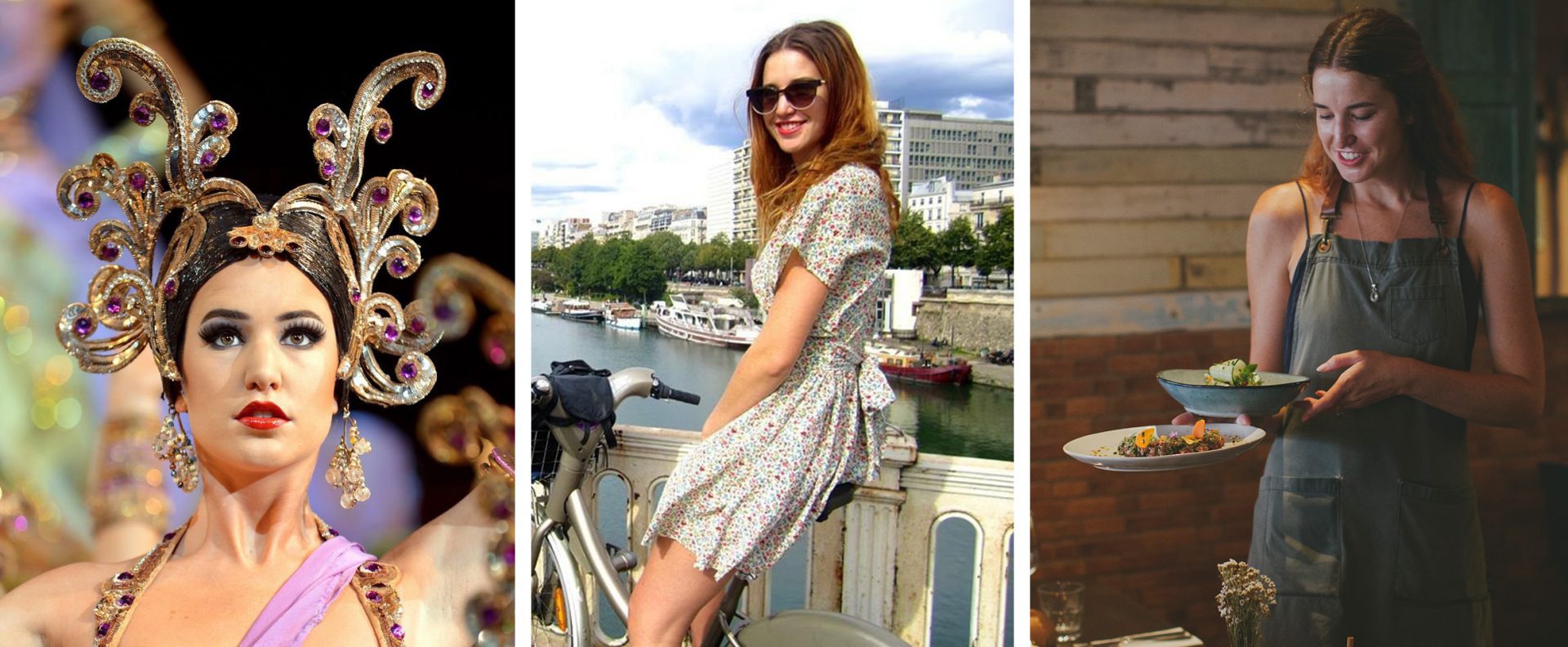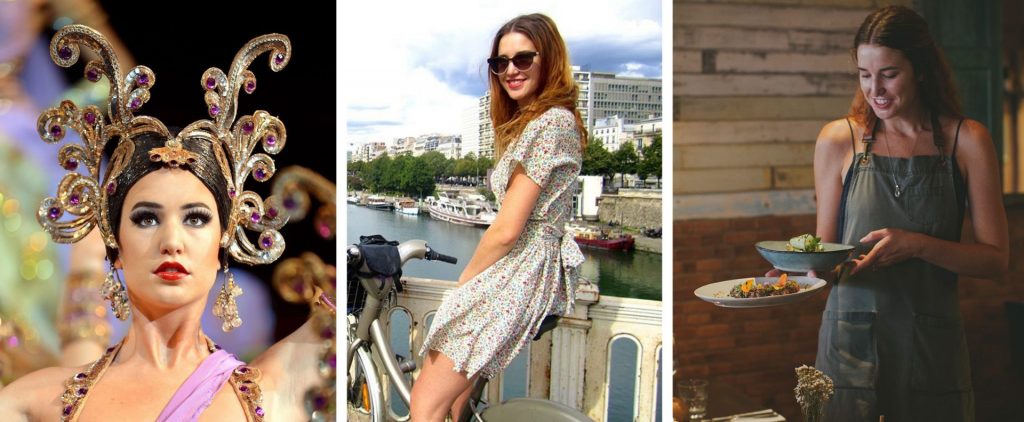 Merindah (l to r) performing at the Moulin Rouge, in Paris and working at the restaurant
Kevin brings more dishes. I select the pork with creamy jus and a plum and native wattle seed condiment. My friend tries the confit of duck, then refuses to share, which makes it hard to write about. But I can report her comment: 'It is the most delicious meal I can remember, so no way am I sharing.' The pork was decadent.
This is the excellence that garnered them Australian Good Food Guide Hats for 2018 and 2019, and the invitation to collaborate with the Head Chef of the prestigious Hotel SO/Sofitel Mauritius, to create the menu for their La Plage restaurant. In May Charly and Merindah were in Mauritius, overseeing the menu launch.
Night has fallen and each table is now picked out by candlelight. Merindah and Kevin glide around in what Merindah calls her 'choreography of service', calling orders in French.
Where are we? We finish our gorgeous desserts and prepare to leave, although no one wants to go. Sauntering out onto the street we are surprised to find ourselves back in Yamba.
For bookings at The French Pantry, visit www.thefrenchpantree.com.au or call 6646 2335.
Listen to Charly and download his recipes, on-air at ABC North Coast every second Thursday at 6.40am on Breaky Bites.