Four generations of surf lifesaving on the NSW North Coast
Every weekend from October to April, rain, hail or shine, families descend on the beaches of the north coast and on shorelines across the country to take part in an iconic Australian tradition. Donning red and yellow, our volunteer surf lifesavers are our eyes in the water, at the ready to rescue anyone who needs help.
For many coastal families, surf life saving is not only a way of life, it's a family tradition passed on from generation to generation. The Lawler family is no exception, with the family's surf life saving history spanning four generations. The youngest family member is just a few months old.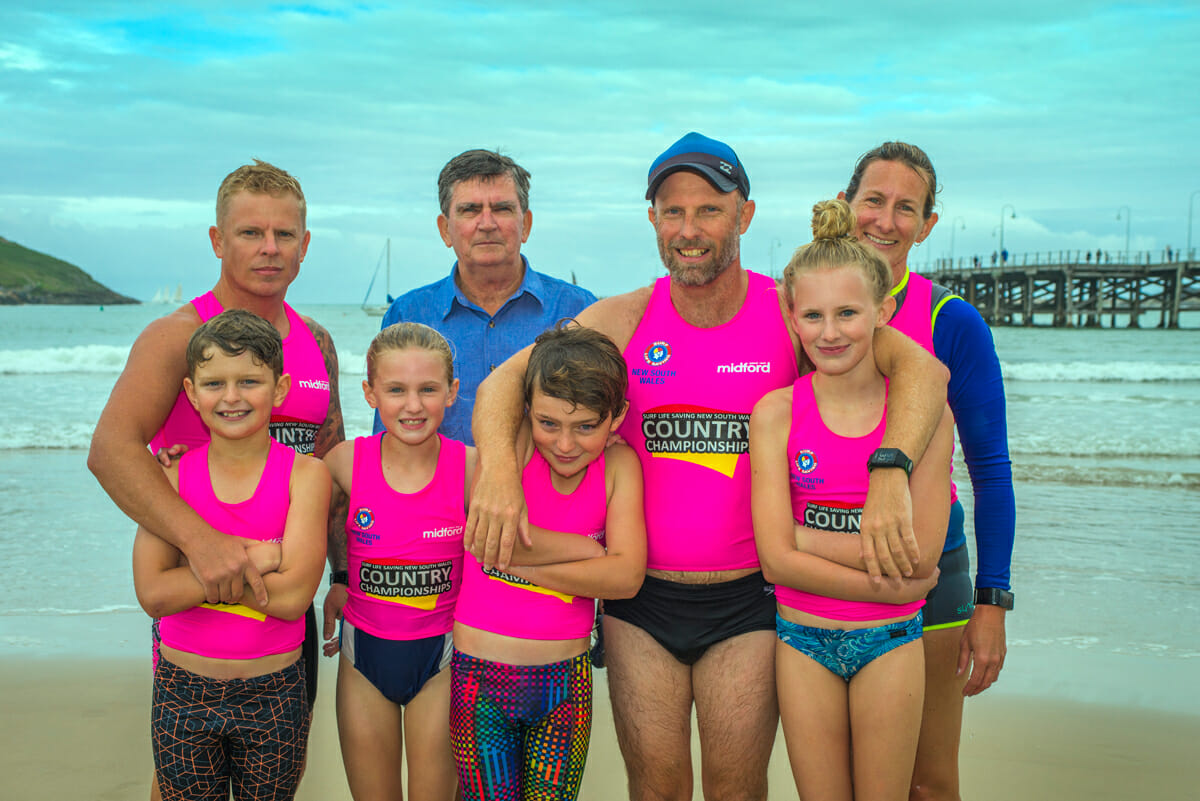 Three generations – front l to r: Oliver, Abbey, Bailey & Payton Lawler & back l to r: Sean, Bruce, Grant & Melina Lawler. Image by Brendan Ray
It's a rainy Wednesday afternoon that for many would be spent indoors, but not the Lawler family. Brothers Sean and Grant have brought their kids down to Coffs Jetty for their usual afternoon training session. Payton (12), Bailey (11), Abbey (10) and Oliver (9) are dressed in their Nippers training gear and are raring to go. The newest member of the Lawler family, Myah, is asleep in the car, unaware of the important role she will soon play in this great family tradition.
The dedication and passion for serving the community through surf life saving runs deep in the Lawler family and begins with Bill Lawler – father to Bruce, grandfather to Sean and Grant and great-grandfather to their five children. "The tradition started with my father, Bill and his two brothers. I then got my Bronze Medallion in 1972 and I've been involved with Coffs Harbour Surf Life Saving Club ever since," says Bruce. After having three boys of his own – Ben, Grant and Sean – Bruce says it was a natural progression that his sons would become involved with the club and life saving."I spent so much time at the club when the boys were little that it just happened – they fell in love with it and have kept it going ever since."
There's immense pride in Bruce's voice as he explains the important role surf life saving plays within his entire family. "It's probably one of the best building blocks for kids anywhere simply because they enjoy it, get themselves fit and it's a non-contact sport," he says. "Not only that," he adds, "my sons have all met wonderful friends from their years spent on the beach – it has been such an important part of their upbringing."
Carrying this pride is Bruce's son Sean, who, along with wife Kylie and two children Bailey and Oliver is a devoted member of SLSA (Surf Life Saving Australia). For Sean, getting his sons involved was 'a natural fit'. "My brothers and I did patrols and competed for about 13 years and progressed into longservice members and kept competing. We intrinsically knew how beneficial it was being part of surf life saving so it was a natural progression for our kids to join as well."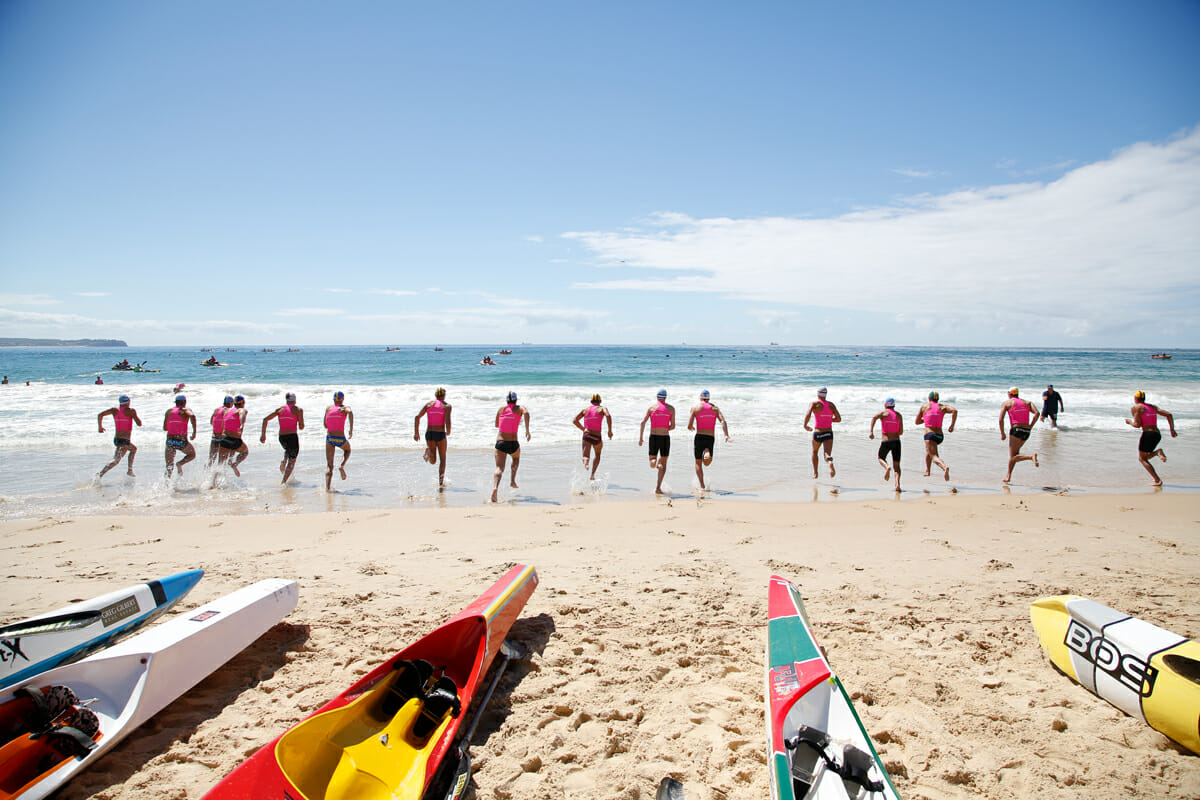 For Grant and his wife Mel, getting daughters Payton and Abbey involved was driven by their desire for the girls to understand the surf. "One of the things I wanted our girls to do was to learn to read the surf. Additionally, I want them to be comfortable in the surf, given we live so close to the beach," Grant says.
"The kids love it but it's not always smooth sailing.The ocean environment can be pretty treacherous. Both girls have had times of uncertainty but that has been alleviated by consistency in their training and building their confidence."
Grant believes it's important that Abbey and Payton remain positive about surf life saving, so does not put unnecessary pressure on them. "You can't force a love of surf onto your kids because that's when they'll walk away from it.
Any adult who tries to force a kid into surf that's beyond their capability is setting their future lifesaver up for failure."
Safe to say the kids are anything but hesitant, throwing themselves (and their parents) into training four afternoons a week.
"We train with John Mills who has been a member of life saving for years and has been coaching us for more than 30 years," says Sean. The training regime for the kids centres around swimming, board paddling and surf awareness.
Bill Lawler (2nd from left) in 1946 with Open Belt Championship teammates including current Lawler family coach John Mills (centre)
"It's not about winning," says Sean. "Once they get their technique down pat, they may step it up a bit but for now, we're keen to ensure it's enjoyable for them."
When asked what they see as the 'end goal' for the kids, Sean and Grant agree that they hope surf life saving will always remain a part of their children's' lives. "They don't have to compete, they can do patrols and get involved in other aspects of surf life saving but I think, to remain in the club environment would be really beneficial for them in the long run – as it has been for us," says Sean.
For Grant, reflecting on the future for his daughters in surf life saving, it's about service. "The fact that they can do something for the community and save someone's life is the most important thing," he says. "I think it's really special that our family, across the multiple generations, has probably saved umpteen people from drowning and that's why we do what we do," he adds. It seems the drive to save lives is an inherent trait amongst Lawler family members.
"I like doing surf life saving because if someone is in trouble in the water, I will have the skills to go and help them," says Payton before nine-year-old Oliver adds, "We love having our family involved – it's good to look up to somebody."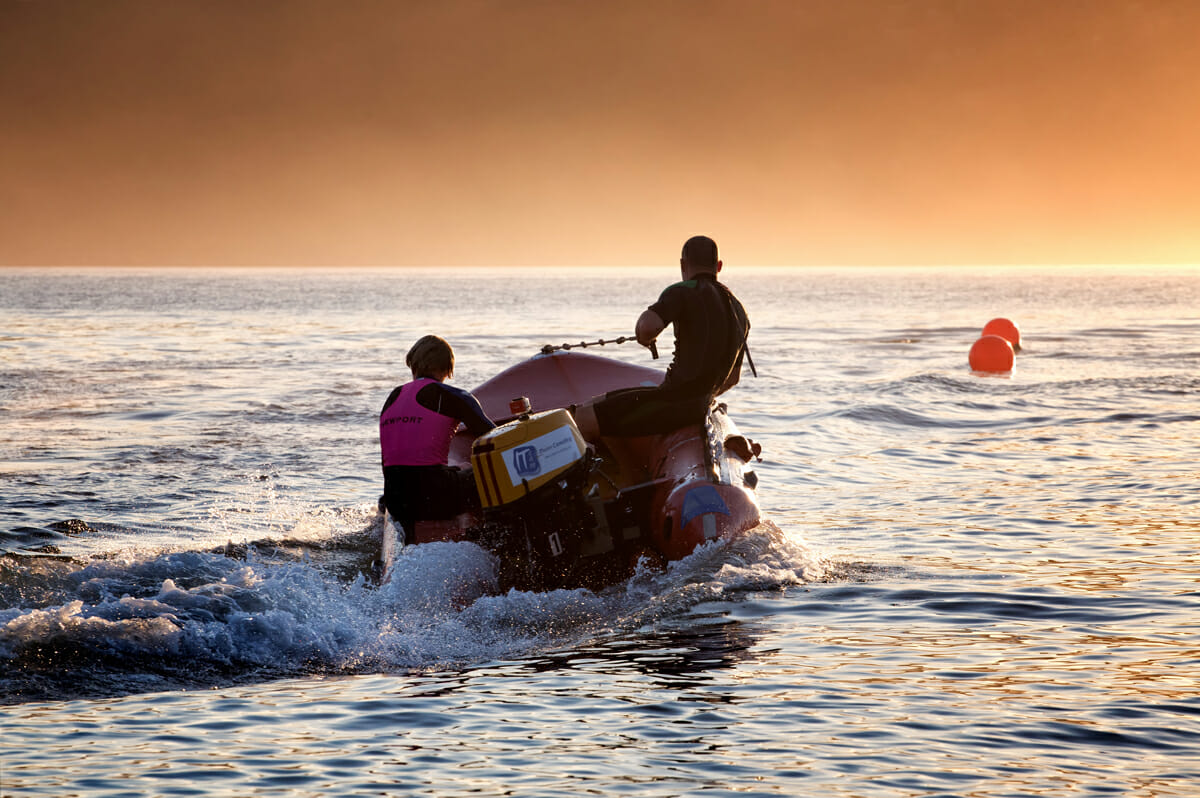 For information about Surf Life Saving Australia or to find your local surf club go to www.sls.com.au