Fluid Forms: Alcohol Ink Art with Noi Creations
Coffs Coast creative Erin Hughes was working full time as a visual merchandiser when her artwork began to take off. Juggling a 9-5 position with private commissions, Erin was hesitant to make the jump to full-time artist. But when the company she was working with shut its doors, the decision was made for her. In the two years since, Erin has been busy with custom signwriting, murals and paintings under the name Noi Creations. On July 31 she will host her first workshop and demonstrate alcohol ink art. Coastbeat visited Erin's studio north of Corindi to see what workshop participants have to look forward to.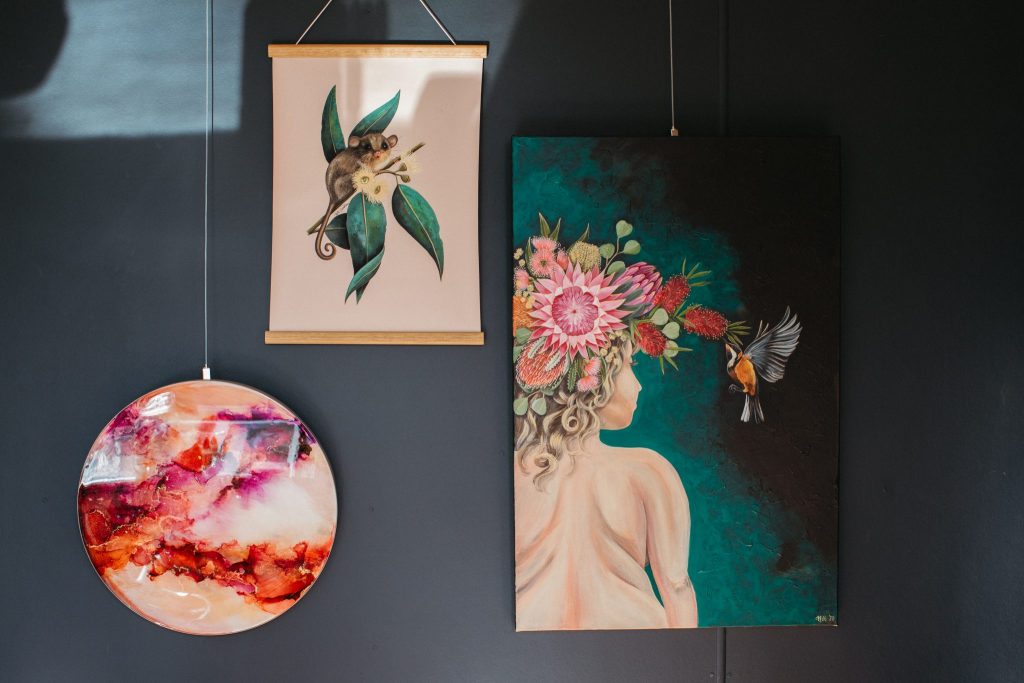 "I'm a little nervous about running a workshop because I like to fly under the radar, but I'll give anything a crack!" laughs Erin Hughes. "I'd love to be able to show people that something beautiful doesn't have to be difficult…or perfect."
Erin places drops of ink and alcohol on synthetic paper (Yupo) then blows them around the page with…a hairdryer. That's right, a hairdryer. Since when has art been conventional?
The colours bloom and shift and blend, forming an abstract pattern of hot pink, royal blue and deep purple. It's mesmerizing to watch.
"Alcohol ink fluid art is quite a trend amongst creatives, but I don't think many people would dive into it without some guidance," Erin observes. "Having someone show you each step and remove some of the mystery could lead participants on to something amazing."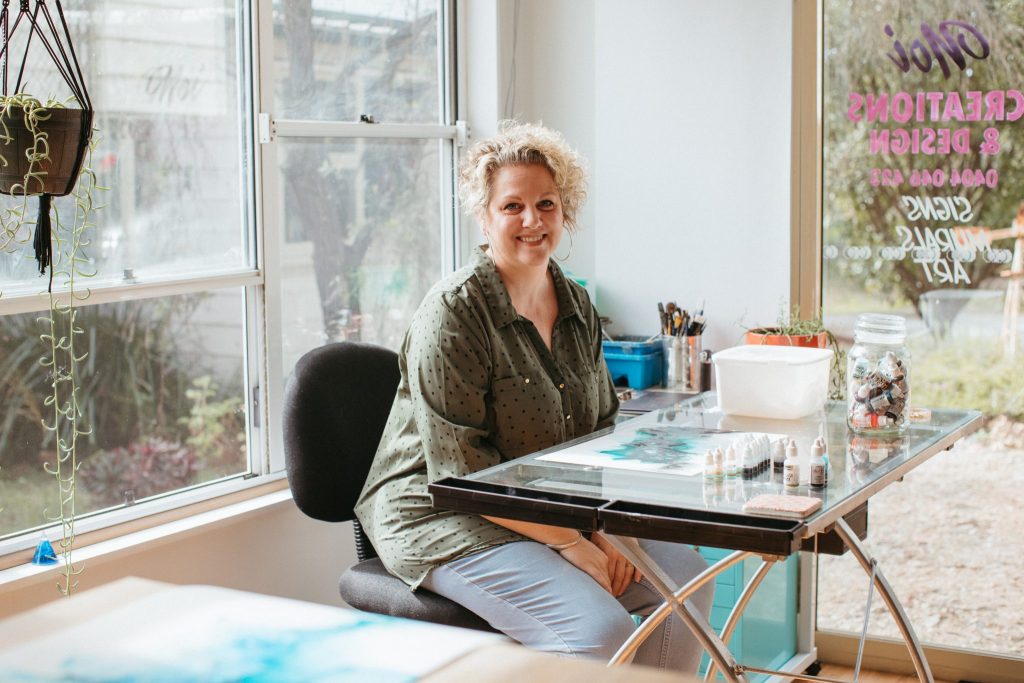 Creative since childhood, Erin began working as an interior designer and visual merchandiser after high school. She and her husband moved to the Coffs Coast in 2009 and had their first daughter in 2011.
"When I was on maternity leave, I picked up the brushes and painted every day," Erin remembers. "I continued when I went back to work and started accepting commissions – it just grew from there."
Erin has developed an impressive mix of creative services from traditional brush sign writing to large-scale murals, miniature sculptures and bespoke keepsakes. The quality of her work speaks for itself, and her growth has been organic. Erin says she's proud of what she's achieved as a full-time artist, recently purchasing a work van and also setting up a dedicated studio space.
"I want to show my girls that they can do anything they put their minds to," Erin says. "I want them to know they have the opportunity to set themselves up and do something they really love, rather than be in a job they feel like they have to do."
Erin's daughters clearly inspire and influence her work ethic. But it doesn't end there. The name 'Noi Creations' has its origins in a sweet family story that Erin enjoys re-telling.
"When my eldest daughter was born, we gave her a dummy, but she wasn't a fan and would say 'noi, noi, noi!' in protest," Erin recalls. "That stuck with her and it's still her nickname today!"
Sign up to Erin's July 31 workshop here!