Flood News: Containing the Disaster
To date, over 3000 flood affected homes will have to be demolished, creating a community of flood refugees. Where will these people go? An enterprising Lismore community member offers this idea.
Thinking outside the box
Jamie is the owner of the Container Build Group. His showroom office was, and still is, located on the banks of the Wilsons River, Lismore.
Day 1 of the floods it went under. Day 9, it has been hosed out and is up and running again.
Necessity is the mother of invention
"It's not an original idea," says Jamie, on his mobile from the flood zone. There is a lot of background noise of trucks, machinery, people. Jamie stops our conversation regularly to answer questions and give instructions to his workers. "Have a look at Christchurch in New Zealand. After the earthquake they rebuilt using shipping containers. Looks great."
It does. Plus, container shopping complexes can withstand earthquakes. And floods, Jamie explains.
"A container is waterproof and mould-proof. We build with hospital grade panels so mould doesn't grow on them. A few days ago we were able to hose out our container office and showroom, check the electrics and start up again immediately."
Jamie has given his premises to a family in need to live in, so he is working out of his car. But his example is proof that the idea is viable.
What did Einstein say?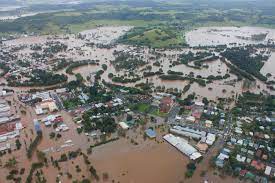 Location, location, location
"Up in Goonellabah," Jamie says, "there are these playing fields. How about the government relocates all industrial businesses from down here on the river to those playing fields. The sports fields shift down to the river – doesn't matter so much if they go under. In wider Lismore we rebuild with shipping containers – we can rebuild fast."
His suggestion seems too simple to fit our expectations of a complicated world. But consider the fable of Alexander the Great, tasked with untangling the Gordian knot to fulfil a prophecy. He simply got out his sword and sliced through it. A bold solution to a complicated problem.
What Jamie suggests is just that.
We are not government officials or town planners. Jamie is probably biased about containers. But still, what he says makes sense. And in these times, we need innovative ideas.
What do you think? If you like the idea, share this article with friends and your local member. Or Member for Lismore Janelle Saffin.
Lead image of Lismore under flood courtesy of the ABC. Thank you ABC North Coast for tireless, comprehensive coverage of the flood disaster.
Get in touch with us at [email protected]