Paul Butcher – Fins, Fishing and Fatherhood
Not many people would welcome close contact with White Sharks (yes, the Great ones), Tiger Sharks and Bull Sharks but it's all in a day's work for Senior Research Scientist, Dr Paul Butcher. We caught up with "Butch" to find out more about his work, family and life on the Coffs Coast.
For a kid who grew up spending weekends in Wooli catching crabs, snorkelling in the river and chasing fish in the seagrass, Paul was delighted to get a job fresh out of university (2004) with NSW Fisheries.
Butch is currently involved in the largest shark tagging program in the world. This has been his specific focus for the past three years. The program aims to determine sharks movement patterns and increase knowledge of their behaviour. He spends his days monitoring sharks as part of the NSW Government's $16 million Shark Management Strategy.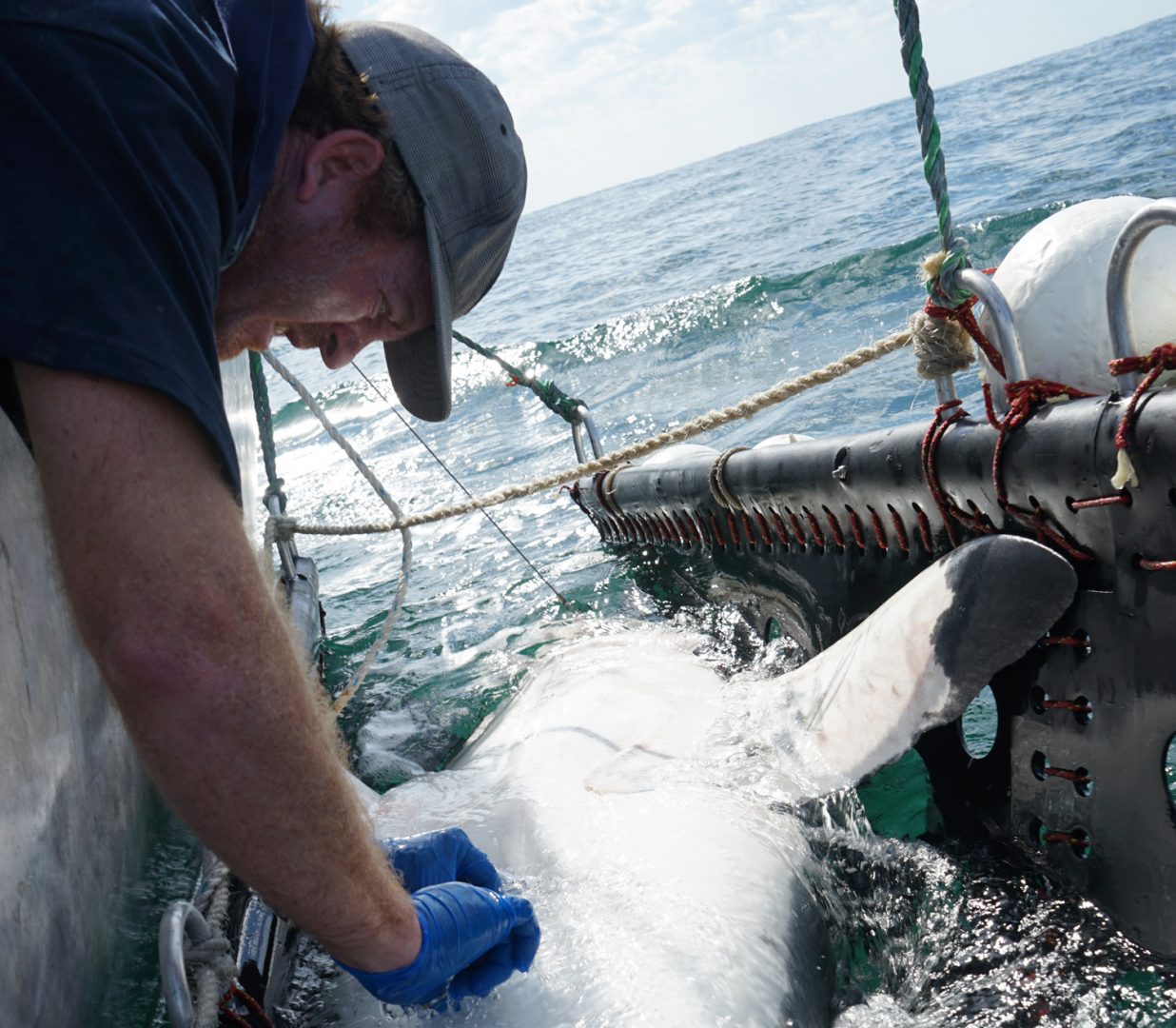 Paul tags a White Shark for tracking. Image courtesy of DPI
Butch is a 'boots and all' kind of fella – no half measures for him. He is passionate and incredibly dedicated to the things he loves such as his job, his family and his rugby. I've seen it in action as my 11-year-old son's rugby coach. As a parent, I'm yet to have met a more encouraging and committed coach on the sporting fields. I think my son would move into the Butcher household tomorrow if he could…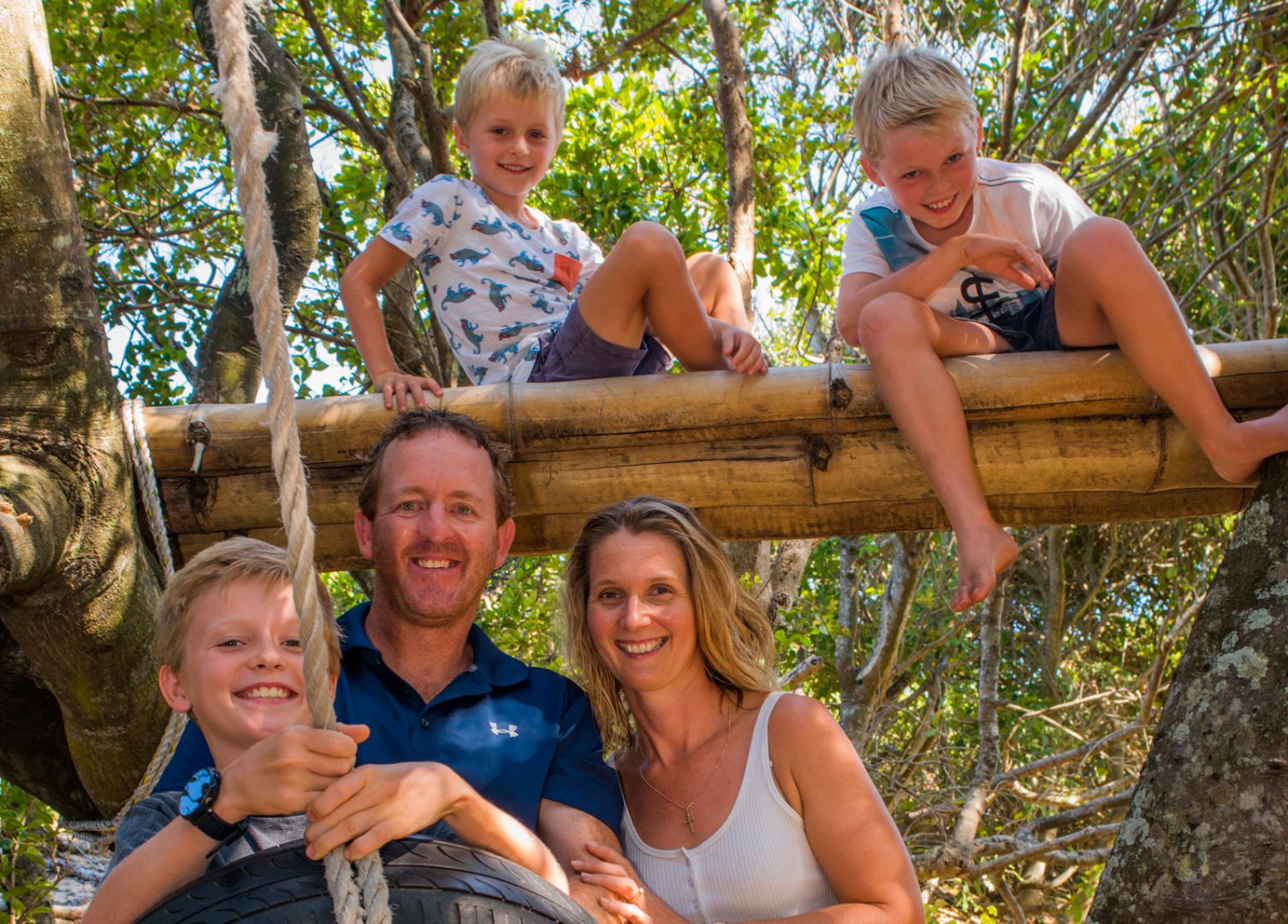 Paul, Candy and their three sons love time outdoors and by the ocean. Image by Brendan Ray
"I go at things with 100% and put a lot of time and effort into my work – it's the same with my family and sport. I love getting the best out of kids and adults alike. I also love answering questions which is why I find it so fulfilling coming up with strategies to mitigate the risk of shark bites and shark interactions."
I ask Butch why everyone is so interested (and often fearful) of our apex ocean predators.
"They are an internationally iconic species and people are always curious about big things."
"I love them but at the same time I understand that that same animal can have a really negative and detrimental impact on society. Through our work in Shark Management Strategy we meet people who have been bitten or have had close encounters and so I can appreciate both sides. It can be a challenging topic to talk about, but we're focussed on getting the information and delivering that to the public."
Sharks are inquisitive and unpredictable by nature and research thus far shows they rarely follow a distinct track. The idea of fixed migratory patterns for all animals has certainly been ruled out with research revealing that some animals may move from New Zealand to Papua New Guinea within a few months.
A number of publications and reports will be out this year (the current program concludes in 2020) but recent drone research findings suggest that the shark threat on our coastline is possibly overblown. Spot a large marine animal near our coastline and it's 135 times more likely to be a dolphin than a shark.
An estimated 4,000 large marine animals were counted around the known shark bite locations of Lennox Head, Ballina, Byron Bay and Evans Head and a 'thriving and vibrant ecosystem' was revealed with very few White Sharks, Tiger Sharks and Bull Sharks among those creatures monitored.
The Strategy's goal is to find new and existing technologies to make our beaches safer. Drones, answering the quandary about where to bury dead whales that wash ashore, smart drumlines, and the most exciting one for Butch, tagging and tracking sharks all come into play.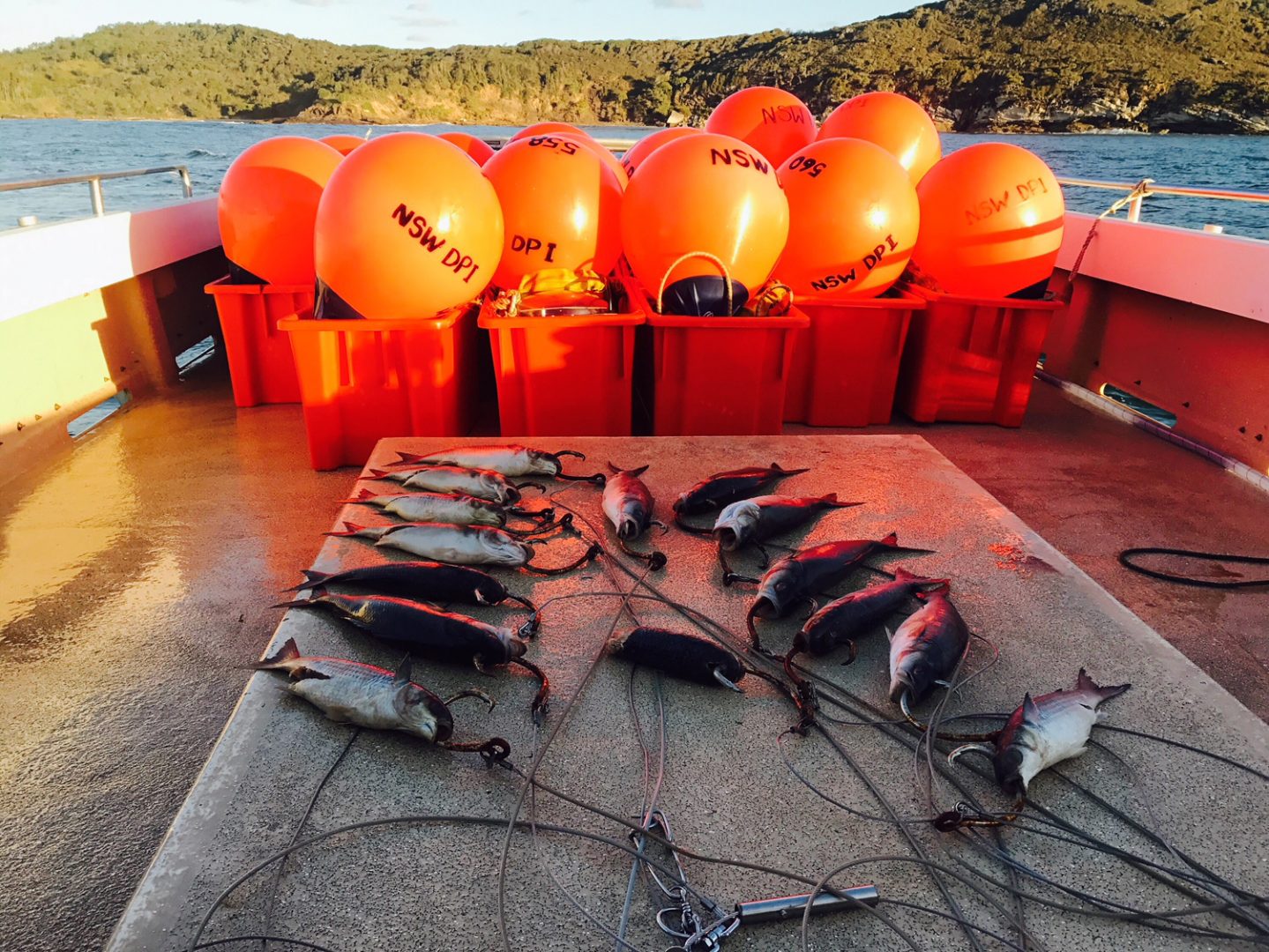 SMART drumlines are used as part of the Shark Management Strategy. Image courtesy of DPI
Butch tells me that technology has improved research twenty-fold. "Drones are a great example," he says. "Who would have thought they'd play such a vital part? Our research has morphed into affiliations with surf clubs too. We can use our information to show people that the sharks may be there, but we can still do what we love to do in the ocean with them in the water."
And it's a guarantee that when not at work or busy encouraging keen young rugby players like mine to strive, you'll find Butch and his family in or by the ocean. Along with wife Candy, Paul is likely to be out and about with sons Taj, Eli and Nate doing the very things he loved as a kid; heading up the river to chase mud crabs, beach fishing or getting in the canoe in search of flathead, bream and whiting.
Work may often take him up and down the NSW coastline (a box of chocolates on the bed for 100 nights spent in one Ballina motel in a year is an indication of how often he's away from home), but his heart is here with his family on the Coffs Coast.
"Candy and I love chasing our three boys around and strongly encourage them to follow their passions as we both have. It's great to be involved in the community, coaching as I do and having close mates through the kids' sports. It's wonderful to follow in the footsteps of my parents and grandparents and lead a life where we get to experience the ocean and outdoors so readily."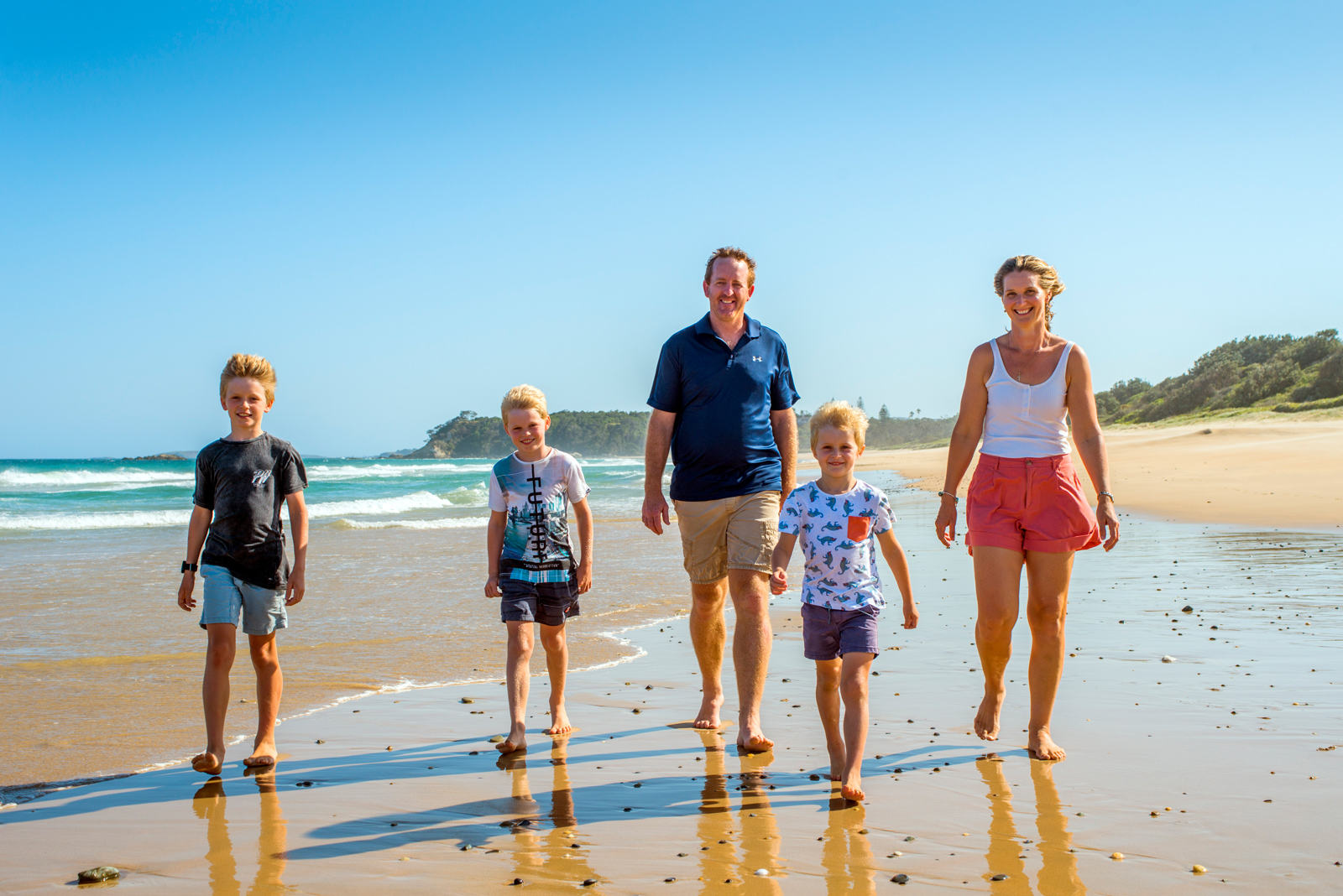 The Butcher family. Image by Brendan Ray
I can't help but wonder as Taj, Eli or Nate reel in that big fish or explore the beautiful coastal waterways whether the wheels are being set in motion for them to head down the path of ground-breaking, world-leading research just like their dad.
Keen to find out more? Search SharkSmart @ www.dpi.nsw.gov.au or download the SharkSmart app. YouTube's Coastbeat TV also has video content relating to the NSW Shark Management Strategy.