Fantastic Creature Designed for Fun
While its bushland surrounds are home to many species of wildlife, Sawtell Commons could become known for a creature that for now lives only in the mind and the drawings of an architect. The growing residential subdivision is set over nearly 40 hectares off Lyons Road and is a project of Gowings Bros Limited. It will include many natural features but its centrepiece will be a man-made 'monster' designed with families, particularly their children, in mind. Soaring over the playground near the entrance to the estate will be 'Flying Whale Fox', which will double as a climbing frame and protection for gatherings underneath.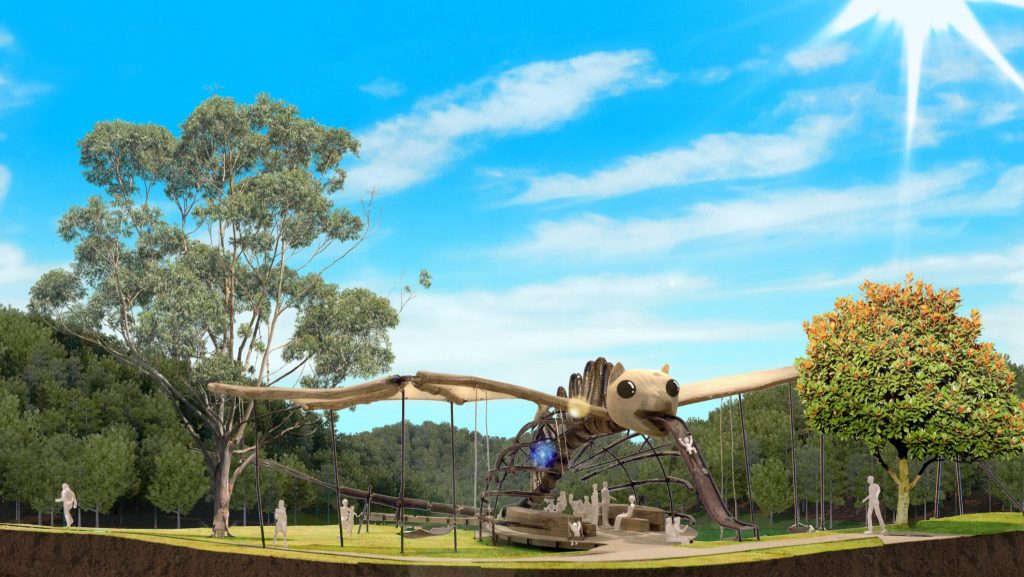 Not Your Average Playground
Plans for the playground foreshadow a creation that will be a step up from other parks in the region and lightyears from the metal slides and swings of the past that used to heat to baking temperature under summer sunshine.
This will be a work of the imagination built to be brought to life by the locals who will have the chance to enjoy the many separate areas for activity it will provide.
Flying Whale Fox is a chimera – defined as an imaginary monster comprised of incongruous parts.
Its body will merge features of a grey-headed flying-fox and a humpback whale, with wings, rib cage and whale tail providing protection from the elements and an amazing setting for swings, a slide and other play areas.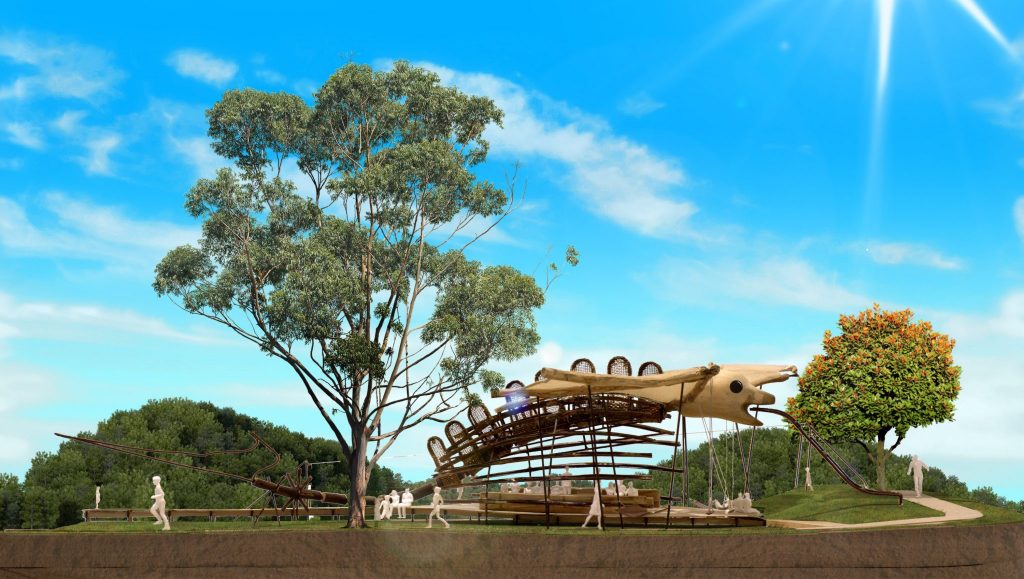 Playful, Strange and Beautiful
"The playground is intended to be joyful, playful, strange and beautiful," says architect Dylan Wood, the creator of the amazing 30 metre by 30 metre beast.
"Flying Whale Fox playground is my attempt to combine the disparate play elements and structures of a typical playground into a single unifying and fantastical functional sculpture.
"The combination of a flying fox and a whale reflects the site's proximity to Bongil Bongil National Park (where flying foxes roost) and the ocean (a migratory path of the humpback whale). The whale element also reflects Gowings' ongoing sponsorship of Sea Shepherd and Gowings Whale Trust.
"The playground is made from a combination of natural and recycled materials so that it ages gracefully and requires minimal maintenance. The use of these materials also makes the playground beautiful in a way that I think most play structures are not."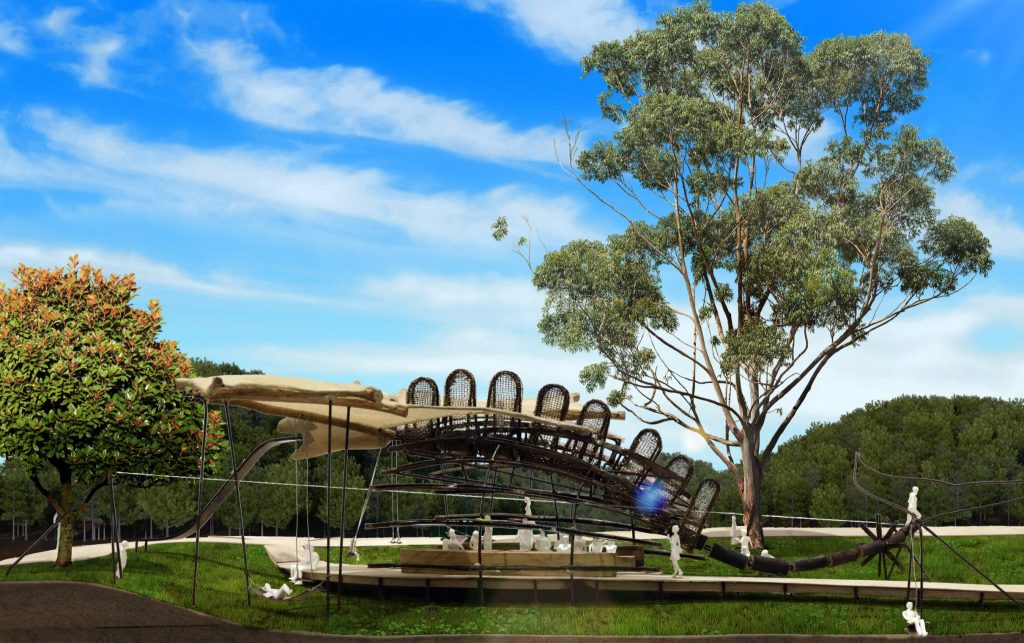 Climb, Splash and Barbecue
From head to tail, Flying Whale Fox will be created for family fun. Its tongue will be a slide, while the head will form a cubby house where children can play and the eyes will be lookout holes.
The belly of the beast forms a picnic shelter designed for about 40 people and will house tables and two electric barbecues, while the rib cage made from reused steel bow-string trusses and galvanised steel columns will provide protection and comfort for those below.
Wings spanning 30 metres in total will be created from bush poles and shade fabric, as well as supporting swings and hammocks above a soft-fall area.
The sloping spine of Flying Whale Fox will allow children to climb up and over the picnic shelter as they venture from the tail towards the head, while the whale tail will be a shade structure and water play area where on hot days visitors will be met with a cooling mist. This area will also have a sandpit and rock gardens.
The project will also include a hardwood walkway, while a zipline run of 30 metres will take advantage of the natural fall of the ground to provide thrills for children of all ages.
What do you think? Would your children enjoy playing on it? Would you?!