Family Pedal Power – best biking spots
One Coffs Coast family, all cycling enthusiasts, share with us their favourite day out.
Mountain biking is one of the fastest growing activities in Australia and within the sport are many different disciplines from full on downhill racing to heart busting cross-country events. Anyone can get out there in the Aussie bushland, all you really need is a functioning bike and a sense of adventure.
It's an activity perfect for all ages and fitness levels. It's also a great way to spend quality time together as a family. Our accessibility to State Forests, National Parks and nature reserves offers endless options for a family day out on bikes. Along our coastal strip are thousands of kilometres of dirt tracks and trails snaking their way through our beautiful bushland and coastline.
Arrawarra to Woolgoolga
One of our favourite family rides in the region is from Arrawarra to Woolgoolga.
After taking in the sweeping northern views from Arrawarra Headland, we make our way through Garby Nature Reserve. The estuary flowing through here is pristine and the birdlife abundant. The tall timber creates a broad canopy that cools the forest as the trail snakes along the flat gradient. From here we roll along to our first rest stop at Mullaway. Take in the views and cool sea breeze or in whale season, scan the horizon for the jumping giants.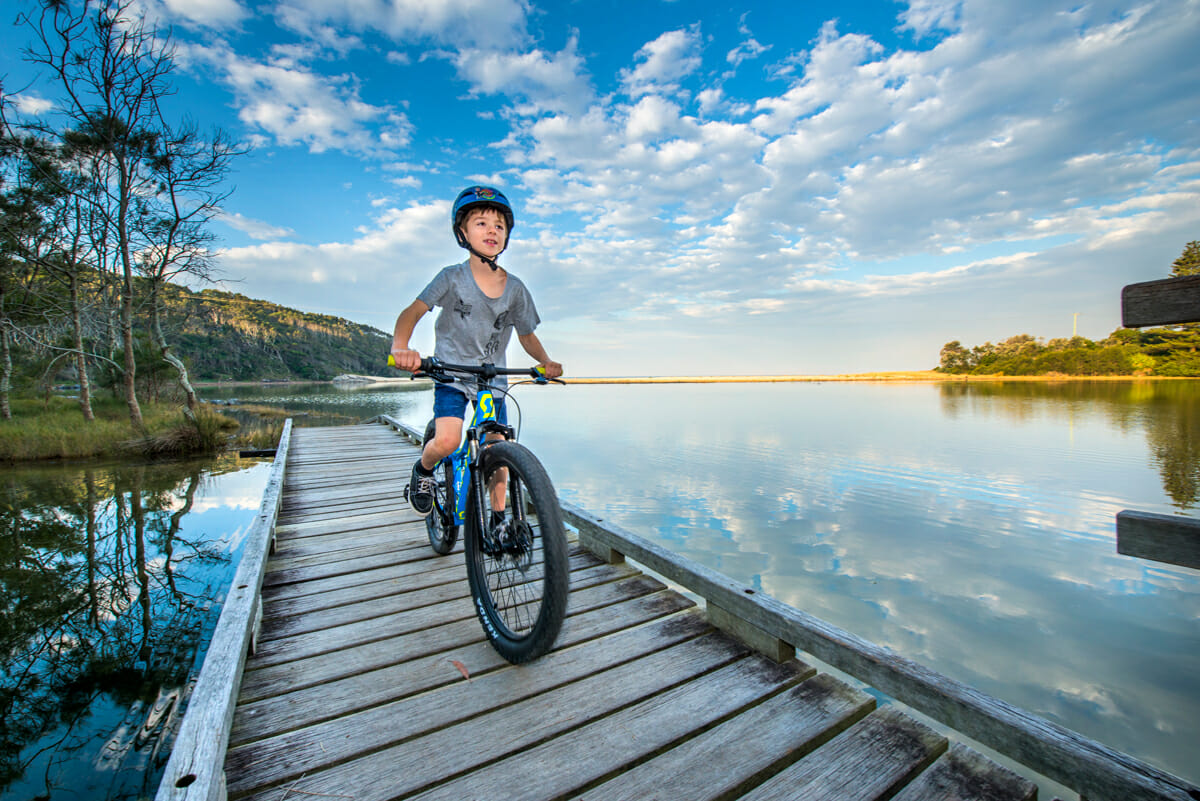 One of my boys enjoying the Woopi to Arrawarraride. Image by Brendan Ray
From Mullaway we head south and join the bike path through to Safety Beach, passing the golf course and countless kangaroos lazing on the well-tended grass. At Safety Beach the Lake Walk traverses above the beach and down to the northern bank of Woolgoolga Lake. This is a beautiful trail. Tucked away in the bush, it's easy to forget how close you are to town. By the lake's edge, the smells and sounds of the lake and bush carry you along the well-worn trail.
Riding behind my sons and watching them duck and weave through the trees and jumping off every root and rock takes me back to my own childhood; those carefree days when time on your bike was all that mattered and the feeling of freedom it gave, intoxicating.
As we ride, my wife and I morph back into kids ourselves and the four of us whoop and holler as we roll across the dirt, laughing out loud as we try to copy the boys' jumps and skids. We take one last rest on the footbridge and watch people fish and swim. I check the tide and realise it is full low, so we take the path from the dunes down to visit "Buster", the shipwreck on Woolgoolga Beach. Given the low tide, The Buster is quite exposed, and we take some time to walk around the rusted remains and imagine this old ship in her former glory. The view up towards the surf club is stunning.
My wife's competitive nature bubbles to the surface and she takes off. I don't remember entering a race, but it seems that I am in one now. I give it everything I have to pull along beside her and she looks over and smiles. Unsure whether I can keep up her pace, I start making long carving turns that leave an etched curve in the sand behind me. My tyres roll effortlessly over the hard beach and the north-east breeze helps propel me. I am completely lost in the moment until I feel a buzz on my rear tyre. The boys giggle as I turn around to find them both lining up behind me trying to get as close as they can.
The plan was to finish with a ride up to the water tower on the headland to take in the incredible view, but the lure of a milkshake has my boys distracted. As we await our order at Bluebottles, we talk about our next ride and start planning another family adventure. It will not be any great distance or exotic location – all that matters is that we'll be there, helmets and all, together.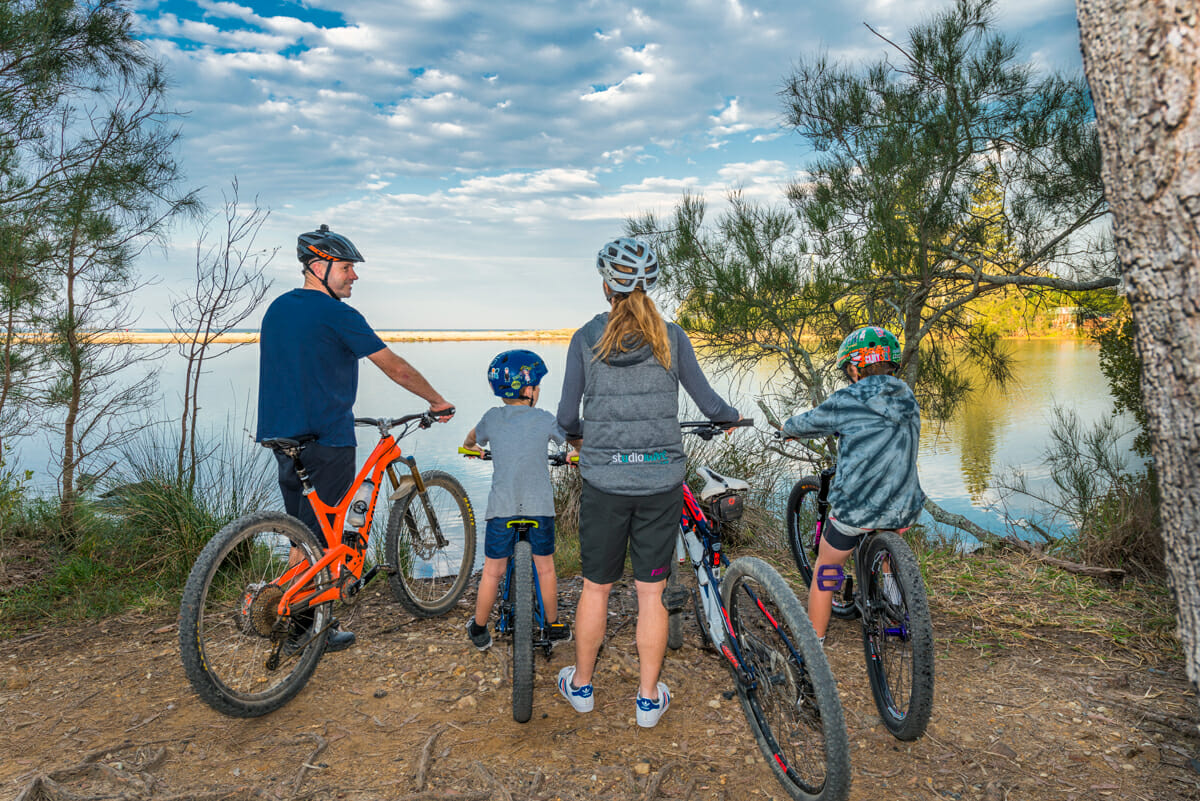 Getting out on bikes is a great way to spend time together as a family. Image by Brendan Ray
Scott's suggestions for the best family rides on the coast
Kiwarrak State Forest, Taree
Jolly Nose MTB Park, Bonny Hills
Kalateenee Mountain Bike Trails, Kempsey
Pine Creek, Bonville
Wedding Bells State Forest, Woolgoolga
Bom State Forest, Grafton
New Italy Mountain Bike Park, Tabbimoble
Scott Bocking has always loved bikes – so much so he even bought a bicycle shop in Woolgoolga a few years ago. He has almost 20 years' experience in the bicycle industry. Having ridden some of the most exotic MTB destinations on the planet, these days he loves nothing more than exploring the countless local trials with his family and friends. Scott has also been an integral part of the bcu Woolgoolga MTB Festival. The inaugural event was held in August 2018.
Follow Scott on Instagram