Discover Byron Bay's beaches on horseback with Zephyr Horses
Just a few minutes from the Pacific Highway, on the eastern side of the Byron Bay Arts and Industrial Estate, you'll find Zephyr Horses' coastal ranch. Founded by Kate Noller, Zephyr began with the aim of providing personalised and indulgent horse-riding experiences for those desiring connection with the animals.
Now specialising in small group horse tours through the forest and on the beach, Zephyr Horses also offer mounted archery and trick riding clinics, horseback pub tours, mustering camps, private lessons, 'Mini-Zephyrs' (pony) Club and team-building activities.
Saddle up!
On a glorious spring morning, I don my Blundstone boots and make my way to the porch of Zephyr's ranch house for a Forest to Beach ride. I introduce myself to the other participants and discover that I'm the only local. The others are visiting Byron Bay from Melbourne, Canberra, the Gold Coast and even the Whitsundays. Tours are typically capped at eight to ten riders and this morning we have seven.
Zephyr guide Lou greets us warmly then presents a safety briefing and hands around a waiver form. We're fitted for helmets and assigned horses based on our height, weight and previous riding experience. I've been paired up with Marezy, an Australian Stock Horse who's waiting patiently nearby. Our second guide Claudia arrives and helps us onto our horses. Stirrups are adjusted, and we're shown how to direct the horses to the left and right, how to encourage them to speed up and how to get them to slow down – very important skills to have!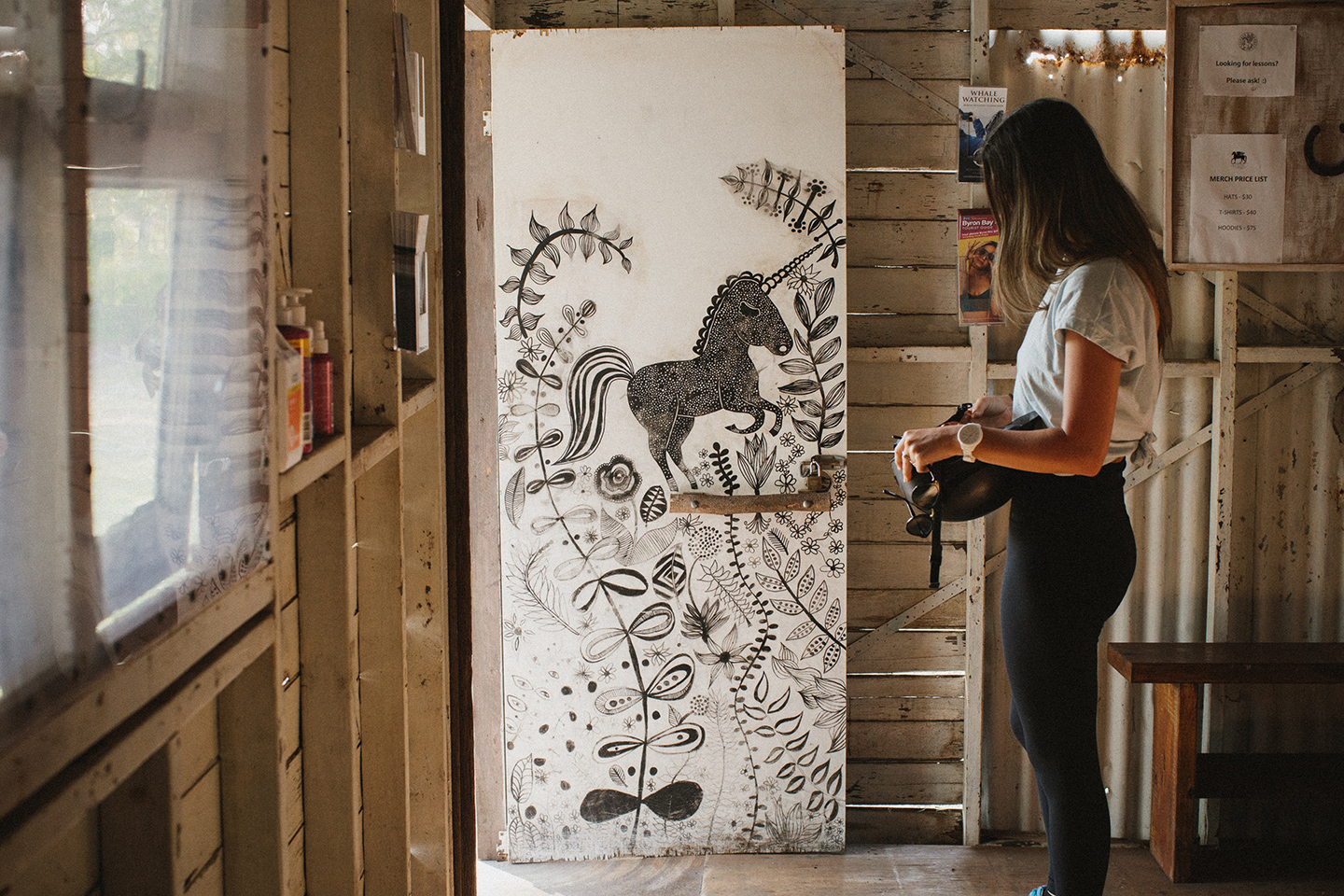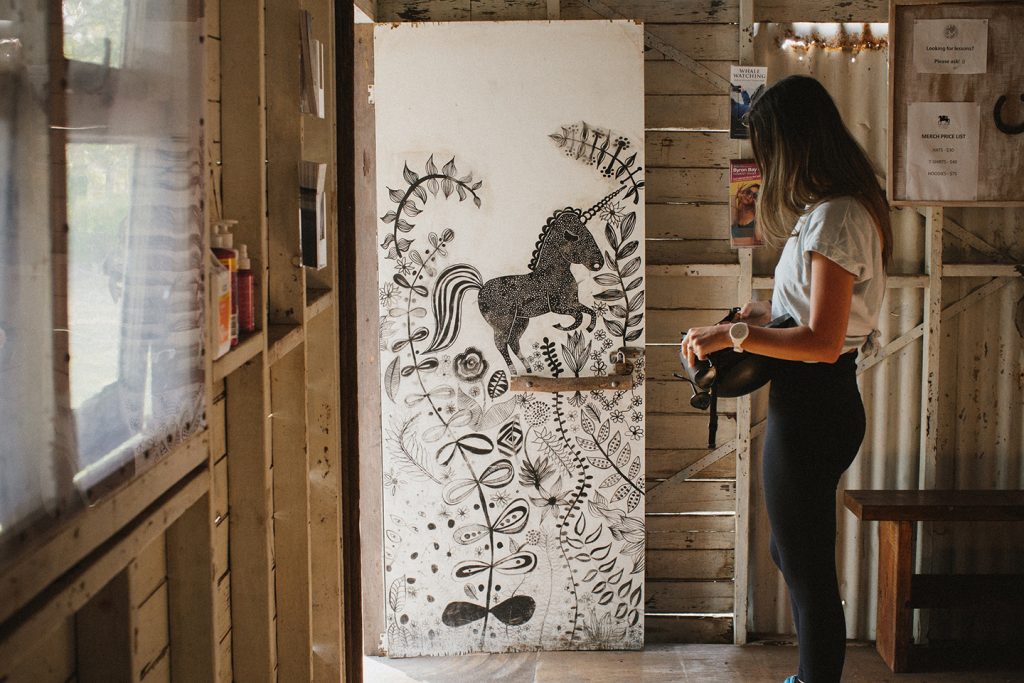 Riders are given a thorough safety brief and fitted for helmets at the Zephyr ranch house
Whether you've never ridden before or have years of experience, Zephyr can cater to your ability. Lou and Claudia are patient and clear, ready to answer all of our questions. Sitting atop Marezy, I realise my nervous energy has dissipated. I'm feeling confident and eager to hit the trail.
A relaxing ride through the forest
One by one, we guide our horses out of the ring and as Lou predicted, they arrange themselves in a very specific order. The animals have determined their own social hierarchies and it's fascinating to watch them play out.
As we make our way through the forest, the pace is leisurely and comfortable. Lou leads while Claudia stays towards the back. They both make an effort to chat to each rider and find out a little about us.
As the trail straightens out, Lou asks if anyone would like to trot. The group divides and Claudia stays with those who want to continue at the slower place. As I'm not a regular rider, a trot feels quite fast and definitely gets my heart beating! Brushing aside my concerns, I'm able to relax and enjoy it.
Time to hit the beach
The group meets up again at the base of a sand dune. Some of us need to give our horses a bit of extra encouragement to coax them up and over the sandy hill. Once on the beach, the animals rearrange themselves again as Lou explains there's a different hierarchy now that we're down by the ocean.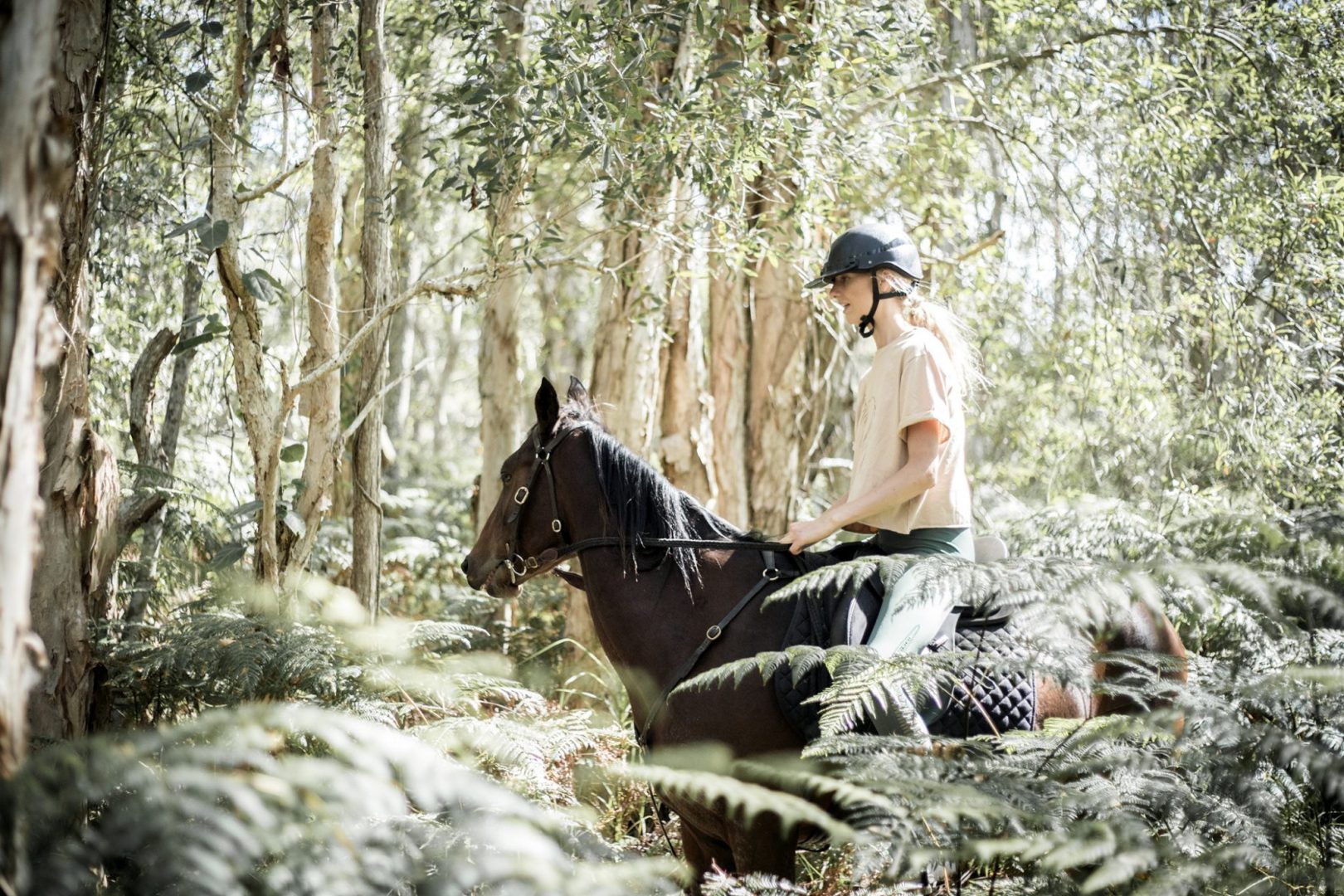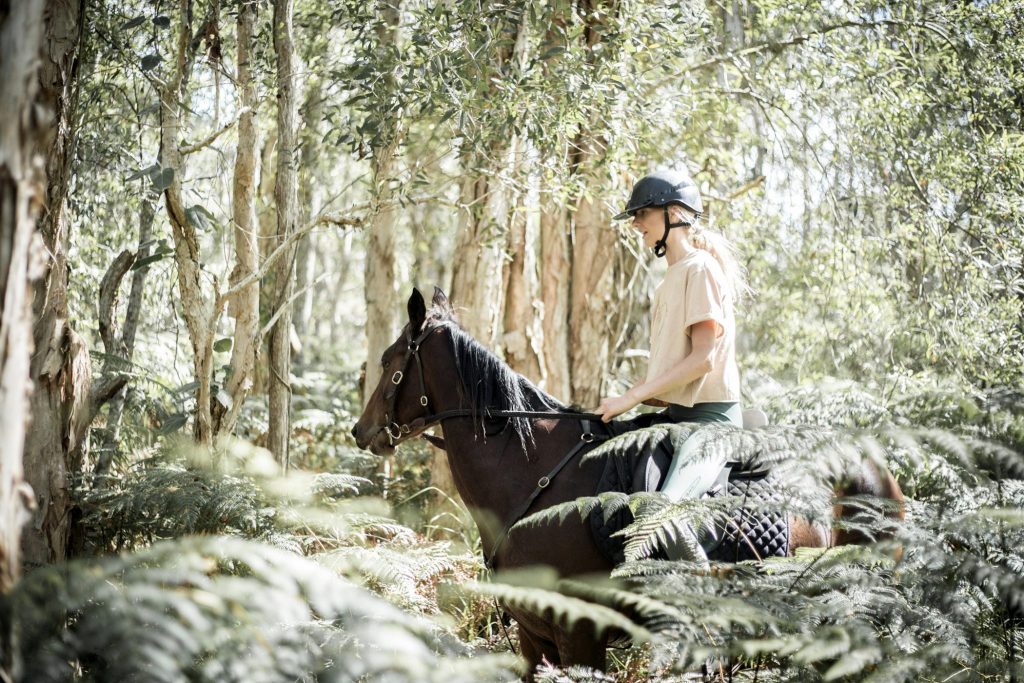 The ride takes us through secluded sub-tropical woodlands
Claudia rides into the shallow water and tries to entice Marezy. I pull the reins and encourage her to follow but she's not interested. I don't really mind; the fact that I'm horse riding on a beautiful Byron Bay beach is enough for me!
Lou and Claudia record videos and snap lots of photos so we can focus on staying present and making the most of the moment. I'd be lying if I said Daryl Braithwaite's early '90s hit song 'The Horses' isn't running through my head.
Connecting with nature
A short while later, when we're back in the forest, the beauty of situation hits me. Here we are on horseback, moving through sub-tropical woodlands on a white-sand track, surrounded by paperbark trees, ferns and scrubs. Soft sunlight is filtering through the branches above and the cicadas are out in force. It's so rare to have the opportunity to commune with nature in such a pure way. The Zephyr Horse team say they're dedicated to delivering "soul charging" moments and I realise that's exactly what I'm experiencing.
The group divides again as Lou takes those who'd like to trot down a different track. We meet up back at the ranch and reluctantly dismount. I notice everyone is facing their horse, thanking them, saying goodbye and giving them a scratch. It's clear that Kate's original goal for Zephyr Horses has been realised today.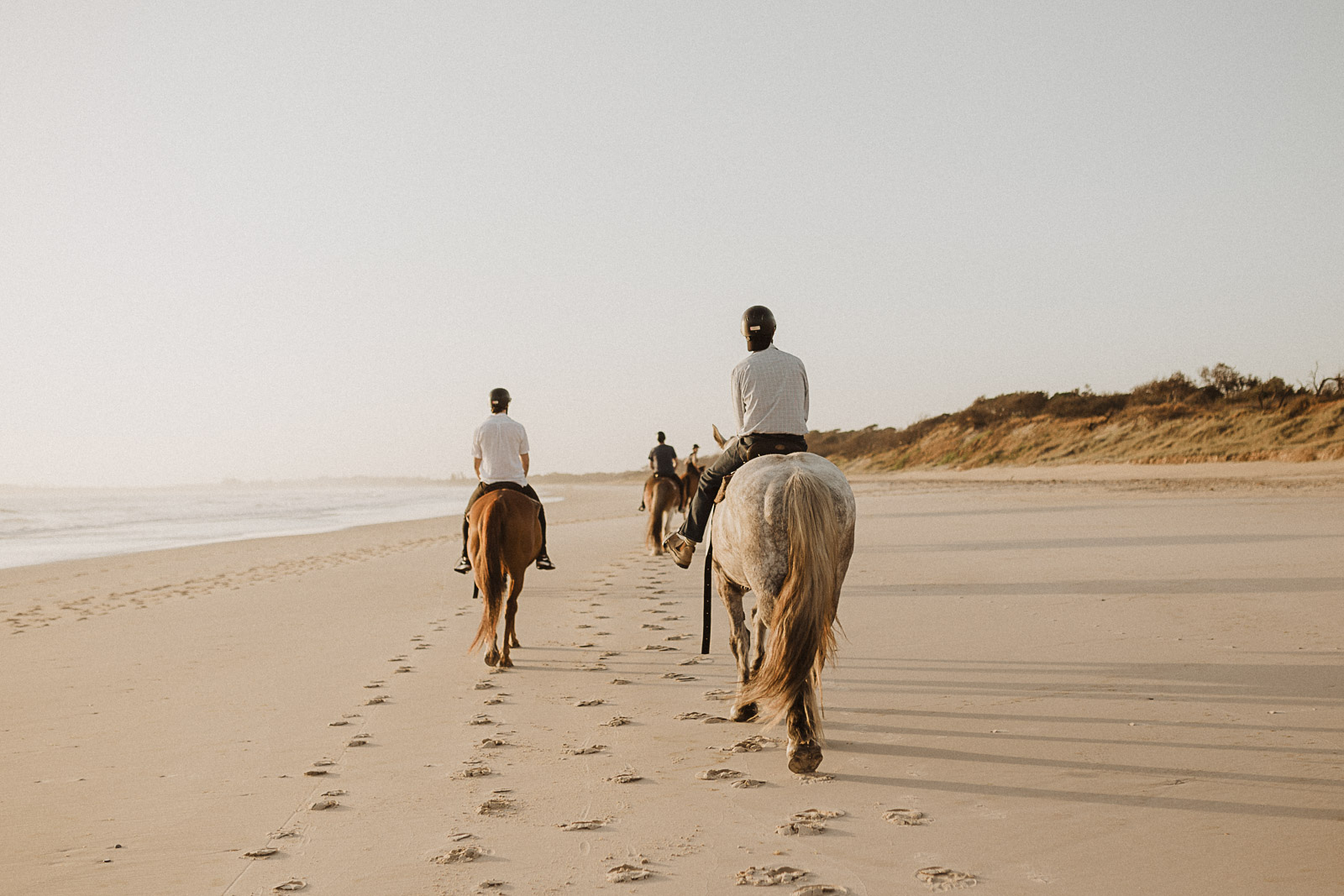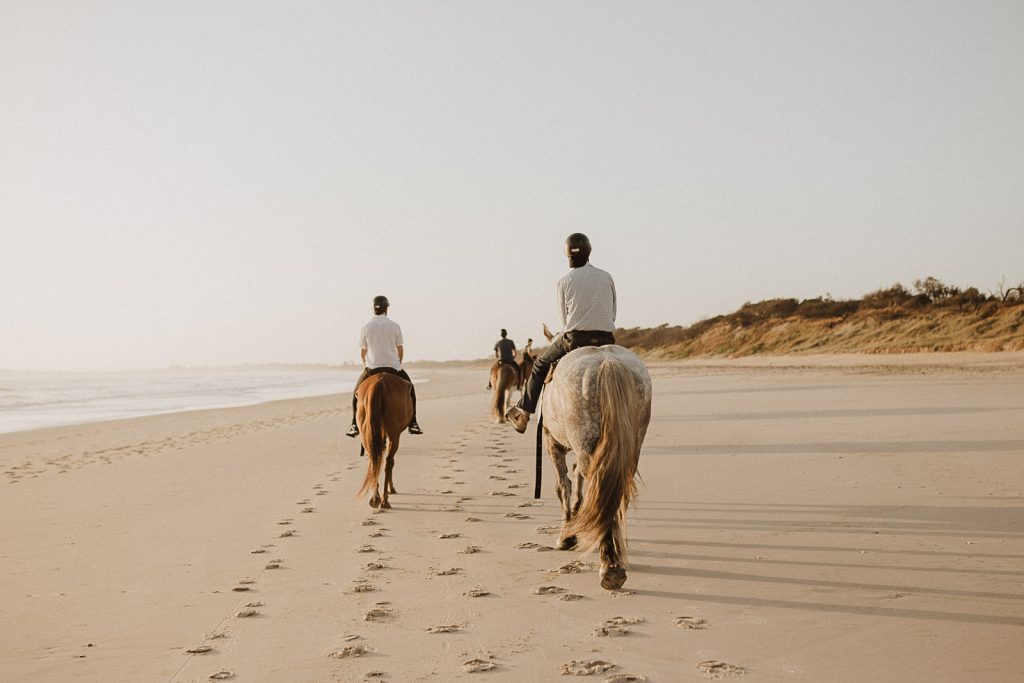 It's not every day you get the chance ride a horse on a beautiful Byron Bay beach 
Visiting Byron Bay over summer? Be sure to book your own Zephyr Horses adventure.
Read a previous Coastbeat article about Zephyr Horses here. Zephyr also featured in our A to Z travel guide of the NSW North Coast.