Elton John takes to the stage in Coffs Harbour on his Farewell Yellow Brick Road Tour
This week, the wait was finally over for thousands of locals and countless others who travelled here to experience Elton John as he took to the stage at C.ex Coffs International Stadium in Coffs Harbour. Wednesday night was the second of two shows and it's fair to say that the Coffs Coast has never hosted anything on such a grand scale. I think everyone in attendance and all of those behind the scenes were absolutely thrilled with how it turned out. The stadium looked amazing, the rain stayed away and logistically, everything came together beautifully. The bar has now been raised.
Here's my take on 'Elton John comes to Coffs Harbour'..
The countdown
For many, the anticipation has been building since the Coffs Harbour shows were announced back in June. Having someone of Elton John's calibre here was a big deal. Big pink shades even adorned The Big Banana for a short while to ensure everyone knew that the music legend was on his way.
I booked my ticket early on, with my date for the night being my 13-year-old son. Our three boys learned the story and developed a love for the music of Elton John through the fantastic 2019 Rocketman biopic and it has been wonderful to rediscover the tunes and lyrics through their eyes. I'm not sure a nine-year-old should love 'The Bitch is Back' as much as mine does but there you have it.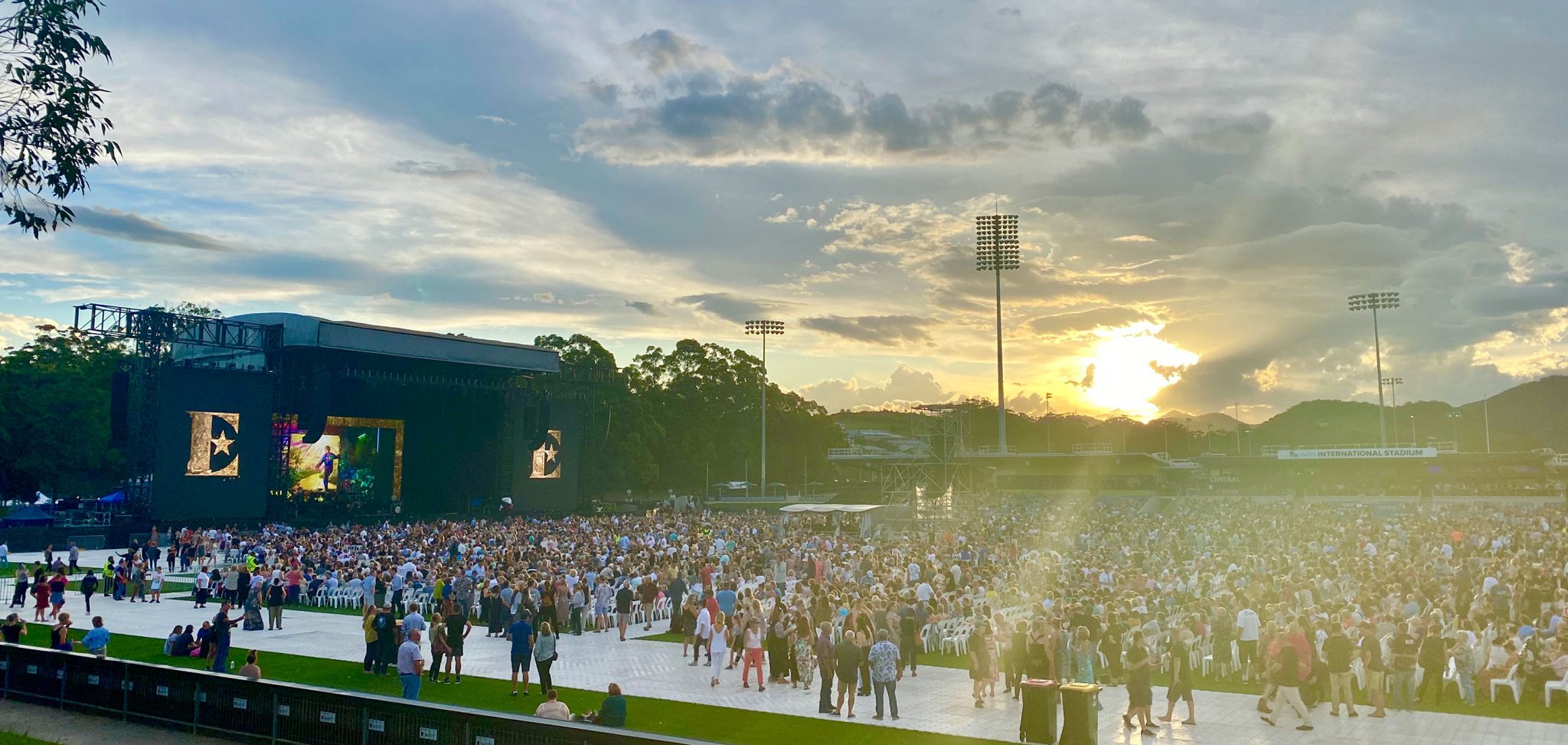 And there he is!
As Elton John was welcomed to the Coffs Harbour stage to rapturous applause, I felt a lump in my throat and was overcome with emotion. I hadn't expected that but reflecting on it now, I understand that it was about coming full circle. Seeing someone in the flesh that I loved through my younger years (my childhood friend had one of his live shows on VHS which we played to death) with my own child sitting next to me, equally delighted, was a special moment. As Elton appeared, my son leaned over and said "Mum, I have goose bumps."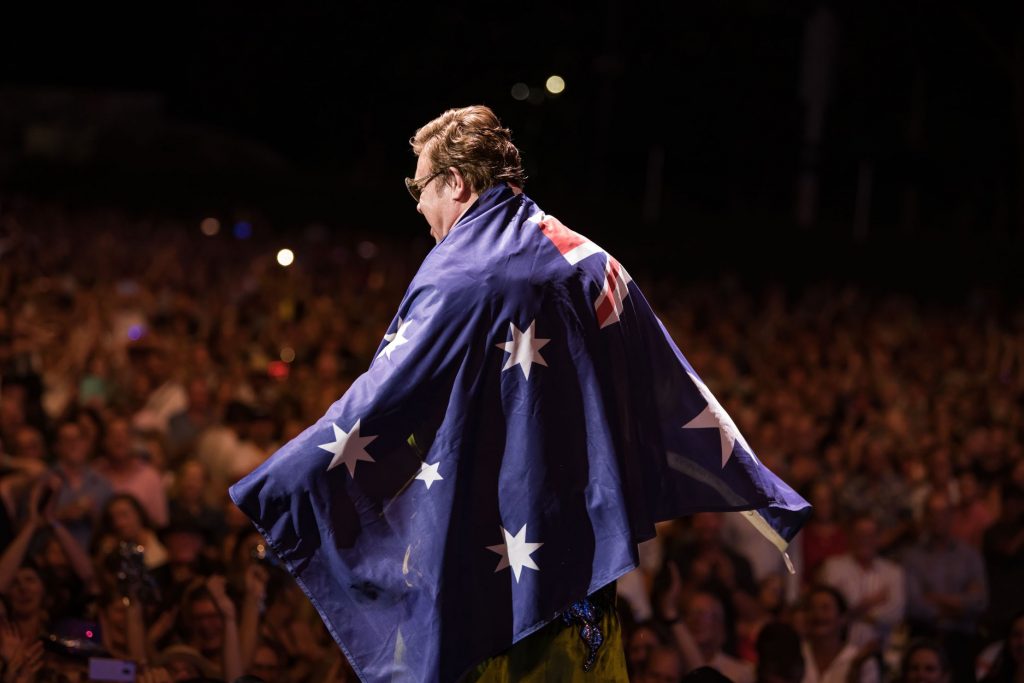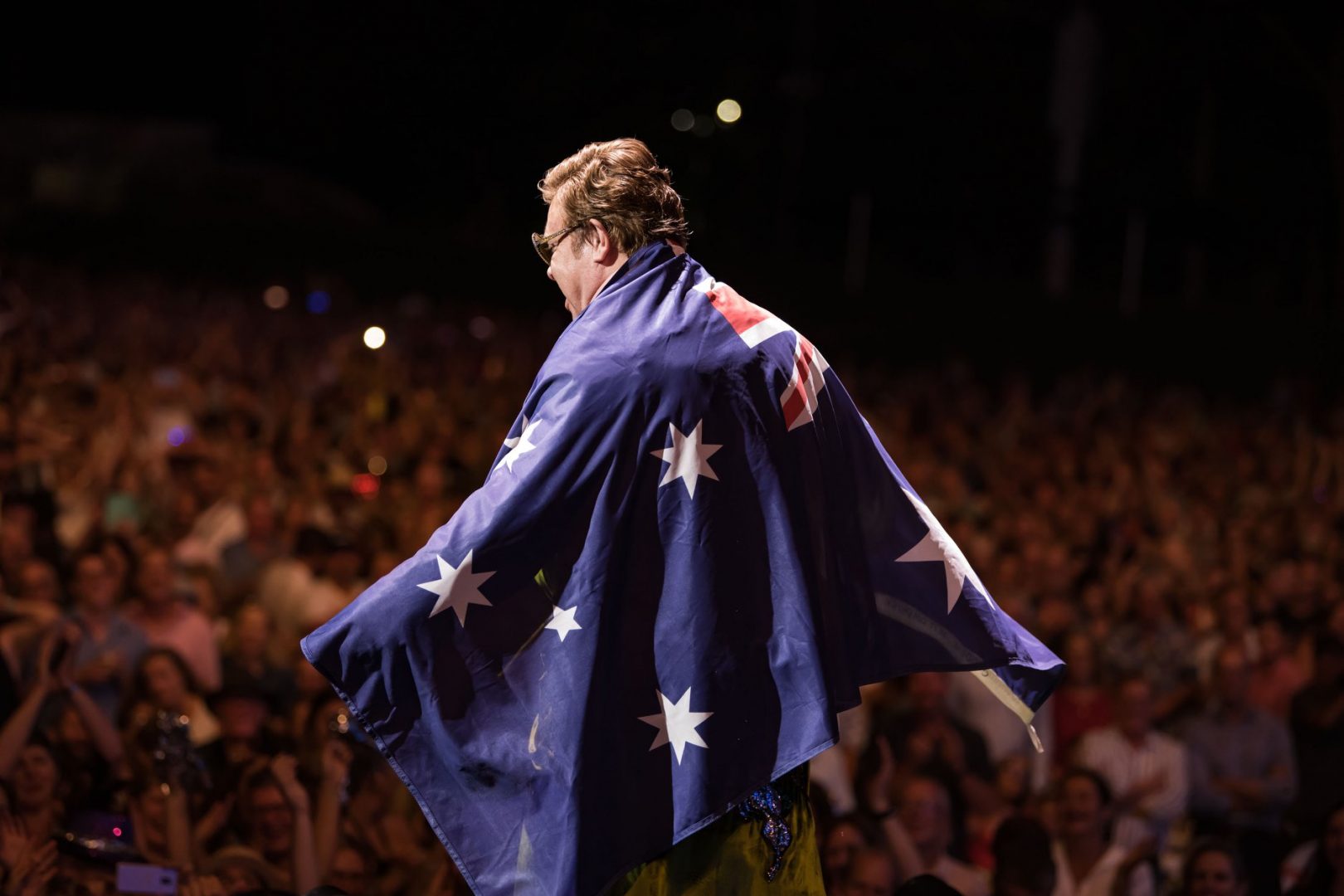 The action
And so followed over 2.5 hours of non-stop entertainment (albeit with one break of just a few minutes to change into another fabulous sequined outfit). As for his talents? My goodness, they're impressive. The strength of the voice and the piano playing is unbelievable, with the musical prodigy at his best as his fingers danced over the keys with a pace and ease that was staggering. The big screens showcased it well. His vibrancy certainly belies the fact that he's turning 73 next month!
As for the man himself, he was Captain Fantastic indeed – engaging and humble, warmly thanking his fans for their love and support over many years and telling us what a special place Australia holds in his heart. He chatted about Bernie Taupin, their amazing collaboration and friendship than spans more than five decades and explained the motivation to stop touring is to spend more time with his husband and their two sons. As an audience, we loved that he often moved away from the piano to connect with everyone and appreciated all the thankyou's he sent our way throughout the evening.
I think audience interaction is huge – always. A performer can be amazingly talented but not take the time to share anything of themselves and no audience wants to feel like they're seeing the same old show a given artist has done many times before. We want heart and sincerity. We got it. We lapped up Elton's references to our hometown and loved hearing that a woman in the Coffs audience the previous night had gone into labour during 'Tiny Dancer' and safely delivered a little boy. Congrats to the new mama out there! What a great story she has to tell her son about how he came into the world!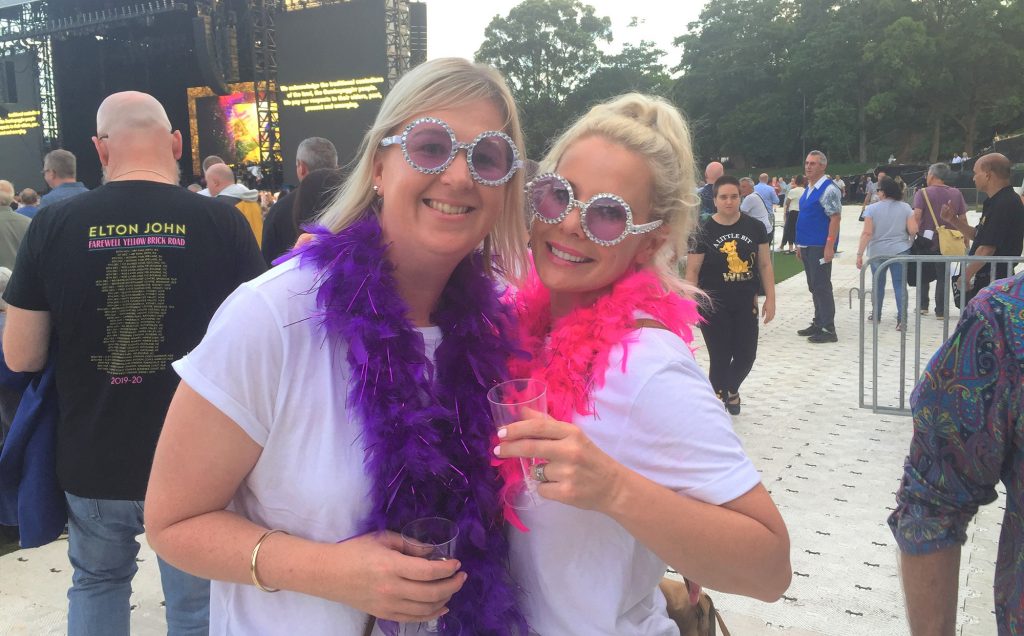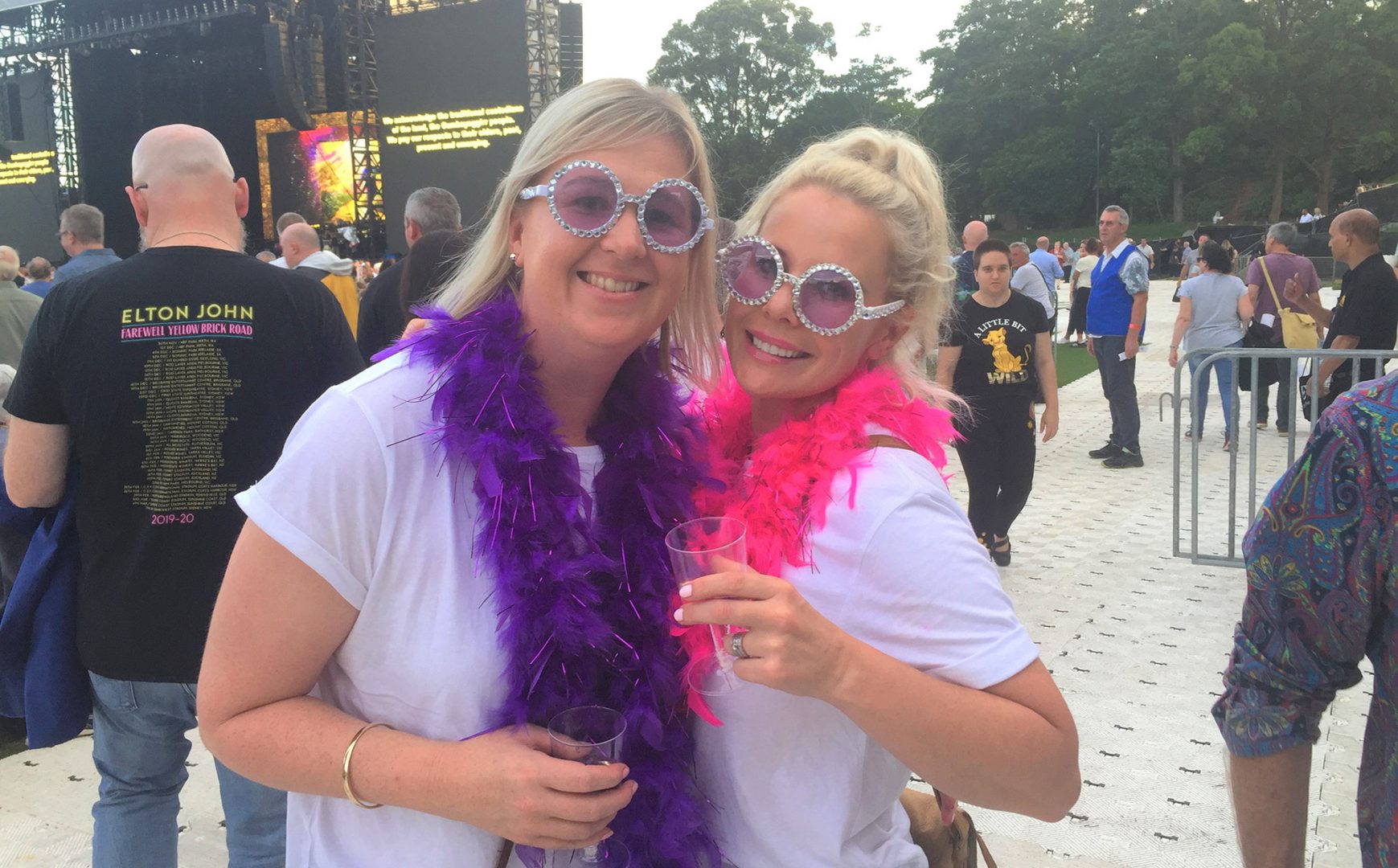 From our grandstand view, it was incredible to look out at the sea of people soaking up every minute of the show. The atmosphere on the gorgeous summer evening felt fun, relaxed and inclusive. Simply, everyone just wanted a good time. They dressed up in Elton-themed attire, danced arm in arm with friends and family, wore coloured flashing sunglasses that lit up once the sun set and sang along with vigour.
Of course, the big hits like 'Rocketman', 'Bennie and the Jets' and 'Crocodile Rock' got the best reaction from the crowd. He saved two of the most loved numbers until the encore, 'Your Song' and 'Goodbye Yellow Brick Road'.
For me, 'I'm Still Standing' was particularly memorable as the song was accompanied by wonderful footage on the screens; snapshots of various performances from over the years, vision of iconic outfits and looks, time with famous friends likes Elizabeth Taylor and Gianni Versace, career milestones such as his first Oscar win, reference to the incredible work of his AIDS foundation and guest appearances on The Simpsons and South Park and much more. It sure is easy to forget just how much he has done!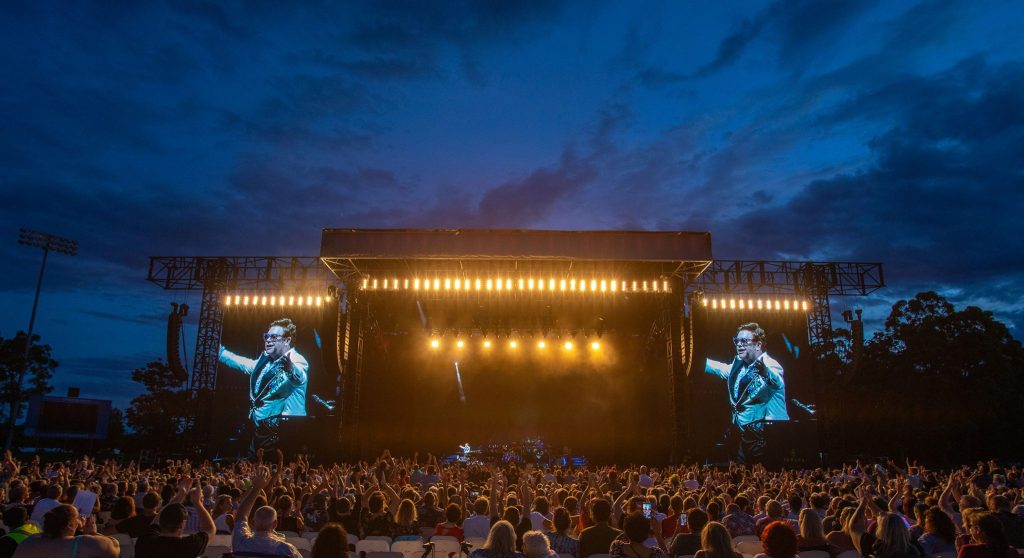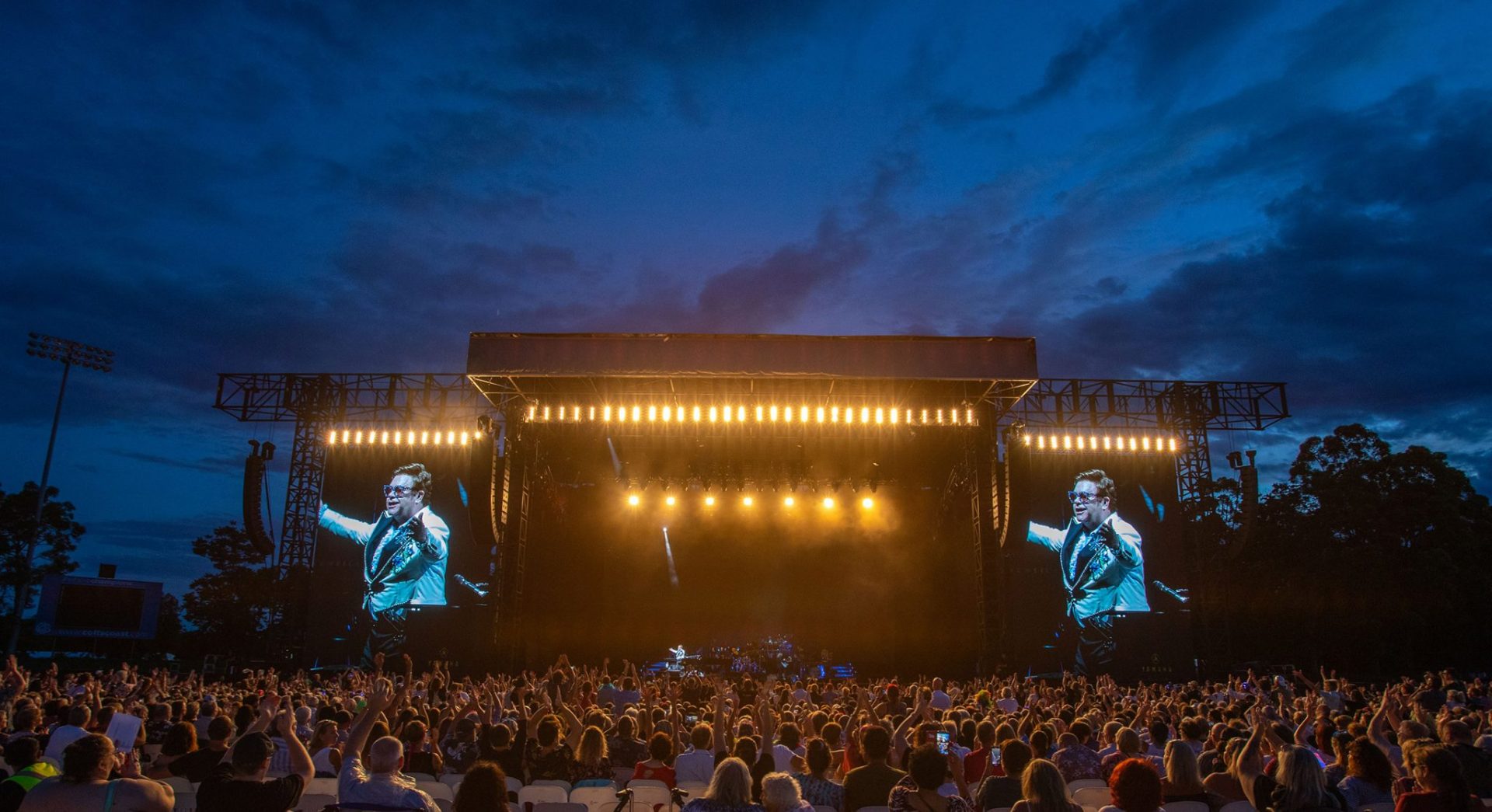 Farewell
What an incredible experience it was to have Elton John in our town, Coffs Harbour, during his Farewell Yellow Brick Road Tour. In all, the tour consists of over 300 concerts worldwide, wrapping up in New Zealand in February.
And so, in early 2021 the curtain will close for the final time for the icon in sequins and pink glasses who has been entertaining audiences for over fifty years. Sir Elton John, take a bow and thank you from the bottom of my heart for an experience that will stay with me always…
Find out more about the final tour here. Check out also the big winners of our Photo Contest who enjoyed an unforgettable experience of Elton John in Coffs Harbour in the corporate box!