Discovering the Western Hinterland of the Coffs Coast
The Coffs Coast is famous for its sun, surf and sand but take a drive west and you'll discover a side of the region that's just as special. Nana Glen, Coramba, Dairyville, Fridays Creek and the Orara Valley are some of the hidden gems you'll happily stumble across as you explore rivers, dairy farms, historic buildings and bushland.
This is an area I've always known about but haven't taken the time to explore. I assumed that because I'd driven up to Lowanna, where my brother lives, that I'd seen it all. How wrong I was!
On the 15-kilometre journey from Coffs Harbour to Coramba we felt like we were gliding along winding roads over impossibly green rolling hills. Each bend in the road revealed one stunning vista after another. After driving over a large bridge on a sweeping corner, the village came into view. The Coramba General Store was the ideal stop for coffee, breakfast and a chat. We explained to the shop attendant that we were on the hunt for creeks and waterholes and she pointed us in the direction of the Orara River, just down the road. Here we found a calm, wide section of the river full of shallow pools, rocks and logs. It was perfect for a paddle with the kids and a top spot to cool off on a hot summer's day.
We then went in search of the Magic Pools on Dingo Creek Road. We were delighted to discover we had the whole pool (and rope swing!) to ourselves and marvelled at its shimmering aqua green and pearly blue surface. We were soon joined by other families keen to make the most of the beautiful day. An afternoon of peace and serenity at the nearby Friday Creek Retreat followed. As soon as I stepped into our cosy yet stylish cottage, I was flooded with a feeling of contentment. Shifting into relaxation-mode was as simple as reclining on the comfortable couch and taking in the room's tasteful, Asianinspired décor then gazing out at the hills that gently sloped down to a large glassy lake. After a stroll around the grounds and a quick dip in the pool perched high above, we grabbed our cameras and set out to capture the stunning landscape just before sunset. 
As difficult as it was to leave our charming cottage, we got up early the next morning with the intention of photographing friendly local horses and flowers in full bloom. A few kilometres down the road we came across Danny Wilton and 170 of his Jersey cows. Within minutes of pulling over we were called on to assist with a cow who had just given birth to a calf and was having trouble standing up. We stayed with mum and tried to keep her calm while Danny went off to find the newborn who had wandered across the paddock. We were grinning from ear to ear and laughing at our luck. We'd somehow managed to wind up as apprentice farmers – all before 8am!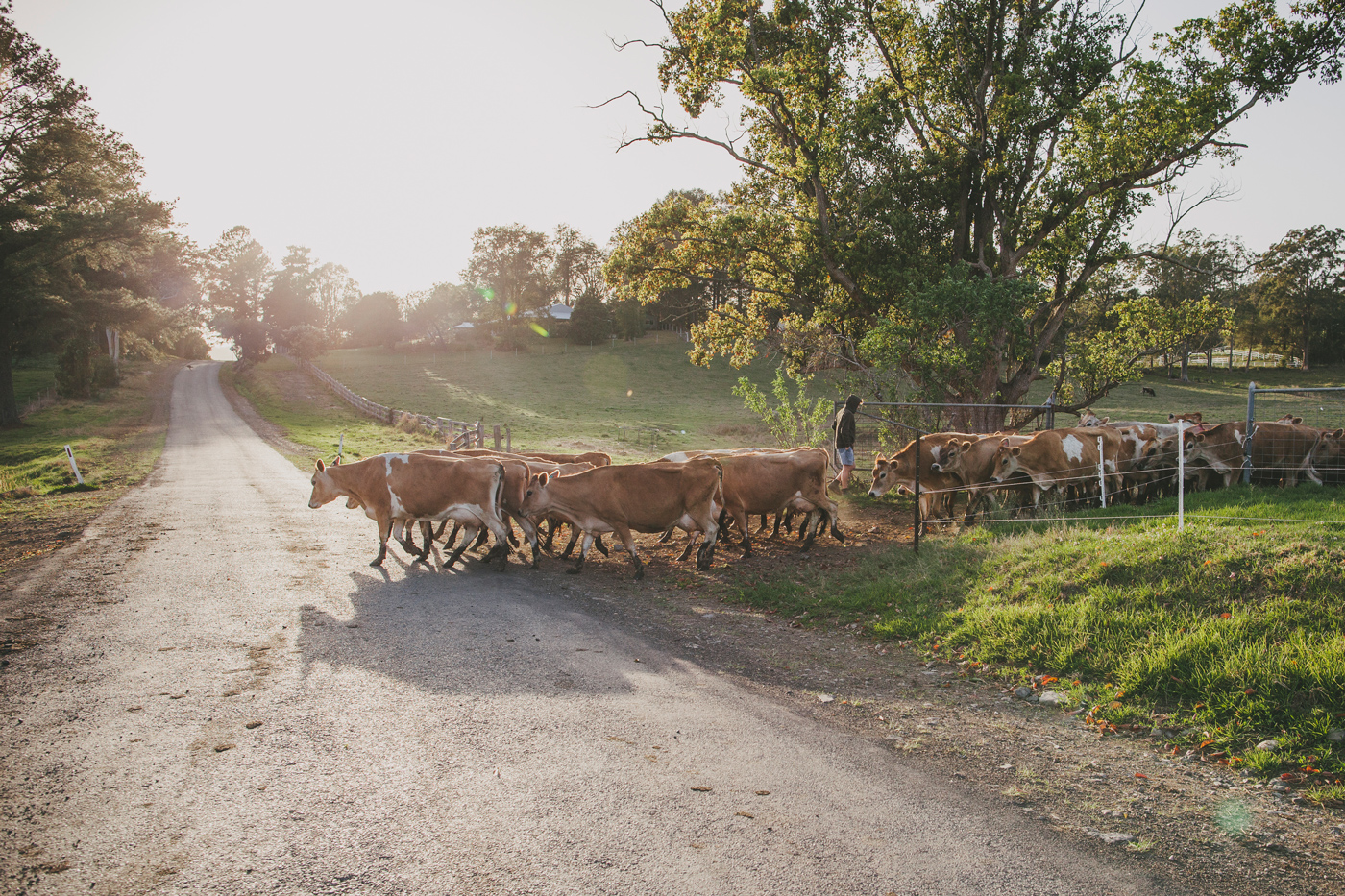 Danny Wilton's Jersey cows
Afterwards, we were warmly welcomed into the dairy and watched on as the cows were milked and calves were given their breakfast. The farm hands introduced us to the cows by name and happily chatted about life on the land.
The remainder of the day was spent meandering through Dairyville, Karangi and Nana Glen, checking out historical sites and buildings and taking snaps of quirky letter boxes, general stores and local produce.
In the early evening we found ourselves back in Coramba and pulled up stumps at the pub. The outdoor tables were positioned as front row seats to a spectacular sunset. While waiting for our meals, the kids took full advantage of the swings and found a tree or two to climb.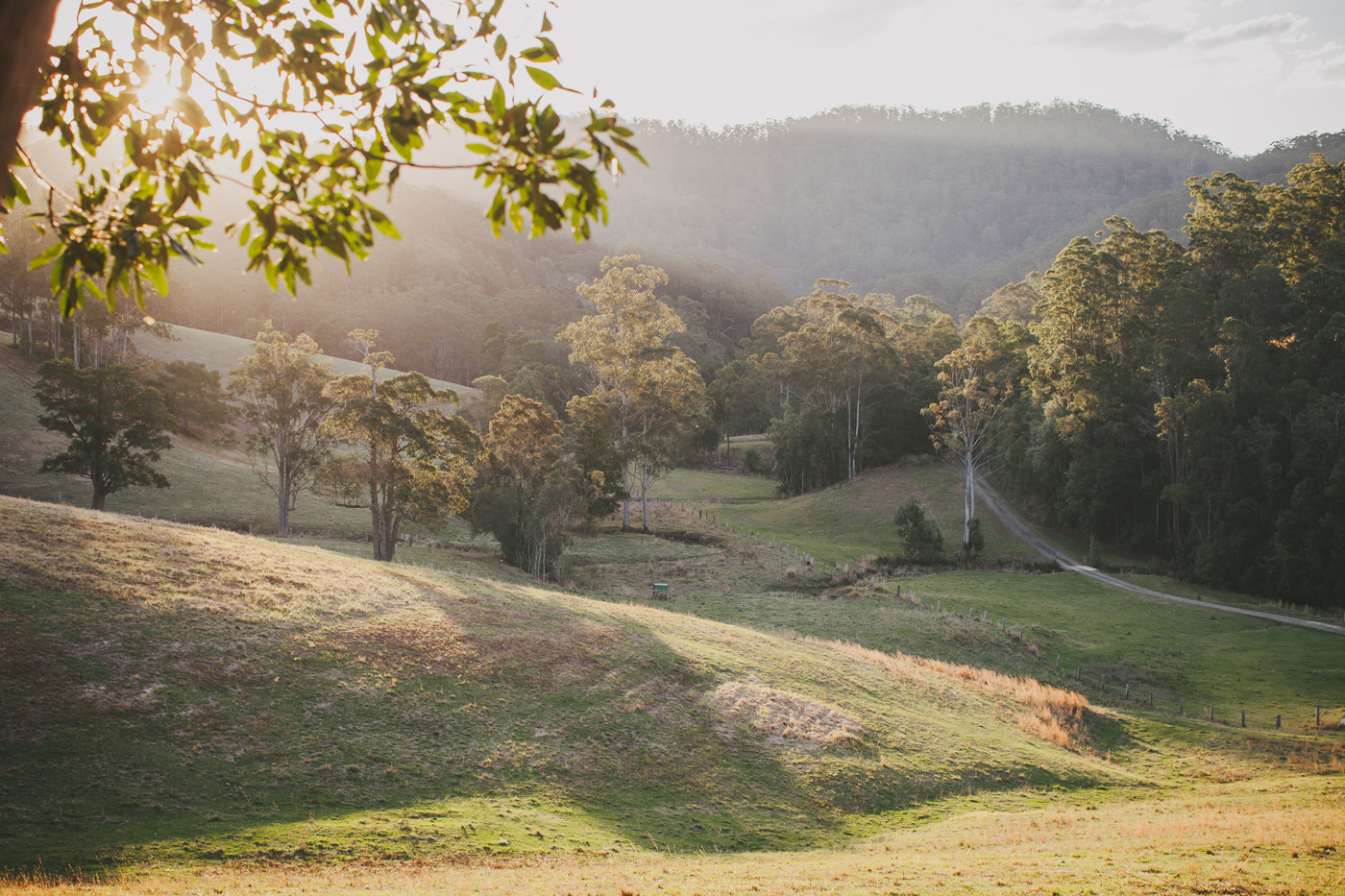 The Western Hinterland
We reflected on our travels through the western hinterland and felt a little sheepish that we'd put off exploring the area for so long. This natural wonderland is just minutes from the Coffs coast and offers an array of picture-perfect vistas and delightfully surprising experiences.
Top Five Spots for Photos
• Orara River at Coramba
• The Magic Pools on Dingo Creek Road
• Friday Creek farms at sunset
• Azona Jersey Stud on Island Loop Road
• Lowanna in the early morning fog Photography Tips
• Get snapping in the early morning or late afternoon to capture landscapes bathed in golden light.
• Don't forget the details. While the rolling hills and winding roads are practically begging to be photographed, you'll be rewarded if you stick around long enough to focus on the farm animals, flowers and birds surrounding you.
• Keep your camera on hand at all times as you never know when you'll encounter local wildlife crossing the road. We saw a massive python slithering along the Island Loop but were too stunned to take photos!
For more on the western hinterland go to coffscoast.com