Macleay Valley Dirt Track Adventures
Heading south to Port Macquarie, Ballina boy Paul Pryor decided to get his four-wheel drive off the highway and take the scenic route. He found pristine beaches, dusty dirt roads, bush camping and some tasty tucker. Take the road less travelled…
I'm traveling with my friend Elize and she assures me I'll want to take a look at Crescent Head, so we pull into the carpark and see the perfect peelers coming around the point. A big part of me wants to stay right there but I know there's more adventure just around the corner.
We fill the truck with fuel and stock up on bakery treats before heading out Baker Drive and onto Point Plomer Road. The sealed road ends pretty quickly and we hit a corrugated dirt road. There are no major potholes, but it is a bit bumpy. Four-wheel drives would have no trouble, but it could be a bit uncomfortable for low two-wheel drives. We pass multiple accommodation options from campgrounds to luxury retreats. There seems to be something for every budget. We haven't lined up anywhere to stay so we try our luck at Waves Campground, just across the road from Delicate Nobby Beach.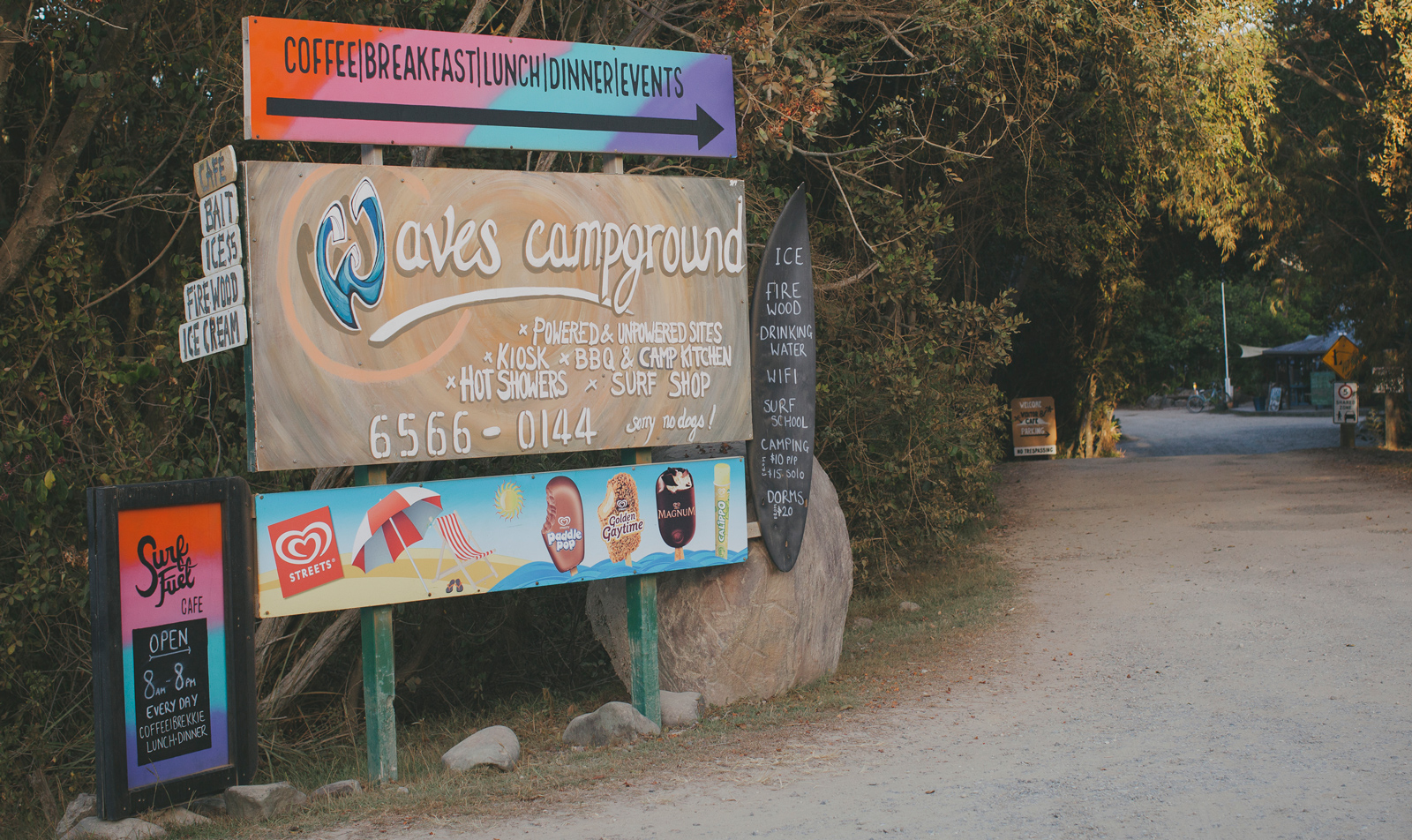 Waves Campground offers affordable camping just a stone's throw from the beach
Kit greets us at the front desk and assures us that he has room. He's an enthusiastic and informative host and tells us all about what Waves has to offer. The surf lessons are appealing but I'll leave morning yoga and the essential oils workshop to Elize! Kit gives us a number of unpowered bush campsites to choose from and it's not an easy decision. They're all very spacious and surrounded by trees that provide a fair amount of privacy.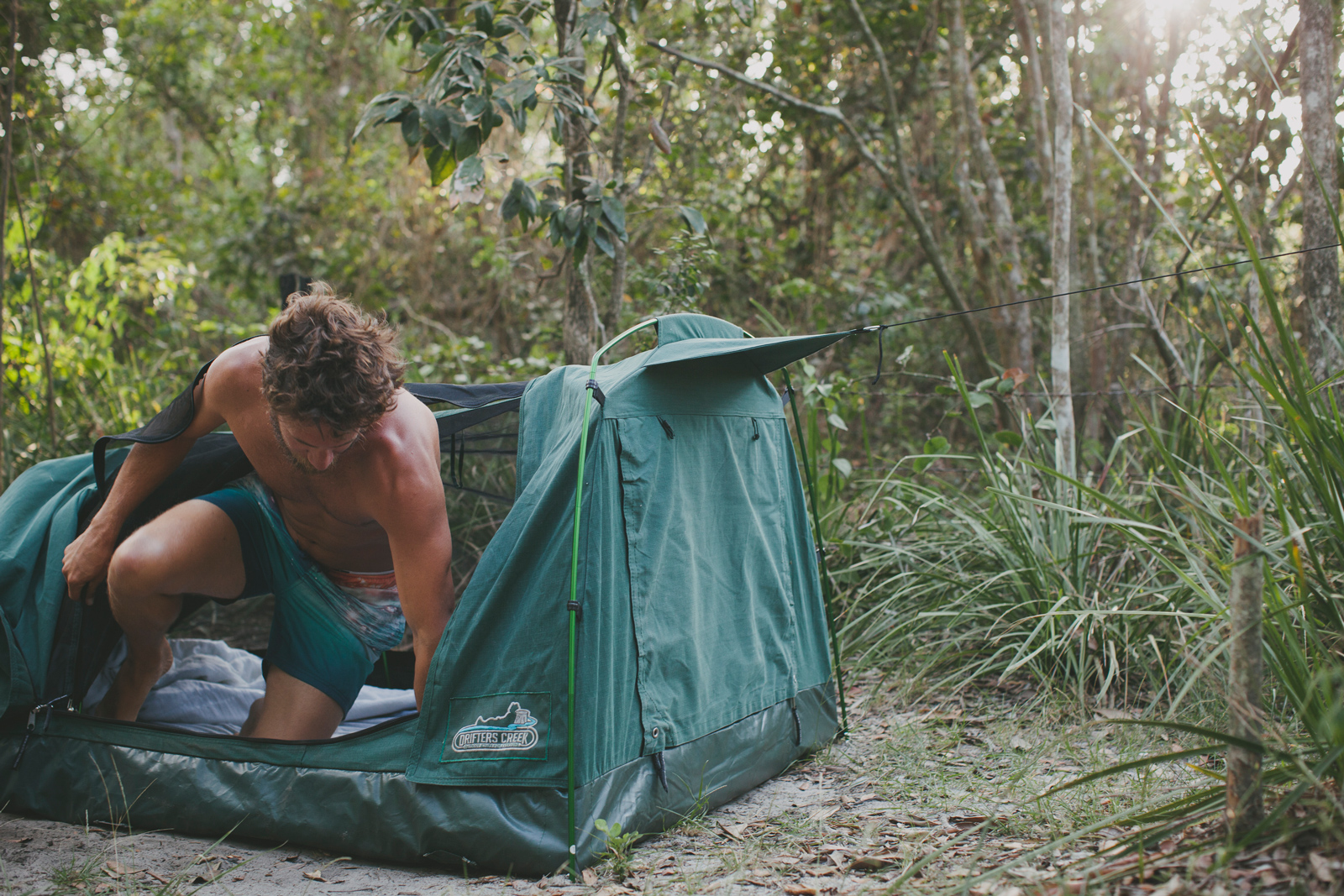 We had the choice of spacious and private unpowered bush campsites
Tummies rumbling, Kit points us in the direction of the onsite café, Surf Fuel. We're impressed with the healthy breakfast and lunch options, tasty coffee and friendly service. Once we've had our fill and set up the tent, we hop back in the truck and drive towards Queens Beach via Point Plomer. The campground at Point Plomer is bustling. This is certainly a popular spot and it's not hard to see why. The beach is a stone's throw away and the view up the coast is spectacular.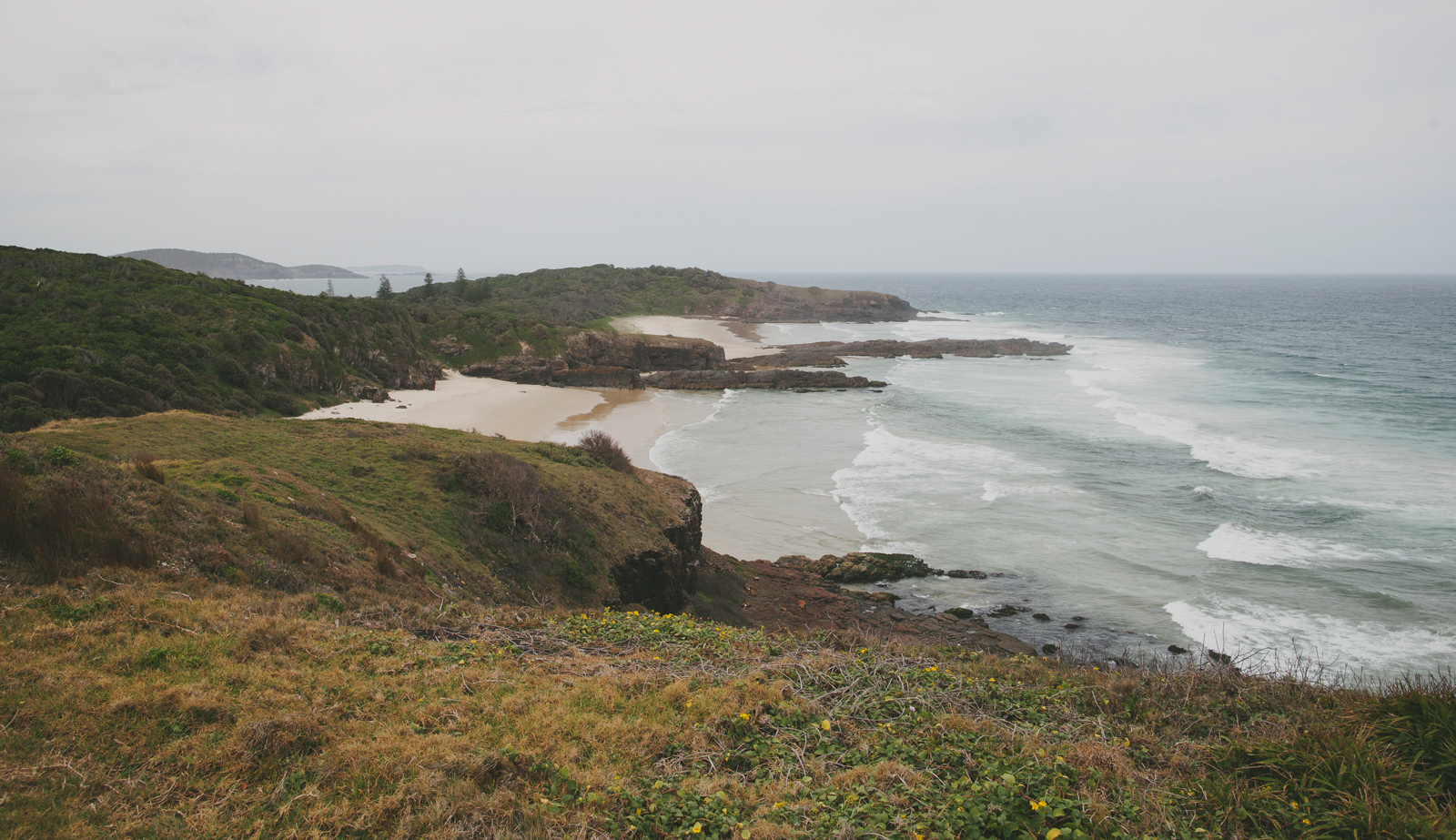 The view north from Queens Head
We'd heard that the sand on Queens Beach was especially soft due to the lack of rain and northerly winds but see a number of four-wheel drives going up and down the track, so we decide to risk it. I make sure to let down the pressure in my tyres first – this helps the car climb over the sand rather than sinking into it. The drive down to the water isn't too bad but I definitely have to go easy over some very soft sections that have the potential to get inexperienced drivers into trouble. We say g'day to a few others – there are only a handful of vehicles on this seriously picturesque beach.
Shopping in the Heart of
Coffs Harbour
We pull out the camp chairs and have a few drinks before going for a walk up to the headland and taking in amazing 360-degree views. I've been told about an old gravel mining road that runs parallel to the beach but advised to avoid it as it has fallen into disrepair.
My curiosity gets the better of me and we give it a go. The track is certainly rough and there's a sign at the beginning stating that it's not suitable for two-wheel drives. I could see that it would be challenging yet super fun in the wet but, dry as it is, we're reduced to a slow crawl.
Just when we're about to turn around and head back to the campground, we come across a young couple who have bottomed out and found themselves stuck in soft sand. They thought their station wagon could handle the terrain, but they didn't count on the sandy section. I rustle around in the tray and try to find something that can attach my power winch to the back of their vehicle. After a number of attempts, I'm eventually able to pull them out and send them on their way. They're extremely grateful and perhaps a little sheepish. Good deed done, we wind back through Limeburners Creek National Park to Waves. Dinner and chats around our small fire cap off the night before it's into the swag for some shut-eye.
After yesterday's test run on Queens Beach, I decide against driving south to Port Macquarie due to the super soft sand. Instead, we go back to Crescent Head and find the Maria River gravel road which takes us south through bush and farmland all the way to Port Macquarie's North Shore. We pick up two backpackers on the way – Abby and Eva. They entertain us with stories their travels and their first impressions of Australia. At North Shore we join the Settlement Point Ferry and cross the Hastings River.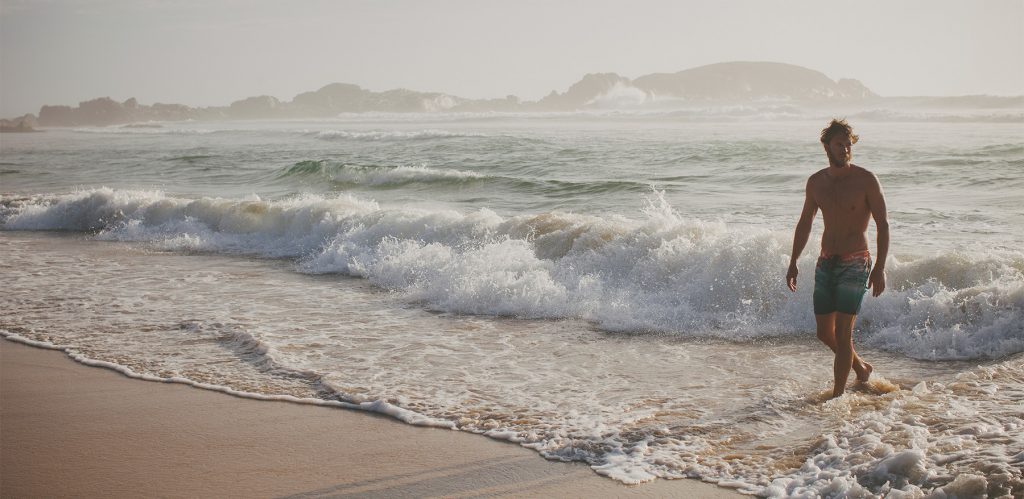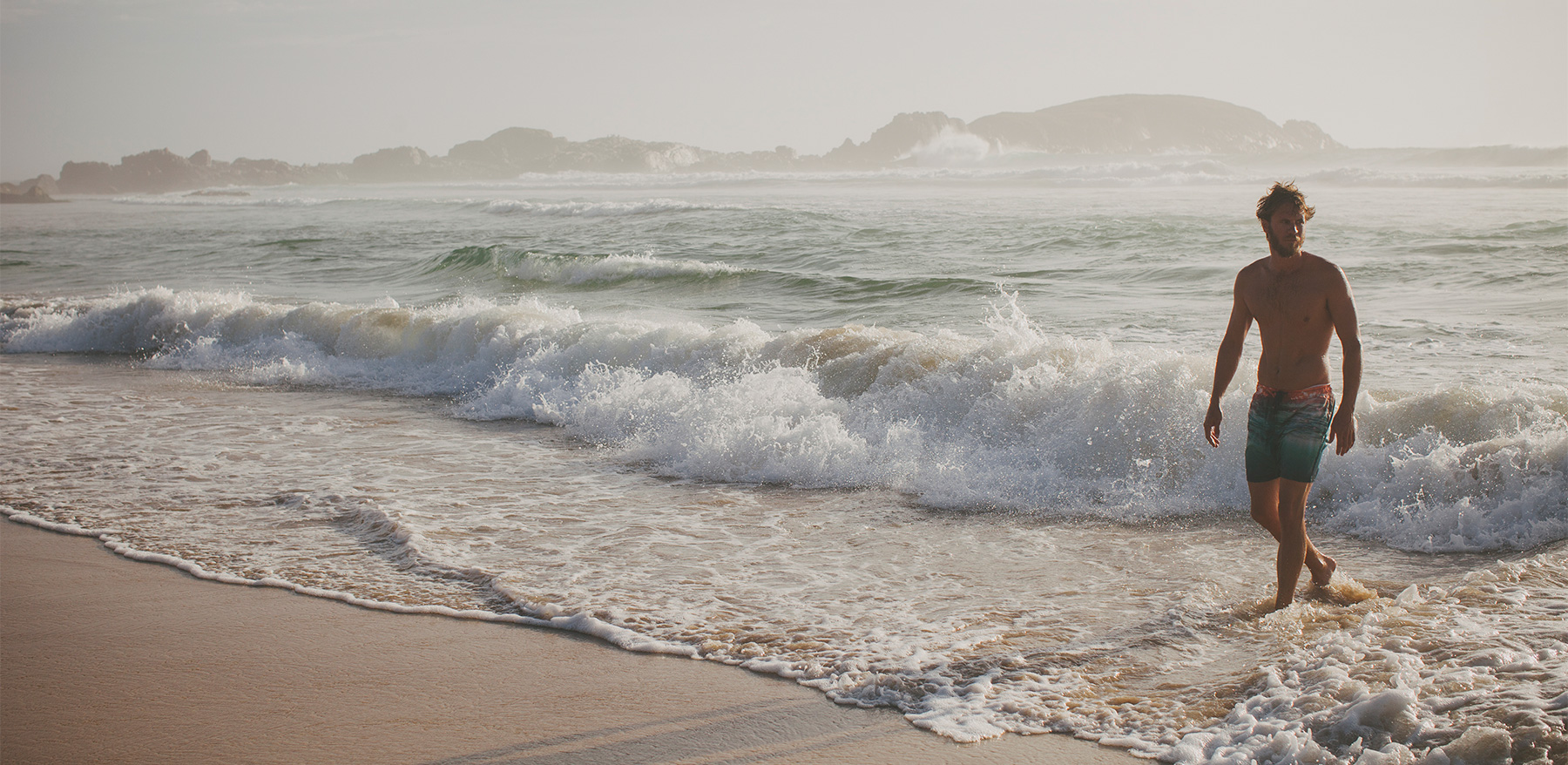 Nothing quite beats starting the day with a swim

There's no question that the Pacific Highway upgrade has made the trip south quicker and safer, but sometimes it's a hell of a lot more fun to get off road and do some exploring in out of the way places. You never know what you'll find, and you certainly won't regret it. Life's all about the journey, right? Right!
Stay: Waves Campground – www.wavescampground.com
Eat: Surf Fuel Cafe @ Waves Campground
Explore: Queens Head and Queens Beach