Depot's Sticky Twice Cooked Pork Belly with Salted Peanut Brittle
Recreate one of Depot's most popular dishes at home. Chef Scott Hardy shares his pork belly recipe, perfect for entertaining this Autumn.
Serves: 4-6
INGREDIENTS
1kg boneless pork belly
100ml olive oil
100gm whole ginger
½ bch coriander
150ml kecap manis
100ml sweet chilli sauce
2lt chicken stock
1 red onion
2 kaffir lime leaves
150gm brown sugar
2 bch bok choy
250gm green beans
250gm Asian bean shoots
250gm rocket
200gm roasted peanuts
50gm castor sugar
METHOD
Seal pork belly well on both sides in a hot pan. Set aside in a roasting tray.
Roughly chop red onion/coriander/ginger and kaffir lime and sauté in olive oil in the same pan. When fragrant, add kecap manis, sweet chilli sauce and brown sugar. Continue to sauté until it comes to a syrup/jam consistency then pour over pork belly. Add chicken stock until just covering the pork belly, cover with foil and seal tightly. Bake at 180 degrees Celsius for approximately 1.5 hrs or until tender.
When ready, carefully remove pork belly (making sure it is kept intact). Place on a flat tray in fridge until cool, then wrap tightly in clingfilm to compress. Strain cooking liquid discarding the 'pulp' but reserve the liquid.
SALAD
Top and tail green beans, tail the bok choy and blanch quickly in boiling water for approximately two minutes, refreshing in ice water. In a hot pan with a little olive oil, roast peanuts, add castor sugar and gently turn the pan around as the sugar caramelizes to coat the peanuts. When golden and caramel, add sea salt and slide onto a greased tray to cool. When cool, break into bite size pieces.
TO FINISH AND ASSEMBLE
Remove skin from pork belly and discard. Cut pork belly into 4cm cubes. In a pan, gently sauté pork belly until brown. Add reserved liquid and cook quickly until liquid turns to a syrup consistency. Place five to seven pieces of pork belly in each serving bowl.
In a separate bowl, combine all salad ingredients and peanut brittle. Gently pour a little of the pork belly 'sticky' syrup to dress and arrange on top of pork.
ENJOY!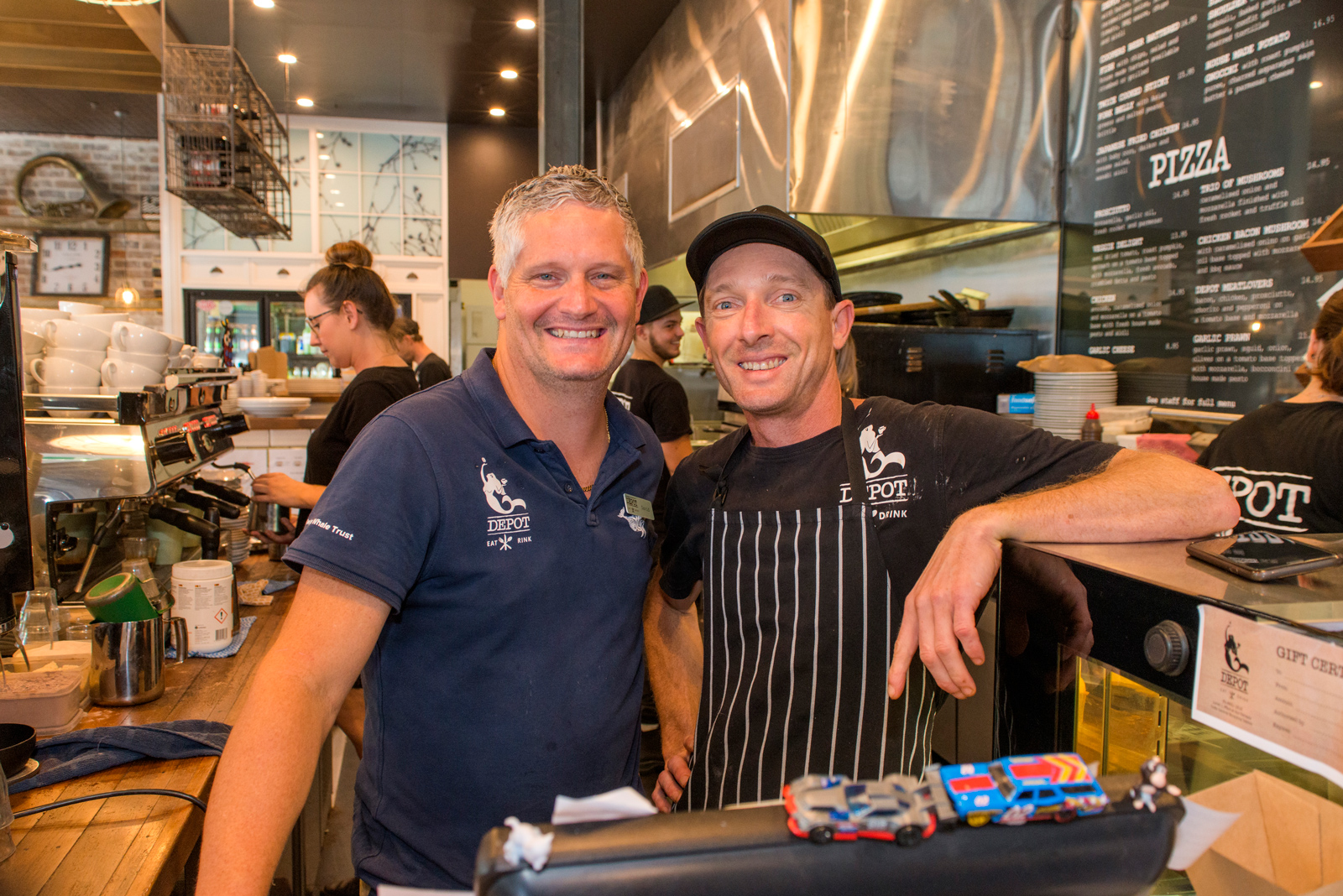 David Cini (l) and Scott Hardy(r). Image by Brendan Ray
Not up for cooking at home? Try this delicious dish at Depot Café, located at the Food Terrace, Level 1, Coffs Central. Ph) 6651 1812