David Helfgott – Still Shining
David Helfgott is the astounding pianist made famous through the 1996 Oscar-winning biopic Shine. Many of his admirers regard him as the greatest concert pianist since Horowitz, citing his technical skill and the unique passion that he brings to his playing. His greatest admirer is his wife, Gillian, who tells the tale of a love at first sight that has lasted thirty years.
To interview David and Gillian Helfgott we leave Bellingen for the Promised Land, traversing winding roads through lush greenery, crossing Never Never Creek. We approach their house via a small bridge over a tranquil lily pond, overhung by luxuriant greenery. In the distance, across landscaped lawns dotted with outbreaks of wild tropical flowering shrubs, there is a second lily pond, decorated by a delightful bright red, arching footbridge.
Shopping in the Heart of
Coffs Harbour
A figure darts from the front of the house. It is David Helfgott. He raises his arms and to our surprise, releases a small bird into the air, then turns and runs inside again.
The whimsy of our first impression continues throughout the next two hours as David and Gillian entertain, charm and enchant us. They greet us in a rush of hugs, then David whisks photographer Sooz off, saying "You'll want to see the piano? Of course you will." He doesn't wait for an answer; Gillian and I retire to the elegant interior of their home.
"We fell in love with this area," she tells me. "George Negus and his partner Kirsty Cockburn introduced us to the Promised Land thirty years ago; we settled here in 1989."
'Settled' is a misleading verb within the Helfgotts context. Even before the success of Shine, David maintained a demanding schedule of concert performances, which continues today. The Helfgotts have just returned from a four-month tour of Europe, performing in Paris, Budapest, Denmark, Copenhagen, Zurich, Vienna and Istanbul, playing to packed houses and critical acclaim.
"In Budapest David played to 2,500 people. Denmark was more intimate and, of course, Copenhagen – David has played there every year since 1988. He celebrated his 70th birthday with a concert there last year and received a standing ovation."
From the piano room we hear strains of Nikolai Rimsky-Korsakov's Flight of the Bumblebee which, along with Rachmaninoff's Piano Concerto No. 3, is one of David's signature pieces. I find out later that it is a favourite of Sooz and David has delighted her with a performance. Such generosity is a hallmark of David's musicianship.
"It's like he channels the music," says Gillian. "He tells me that he was born to play the piano."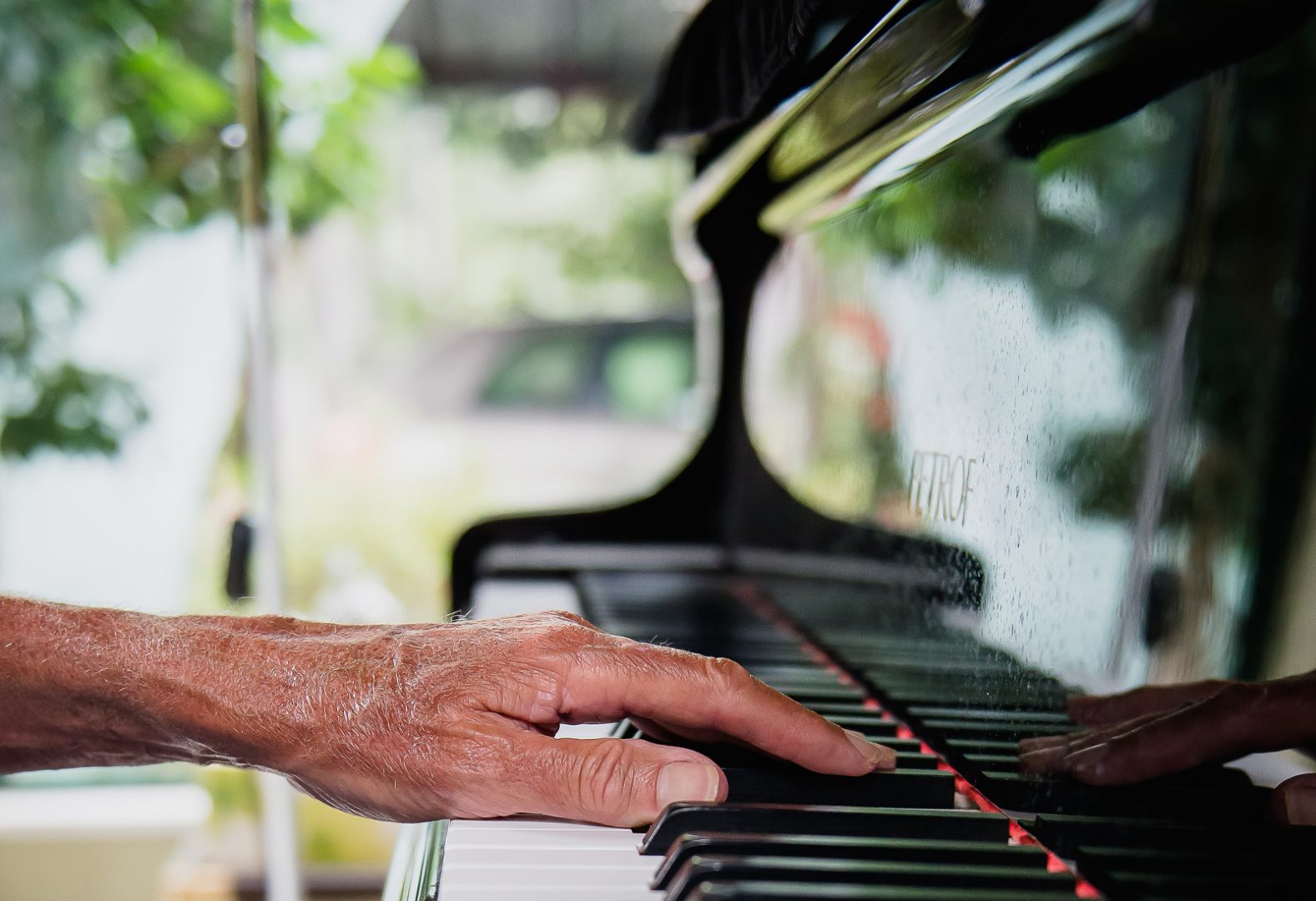 The frenetic energy of Flight of the Bumblebee seems appropriate for David, who buzzes in minutes later, dragging Sooz by the hand. He is keen for us to have a cup of tea. He gives everyone a kiss, then rushes off again. As I follow Gillian to the kitchen I hope that Sooz is managing to get some shots in.
"He is a very spontaneous person, quite uninhibited, and so kind," Gillian comments. "That bird you saw him releasing had been flapping around in here for hours this morning, poor thing; I couldn't catch it. David came in from the pool and offered to help, which was a relief. It took him just a few minutes talking quietly to calm the bird down enough to catch it. Animals love him."
On David's website there is a remarkable image of David playing while a leopard lounges atop his piano. Gillian tells me it was fascinated by him and kept licking his hands.
"Another time," Gillian says, "David came in to tell me that 'a snake had given him a cuddle while he was swimming'. It slid in and wrapped itself around him, but he was worried that it might drown, so he unwrapped it and placed it on the poolside. I was concerned, but he looked at me very seriously and said, 'Darling, you do know the snake would never harm me?' He's like that with everything; I have had not one boring day being married to him."
David has already told me that he spends a lot of time swimming. "It calms him down," confirms Gillian. "That's why we love it here – David can be close to nature, which is so good for him. He is happier than I've ever seen him and playing better than ever before."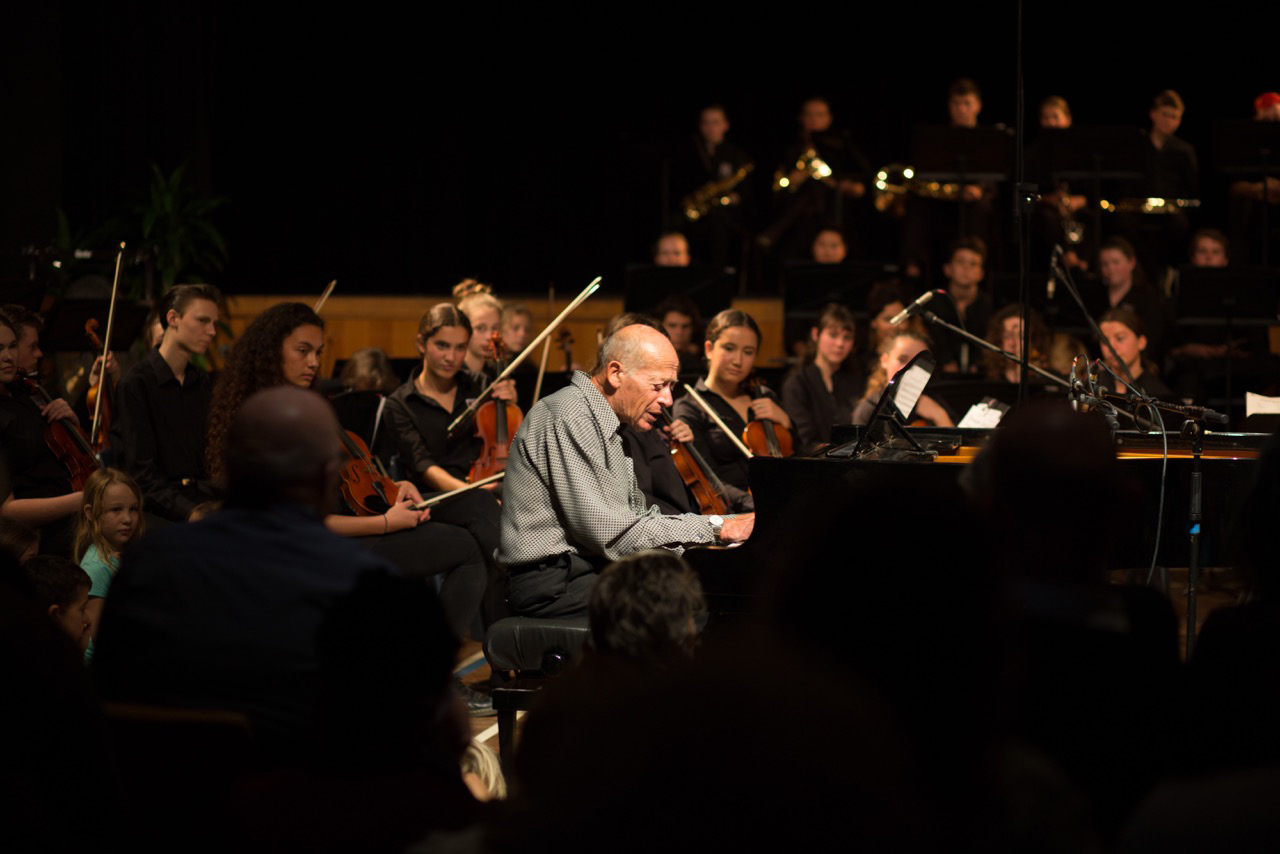 David performing with the Bellingen Youth Orchestra. Image by Jay Black
David's generosity encompasses the community of Bellingen too, with a series of performances with the Bellingen Youth Orchestra (BYO). I ask why this particular collaboration and Gillian replies, emphatically, "Annie Phelan," naming the BYO creative director and conductor. "One of the most inspirational musicians I've met in my life. She is a perfect example of discipline, passion and care for the musicianship of her students."
The admiration is mutual. Emailing me from overseas, Annie responded: "The orchestra is always excited when I tell them that David will be performing with them. He is a great inspiration and encourages the kids to perform at a very high level. The orchestra wouldn't be what it is today without the support and encouragement from David and Gillian."
The BYO just celebrated its 10th anniversary and now comprises 90 musicians. They recently performed to an audience of 3,000. "It's all about the love of music," says Gillian, "which David loves sharing with the students."
David and Sooz return for a cup of tea, served in beautiful Klimt crockery that is in accord with walls hung with paintings, richly hued upholstery and a symphony of green glimpsed through long windows. The Helfgott home is a haven.
It's my turn in the piano room now. David and I talk a little of his love for the Romantic composers and I confide that my favourite is Smetana. Immediately he plays The Moldau, his quicksilver fingers lightly teasing out the opening bars before launching into the dramatic main theme. To my surprise I stand and join him, singing along as best I can. We find our way through until David stops playing.
"As long as you know the notes," he says, laughing. As I thank him, he replies, in his rapid-fire style, "It's all meant to be – be in the now, now is what matters."
We walk outside for photographs of Gillian and David by the lily pond, then, suddenly two hours have passed, and it is time to leave. We are embraced and sent on our way with invitations to come again; the spell of the Helfgotts lasts all the way home and then some.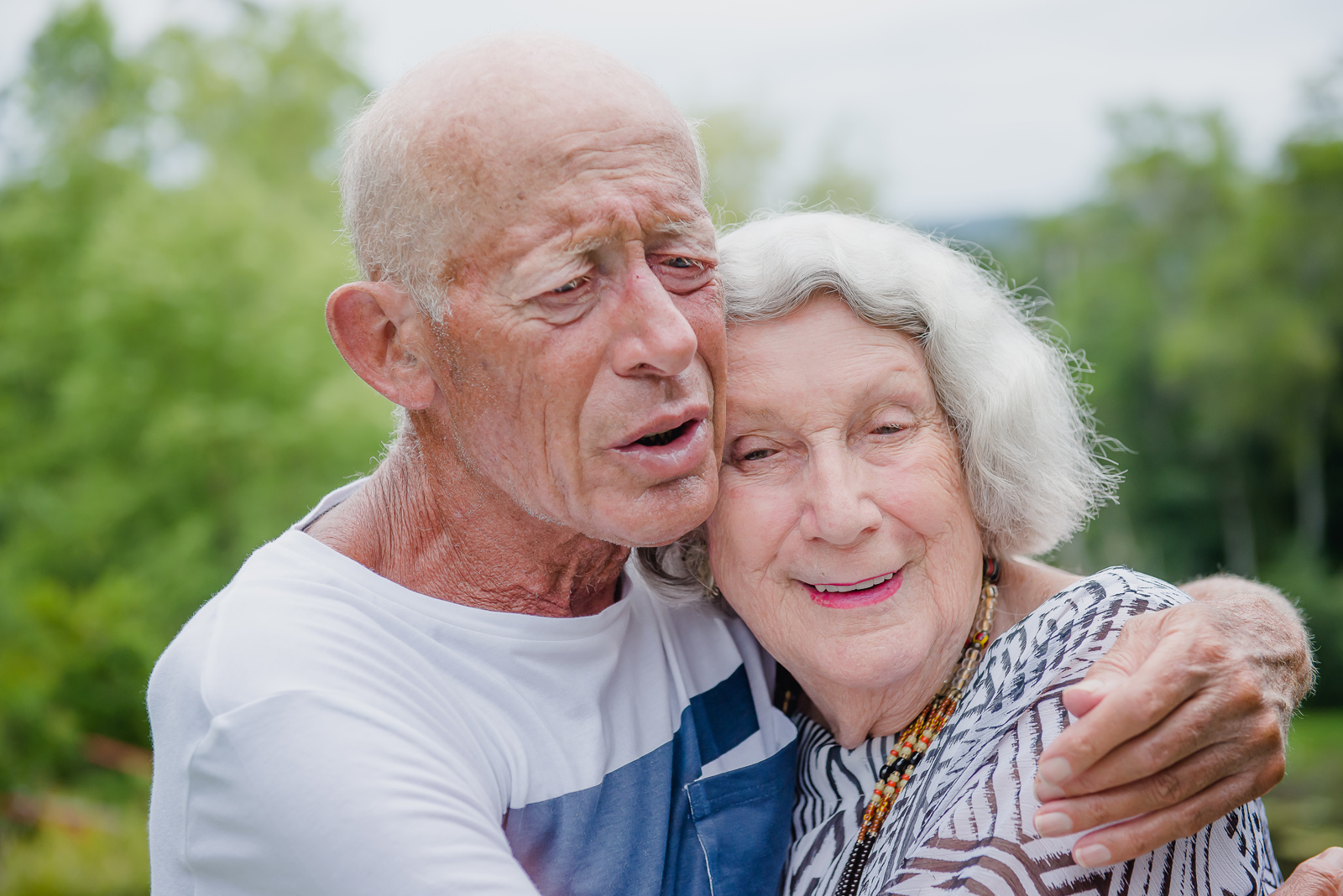 David & Gillian Helfgott, 30 years and still shining
During our broad-ranging conversation, Gillian and I talked a little about David's mental health. I have watched many of David's performances online, noticing how he turns repeatedly to the audience, how he sings along as he plays. Now, having met him, it occurs to me that music is a powerful way to make connection. David's warmth, his generosity and his love of sharing that which he loves, seems inseparable from his musicianship and I realise that when he stands to bow, arms outstretched, he wants to embrace us all in this music that pours through him, to connect us to what he can feel. And when he sings he is saying, as he did to me in his piano room at home: "Isn't this marvellous? Be in the now, it's meant to be."
For tour and biographical information visit www.davidhelfgott.com