Dark Arts Brew & Bar
A brew worth travelling for….
Having grown up in Melbourne, a new café/restaurant/bar/live music venue located down a Coffs Harbour laneway who roasts their own coffee and sources produce locally, has me at hello.
The interior of Dark Arts Brew & Bar oozes that southern city cool: a sophisticated dark palette, comfy lounge chairs, intimate and community-style tables, low-lighting, industrial-chic pressed tin ceiling and obligatory mural art. On this, my second visit the place is buzzing however it's not overwhelming due to the open-plan layout and good acoustic design. People gather here with colleagues, friends or their device. The coffee menu is a connoisseur's delight with choices ranging from organic, single-estate, 'pour-over', 'syphon' and more. I have momentary option paralysis until I am steered in the right direction by Glenn Anthony, the visionary and director of Dark Arts.
As I sip my rich and velvety 'Black Magic" brew, I am transported to a coffee plantation on the steep slopes of the Antigua valley in Guatemala, 1500m above sea level. "High altitude means slow-growing which equals a denser bean, richer flavour, aroma and caffeine yield" explains Glenn. "Our signature 'Black Magic' blend is smooth, rich and incredibly popular". Since opening Dark Arts Brew & Bar in late 2016, Glenn and his team have created a real stir in the area. With the roasting aspect of the business, Dark Arts Coffee Roasters, they seem to have cracked a winning formula of wholesale and retail success.
"Having travelled far and wide, tasted and roasted many beans, our mission is to bring the best and most ethically-sourced coffee and honest fare to the people of the Coffs Coast & beyond".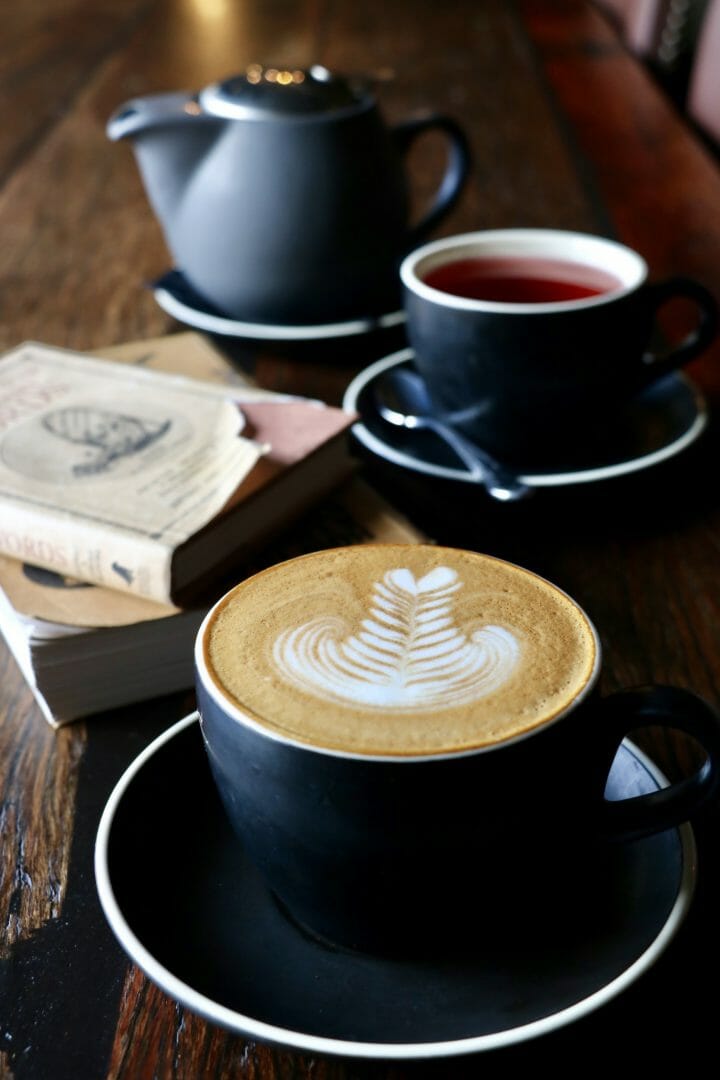 Coffee as a drink dates back to 11th Century Ethiopia where it was originally used as a medicinal drink to benefit the liver. However, it was not until the 16th century in the palace of the Ottoman empire in Turkey that it was first roasted. This new brewing method soon spread from the palace to the grand mansions to almost every home. The people of Istanbul and the Arabian Peninsula quickly became enamored with the beverage. Green coffee beans were roasted at home on pans, ground in mortars and brewed in coffeepots known as "cezve".
Like so many good ideas, the Dark Arts coffee odyssey began in a garage. Under the cloak of darkness, due to the coffee-infused smoke that would fill the surrounding streets, Glenn's first signature blend was perfected in 2011. Two successful business followed in Ballina and then Tweed Heads. Glenn's mastery of coffee was recognized by a competitor, which led to a generous purchase offer being put on the table that was too good to refuse. Casting his eye further afield for his next business venture, Coffs Harbour piqued Glenn's interest. With a growing population, discerning local and tourist palate plus modest overheads, the stage was set for Dark Arts Brew and Bar.
It was an old night club venue that had stood empty and partly demolished for 10 years that was to become the blank canvas (after nine months fit-out) for Glenn's vision. Assisted by his managing partner Elijah, the eclectic business also runs Murder Mystery dinners, Barista training (one-on-one and classes) and live music events that have been embraced by the community with sell-out shows, a regular clientele and ongoing good reviews on Tripadvisor.
The mainly vegetarian menu comprises honest, healthy versions of home cooked favourites for breakfast, lunch and dinner. The vegetarian lasagna and salad that this writer indulged in looked deceptively simple yet harbored a wonderful symphony of rich melting flavours. The breakfast Buddha bowl is a menu favourite, full of superfoods and nourishing yumminess.
The restaurant is open Saturday nights for dinner and shows while the bar snacks sound pretty enticing on the other nights they are open late, check with the venue for opening times.
The Coffs Harbour food scene is changing quickly with gentrification of many neighbouring beachside suburbs following the Pacific Motorway upgrade. There are now more than a dozen cafes or retailers supplying or stocking a Dark Arts Coffee Roasters blend up and down the coast. Now that's got to be a good thing for everyone.
Even if you are not a coffee adventurer willing to travel to a new destination to find that next dark fix, then come for the talked-about breakfasts, sumptuous cakes, a salubrious evening event or to polish up your latte art. But no need to hurry though as Dark Arts is going to be in the spotlight for a long time to come.
Cox Lane, Coffs Harbour
Open early 7 days. Live music every Saturday night. Available for events. Licensed till 10:30pm.