Coffs Harbour Baristas Show You How to Make Exceptional Coffee at Home
Can't make it to your local cafe and don't have expensive equipment at home but still craving a great coffee? You're in luck! Coastbeat spoke to two Coffs Harbour baristas about their favourite alternative brewing methods. Read on to learn how to make an exceptional cup of coffee with an AeroPress Go or a Clever Coffee Dripper. 
AeroPress Go with Lilee Griffiths from Artisti Coffee Roasters
The AeroPress Go is the latest version of the extremely popular AeroPress Coffee Brewer. All of the parts fit inside the sleek new cup, as well as a container for your filters, a fold down stirrer, and a scoop.
Artisti's baristas have tested many methods for brewing with the AeroPress Go and our favourite for making a great cup of coffee is the inverted method. It's where you place the AeroPress Go upside down, add coffee and water, then flip onto your cup and plunge.
I like to use 12 grams of ground coffee. Weighing your coffee is always best as the grind particle size will dictate the volume. There's a scoop provided but it may not always weigh 12 grams, however we think it should be pretty close with a coarse grind.
Top Articles
If you're using paper filters, we'd suggest medium coarse grind. You can purchase metal filters which will allow you to use an espresso/fine grind. The paper filter also takes out a lot of oils that come through with the coffee, so if you like a heavier mouthfeel, you could use a metal filter. Don't forget to place your filter into the cap and cover it with boiling water first to rinse out any paper taste, and to keep the filter in place when you place the cap on.
Start pouring 180mls of 93-95 degree water over the coffee. Pour aggressively enough to agitate the coffee, then stir with the stirrer provided until all of the coffee is saturated. Now start a timer for one minute.
At the end of one minute, place the cap on top of the AeroPress Go, put the AeroPress cup (or your cup of choice) on upside down, then flip everything over, placing the cup on the bench. Now you can plunge the AeroPress but you'll need to apply quite a bit of pressure. If you prefer your brew stronger, try using 20 grams of coffee. If you think it's too strong, just use six grams.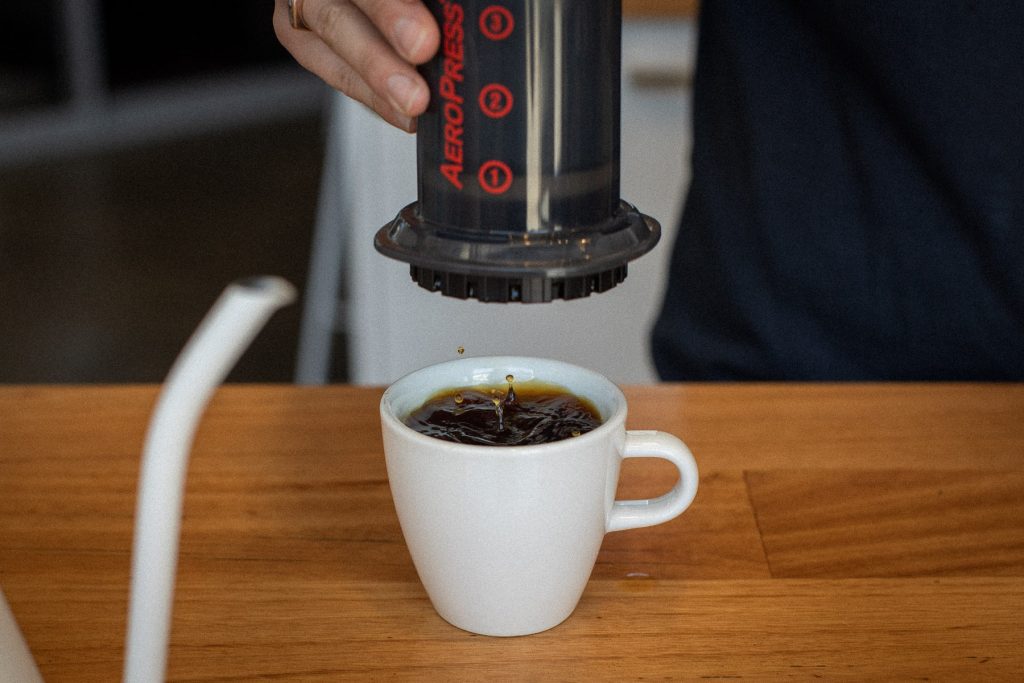 There you have it, a delicious, clean cup of coffee from the comfort of your own home, or from wherever you want! For the best sensory experience, try a single-origin coffee from your local coffee roaster. 
You can buy the AeroPress Go from our showroom and espresso bar located at our roastery in High Tech Industrial Estate or from our online store.
Clever Dripper with Todd McCarthy at Supply Coffee Roasters
You'd be forgiven for thinking this brewing style is simply another way to perform the pour over method. But the Clever Coffee Dripper is a full immersion brewer, giving it more in common with a plunger. They're super simple and very reliable – you can't go wrong. Being a full immersion brew, you get a really nice heavy mouthfeel, especially with the Kenyan coffees. Filter coffee is certainly on the rise in Coffs. It's fun to see peoples' reactions and when they are able to identify what flavours are there. When a Supply customer orders a filter coffee, I use the Clever Coffee Dripper. They're exceptionally easy to use during service even if we're in the middle of a rush.
Taking the filter paper, I fold it so that it sits nicely in the brew vessel. Add hot water to the Clever Coffee Dripper, just to heat the brewer – I don't want the brewer itself to leech any of the heat from the eventual brew water. I then grind 22 grams of coffee quite coarsely; you want something similar to a plunger coffee grind. Get rid of the brew water and that should remove the taste of paper, too. Add the ground coffee and then pour 360 grams of water into the vessel. Your water should be set to 96 degrees Celsius. I then set a timer for two minutes and allow it to steep. To maintain the thermal mass in the vessel, pop the lid on.
While you're waiting, heat up your serving vessel by pouring hot water into it. I'm using fancy Japanese glass, but a mug or cup will do just fine! At the two-minute mark, take the lid off the Clever Dripper and break the crust that has formed on top. That releases all of those aromatic compounds that have developed and trapped themselves underneath that crust. Get rid of the water you used to heat your cup and sit the brewer over the top of it. The Clever Dripper has a rubber stopper at its base that holds the water back until you're ready to engage the valve that allows the drawdown to begin.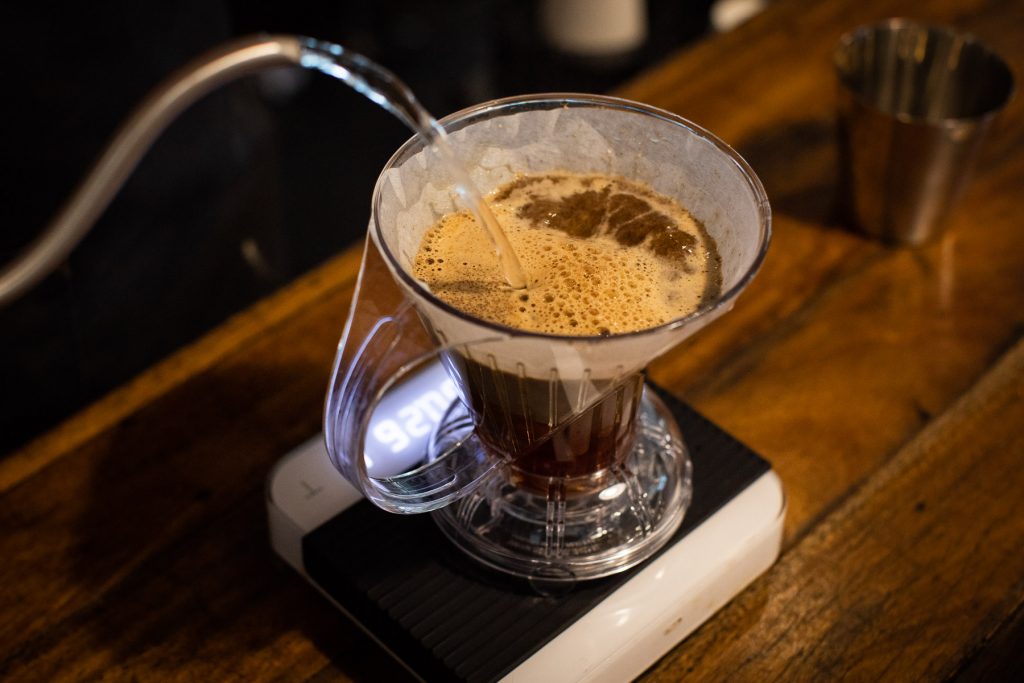 You can let it do its thing but check on the progress and if it's getting clogged, that's an indication that your grind might be a little too fine. If the liquid is coming down really quickly then it's probably too coarse. As soon as it starts to drip you know you're getting to the end of the brew. Give it a little shake to get the last few drips out…aaaandnd you're done! It took me a total of four minutes so aim for a similar amount of time.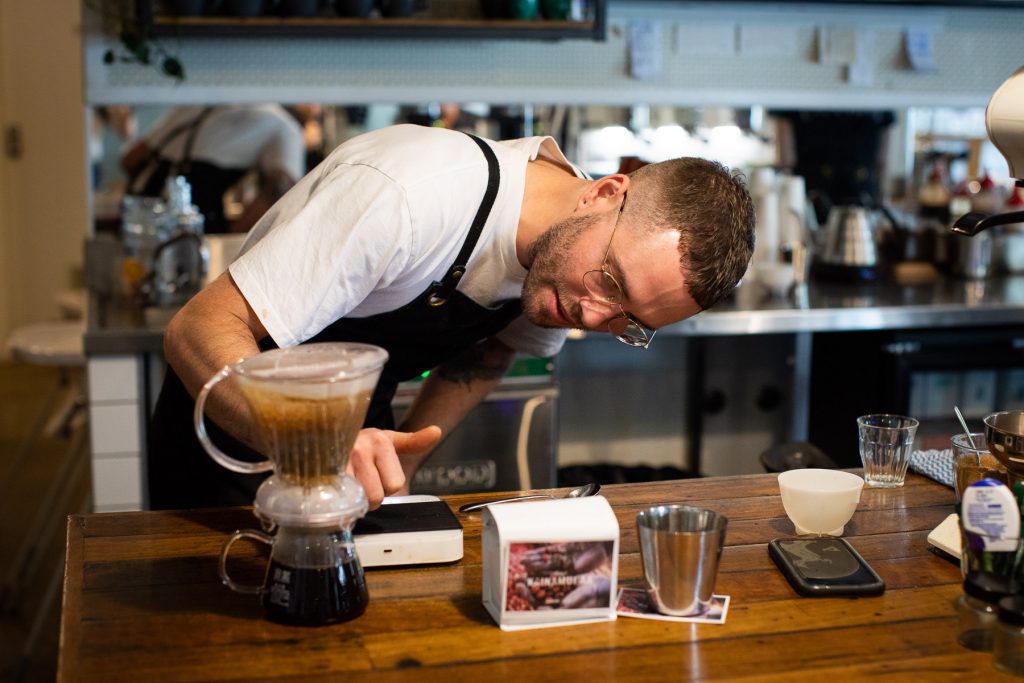 You can buy your own Clever Coffee Dripper from Supply Coffee Roasters at 15 Orlando Street, Coffs Harbour or online.
Follow Artisti Coffee Roasters and Supply Coffee Roasters on Instagram!
---
Read our interview with butcher Will Brennan for tips on cooking over a fire.