Great Activities & Attractions on the Coffs Coast
Family attractions and outdoor combine to make the Coffs Coast a wonderful spot to spend time. Here are Coastbeat's favourite activities to do in this stunning region.
Experience the Big Banana
The Big Banana may be one of Australia's famous 'big things', but there's so much more to the attraction than a giant piece of fruit. A favourite with local families, the Big Banana has a fabulous waterpark with four huge slides and a kids aqua play area, a 650m downhill toboggan, mini-golf, ice skating and state-of-the-art laser tag. You can also learn about the banana industry via a theatre and plantation tour, then round the day off with lunch at the Go Bananas Cafe followed by a sneaky visit to the on-site candy store. https://bigbanana.com
Go big at the Banana with Coastbeat.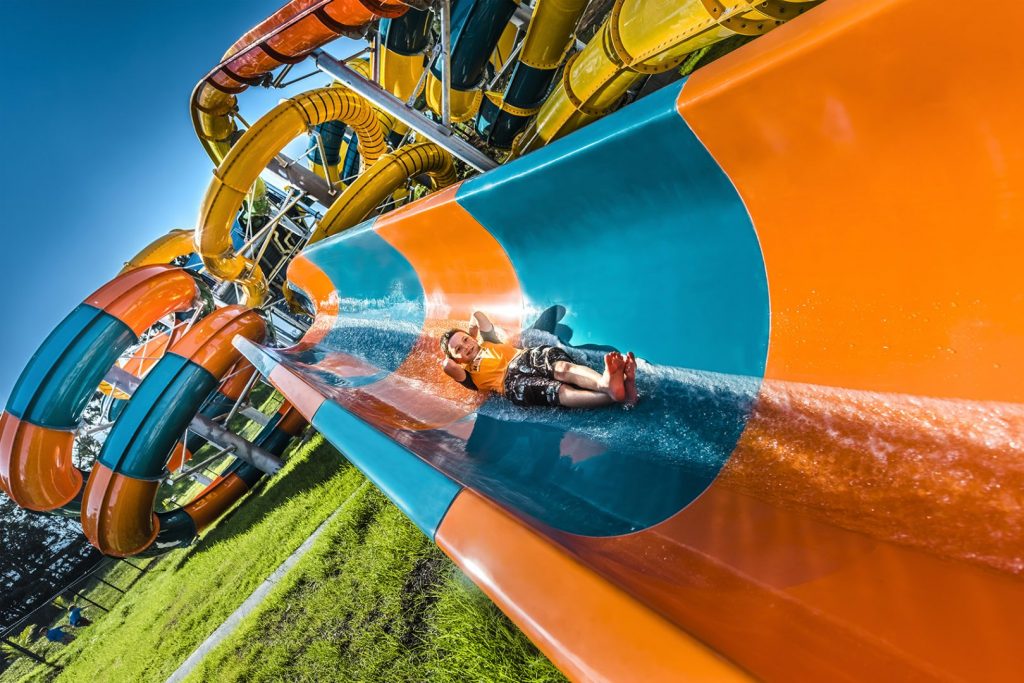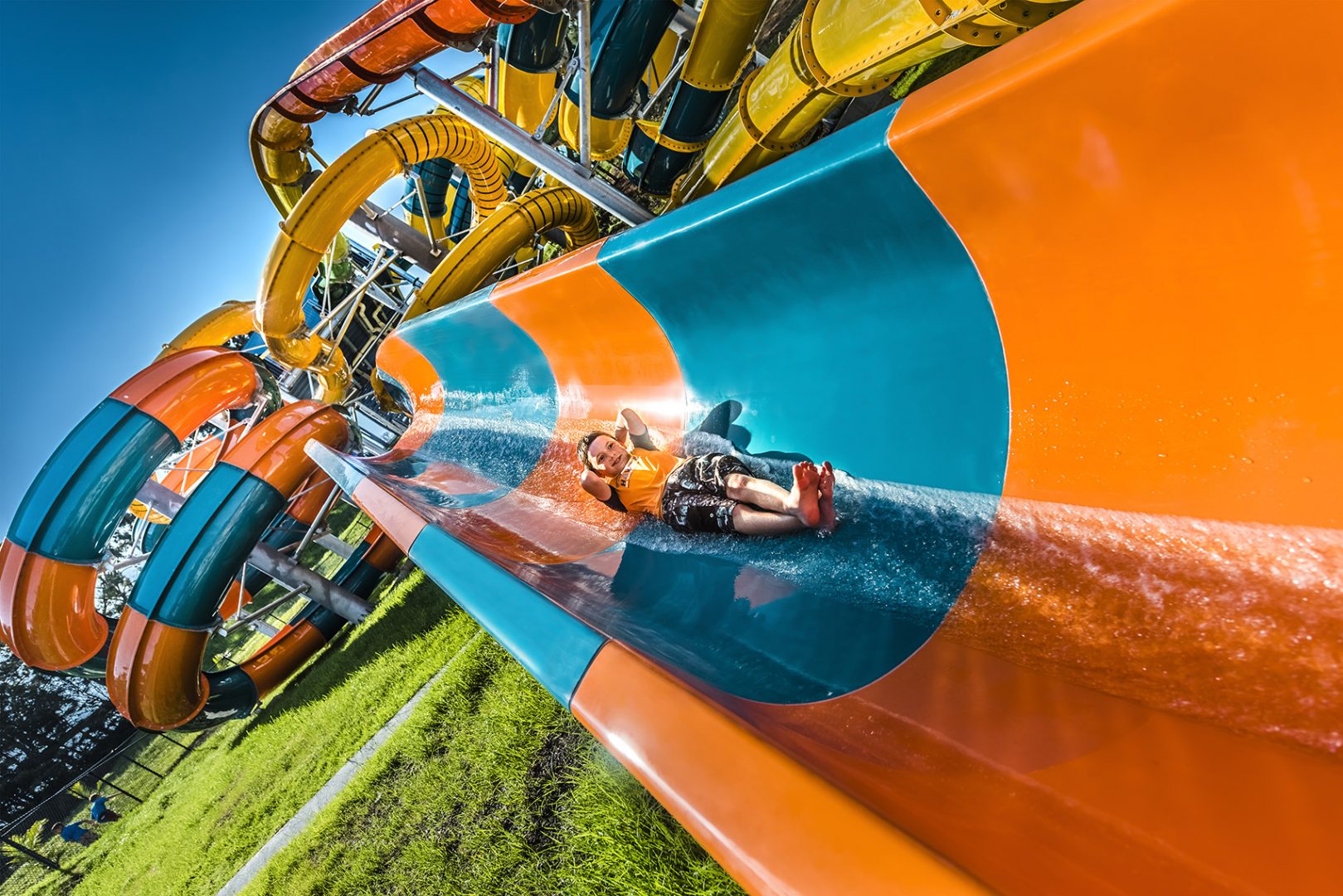 Big Banana's Water Park is just one of the great on-site activities
Walk to Muttonbird Island
Muttonbird Island National Park is home to thousands of wedge-tailed shearwaters (named 'muttonbirds' by early settlers for their fatty, mutton-like flesh) who travel to the island every year during August to enjoy an Australian winter, remarkably, returning to the same burrow. Join locals in taking a leisurely walk along the break wall that connects the island to the mainland and then winds up to viewing platforms at the top of the island, offering 360-degree views of the ocean, islands, marina and mountains. It's also a beautiful place to watch the sunrise. https://www.nationalparks.nsw.gov.au/visit-a-park/parks/muttonbird-island-nature-reserve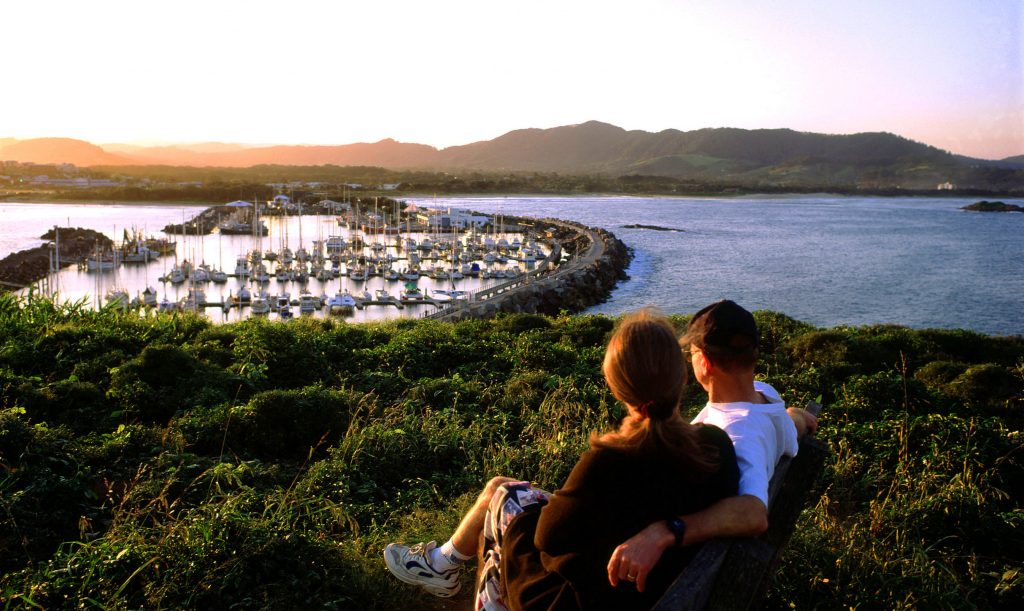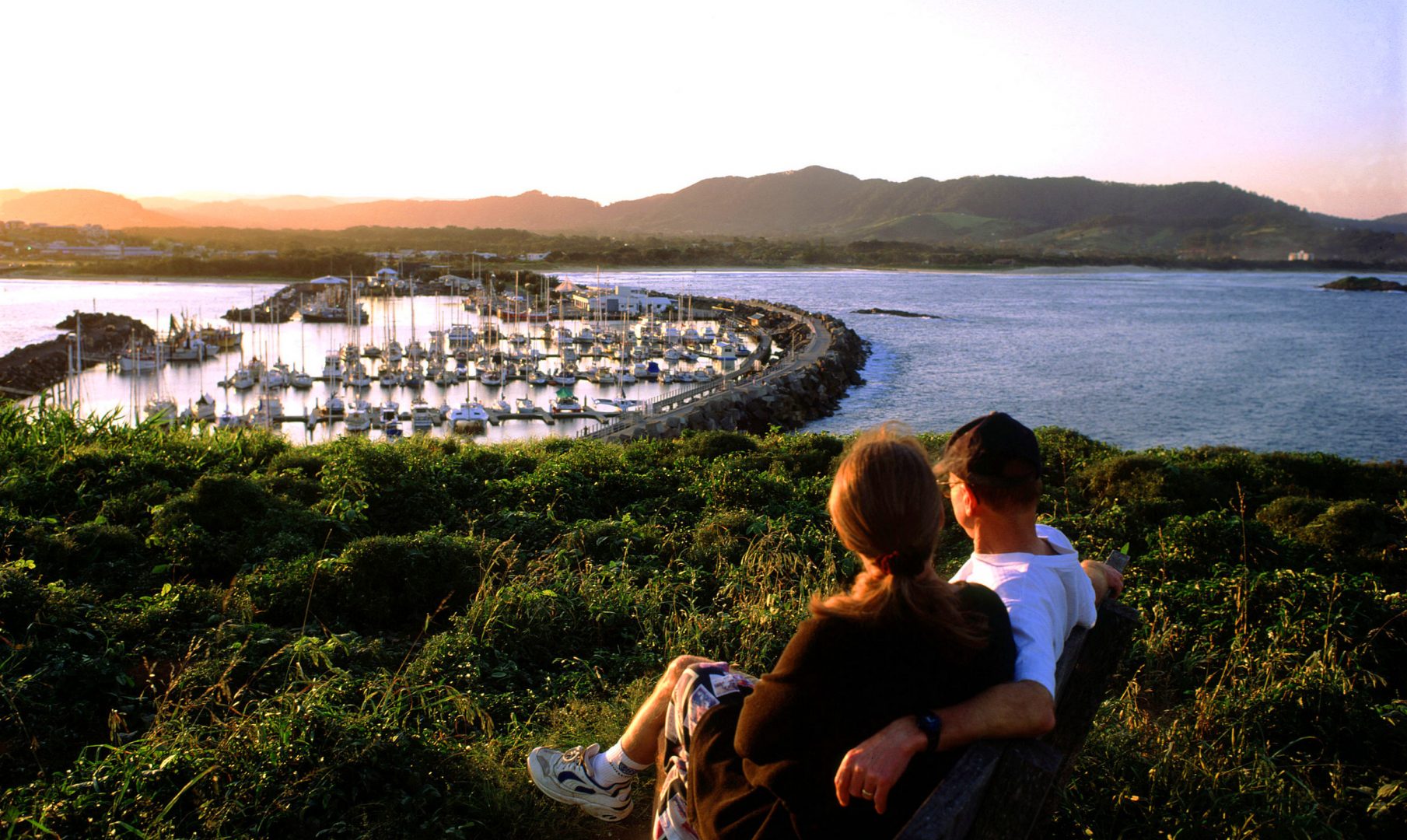 Sunset from Muttonbird Island. Image courtesy of coffscoast.com
Enjoy a day at the Jetty
No visit to Coffs is complete without spending a day the historically-significant timber jetty in the harbour; it's the ideal place to soak up the sights and sounds of Coffs and spend lazy hours fishing, jumping off the jetty (a rite of passage among locals) or watching the action around the busy marina. For lunch, grab some fresh local fish from the Fisherman's Co-op, enjoy a coffee and snack from Salute on the Jetty foreshore or choose from one of the many cafes or restaurants along the Jetty Strip. https://www.coffscoast.com.au/play/coffs-harbour-marina-and-jetty-area/
Read Coastbeat's article on how to spend a Sunday at the Jetty.



Coffs Harbour Jetty, image by Ali Hiddlestone
Take a whale watching tour
The Coffs Coast is one of the best regions for whale watching with tours running regularly from the Jetty. Word has it that the last two seasons of whale watching have been the best yet – and tour operators Jetty Dive https://jettydive.com.au are expecting 2019 to be even better! Book a tour, or better still, a 'whale swim', where you can get up close and personal with these majestic creatures.
Whalewatch Experience https://whalewatchexperience.com.au and Cougarcat http://www.cougarcat12.com.au/whales.html also offer well-reviewed tours.
Get some great insight from Coastbeat here.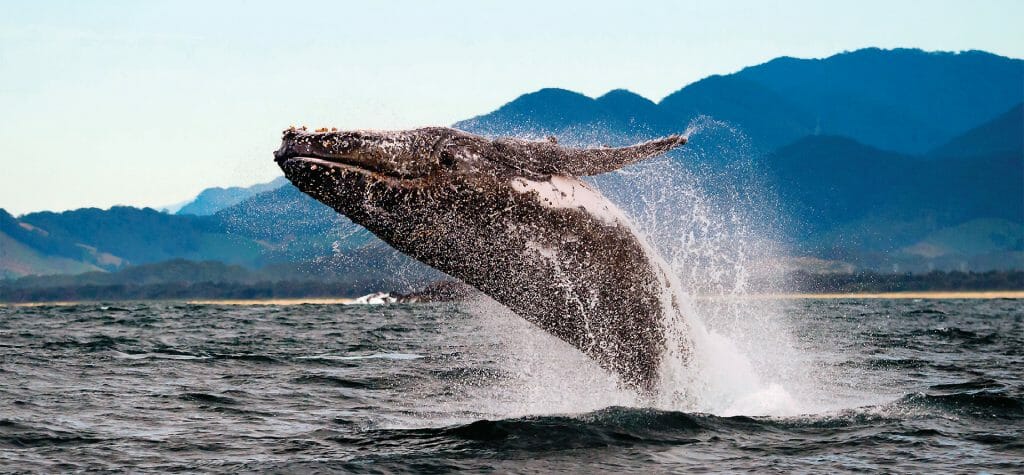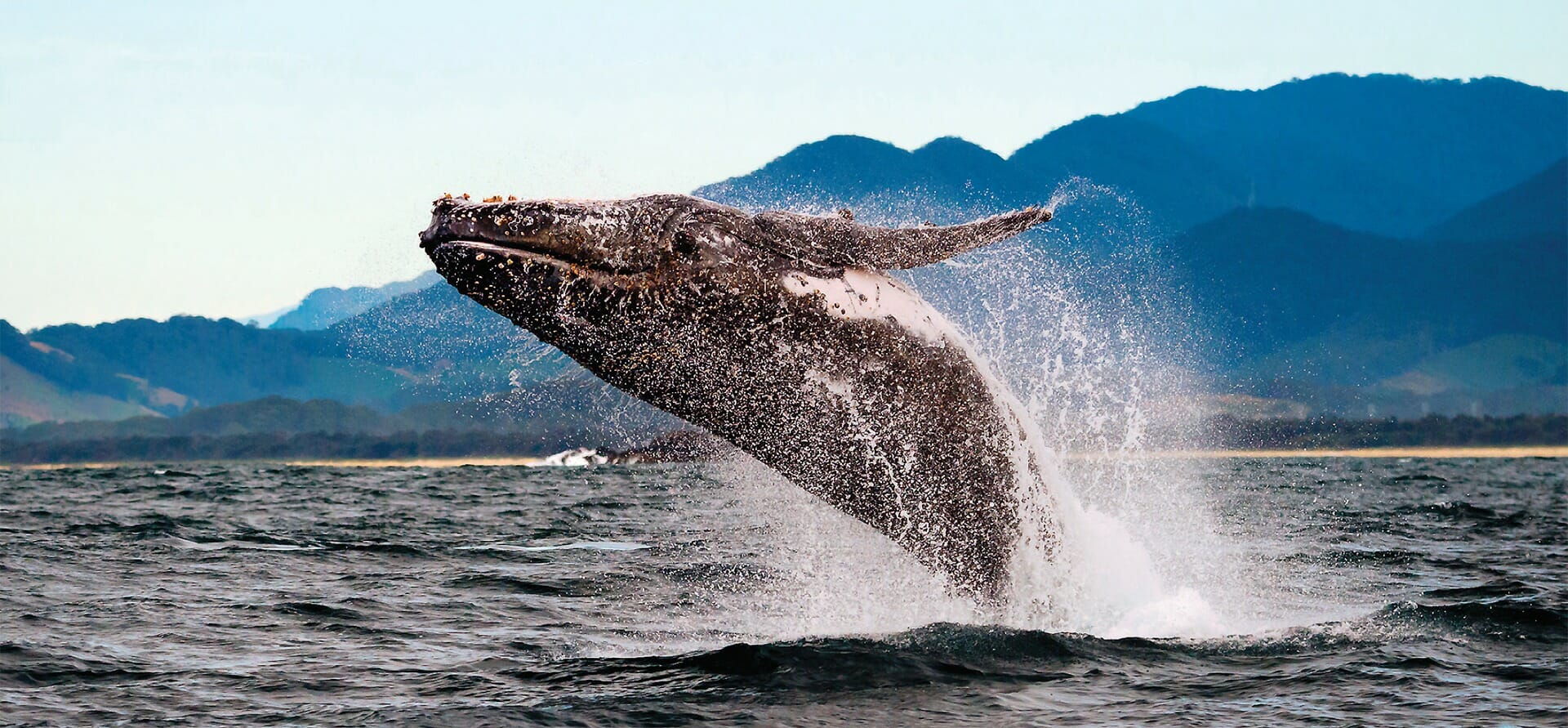 Whale breaching. Image courtesy of Coffs Coast
TreeTops Adventure Park
If it's action you're after, look no further than TreeTops Adventure Park in Orara East State Forest. The park opened on the Coffs Coast in 2018 and has proven to be a huge hit with locals and visitors alike. It provides the opportunity for you to unleash your inner child and slide down flying foxes, move from tree to tree on suspension bridges and enjoy many other exciting activities up to 15 metres above the forest floor. There are over 100 challenges, including 20 flying foxes, the longest of which is 200 metres! Each course is designed with different levels of difficulty and is available to children three years and over. https://coastbeat.com.au/home-among-the-gumtrees/
https://www.treetops.com.au/locations/coffsharbour
See Coastbeat's article about TreeTops Adventure Park.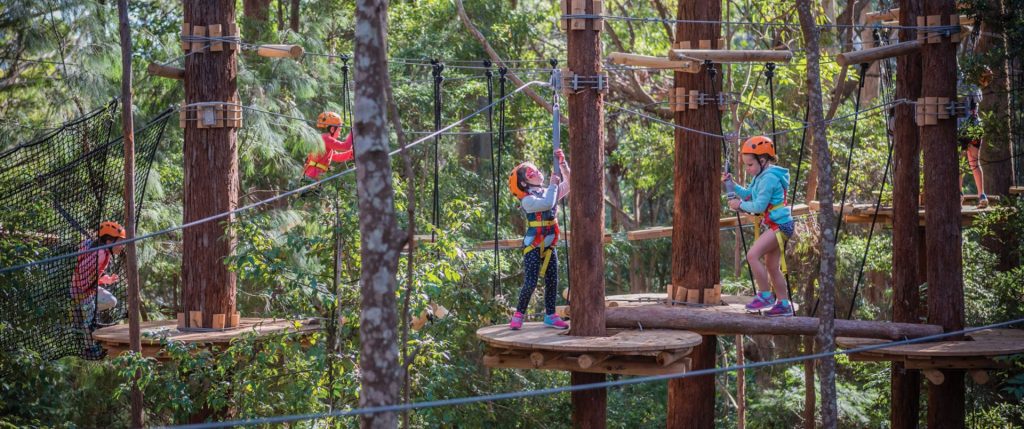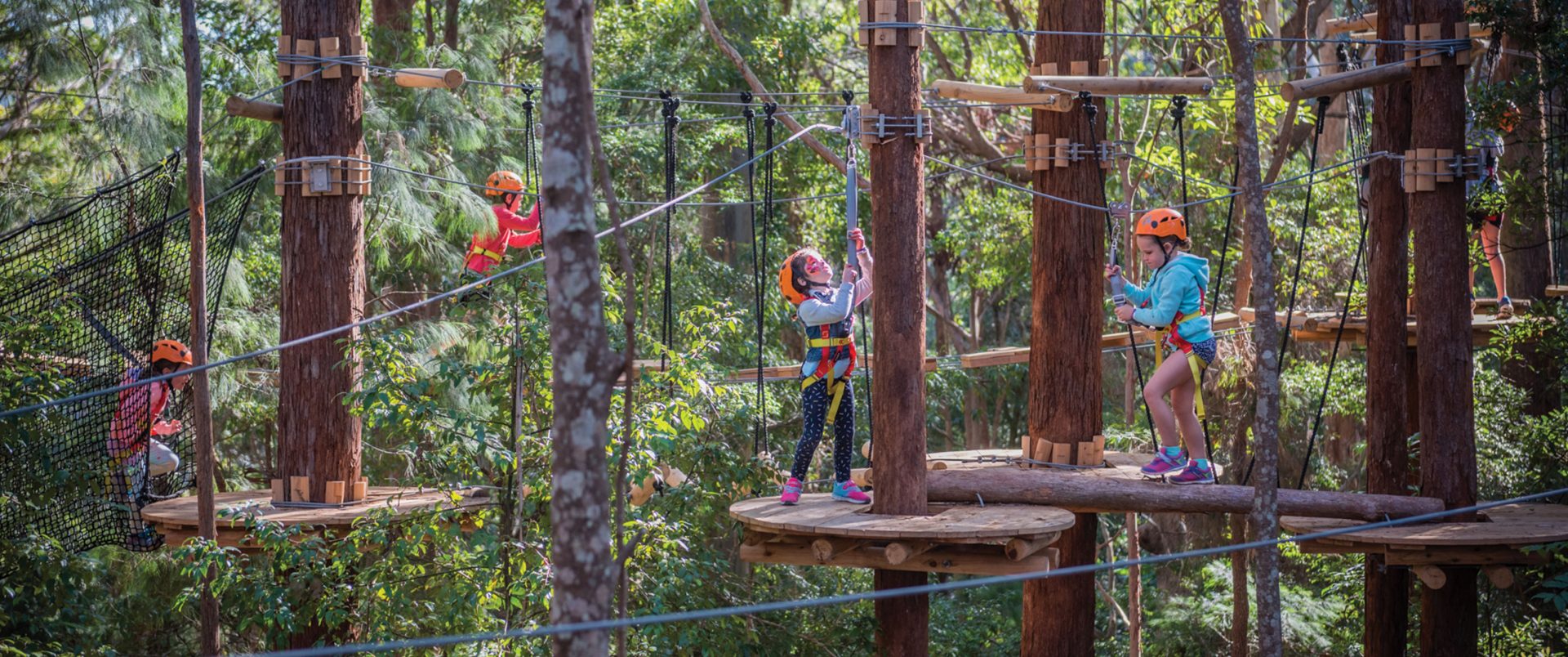 Kids enjoying the obstacle course, photo courtesy of Tree Tops Adventure Park
Sealy Lookout and Forest Sky Pier
If you're looking for a place to relax after your treetop adventure, head to the nearby award-winning Sealy Lookout and Forest Sky Pier. Located within eco-tourism accredited Bruxner Park Flora Reserve, the sky pier sits high above the city, offering panoramic views and a lovely picnic area to rest your legs. A short drive from the city, it's also home to the Gumgali walking track and Indigenous story trail.
See Coastbeat's lovely look outs on the NSW North Coast.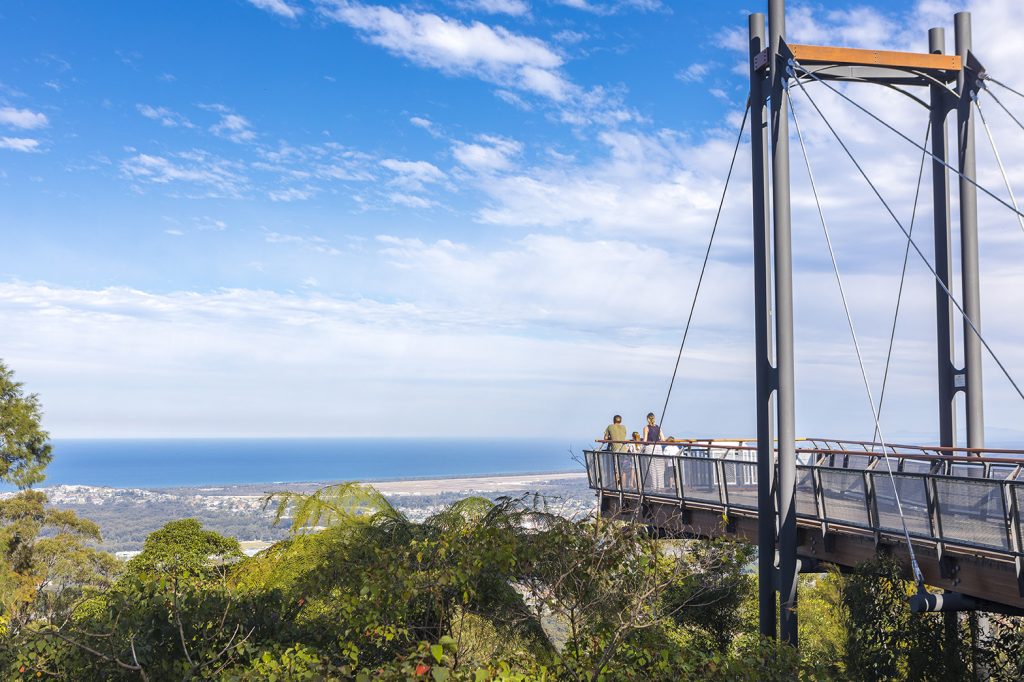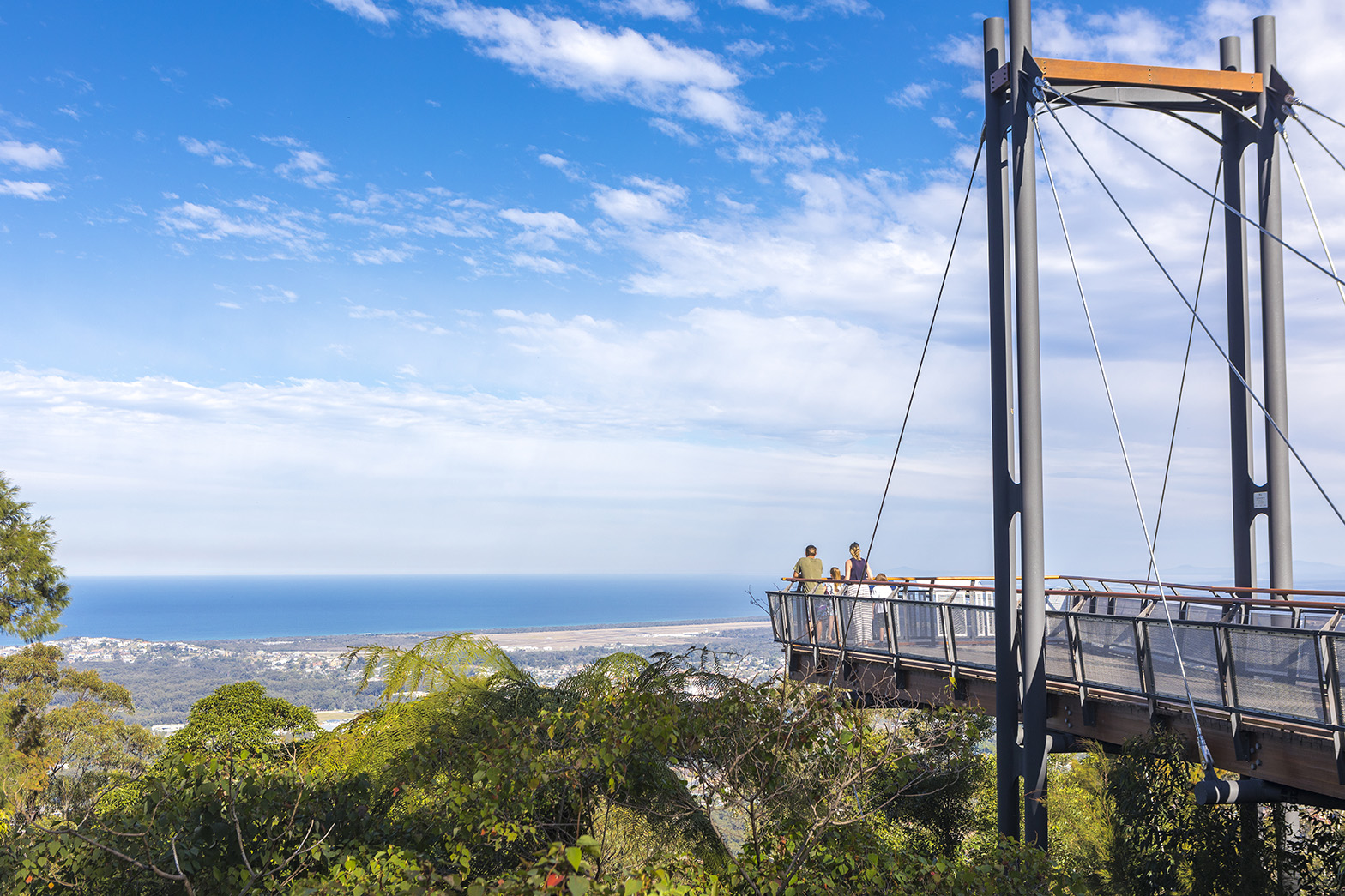 Take in amazing views from the Forest Sky Pier. Image by Seen Australia
Dolphin Marine Conservation Park
Dolphin Marine Conservation Park is one of the Coffs Coast's star attractions and the only zoological park in New South Wales that offers 'hands-on' experience with dolphins and seals – kids can even expect a kiss from one of these magical marine creatures! The park exists as a rehabilitation centre for injured animals, and to inspire life-changing habits within guests. There are daily sessions at 12.30pm, and visitors have the opportunity to swim with a dolphin or seal or be a 'trainer for a day'.
A Day in Sawtell
Coffs Harbour is an excellent base for exploring the surrounding towns, and one of the best is the coastal village of Sawtell. Take a 10-minute drive south of Coffs to experience the unique village vibe of Sawtell's First Avenue, which is also a haven of great cafes and boutiques (as well as a fantastic cinema), shaded by picturesque Moreton Bay fig trees. Sawtell also has some beautiful surfing beaches and lovely short walks.
Read Coastbeat's Top 10 things to do in Sawtell.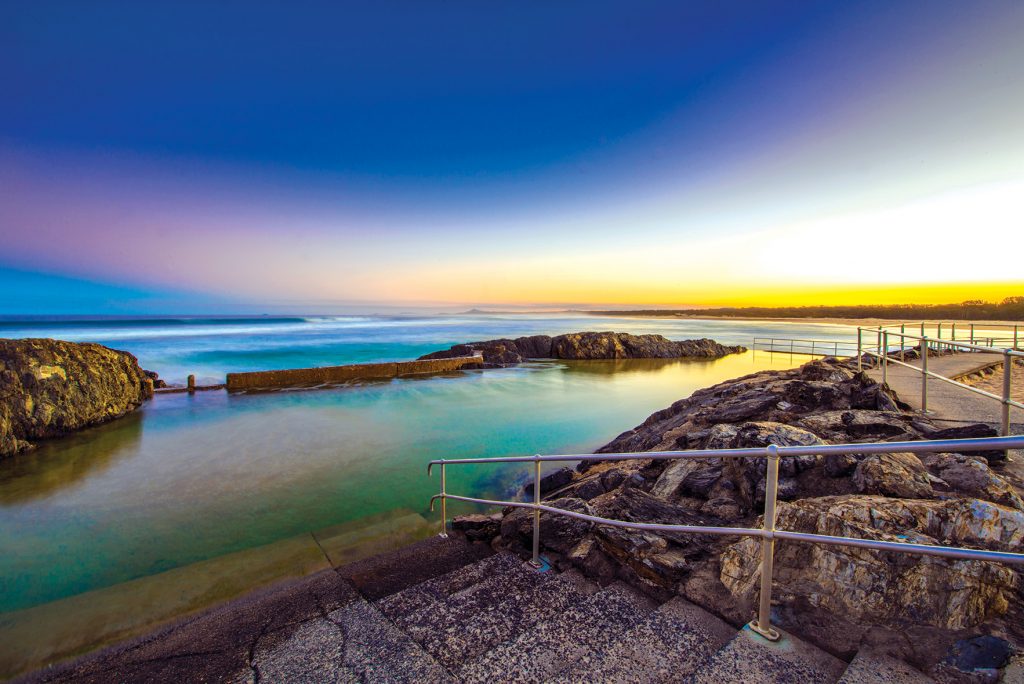 Sawtell Memorial Rock Pool. Image by Brendan Ray
Bellingen Markets
One of the largest and most popular markets on the coast, the Bellingen Markets attract visitors from far and wide each month to stock up on farm-fresh produce and artisan goods whilst listening to local musicians and sampling delicious street food. The markets are also an excellent place to discover and meet local artists and craftspeople and access hand-made jewellery and clothing as well as some pre-loved bargains.
Skywalk at Dorrigo
After visiting Bello, it's worth the short drive up the mountain to the Dorrigo skywalk. Connected to Dorrigo Rainforest Centre, the 70 metre-long skywalk ends in a lookout, offering an incredible birds-eye view of the surrounding mountains and lush rainforest. There's also a lovely walk from the rainforest centre, which leads to a creek and waterfall.
View Coastbeat's top lookouts.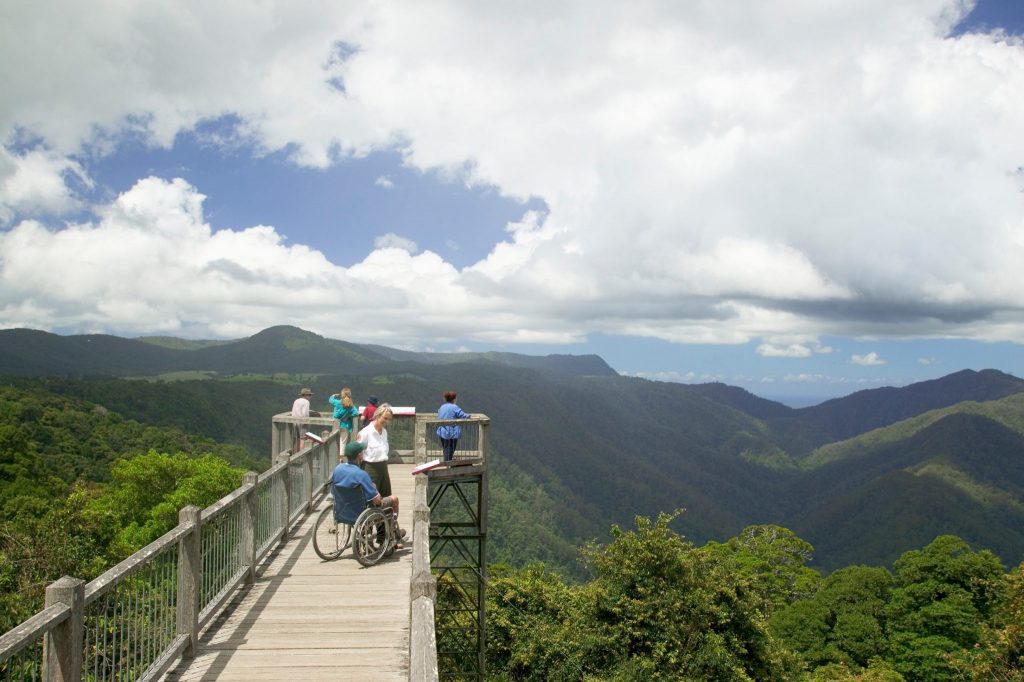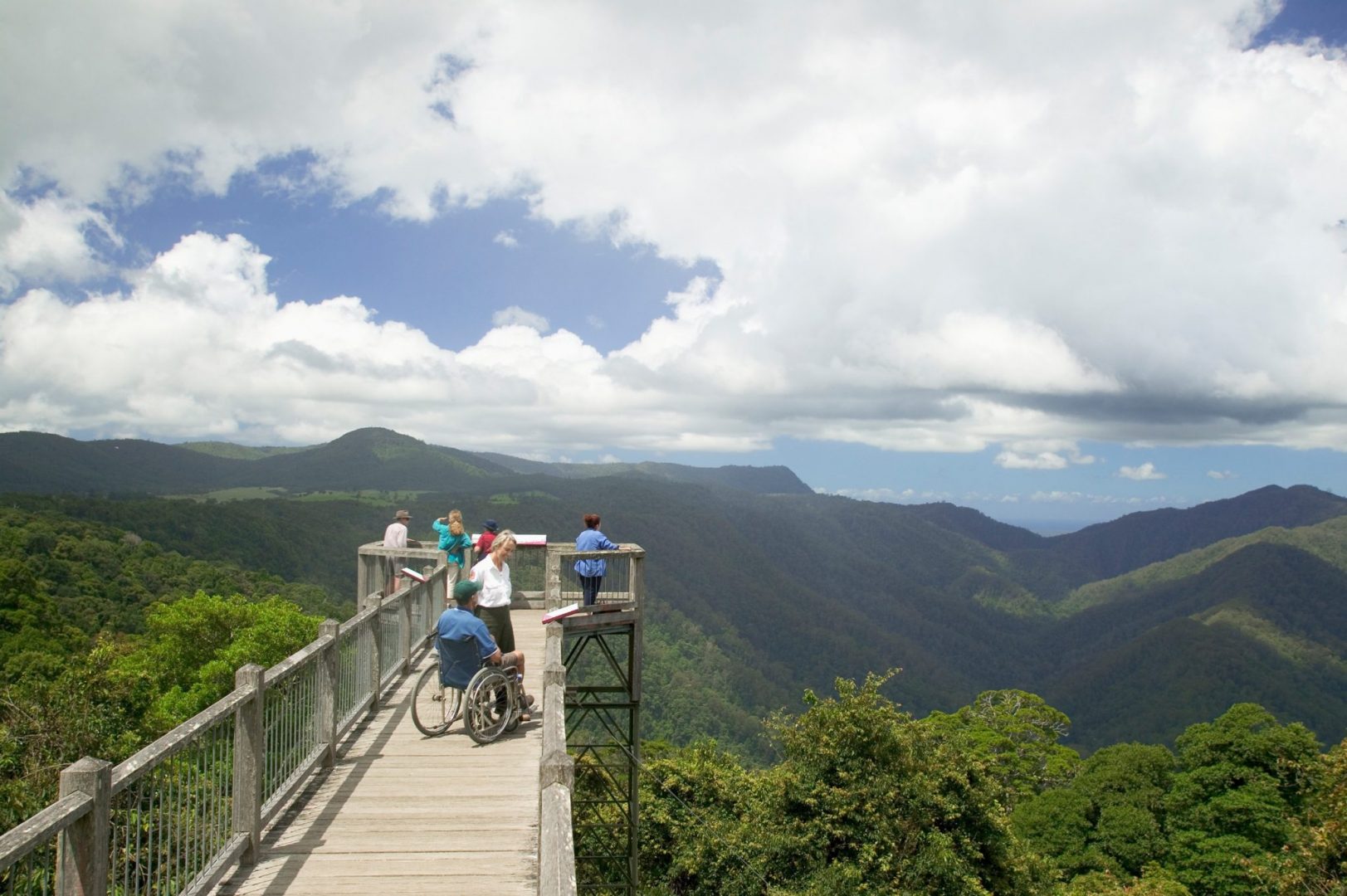 Dorrigo National Park Skywalk offers spectacular rainforest views. Image courtesy of Destination NSW
Play golf at one of Australia's top courses
One for the grown-ups is the award-winning Bonville Golf Resort. Bonville is consistently voted as one of Australia's most beautiful golf courses and is the four-time winner of Australia's leading golf resort. True to its reputation, Bonville is impeccably manicured, lush and challenging, providing the golf enthusiast in your family with the experience of a lifetime.
View Coastbeat's 5 fave Coffs Coast golf courses.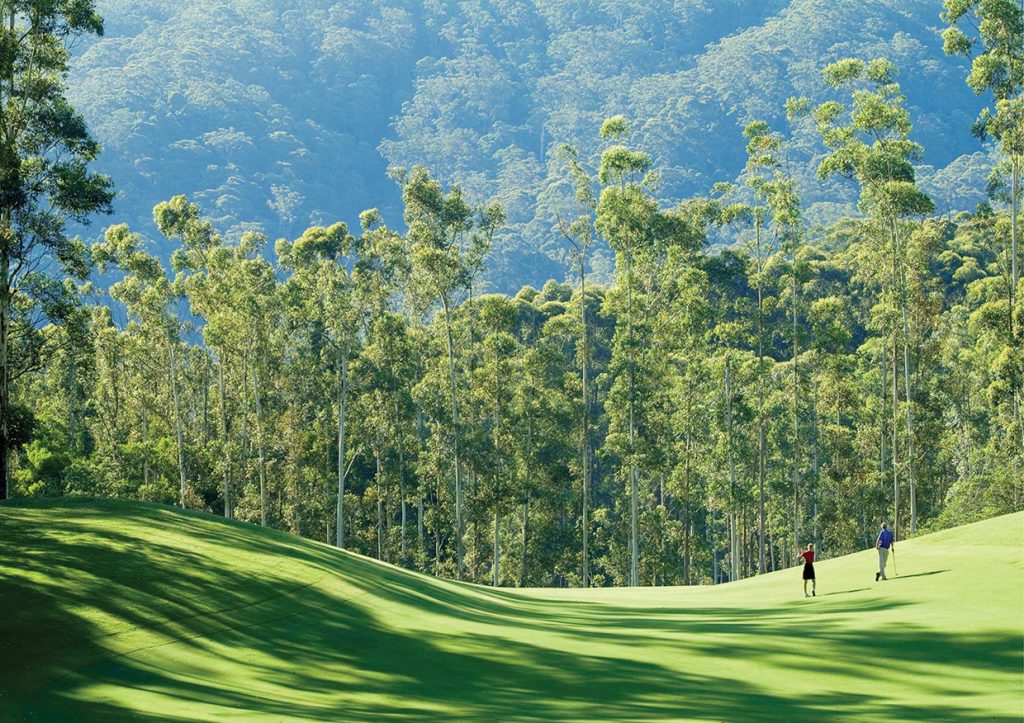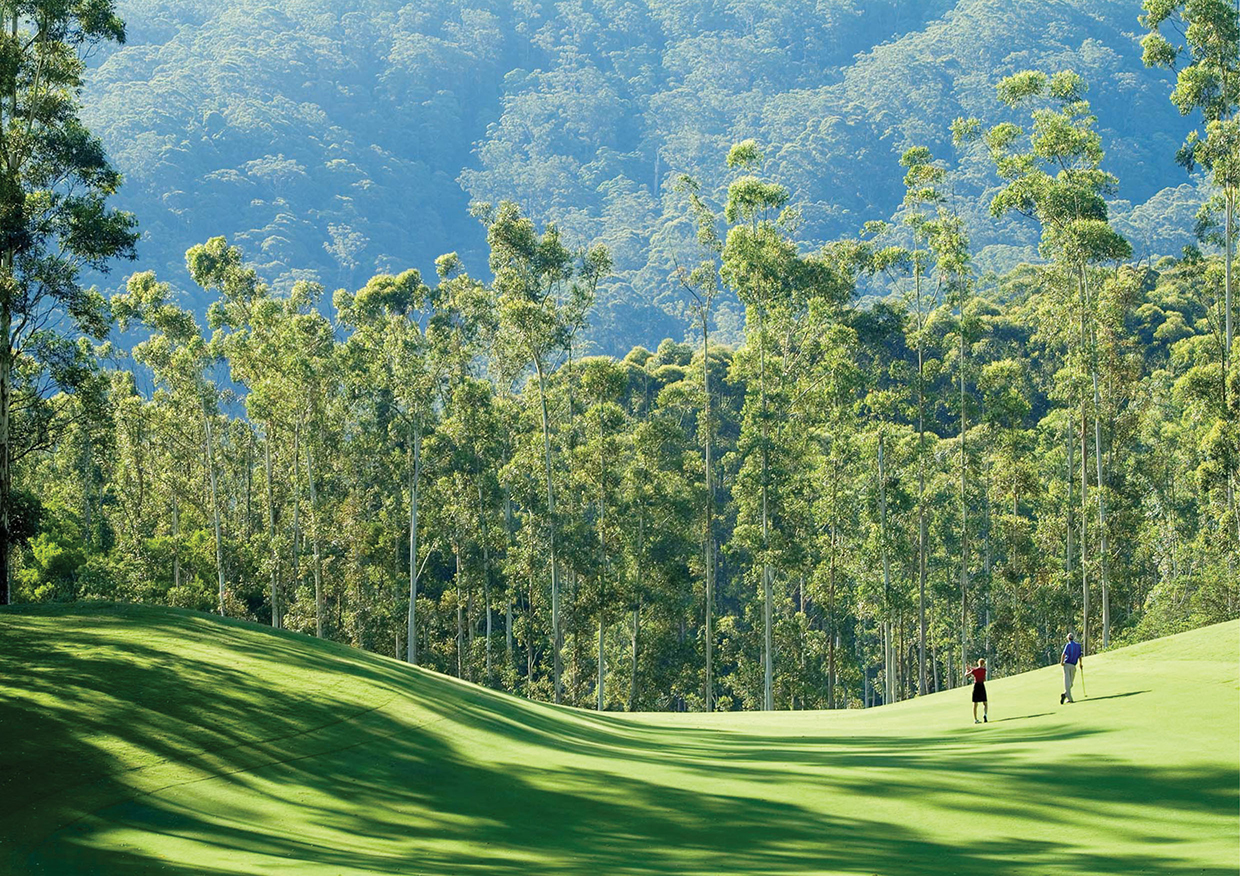 Picture perfect golf. Image courtesy of Bonville International Golf Resort
The Butterfly House
The Coffs Harbour Butterfly House is a unique attraction that has become a favourite with kids. Stand inside the warm tropical glasshouse – an indoor tropical habitat for around 400 live Australian butterflies – and have fun spotting all the different species of butterfly as the feed on tropical flowers and hide amongst the rainforest plants. If you're patient, one might just land on your hand! Operating year-round regardless of weather, the Butterfly House is also home to a live bug exhibit and an on-site maze as well as a café.
Hire a board
Enjoy the pristine waters of Coffs Harbour atop a standup paddleboard or tackle the waves on a surfboard.
For a wonderful water top experience, hire a standup paddleboard or take a lesson with C-Change Adventures; they operate at the Jetty and Boambee Creek. For more information or to book, contact Matt from C-Change Adventures on M) 0468 406 222 or E) [email protected]cchangeadventures.com.au
Alternatively, if you want to try your hand (or feet!) at surfing, learn from the pros on the Coffs Coast.
Read Coasbeat's article on the Coffs Coast Waterways.
Walk over Macauleys Headland
This fantastic short walk will take you from the northern end of Park Beach and over Macauleys Headland to Diggers Beach. Along the way, you'll be rewarded with incredible views of the coast back to Muttonbird Island and north to the Solitary Island, linking two of the local's favourite surf beaches. It also offers a chance to spot dolphins and whales – so don't forget the binoculars!
For information on all of the above places and activities, go to www.coffscoast.com
Shopping in the Heart of
Coffs Harbour