Coffs Coast Family Favourites
It being Summer with families seeking different activities through the school holidays, we chatted to one (newly) local family about the things they love to do.
For the Franke family it's certainly been an action-packed few years. They travelled around Australia throughout 2016, moved to the Coffs Coast in early 2017 and opened their business, Lighthouse Health and Education at the start of 2018. But more importantly, they are a positive and resilient bunch, well aware that life can sometimes throw you a serious curve ball…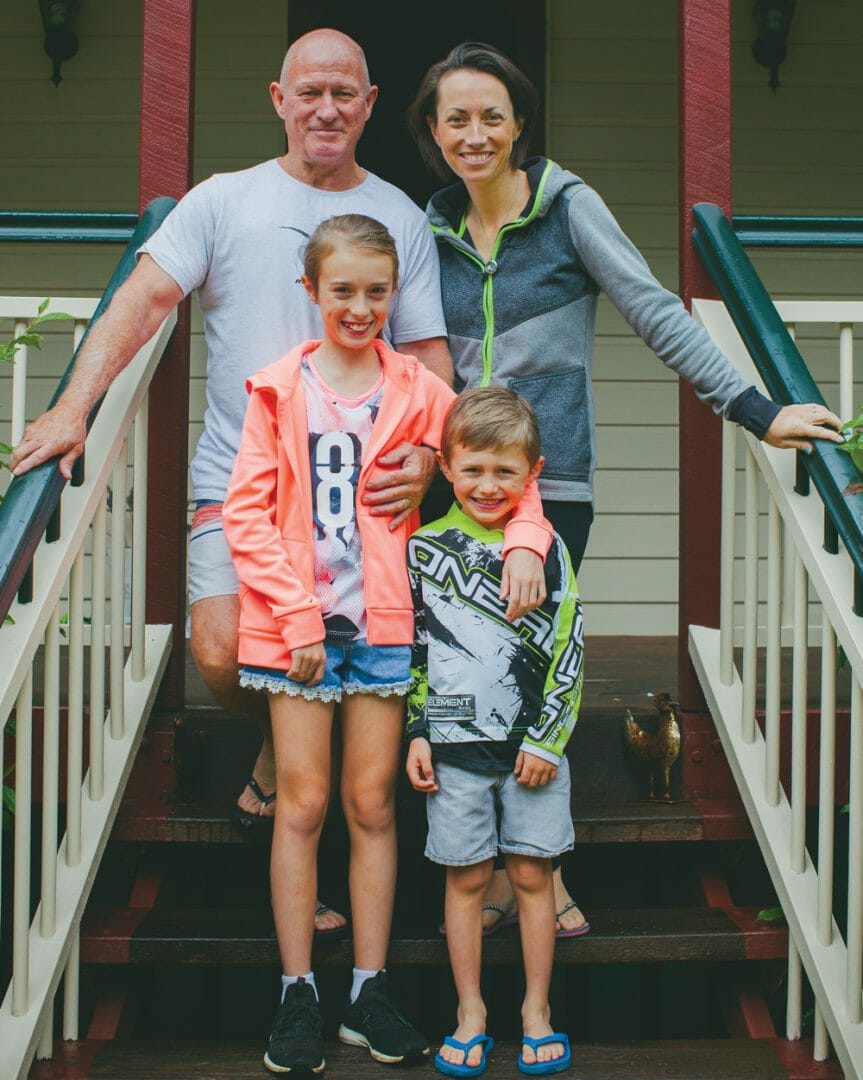 Wayne and Jane Franke with children Jenna and Eli
Jane Franke tells me that their family have a long-standing joke about Wayne (her husband) being one of the unluckiest people they know. In the couple's 14 years together Wayne has had a hospital stint at some stage during every year of their marriage – never anything to cause concern. But in January this year, two days before they were to open their new business, things got serious, deadly in fact when Wayne had a brain haemorrhage that he was incredibly lucky to survive. Wayne was flown from Coffs Harbour to John Hunter Hospital in Newcastle where, in ICU he underwent an emergency craniotomy to stop the bleed and release pressure from his brain. Wayne's recovery has been phenomenal especially considering that those who experience a brain trauma such as his rarely, if ever, achieve full functional capacity again (Wayne had a spontaneous subdural haematoma and subarachnoid haemorrhage).
Jane says they all feel amazingly fortunate to have come through such an experience and be in a position to simply go about their day-to-day lives and explore their relatively new hometown. "We often have to pinch ourselves to believe that we're the same little family unit of four."

Look At Me Now Headland, Emerald Beach by Norm Farmer
With a depth of understanding that few of us can appreciate that life and family can never be taken for granted, Jane shares with us numerous local hotspots that she and Wayne love to take their kids, Jenna (10) and Eli (6).
Our Family Favourites:
• We love exploring the many rockpools in search of crabs, starfish and jellyfish along our gorgeous coastline. The kids particularly love doing so at Diggers Beach and Emerald Beach
• The Big Banana represents great value for money with a range of activities for all ages. As a whole family, the Water Park, mini-golf and laser tag are our top picks.
• Wildlife watching – be it whales from Woolgoolga Headland when in season or spotting kangaroos at Look At Me Now Headland at Emerald Beach.
• Mylestom is a fabulous little spot – it's at the end of the road and well off the highway, making it quiet and unassuming. Our kids enjoy swimming in the enclosed river pool and playing in the park. We've often used the large undercover BBQ space for big family gatherings. Add in a delicious milkshake from the corner store and the kids are keen to go back time and again.
• Yarrawarra Aboriginal Cultural Centre at Corindi offers some interesting and insightful school holiday programs.
• We're learning to SUP with Galways Go Round and often go to Moonee Estuary. Moonee is our local go-to where we love floating on inflatables/body boards with the outgoing tide, the playground area, the availability of picnic tables and shady spots. It's also dog friendly making it perfect for our family which includes our pooch, Bonnie.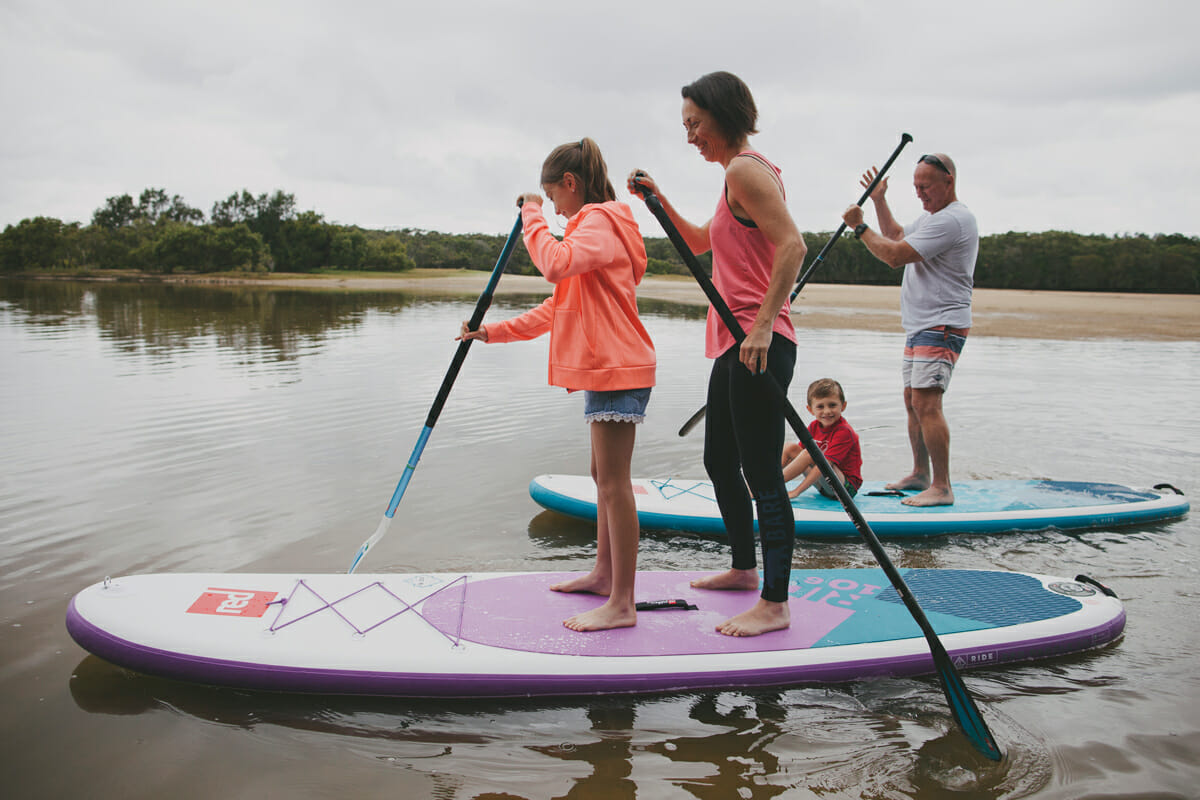 Learning to SUP at Moonee Estuary
• Waterfall walks are another great way to experience the region. Our local favourite is Dangar Falls in Dorrigo and we enjoy the drive along Waterfall Way, especially after we've had some rain.
• We all get a kick out of a visit to Coffs Harbour's Botanic Gardens. Jenna and Eli particularly like the Japanese Garden, seeing the water dragons and following the mangrove trail along the river.
• Surf Schools – Jenna and Eli have had a go with Solitary Island Surf School at Sawtell, Emerald and Woolgoolga and just love it!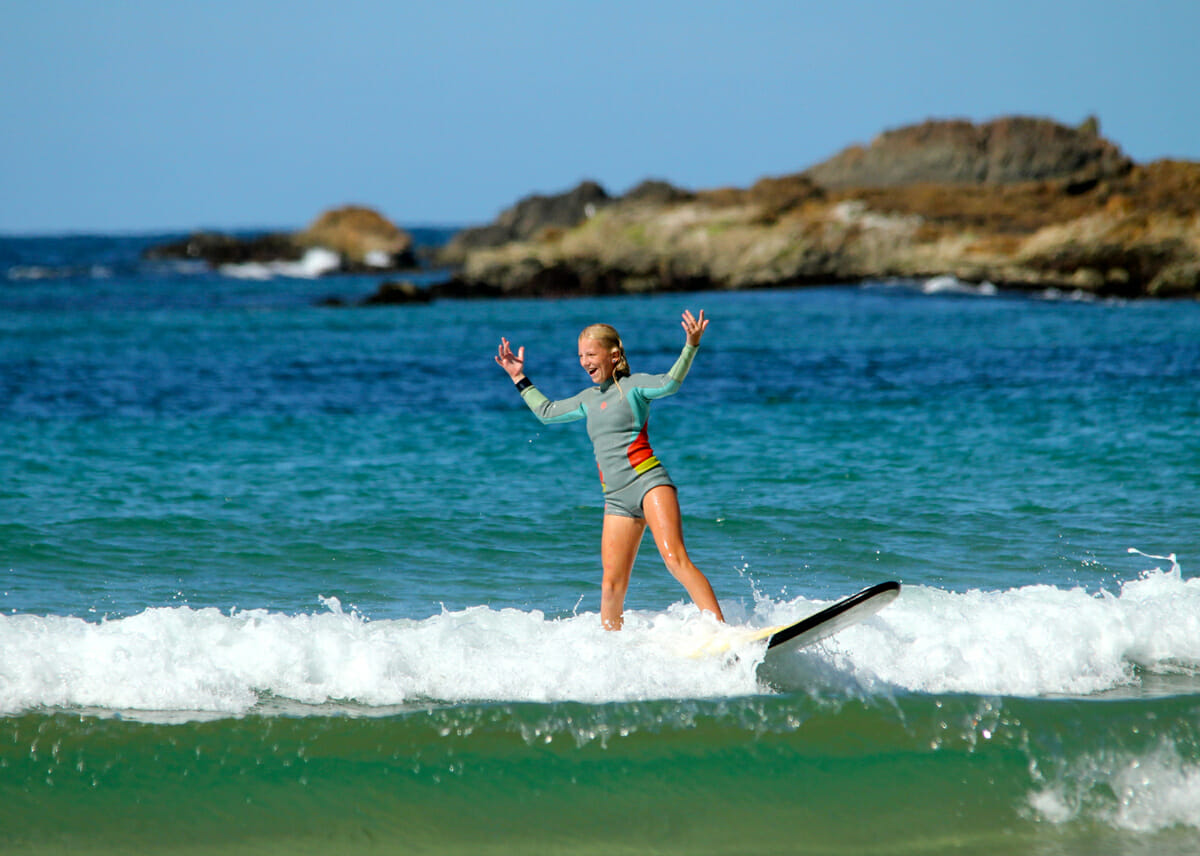 Try a surf lesson. Image courtesy of Solitary Island Surf School
• It's wonderful to drive along the appropriate beaches in search of a private spot to stop for a swim, sandcastle creation or picnic lunch. For us, Wooli to Sandon is our beach highway of choice (we often grab hot chips and fresh coffee at the Minnie Water store on the way!) and the kids love getting some use out of their fishing rods too.
• We all love riding the Railway Rattlers during their open days out to Coramba and Boambee.
• Weekend Markets – there's one on every weekend locally. From Woolgoolga's beachside markets (2nd Saturday of every month) to the Twilight Food Markets at the Park Beach Reserve on Friday evenings (October to April – in line with daylight savings) local markets are fantastic. You can buy fresh fruit and veg, arts and craft or listen to the region's musicians and appreciate the raw talent that exists in our community.
• It may only be seasonal but blueberry picking at Lower Bucca is so worth it!
• It's often fun to spend time exploring and yet not having to venture far. We'll sometimes start the day at Muttonbird Island at the Coffs Harbour Marina and end it at another island – Flattop Island at Sandy Beach.
So, this summer, why not follow the lead of Jane, Wayne, Jenna and Eli and experience all that the Coffs Coast has to offer.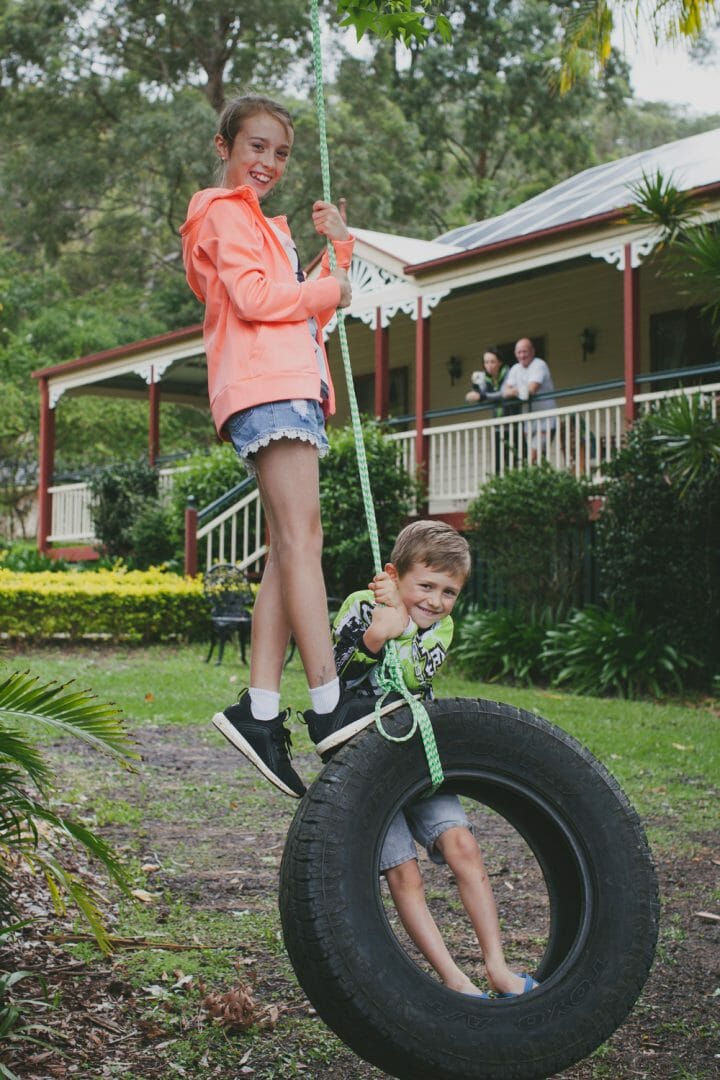 Jenna and Eli at home
Jane and Wayne run Lighthouse Health and Education at Moonee Market which focuses on improving the psychological well-being and literacy skills of the community. www.lighthousehealthandeducation.com.au