Meet the Makers
Makers and creators from across the region sell their handmade or locally produced products at Coffs Central every Thursday. Coastbeat caught up with three of the artists who present their creations every week.
Takara Too Studio and Yellow Robin Ceramics
"We're very likeminded in our designs," explains Caroline Harada as she applies a glaze to her latest piece.
"We have a similar sense of humour!" laughs Kylie Loebel from the pottery wheel. "And a similar way of doing things."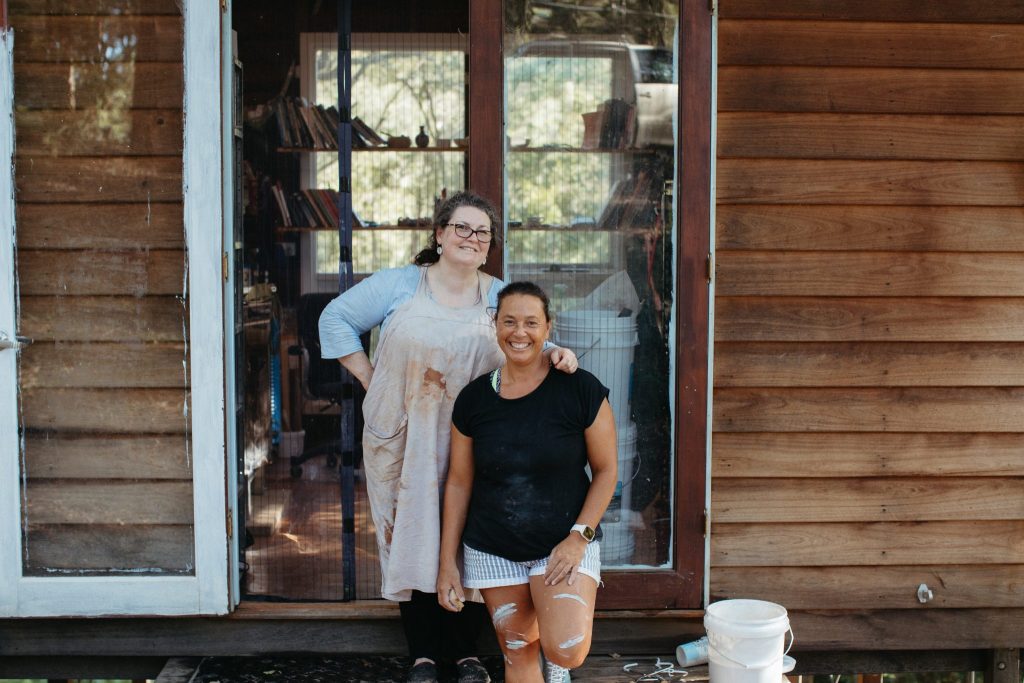 Caroline and Kylie met in 2020 while studying ceramics at TAFE in Coffs Harbour. After exhibiting at the Coffs Harbour Regional Gallery late last year, they teamed up to sell their works in a free pop-up space for makers at Bendigo Bank. It provided the exposure and momentum they needed.
"Things really took off after that!" Caroline says.
Though each artist is working on her own pieces, Caroline and Kylie's creative relationship is collaborative and mutually supportive. Today, they're finishing work together in Kylie's cosy Bellingen studio.
"It's great having another artist in this space and I've been to Caroline's too," Kylie explains. "She's here today to use my kiln which I've had a few setbacks with."
"Pottery isn't easy," adds Caroline emphatically. "Things blow up, the glazes fail…but it's the biggest joy when something works out."
Well known for her handmade jewellery and crocheted toys, Caroline's creativity has been reinvigorated with the addition of potting skills. Kylie's formal training began in 2010 at Hornsby TAFE and she continued her learning through a series of short courses. Ceramics is clearly having its moment in the sun, but the artists didn't want to jump on the bandwagon before they'd developed their personal styles.
"There's a lot of work and research involved," explains Caroline. "I'm aiming to create traditional shapes and use traditional techniques with a modern dynamic."
"We're trying to find a few glazes specific to us," Kylie says. "I've also started making earrings and using colour clay."
"We feel really fortunate to be able to do this and have so many people dig what we're doing," concludes Caroline. "It's a really rewarding feeling."
up.sidesunny
Julie Aston is constantly making and creating. A fan of having multiple projects on the go at once, she gets her best work done late at night.
"There's the school drop off and pick up, work around the house, dinner, family…but I have a big block of time once everyone is in bed," she says. "I can catch up on sleep on weekends!"
Julie makes brooches, toys, jewellery and clothing as up.sidesunny. She searched for a light and fun name to match her cheeky, colourful creations. 'Sunny side up' was taken, but her sister suggested simply switching it around.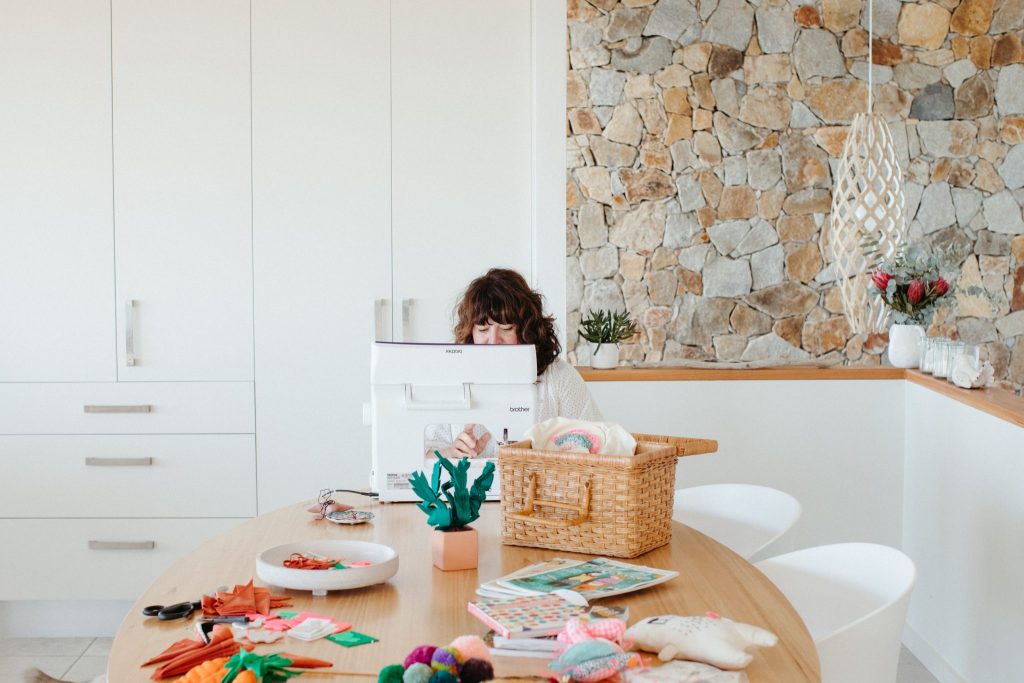 It's not the first creative moniker Julie has worked under. She initially made Montessori style felt toys and pretend food for the children in her family day care group as Bambini Felt. And Coffs locals may know her from Crafty Roos, the sewing and craft workshops she ran.
"When COVID hit I wasn't able to offer the workshops as much," she explains. "But I still wanted to make so I started another label."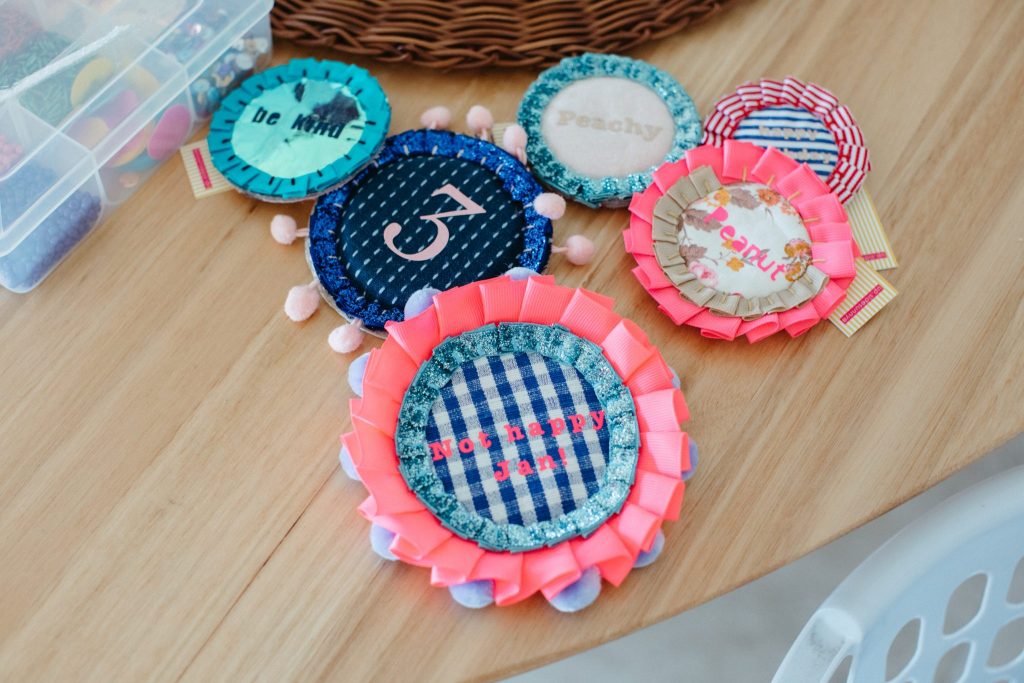 Drawing inspiration from books, magazines, Pinterest and daily life, Julie's favourite creations change with her moods. Her novelty brooches – with phrases like Heck Yeah!, C'mon Aussie C'mon, Not Happy Jan and Eat Your Greens – are best sellers.
"I add different sayings around Christmas, Easter and Valentine's Day," Julie says. "I'm also open to commissions and customisations."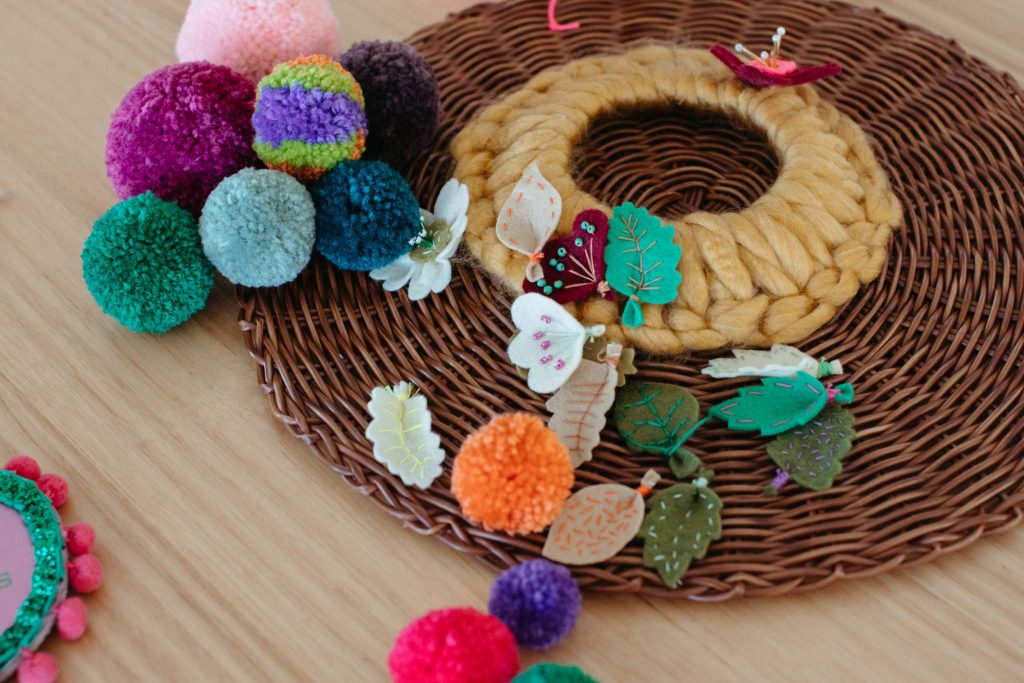 Many up.sidesunny products are made from recycled fabrics. Julie does this in an effort to minimise what's added to landfill and also because she adores vintage fabrics, tablecloths and curtains. She says sheets can make wonderful dresses and she plans to release a clothing range soon.
Julie's wares are stocked in a number of local cafes and she appears at select markets. It will be a treat to have her in Coffs Central over the next two weeks!
See creations by Kylie Loebel of Yellow Robin Ceramics, Caroline Harada of Takara Too Studio, Julie Aston of up-sidesunny and more at the Coffs Central Markets