Clarence Valley adventurer Hayley Talbot navigates rivers of change
For Hayley Talbot, kayaking the length of the Clarence River was so much more than a test of physical strength and endurance. Fuelled by a desire to connect to herself and the country around her, Hayley's adventure fortified a deep and unbreakable bond with her community and her home. Two years on, Hayley explains why the real work is just beginning.
"I wrote in my diary that I felt like I was standing at the sink scrubbing my dreams down the drain," laments Hayley Talbot as we sit on her back deck watching a storm roll in over the Clarence Valley's Lake Wooloweyah. "I was thinking about my two boys and asking myself what I stood for, what type of men I wanted to raise. I had this real sense that I didn't want to lecture on life from the sidelines, I wanted to lead as a mother."
In May 2017, Hayley became the first person to solo kayak the Clarence River, 400 kilometres from the headwater to the river mouth at Yamba. But official records and claims to fame played no part in her decision to physically train for two years and learn how to navigate, hunt and survive in the bush. "I felt that this valley was crying out for something and I didn't quite know what it was," Hayley says. "All I knew is that I wanted to do something about it and I needed to do something big enough that people would listen to me."
Hayley's preparation for the trek can only be described as holistic. She tested herself in the wilds of Tasmania, embracing the treacherous elements and beauty of the Western Arthurs Range. It was important to her to seek the blessing of local Indigenous Elders before she travelled through their ancient territory, so she met with them and explained what she wanted to do. Hayley says that while she's always felt welcome, she wanted to pay proper respects to the three nations the river snakes through and learn how to travel the lands lovingly.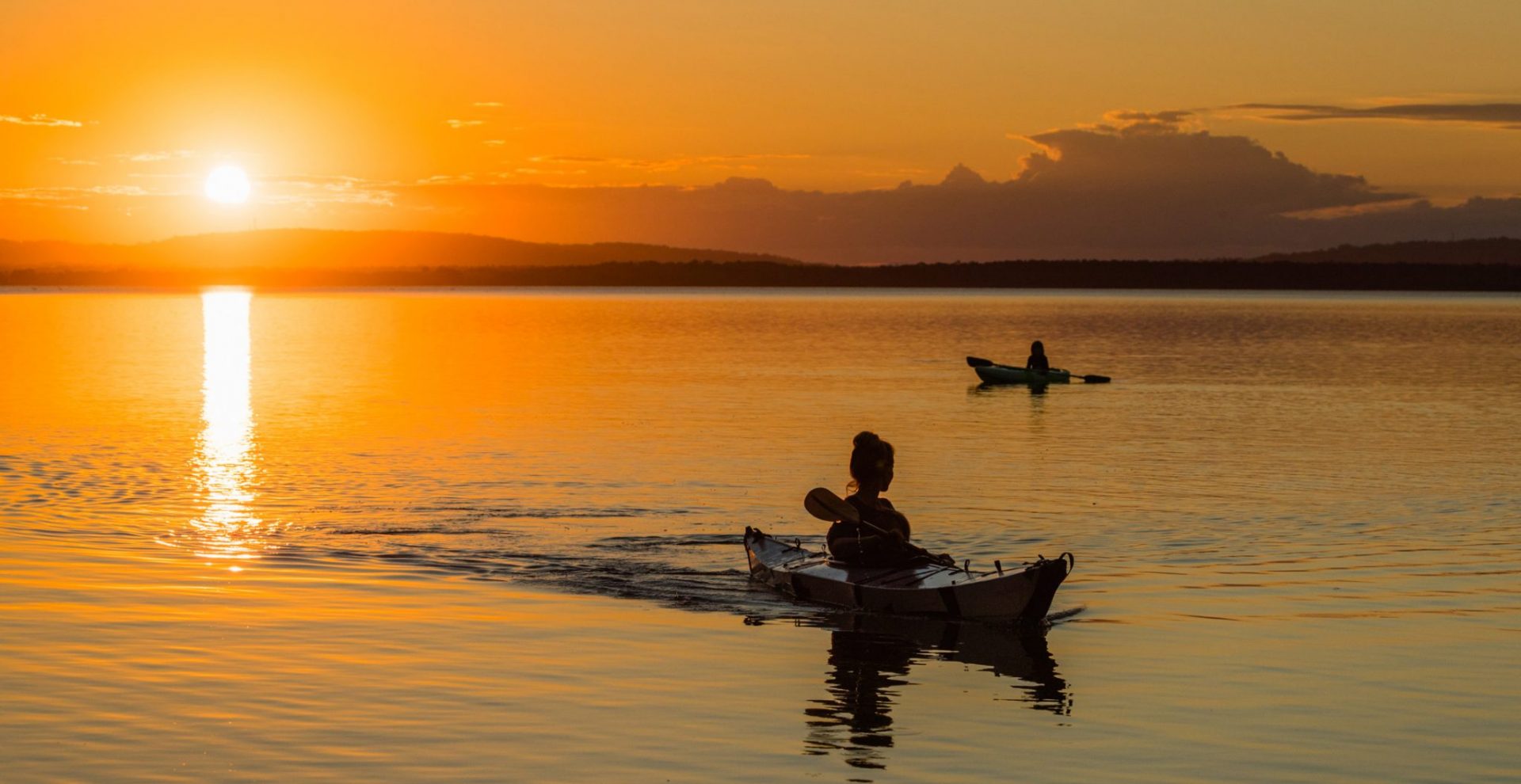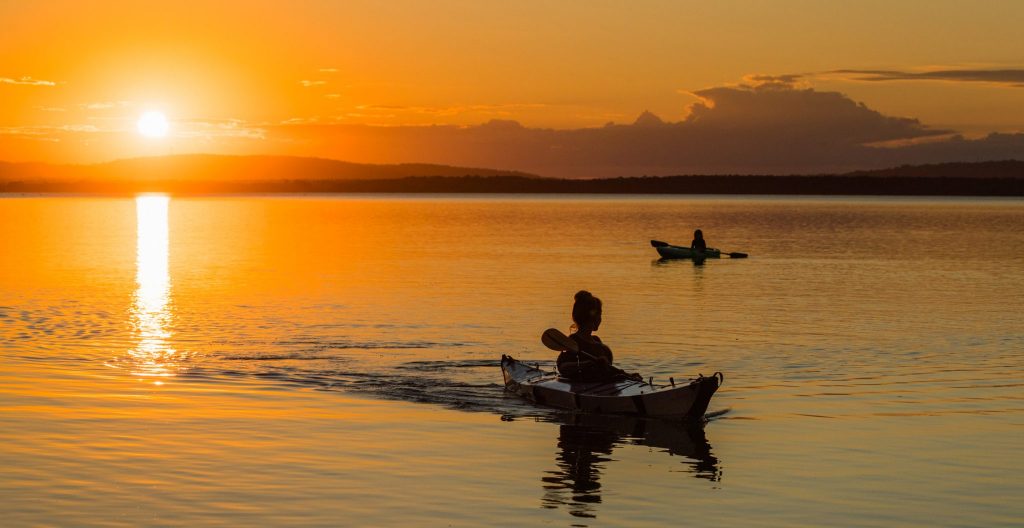 Hayley and Archie (in background) kayaking on Lake Wooloweyah
Coming full circle
Growing up in the village of Wooloweyah, Hayley couldn't wait to leave. As a teenager she was determined to move to the city, pursue music and score a record deal. Hayley vividly recalls high school days spent staring out the window at the Clarence River, thinking she lived in the most boring place in the world.
In her twenties, Hayley, her husband Mick and their two boys Archie and Phoenix oscillated between Yamba and Sydney, trying to find their people and their place. Hayley enjoyed the ease of life at home – daily walks on the beach and coffee catch-ups with friends – but struggled to feel she could settle in the region for good.
"I always wondered how I could live in this paradise and enjoy it for what it is but still feel dynamic and like I was changing and challenged," Hayley says. "There was a lot of back and forth for years." In 2015, on the eve of what was meant to be the Talbots' final move to Sydney, Hayley felt she was being wrenched out of her community.
Voicing her vision
Prior to the move, she had established mentoring groups and teamed up with a friend to stage a local poetry night. All the while, fragments of a dream were beginning to coalesce, and it was at one of those poetry nights that Hayley publicly vocalised the vision in her mind.  "One of the pieces I presented detailed a dream I had about the Clarence River and my plans to paddle, she explains. I think a lot of people wondered whether it was a metaphor or if I really intended to do it!"
After it was spoken, Hayley's plan crystallised, and she knew there was no turning back. Once settled in Sydney, she scoured Gumtree, found a kayak for $150 and honed her paddling skills around Palm Beach.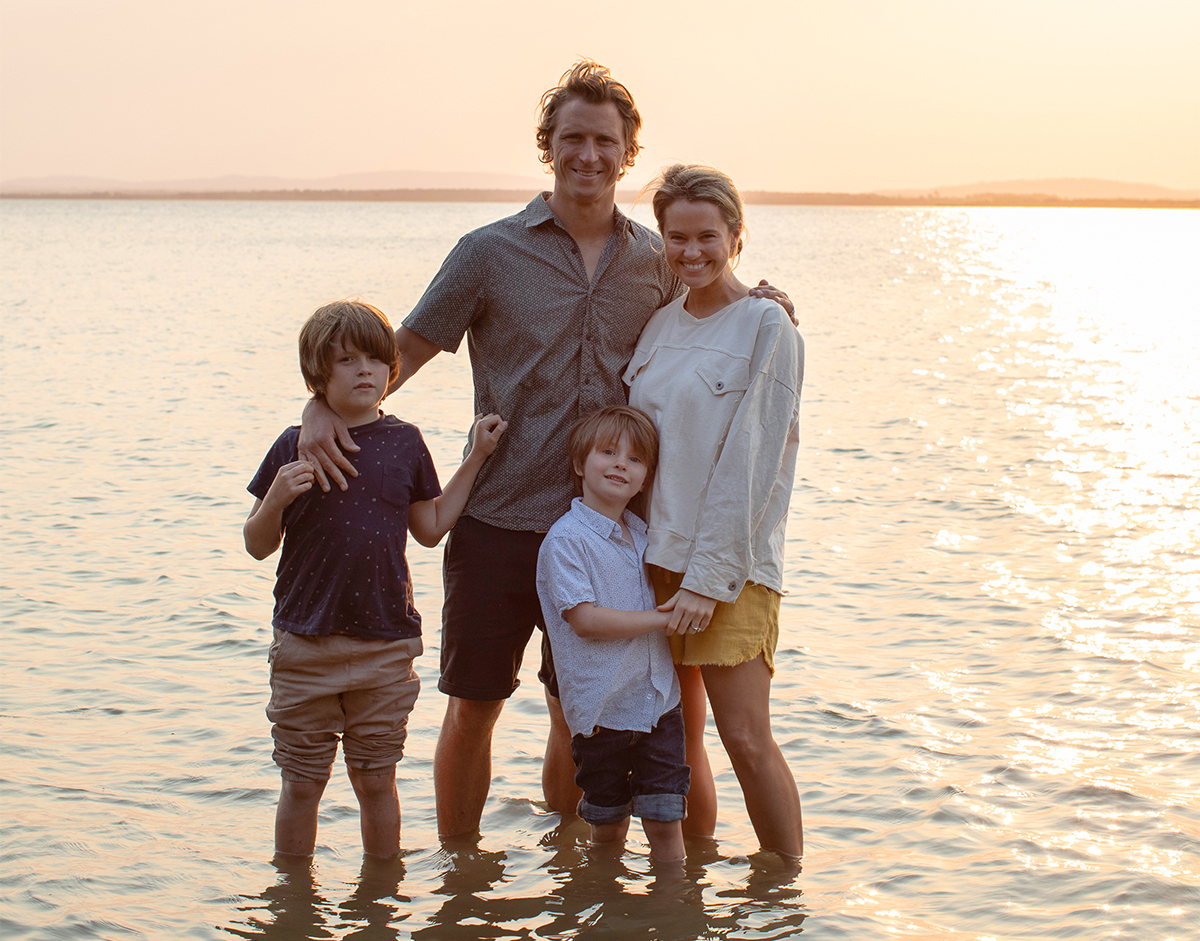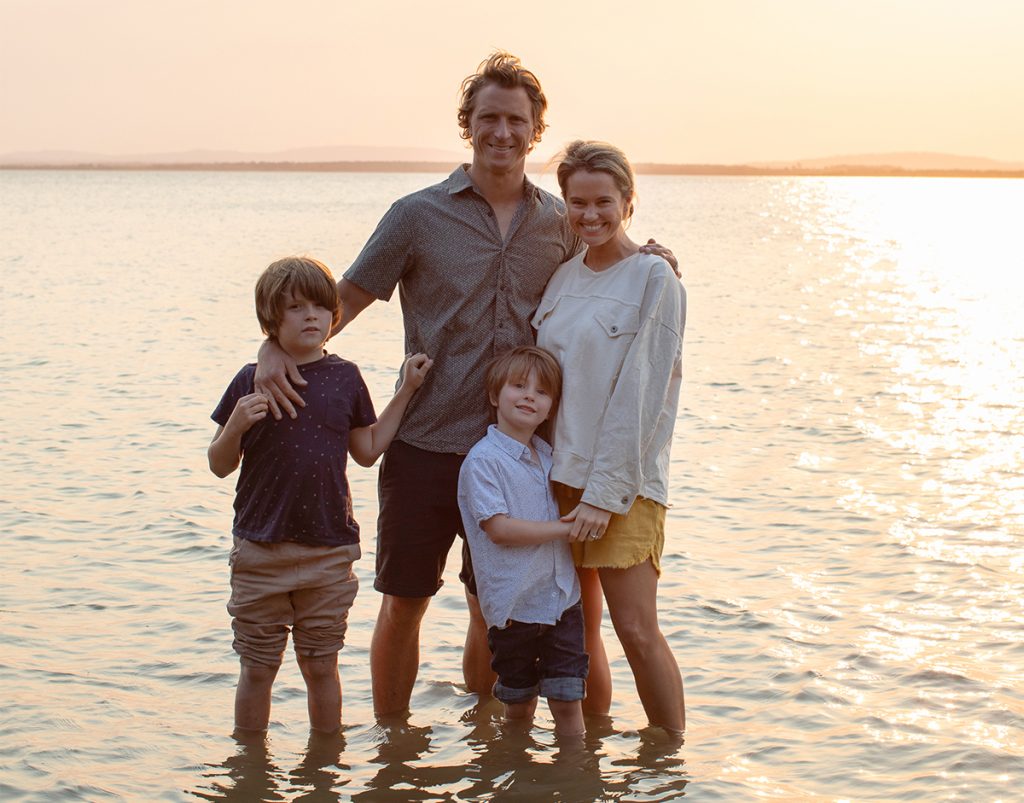 The Talbot family (l to r) Archie, Mick, Phoenix and Hayley
Kayaking the Clarence River solo
Two years later, Hayley paddled out onto the Clarence and set off on a journey full of extremes. She describes nights by her campfire under a sky full of stars too magnificent to take in, skimming across huge pools of jade-green water and dolphins frolicking and feeding on the banks of the river at Harwood. Aware that she sometimes romanticises the experience, Hayley is quick to point out that she had her fair share of struggles.
The first five days tested her skills as she fought to navigate through impenetrable sections of country. One particular night Hayley was awoken by the alarm calls of plovers and perceived a threat. She quickly packed up her camp, put on her still-wet paddling clothes and hit the water. With zero visibility, she paddled into the misty night. Hayley still can't quite explain what happened next. She says it felt like two hands grabbed the back of the boat and pulled it down. The front of the kayak was lifting up and she had to lean forward and paddle with all of her strength to get anywhere. "I know I wasn't caught on anything," she clarifies. "I eventually smashed into dry land and scrambled off the front of the boat. I had no idea what it was, but I knew I couldn't get back on the water until daylight."
14 days after setting off, Hayley paddled into the beach at Yamba, achieving what she set out to do. She was greeted by family, friends and even former school teachers and sporting coaches. "I'd wondered who might be there when I paddled in, she remembers. I could never have visualised the love in people's eyes as they greeted me – it was breathtaking."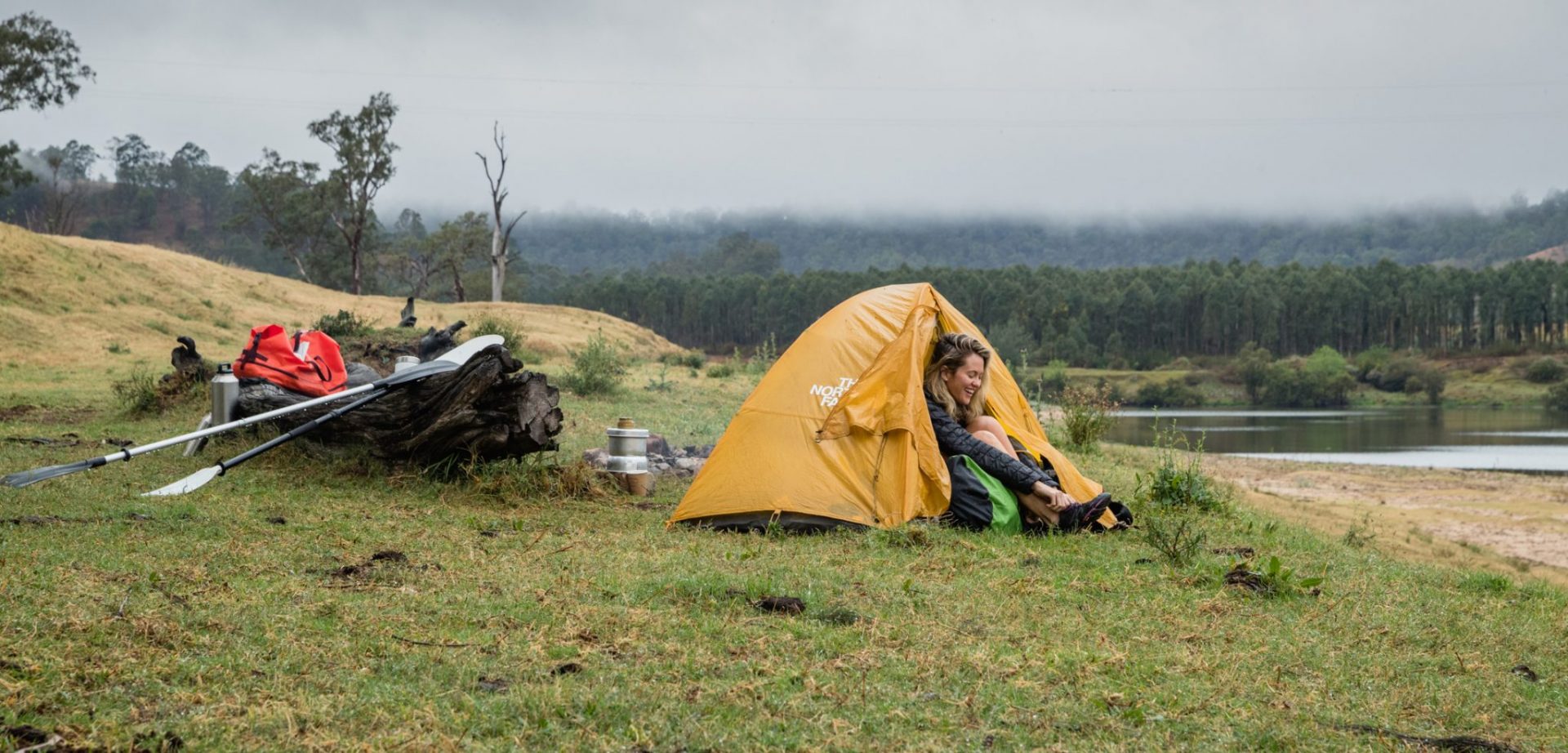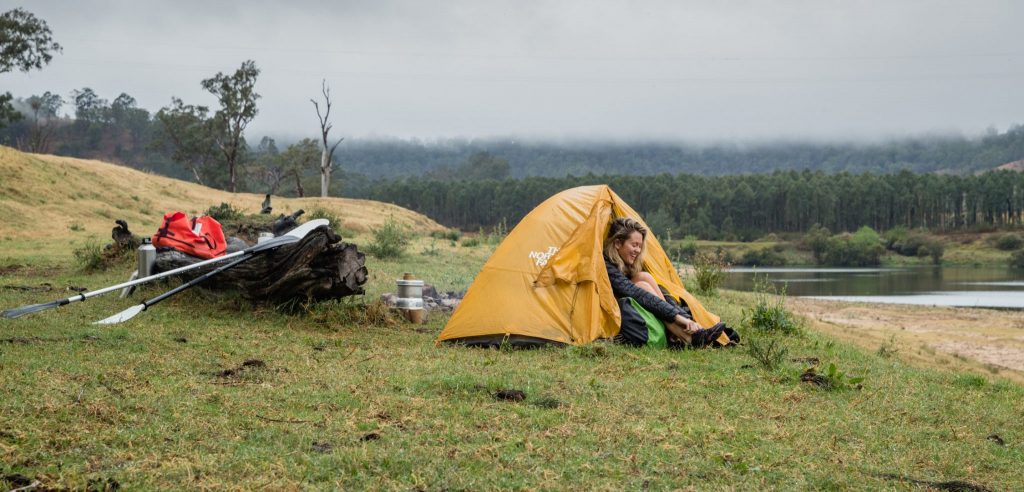 Hayley's home away from home on the banks of the Clarence River
Community, dedication & new ventures
Endowed with a renewed dedication to her community and a fierce resolve to protect the environment, Hayley is elbow deep in projects and protests. She's currently working on a documentary aimed at raising awareness about the effects of proposed mining activities in the upper Clarence. Three companies are now conducting exploratory activities. "I paddled through the proposed sites and if it were to happen it would ruin these beautiful places," Hayley says firmly. "The film I'm making in conjunction with outdoor adventure specialists Patagonia will help a lot of people understand our concerns and ideally, make a real impact."
At the beginning of the year, Hayley and Mick opened a co-working space in Yamba called Blanc Space that Hayley says has brought together some of the Clarence Valley's best minds and talent. "I believe that the people we attract can be the ones to make great decisions for this Valley and for our world," she says. "I now know that there's nothing I can't achieve from here."
Sharing her story
This is one of the messages Hayley passes on when she shares her story locally and further afield. She has been invited to present countless keynote addresses at leadership summits, conferences and corporate events, yet she still finds time to lead wilderness Rites of Passage experiences for girls. Hayley supports and guides these young women as they learn to forage, find water, seek shelter, chop wood and light fires. In Wooloweyah she hosts weekly meet-ups for local girls and encourages women of all ages to share their wisdom and insight. 
Far from living life on the sidelines, Hayley Talbot has thrown herself into the thick of the fray. "I have everything I need and so I spend a lot of time thinking about how I can keep doing things more broadly, she offers as an explanation when I ask about her remarkable attitude. I can literally be driving my car and get teary thinking about how we get to live on this beautiful planet."
With a strong presence of mind, Hayley is embracing life's challenges and allowing herself to learn and grow. The lessons learnt on the river flow on.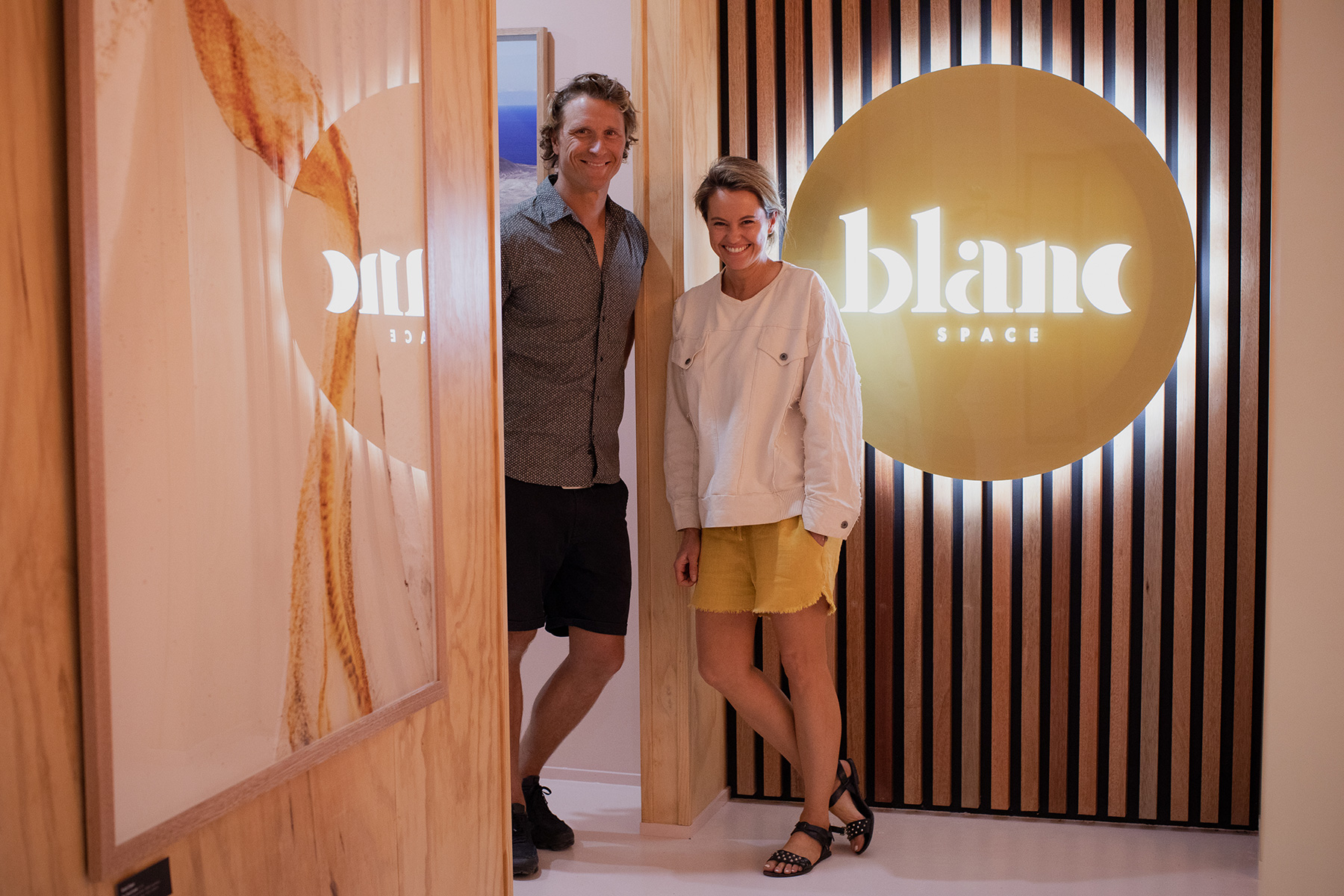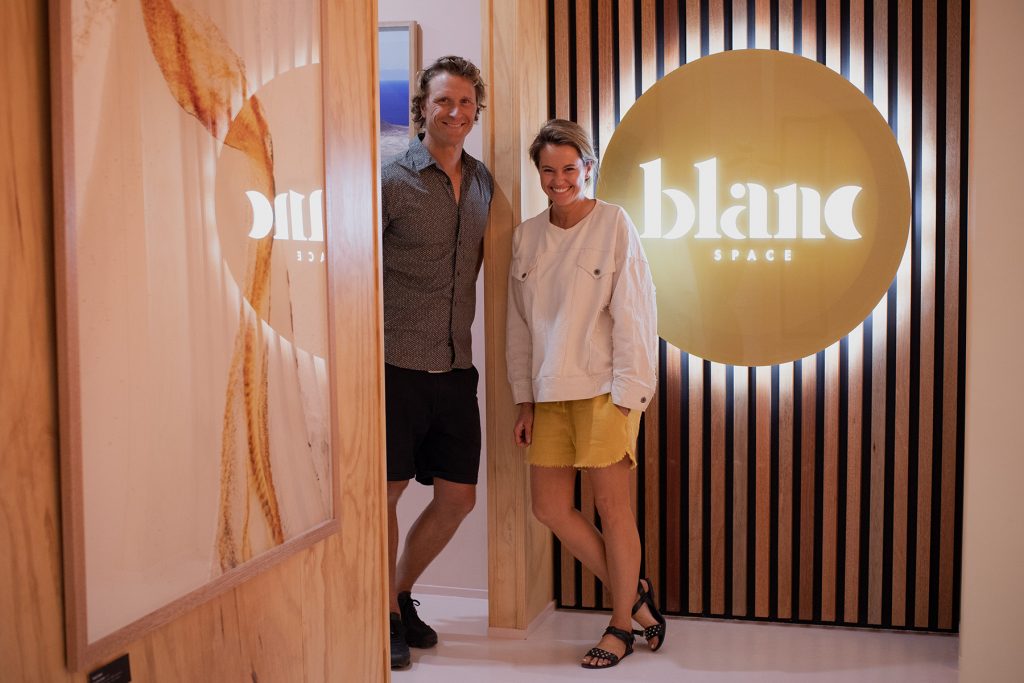 Mick and Hayley at Blanc Space, their co-working office in Yamba
Read Hayley's blog and follow her on Instagram
Read about other amazing game-changers Sam Bloom & Scott Doolan