Changing Lives one Uke at a Time
Stephanie Sims from Uko Ono talks about her love for the ukulele and her hometown of Sawtell.
Stephanie is the powerhouse and 'director of joy' behind Uko Ono, a business she runs teaching ukulele and running workshops for adults, children and community groups.
After moving from Sydney to Sawtell in 2006 Stephanie reconnected with her childhood passion for music when she picked up a ukulele for the first time and fell instantly in love. In addition to running workshops and teaching, Stephanie has also created the Uke Squad – spreading the joy of music to people who need it most in the Coffs region and beyond.
As if that's not enough, Stephanie is also part of an all-female ukulele band called The Pelvic Flaws! We spoke to the dynamic musician about her love for music, creating communities and what drew her to Sawtell.
Q. Tell us about Uko Ono.
A. Uko Ono was born in 2016 out of my love for the ukulele and passion for creating communities. We've grown to over 100 members including beginners, intermediate and advanced groups – everyone is welcome! I also teach kids, women's groups and conduct team-building events for businesses.
What I love the most is the community that has been built around Uko Ono. One guy told me he's lost 20 kilos since joining because being part of this group has bought him so much joy. It's not really about the instrument but what goes on around it. I'm not a great uke player but I am good at nurturing communities, a talent I've finally discovered in my 50's!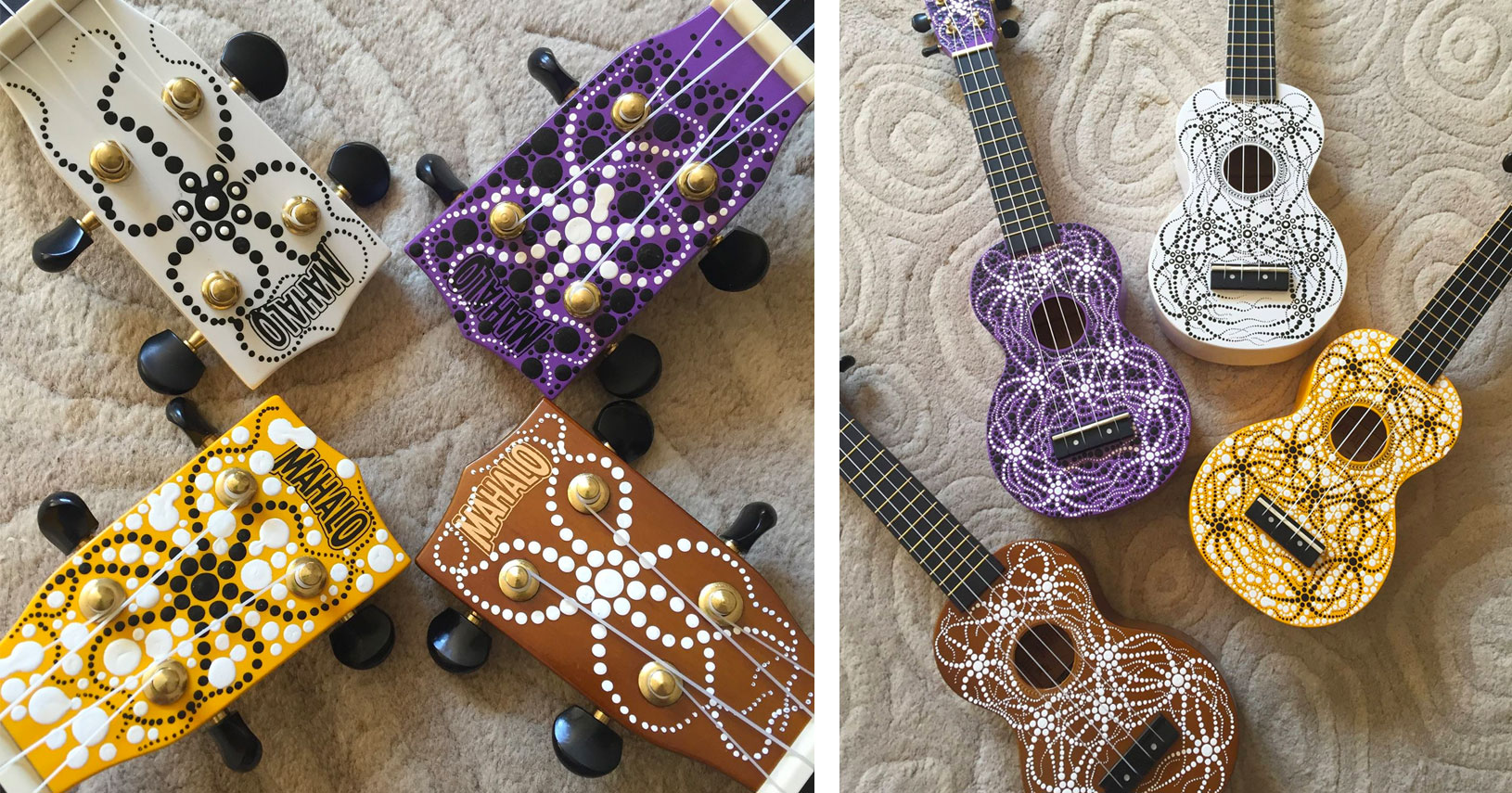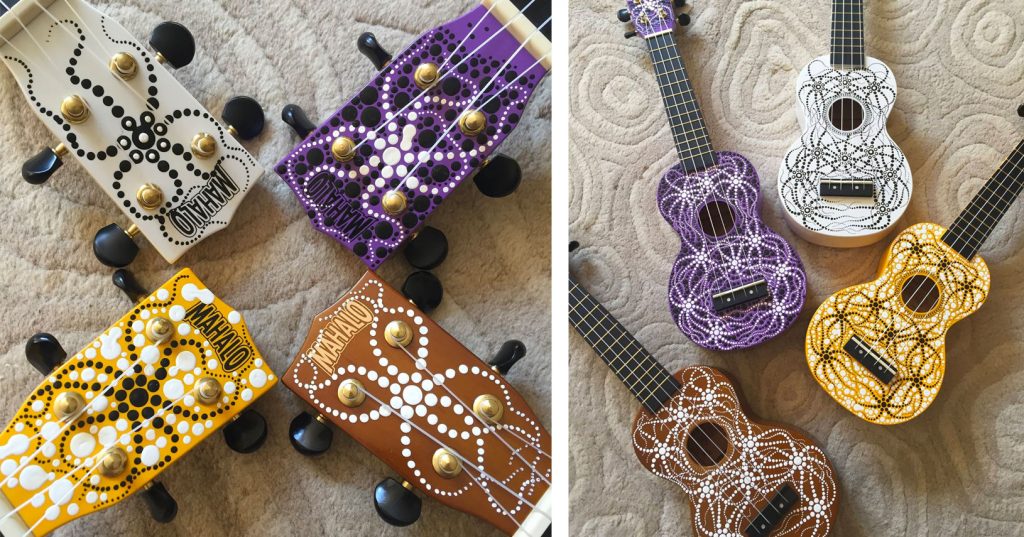 Ukuleles painted by Brentyn Lugnan. Photos courtesy of Uko Ono
Q. How did you discover your love for the ukulele?
A. About eight years ago my best friend bought a couple of ukes for her kids. While the kids weren't fussed on them, my friend and I picked them up and started learning together and it became our evening entertainment. While I'm a classically-trained pianist, I've made a shift to what is possibly the easiest instrument to learn – some people won't call it an instrument but I ignore the haters! The sound is so joyful and it's easy to sing and play at the same time.
Q. What do you enjoy most about your work?
A. I absolutely love the kids workshops, especially when parents and children learn together – it becomes a lovely bonding experience. Kids are so much more creative than adults and they aren't scared of failure which is great because we actually learn by making mistakes.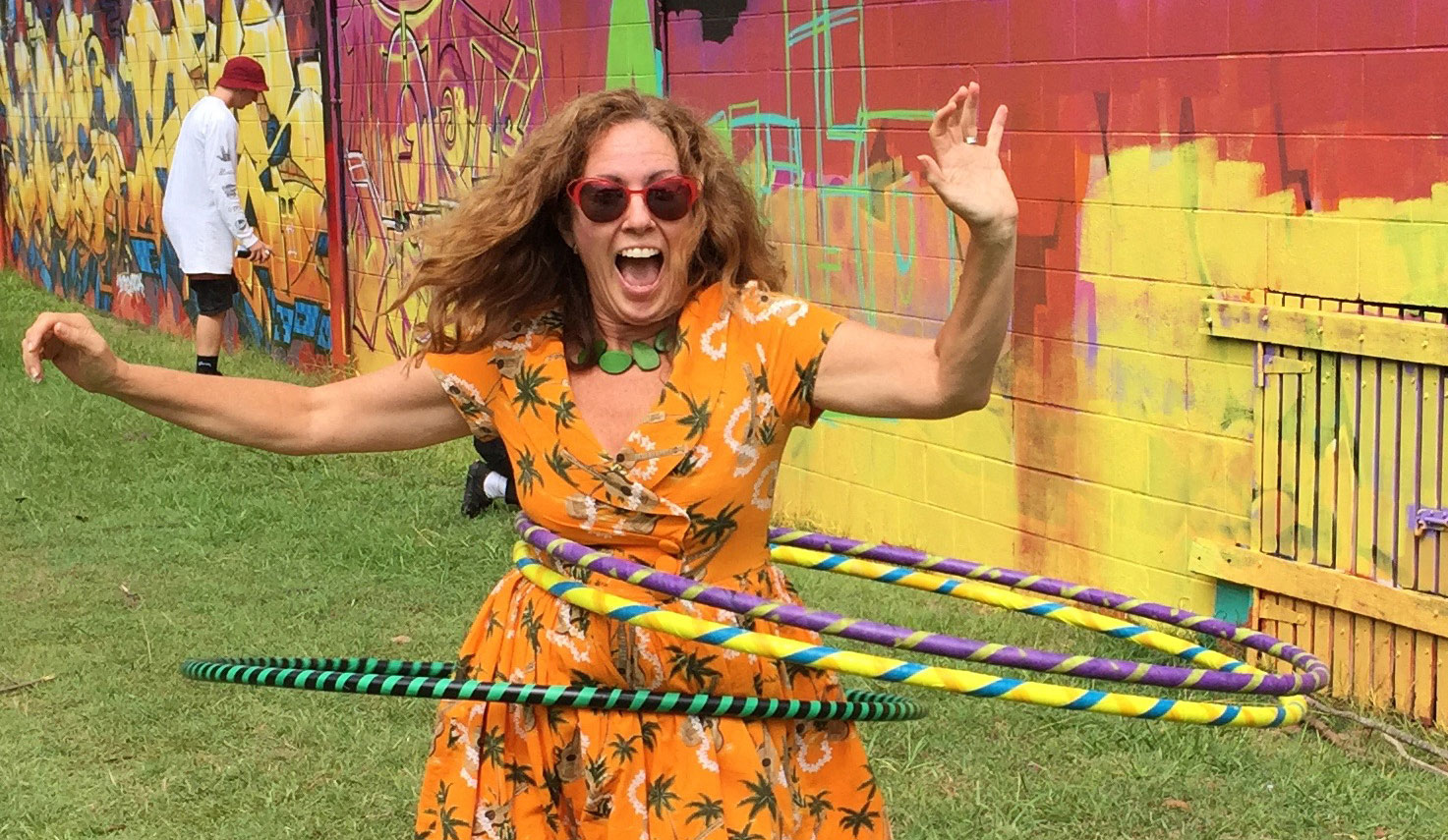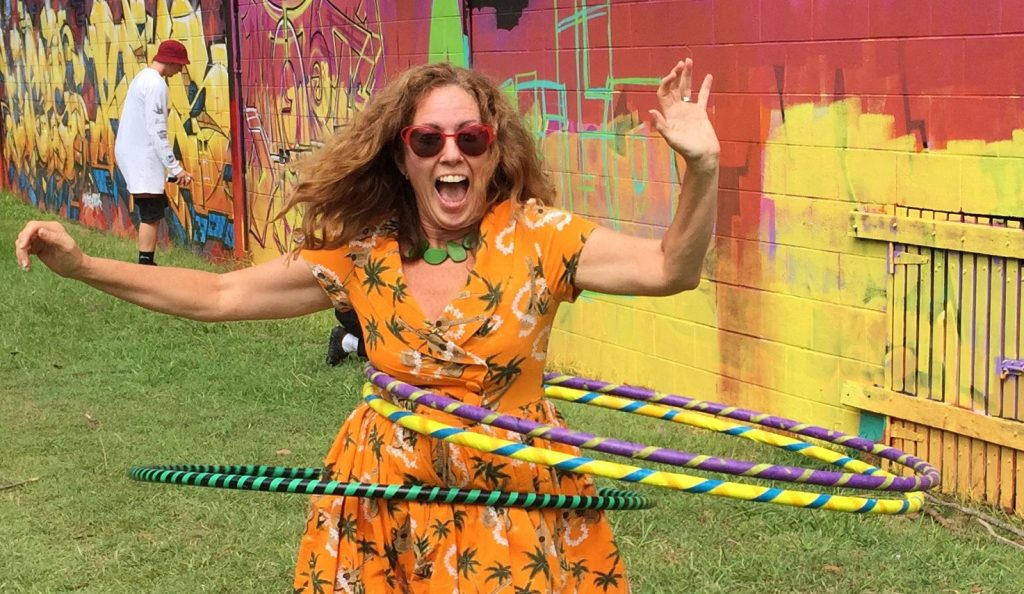 Stephanie loves life in Sawtell
A. What is the Uke Squad?
Q. The Uke Squad was born out of my passion for bringing music to people who are disconnected from community because of age, health, ethnic background or homelessness. Through government grants, I've been able to assemble a group of trained musicians and partner with organisations to offer uke workshops for these marginalised people.
What I've found is that music crosses all boundaries and allows people to easily connect with each other. Some of these people, particularly from the refugee community, have never touched a musical instrument because their lives have been about survival, so it's heartening to see them get so much enjoyment from music.
Q.What are some of your favourite uke experiences?
A. In partnership with the Australian Red Cross's new migrant parenting program we assembled a uke choir which represented 13 different nations. The group performed as 'The Happy Hearts Ukulele Group' at the Harbourside Markets in Coffs and it was just wonderful. The participants were given their own ukuleles which had Aboriginal designs painted on them by local artists. I thought it was beautiful that our nation's first people were gifting something to our nation's newest people.
I also love working with the homeless community because a lot of people living on the streets rarely experience intimacy and human touch. We have the opportunity to connect with them one on one, moving their fingers on the strings and singing with them. The uke has the power to make everyone smile.
Q. How did your band, The Pelvic Flaws come to be?
A. A group of us formed our punk-indie-rock uke band both for fun and, as the name suggests, to show that age is irrelevant and life is about expressing yourself and being authentic. We're currently doing gigs around the local area.
Q. Stephanie, can you please tell us your favourite things to do in Sawtell?
1. Watching the sunrise at the beach: I get up at 6.15 every morning for a jog/walk along the beach and I always feel grateful to live in this beautiful place.
2. Whale-watching: I love climbing the headland and watching these beautiful animals migrating along the coast. We're so blessed to be able to see them so close.
3. Uke Jams at 63 First Avenue: This gorgeous café has delicious food and fantastic live music. We meet here once a month to jam and the atmosphere is the best!
4. Sawtell Summer Sessions and Street Parties: During summer, once a month, the main street of Sawtell is blocked off for summer sessions full of food and music. The kids can roam free on their skateboards and scooters – it reminds me of my own childhood.
5. Going to the Cinema: My two favourite things are movies and music and the Sawtell Cinema has comfy chairs and gets so many great movies. The best rainy-day activity.
6. Sawtell Chilli Fest: This is a fantastic Winter festival (in early July) full of great music, food and good vibes.
To learn more about Uko Ono visit www.uko.ono.com.au
For information on The Pelvic Flaws visit www.facebook.com/thepelvicflaws