Cecil Healy: the ANZAC Legend who refused victory
The idea of heroism is often coupled with achievement, especially in the sporting world. 'Going for gold' is the catchphrase. However, one of Australia's forgotten Olympic heroes is most remarkable because he did not go for gold – he stepped aside in an unprecedented act of sportsmanship that has had a huge influence on the creation of the Australian identity. A new book Cecil Healy – A Biography tells this man's story.
Cecil Healy – A Biography is the work of another Australian Olympic swimming champion and Manly surfer, John Devitt, in collaboration with author, Larry Writer. Devitt won gold at the 1956 Melbourne Olympics in the 4 x 200-metre freestyle, the same race Cecil had won 44 years prior at the 1912 Stockholm Olympics. Then in 1960, Devitt won gold at the Rome Olympics in the 100-metre freestyle; the same race his predecessor Healy did not win and in not winning, became John Devitt's hero.
The story goes like this. In 1912 at Stockholm, Cecil Healy clocked the second fastest time in the heats for the 100 metres. His rival for the gold medal was the American swimmer from Hawaii, Duke Kahanamoku.
Everyone expected the American to win – after all, he had the fastest time. But thanks to a bungle that has never been satisfactorily explained, the American team failed to turn up for the semi-finals. A steadfast Olympic rule meant that they were automatically disqualified.
This left Cecil Healy facing the final as the fastest swimmer competing. Gold was his for the taking.
What is sportsmanship? Although today many competitors, spectators and sponsors have forgotten, any definition makes it clear that sportsmanship has never been about winning at any cost. Healy knew that.
The son of a prominent Sydney barrister, Cecil Healy grew up in a cultured environment, seeing law in practice through his father's work. He also experienced loss, with the sudden death of his father when Healy was still in his mid-teens. Perhaps it was this background that informed his ideas of justice.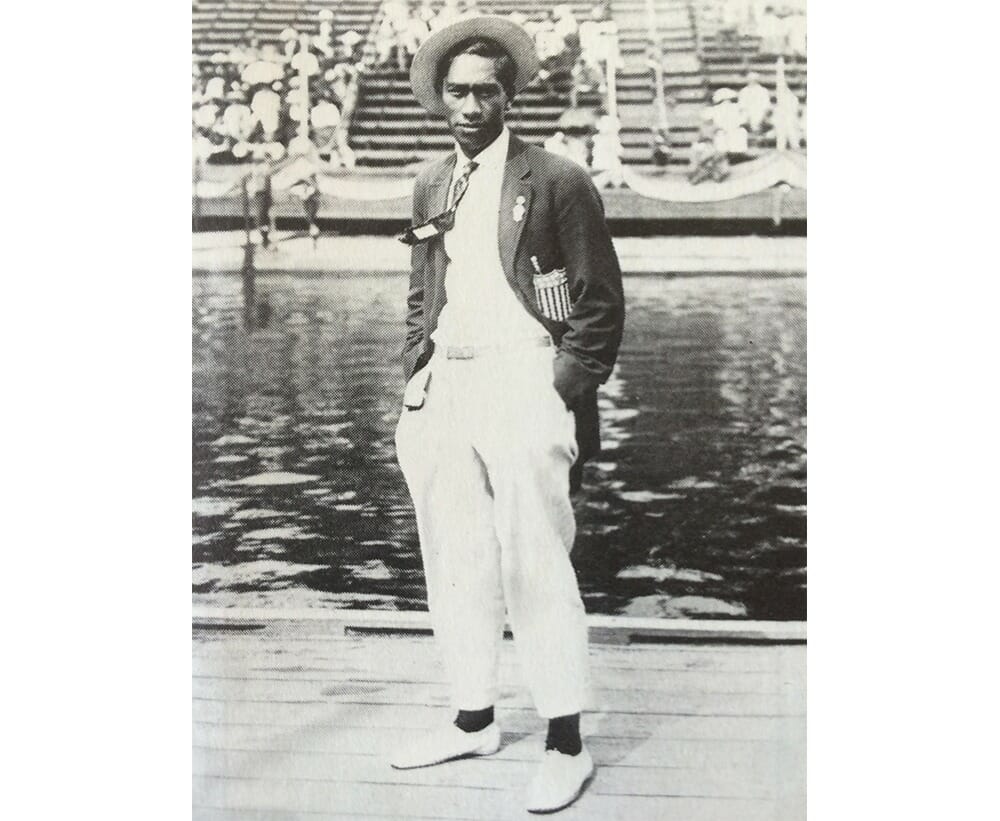 Supplied image of Duke Kahanamoku, Stockholm 1912 from Cecil Healy: A Biography
Upon hearing that his rival Duke Kahanamoku would not be allowed to race, Healy approached the Australian team managers. He told them that if they did not put in a formal objection to Kahanamoku's disqualification he would boycott the race. He knew that Kahanamoku could beat him, but he did not feel that the disqualification was fair and winning gold would be diminished under such circumstances.
Knowing Healy to be a man of his word, the Australian managers took him seriously. They made a formal objection, the Olympic committee relented and Duke Kahanamoku was allowed to swim in the final of the men's 100-metre freestyle. He won.
After the race, Kahanamoku raised Cecil's arm to the crowd, in testimony to Healy's sportsmanship. The Swedish Olympic Federation said of Healy, "What he did that day is more precious than gold."
But the story goes on.
Healy returned to Australia, where he earned his living as a notable journalist and public speaker, on sports and many other subjects. He contributed to his community as vice-president of the NSW Amateur Swimming Association, in addition to his role as captain and star lifesaver at the Manly Surf Club.
In the aftermath of the Olympics, a close friendship developed between Healy and Duke Kahanamoku and Healy invited the Hawaiian to Australia for a series of swimming competitions and events. In those days, swimming carnivals were huge events, offering entertainment as well as races.
"Thousands would attend the swim meets, lining the sides of the ocean and harbour pools," says Larry Writer. "In between the events there would be all sorts of entertainment: diving clowns, novelty races and competitions to see who could hold their breath the longest.
Kahanamoku brought a surfboard with him with him to demonstrate the sport of surfing, which had originated in Hawaii but at that time was less common in Australia. He made a huge impact on the Australian onlookers.
Larry Writer says, "People came from everywhere to see him, this bronze god riding the waves. The Duke was an amazingly skilful surfer: he could do handstands on the board, carry people on his shoulders as he surfed. It really inspired surfing in Australia."
Seemingly overnight, surfing sprang up all over Australian beaches; one of our iconic cultural practices had begun.
And then Australia went to war.
It was no surprise to Healy. A great traveller, he had visited Germany in 1912 and reported back on the militarism he saw there, believing that war was inevitable. He was 33 years old when he enlisted on 15 September 1915. Because of his age and his business ability he was made a Quartermaster, in charge of stores. After months of witnessing the men he outfitted losing their lives on the frontline, Healy requested to be transferred to active service, feeling that this was the only way he could make a meaningful contribution alongside his countrymen.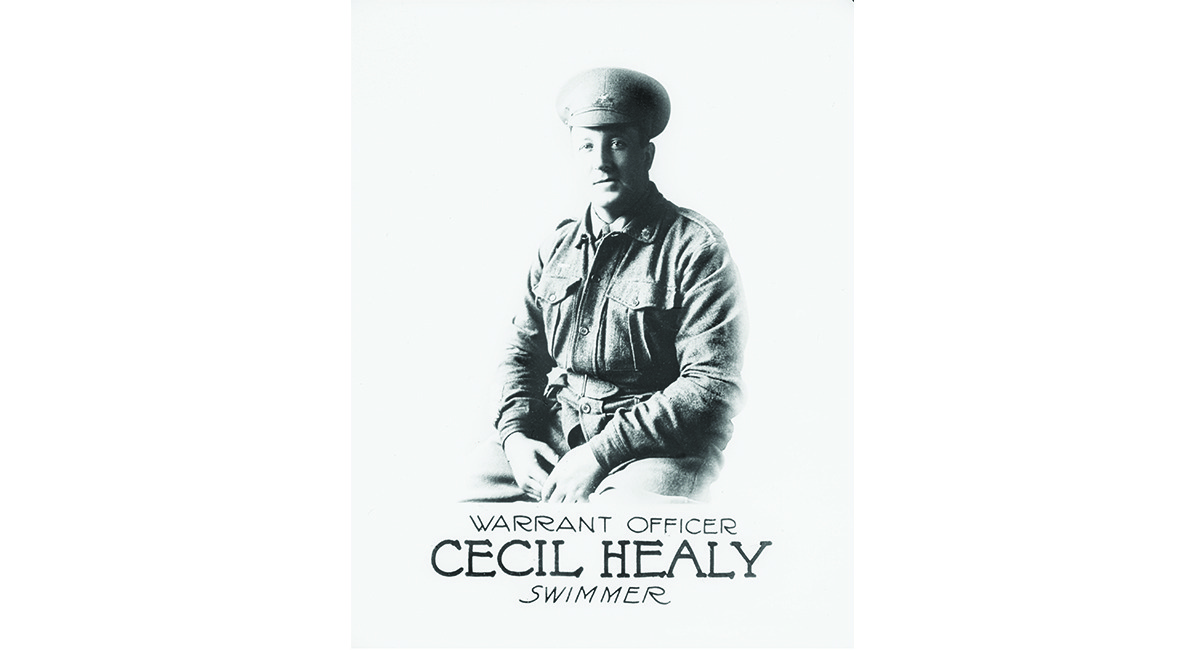 Image of Cecil Healy courtesy of the Australian War Memorial
Healy was sent to Cambridge University, where he completed six months of officer training. Larry Writer believes that this was one of the happiest times of Healy's life, but despite enjoying the rigour and diversity of his training, Healy wrote ominous letters home. In one such missive he declared, "I cherish the hope that I will be able to sell my life dearly, and earn the respect of the men whom I command."
Sadly, his sentiments proved prescient. On 1 June 1918, Healy was commissioned second lieutenant in the 19th (Sportsman's) Battalion, in command of troops on the Somme. On 29 August, during the battle for Mont St Quentin, he was shot and killed by German fire. He is still the only Australian Olympic gold medallist to be killed in war.
John Devitt visited his grave at Assevillers in France, where Healy is celebrated as a hero, taking with him a cup of their beloved Manly sand to pour on the grave.
This visit was a part of Devitt and Writer's two and a half years research for their book, which Writer describes as Devitt's "labour of love" to "find out everything we possibly could" about Healy. Despite the importance of their research in recording the life of such a heroic Australian, their work was largely self-funded.
Devitt and Writer started in Australian libraries and government offices, but when they had exhausted these archives they turned their attention to Europe. Cambridge University and the Imperial War Museum in London provided valuable information; their research was comprehensive, unearthing multiple new references to Healy in the letters and diaries of other athletes and sports administrators. John Devitt has been able to reveal the man behind the hero who so inspired him as a young swimmer. He discovered a good bloke, modest, with a strong sense of justice. He and Larry Writer also uncovered the boys-own-adventure that was Healy's life, often recorded in Healy's own words.
"He was a very good writer," says Larry, on the telephone from his home in Sydney. "Healy had the ability to bring a story to life and his journalism was always thoughtful and well-informed."
Cecil Healy – A Biography threatens to be a riveting good read, too. It will shed light on one of Australia's great Olympians, a man who understood that the value of the sportsperson as role model and cultural hero was nothing if without honour. And it will illuminate the life of an ANZAC legend who died for the same beliefs.
Cecil Healy – A Biography is published by Stoke Hill Press and will be released in late July 2018.
For further information go to www.stokehillpress.com