Cb Local: Meet Lowbrow Artist Aidan Jarvis
Aiden Jarvis spent five minutes a day trying to break through the "perfection barrier". The Coffs Harbour artist had been passionate about drawing from a young age but eventually put it on the back burner. Everything changed when he joined the Lowbrow Art Academy and participated in the group's daily drawing challenge. Meet Aidan and learn how he rediscovered his love for art then made it fun again.
"You get the image in your head but when you put it down you think that's not it," Aidan Jarvis says as he looks over a collection of sketches. "You have to break through that barrier – have some fun with it, enjoy it and just draw."
Aidan followed his childhood obsession to art school and followed it up with a two-year graphic design course. He participated in group exhibitions and flourished in Sydney's art scene. He travelled to Japan where he taught English, worked as a designer and started a family. Eventually art fell by the wayside.
"I didn't draw for quite some time, but I think that's normal," Aidan explains. "I had a few hurdles to get over before I could get back into it."
Monsters, Hot Rods and Weirdo Art
In 2017, Aidan joined the international Lowbrow Art Academy. He wanted to reconnect with fellow artists with a shared interest in monsters, hot rods and weirdo art. He describes Lowbrow as outside fine art but not quite cartoon.
"It stems from cultural influences like music, hot rods, pinstriping and rockabilly," he explains. "Gradually I gravitated to that sort of imagery and tried to develop my own style and take on things."
Five Minute Drawings
Aidan enjoyed the lessons, workshops and encouragement that the Lowbrow Academy offered. When he took up a daily drawing challenge, he began to tackle his hurdles head on. The drawings didn't have to be masterpieces; the idea was to get something down on paper and have fun at the same time. While Aidan admits it sounds a bit "simple and silly" he says it did wonders for his psyche.   
"It clears your mind – it's kind of like meditation," he explains. "It's that positive feeling you get of achieving something like knocking out a power session at the gym or a round of golf or whatever you're into."
Drawing for five minutes helped Aidan develop his skills and build a body of work. He sketched on a large roll of paper, looking over each day's doodles before adding another. 
"It's nice to see your progress," he reflects. "You realise you did achieve something, even if in the moment you thought it sucked."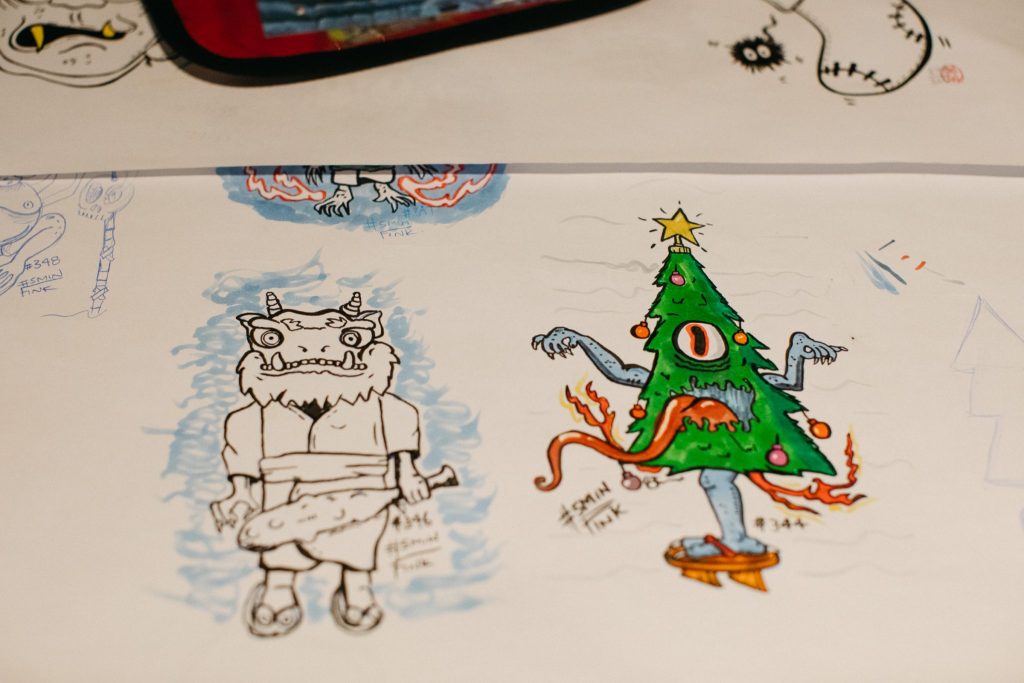 Digital vs. Analogue
While he always goes back to pen or pencil and paper, Aidan has a healthy respect for digital illustration app Procreate. He tends to use it when working on commissioned pieces but says the app's unlimited options can be a hinderance.
"You can make everything perfect, erase it, you can snap the lines – it starts to look really synthetic," Aidan says. "I'm trying to nail down a colour palette and limit myself instead of using all the colours of the rainbow which is just overwhelming."
Aidan is inspired by the imagination we possess as children, something that can fade as we mature. Participating in daily drawing challenges like #Inktober help him maintain a sense of playfulness. He's found his online community keeps him accountable.
"When the Lowbrow Academy came along that was the boost I needed," Aidan explains. "There are heaps of different groups you can join."
"In Coffs the arts scene has blown up which is awesome!"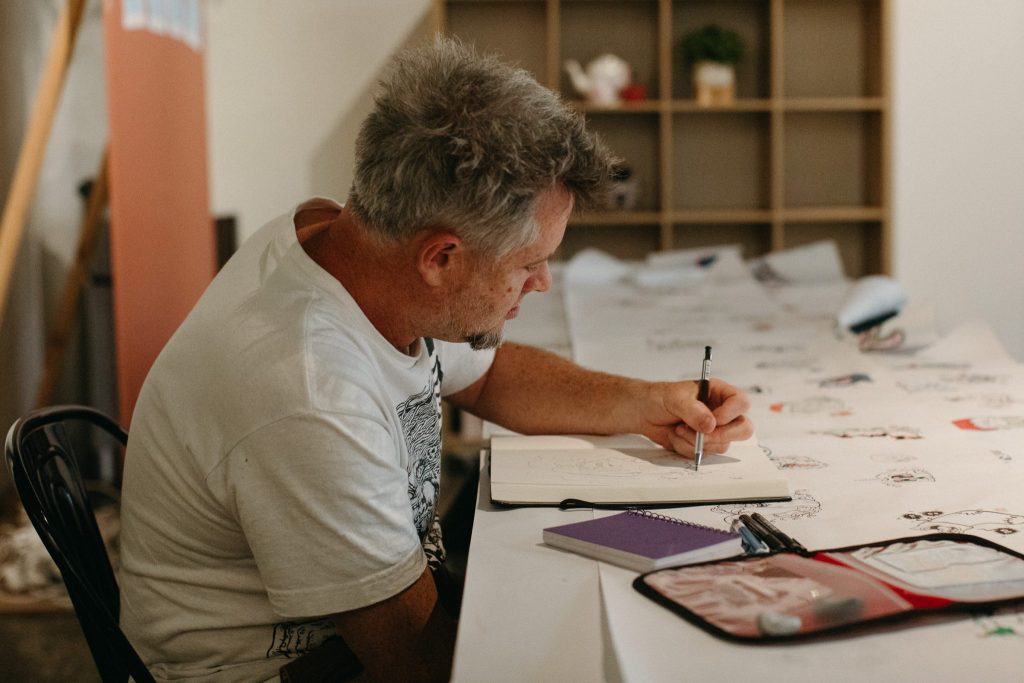 Want to get into drawing or art again? Check out Aidan's tips:
Set yourself realistic goals – start with as little as five minutes a day
If you want inspiration, set a timer and briefly flick through some art books or magazines, not Instagram. It's easy to become overwhelmed and feel discouraged when looking through hundreds of images online. Plus, you'll probably get distracted and abandon your art for the day
Put devices away and use a pen/pencil and paper
Draw! It could be a mindless little doodle or your best work yet – just have fun with it and enjoy the process
Look back over your work and see your progression and development over time
Join a community and find like-minded people. Aidan is part of the Lowbrow Art Academy but there are so many other groups to join – both virtual and IRL
Follow Aidan on Instagram. Meet another Cb Local – harp maker Geoff Welham.