Cape Byron Distillery – meet the Byron Bay family taking Australian gin to the world
The world of gin connoisseurs has not been this shaken and stirred since that wild card Australian, George Lazenby got the gig as James Bond and that was back in Grandma's day!
Award-winners
What knocked the pip from their olives this time was the awarding of gold medals to Cape Byron Distillery's Brookie's Byron Dry Gin and Brookie's Byron Slow Gin, against more than 2,200 international spirits, at one of the most prestigious competitions in the world – the 2018 San Francisco World Spirit Competition.
Eddie Brook, the son of distillery founders, Pam and Martin Brook, says, "To be awarded these gold medals was extremely humbling and exciting for the team. We produce our Brookie's gin here in the distillery on the family farm in the hinterland of Byron Bay. For our gin to travel to the other side of the world to be tasted and to stand alongside some incredible international gin distilleries and come out with two gold medals was pretty damn exciting!"
The gin and it's natural flavours
Cape Byron Distillery manager, Matt Barnett, attributes the distinctive Brookie's flavour to the subtropical Northern Rivers native fruits and botanicals used to make the gin. A particularly outstanding variety is Brookie's Byron Slow Gin, referencing the classic British sloe-gin which is made by bottling blackthorn berries with the gin. Sloe-gin is highly aromatic, slightly sweet and very delicious."We use the Davidson Plums from the Byron Bay rainforest and we soak them in gin for six months," Matt says.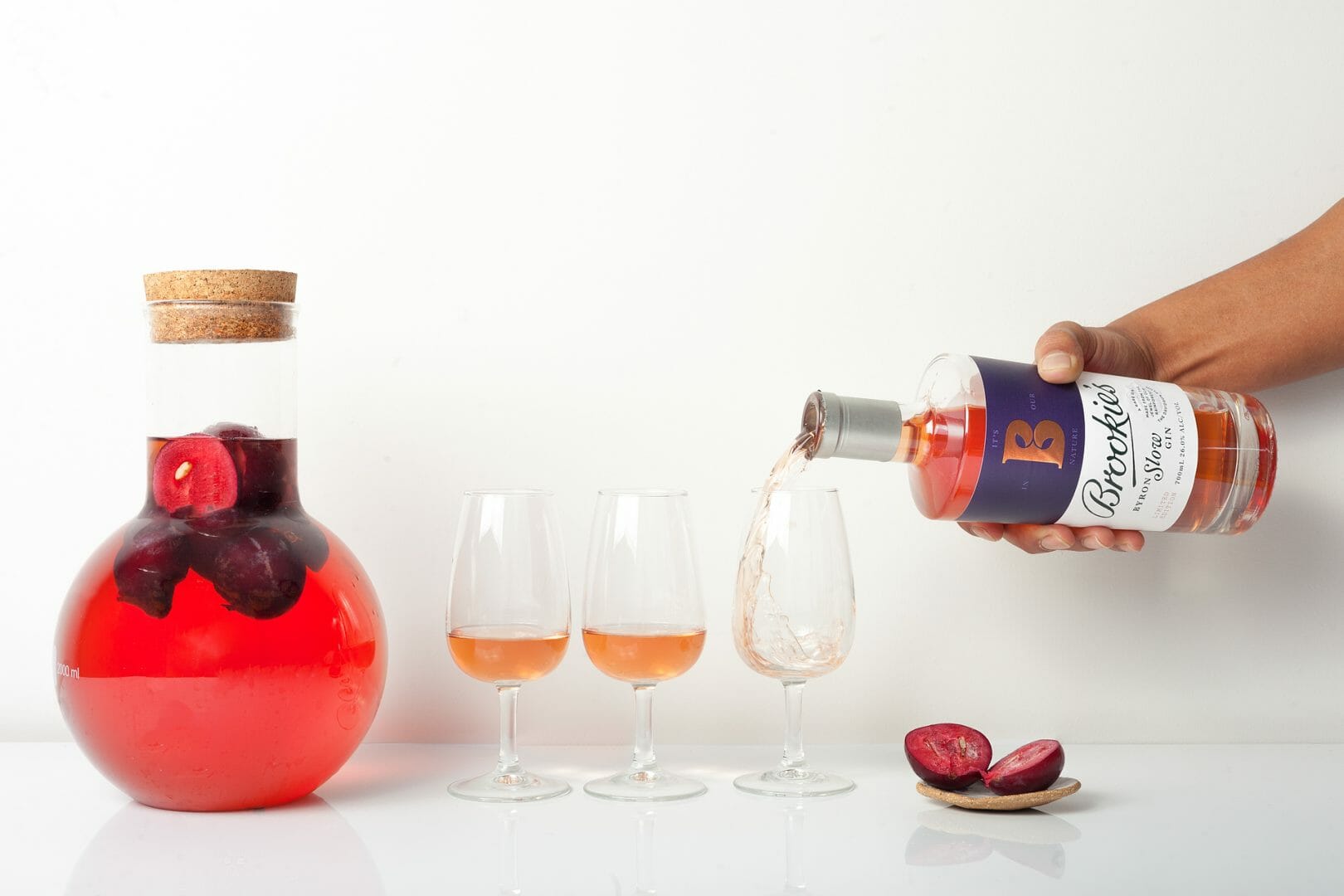 But that is just the beginning – a rich intensity of natural flavours create this award-winning tipple: aniseed, cinnamon myrtle, finger and blood limes, coriander, white aspen, riberry and Dorrigo black pepper; all native, all sustainably sourced locally from the Northern Rivers and the distillery's farm. The gin is described as 'the most natural in the world' which is not surprising from a family company committed to regeneration and sustainability.
About Brookfarm
Brookie's Byron Dry Gin is a traditional dry gin that also captures the unique flavours of the subtropical rainforest that surrounds the Cape Byron Distillery, built on Brookfarm. Pam and Martin Brook founded Brookfarm 30 years ago. The couple bought a rundown 96-acre dairy farm and started the huge process of regenerating the land. To date, they have planted over 35,000 subtropical rainforest plants, transforming the land and restoring the habitat of multiple flora and fauna.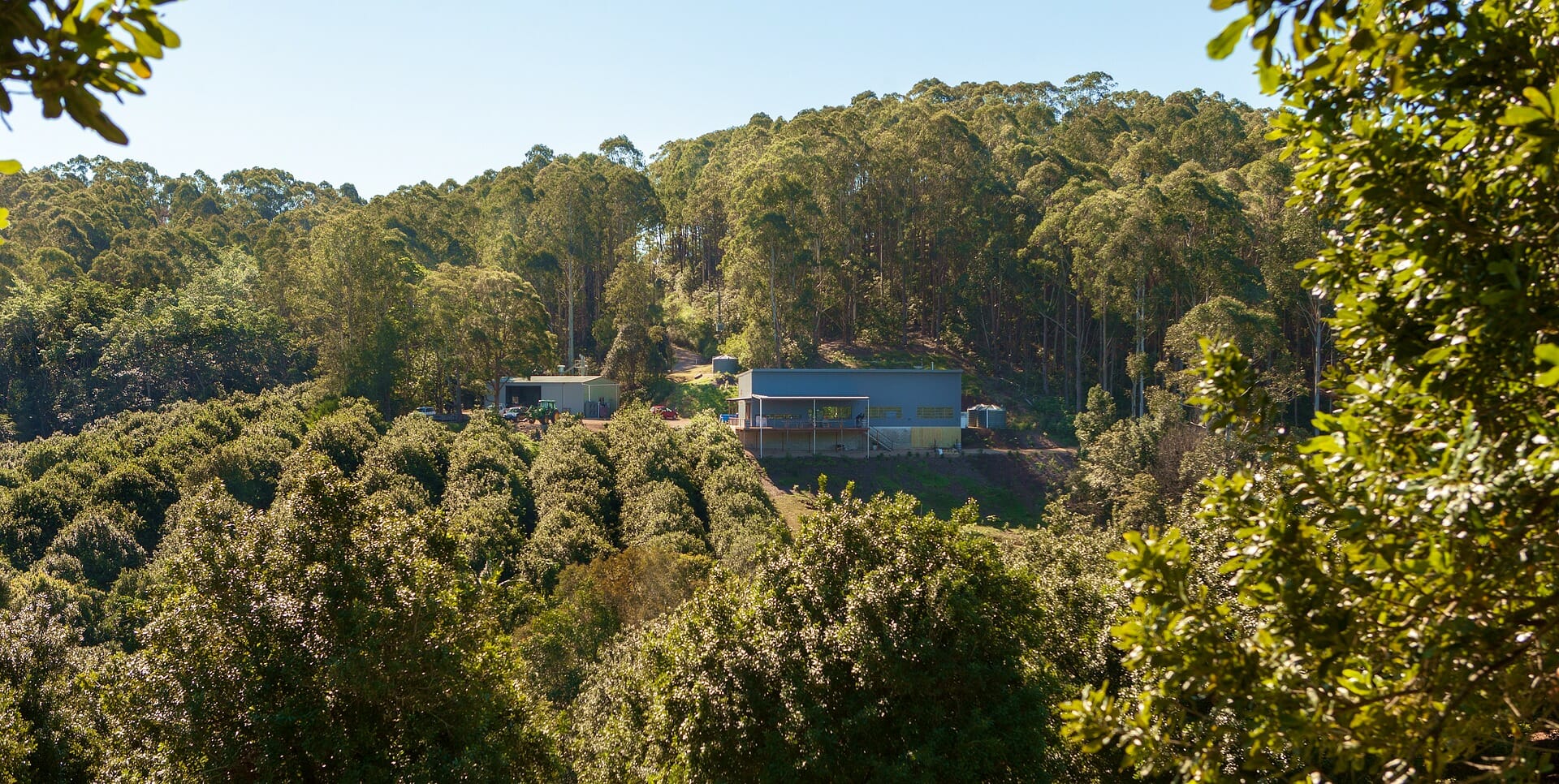 According to Martin, "Brookie's gin showcases the very best of what we naturally grow in subtropical Northern NSW. When people visit the distillery as it is now, it's hard to imagine that this was a rundown dairy farm 30 years ago. In a relatively short time frame you can restore the landscape. Visitors to the distillery can still get a sense of what was here – the magnificent Big Scrub rainforest that was the largest in Australia."
Pam and Martin's son Eddie has also learnt the art of distilling and has been mentored by one of the great international distillers, Jim McEwan, another of the founders of the Cape Byron Distillery. Jim McEwan is referred to as the 'Cask Whisperer' and brings to Cape Byron over 52 years of industry experience. He's also received countless awards and accolades. Jim is the only distiller in the world to win Master Distiller of the year three times and in 2014, was given a Hall of Fame lifetime achievement award.
So, if this has stirred a longing for a rainforest martini, Cape Byron Distillery runs tours of the distillery and their gin is available at selected stockists. For more information, go to www.capebyrondistillery.com
Cape Byron Distillery Rainforest Sour
Made with Brookie's Slow Gin – a take on a traditional sloe gin using native Davidson Plums instead of sloe berries – this cocktail's tart taste is as delightful as its gorgeous plum pink colour.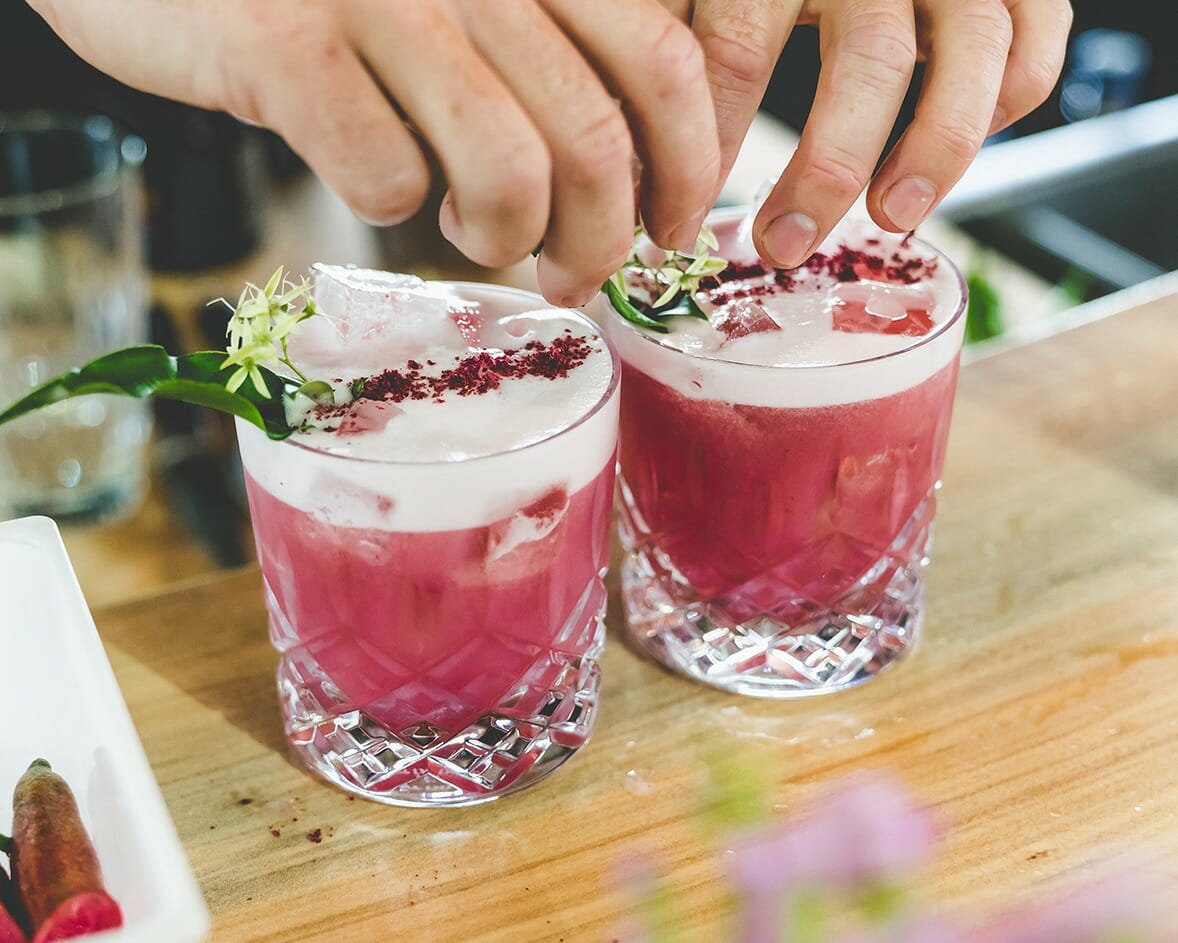 Ingredients:
60ml Brookie's Byron Slow Gin
30ml Lemon Juice
1 Bar Spoon of Davidson Plum Jam*
15ml of Aquafaba (aka chickpea brine – it's magic, trust us)
Garnish:
Cinnamon Myrtle Flower
Aniseed Myrtle Leaf
Davidson Plum Freeze-Dried Powder
Method:
Shake all ingredients in a cocktail shaker vigorously with ice and strain over ice filled glass.
*Davidson Plum Jam can be substituted for any quality plum or berry jam