Camping Tips for Beginners
This article originally appeared on Kathmandu.com.au
Campfires, hiking, stunning scenery, curious lizards, arguments about how to put up the tent. They are memories of our childhood that we hold dearly, and so want to pass on to our kids. There's been a definite shift in our attitudes towards the natural environment and our relationship with it. As cities grow larger and busier, more people are seeking periodic escapes to benefit both their mental and physical health. If you haven't experienced the peace and quiet of a night or two outdoors, here are some camping tips for beginners.
What are the Camping Essentials I Shouldn't Forget?
For every camping trip, there are some absolute essentials that you need to ensure you pack, or at the very least, can have access to once you arrive:
Protect against the elements. Most people tend to forget that insects are attracted to light and water and will end up getting inundated by insect bites on their trip – making it a lot less fun. Be prepared for such scenarios by packing some insect repellent and bug-spray. Also, as you will be spending most of your time outdoors, don't forget to put on plenty of sunscreen.
Don't forget your good hygiene kit. Even though you are away from general civilisation, it is generally a good idea to keep up with your regular hygiene habits. To that end, don't forget the usual essentials – toothpaste, spare toilet paper, soap, shampoo and conditioner.
Make sure you have enough lighting. Apart from having flattering lighting for amazing photos from your trip, it is important to have some good lighting to keep you company – both within your tent and for outside, when using the facilities after dark. Ideally, a solar-powered torch and/or lantern allows you to recharge easily and removes the need for carrying additional batteries or battery packs.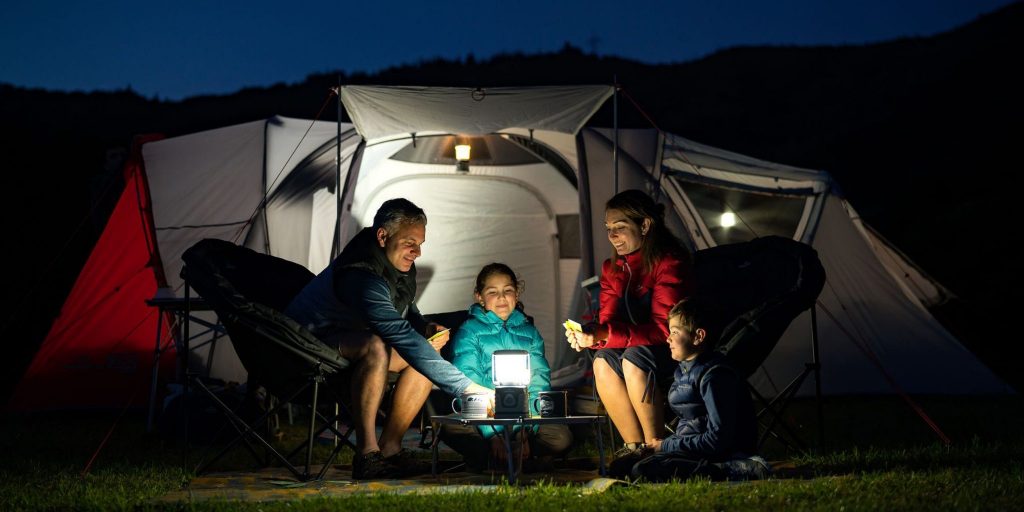 What Camping Gear Should I Bring?
One of the key factors that makes for a successful camping trip is equipping yourself with high quality, durable camping gear. Apart from your tent, there are a few other things to keep in mind:
Sleep well, with the right sleeping gear. Just because you are away from home, doesn't mean you have to compromise on your comfort. Invest in a good sleeping bag (check out how to choose the right one for you), or get yourself a camping bed, and bring your favourite pillow along, or a comfortable camping travel pillow.
Invest in a great camping asset – your tent. If you are ready to make camping an integral part of your lifestyle, it is essential you get yourself a strong, sturdy tent with enough room to accommodate your needs. Remember to try setting up your tent in your backyard or a park.
Don't forget creature comforts – kitchen essentials and seating options. Most campers take meals along with them, or source their own food options at the place they are camping at (more on that just below). Remember to pack kitchen essentials, food coolers, and furniture to sit outside and take in the view. 
What Food Should I Take With Me?
Going camping equipped with a basic meal plan and as much of, if not all, the things you need is always a good idea and a great way to ensure you don't go hungry.
Portability is key, and a whole lot easier. Consider boxed or canned food that requires little to no prep time, so that you can eat as soon as you come back from your adventure to your campsite. If you want to take the effort out of planning a nutritious meal, try portable outdoor meals.
Remember to pack snacks and drinks. Pack healthy snacks that require small amounts of storage space, such as dried fruit, nuts, trail mix, and muesli bars. In winter and cooler months, you'll also be glad if you pack tea, coffee, hot chocolate and instant soups.
Visit Kathmandu at Coffs Central this summer!