Byron Writers Festival in Coastbeat Country
Those Byron types are tripping again!
The internationally acclaimed Byron Writers Festival is sending its Writers on the Road crew out on tour again this May for a series of free community events. The tour bus will be bursting with stories from award-winning authors Krissy Kneen, Nevo Zisin, Danny Teece-Johnson and JA Henderson. Stories that connect us, comfort us, challenge us and keep us going through troubled times.
Writers on the Road is a literary free-for-all that is literally free for all!
When and Where?
Bellingen, Monday 9 May – Venue: Bellingen Library
Address: 29/31 Hyde St, Bellingen
Time: 5.30-7.00pm
Bookings: Via Bellingen Library website or call (02)6655 1744
Harwood, Tuesday 10 May – Venue: Harwood Hotel
Address: 2 Morpeth Street Harwood
Time: 5.30-7.00pm
Bookings: Via Harwood Hotel website or call (02)6646 4223
Byron Bay, Wednesday 11 May – Venue: The Book Room
Address: 277 Fletcher Street
Time: 6.00 – 8.00pm
Bookings here
Pearces Creek, Thursday 12 May – Venue: Pearces Creek Community Hall
Address: 40 Pearces Creek Hall Road
Time: 5.30-7.00pm
Bookings: Email [email protected] or call 0458 801 941
Ballina, Friday 13 May – Venue: Northern Rivers Community Gallery
Address: 44 Cherry Street Ballina
Time: 5.30-7.00pm
Bookings: Via NRCG website or call (02)6681 0530
Wordley Fun for All
Join the Road Trippers for conversation at Bellingen Library, Harwood Hotel, The Book Room, Byron Bay, Pearces Creek Hall and Northern Rivers Community Gallery in Ballina. Writers on the Road is all about book readers meeting book writers in an informal setting to talk books and why we love them. All events are free and open to the public.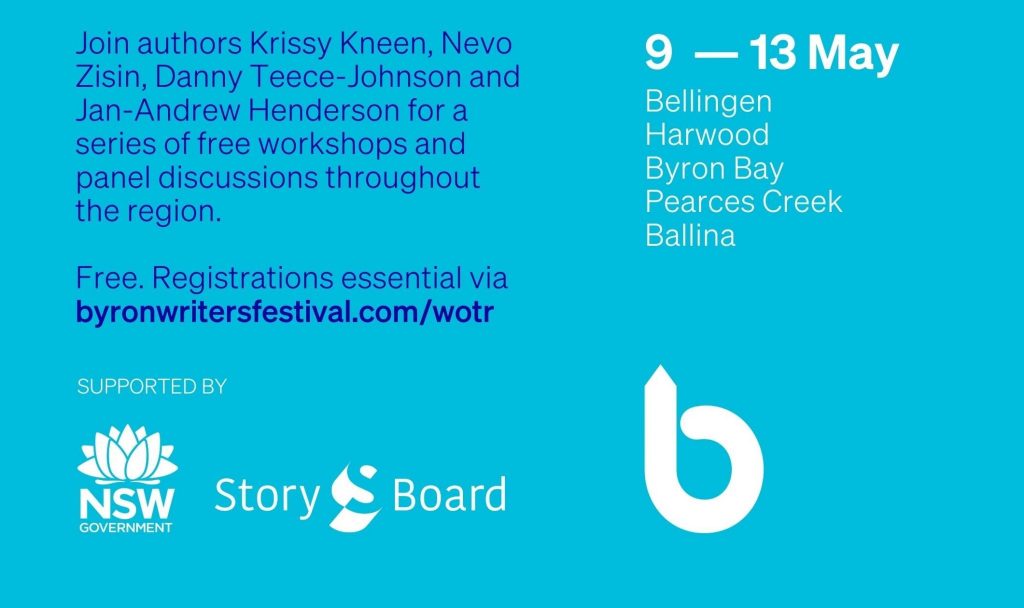 Due to Covid-19 restrictions, bookings are essential at the venue.
For enquiries contact Zacharey Jane on 0432 922 381 or [email protected]
For event and venue details visit Byron Writers Festival.