Beeswax Wraps, Mullumbimby
Meet our maker, a mother, artist and businesswoman from Mullumbimby who is trying to get the plastic problem wrapped up and put away, sustainably.
Claire Mason describes her work as a 'labour of love'. She and her collective of co-workers are pitching at a plastic-free world, one wrap at a time. Beeswax wraps, that is. Beeswax wraps replace plastic wrap for covering food. They are made from fabric coated with molten beeswax. The wax is still malleable when dry which means that it can be bent and moulded over and around food and dishes for storage. The wraps are multiple use items that can be unfolded, wiped down and re-used safely and hygienically.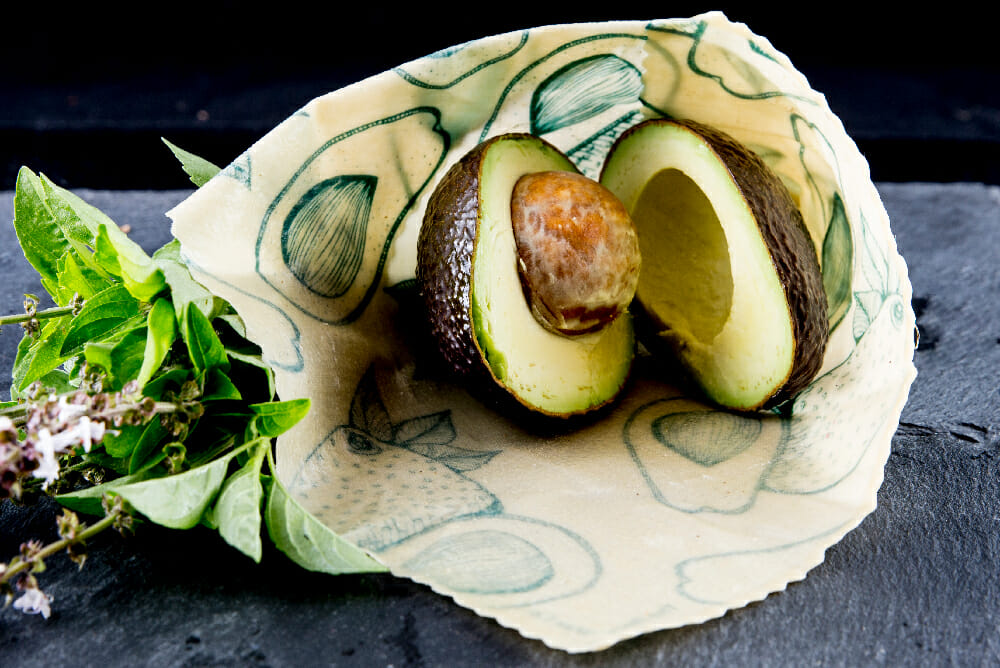 Image courtesy of The Beeswax Co.
Beeswax wraps are also the latest rage and one hopes that it's not a fad because these organically produced, sustainable, biodegradable items are rapidly replacing single-use plastic wrappings and not a moment too soon.
The Great Pacific Garbage Patch, that frightening accumulation of floating plastic in our ocean, is now around 1.6 million square kilometres in area, weighing-in at about 79,000 tonnes. A formidable foe, fed by every single piece of plastic that is used and left to float away in the world's waterways.
Claire's company began because she saw an opportunity to combat this Goliath. She has, like so many entrepreneurs, had multiple careers before starting The Beeswax Co, as a qualified chef, a computer programmer, a photographer and an artist. Claire's sense of aesthetic is obvious across her range of wraps, four in all, with a fifth range in production. Two are designed by Wiradjuri artist, Daniel Hend, inspired by Aboriginal imagery. All are immensely popular, selling widely in Australia. But her biggest clientele is in England, France and Germany.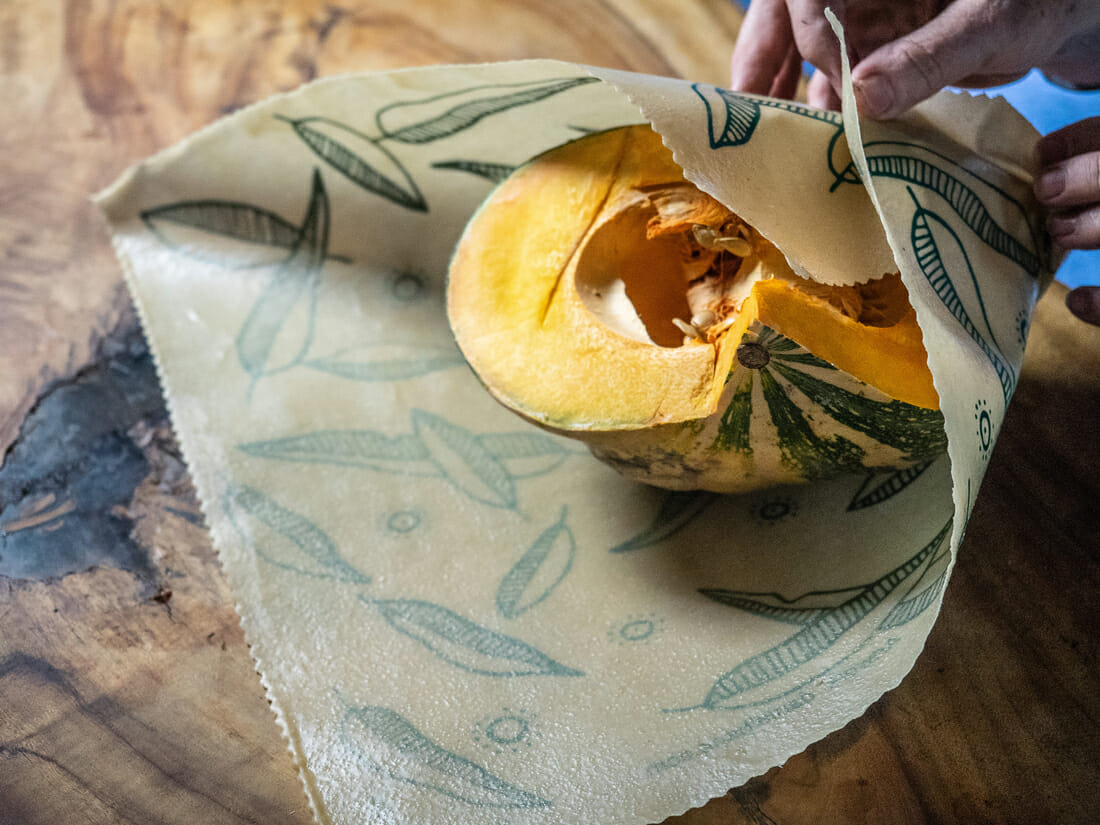 "We are right at the beginning of a plastic-free Europe," she says, as we talk on the phone. "There is great interest in our ethos and our products in Europe, especially Daniel's designs. Our customers feel that they are taking a little taste of Australia home."
Claire has just returned from selling out her entire range at various European trade shows. She has left her adult daughter Surye in Europe, following up the sales and promoting the line, as Sales Manager.
"We are growing so fast that Surye left her full-time job in Sydney to join me in the company," says Claire proudly. "We are a small company, but we have big aspirations."
The Beeswax Co uses Global Organic Textile Standard (GOTS) certified materials. The beeswax is sourced from local Australian beekeepers and the cotton is grown in India from old seed, meaning non-genetically modified (GM), which does not require chemicals and pesticides and is less reliant on huge quantities of water. Old world seed has adapted over hundreds of years to the growing environment in India making more environmentally friendly.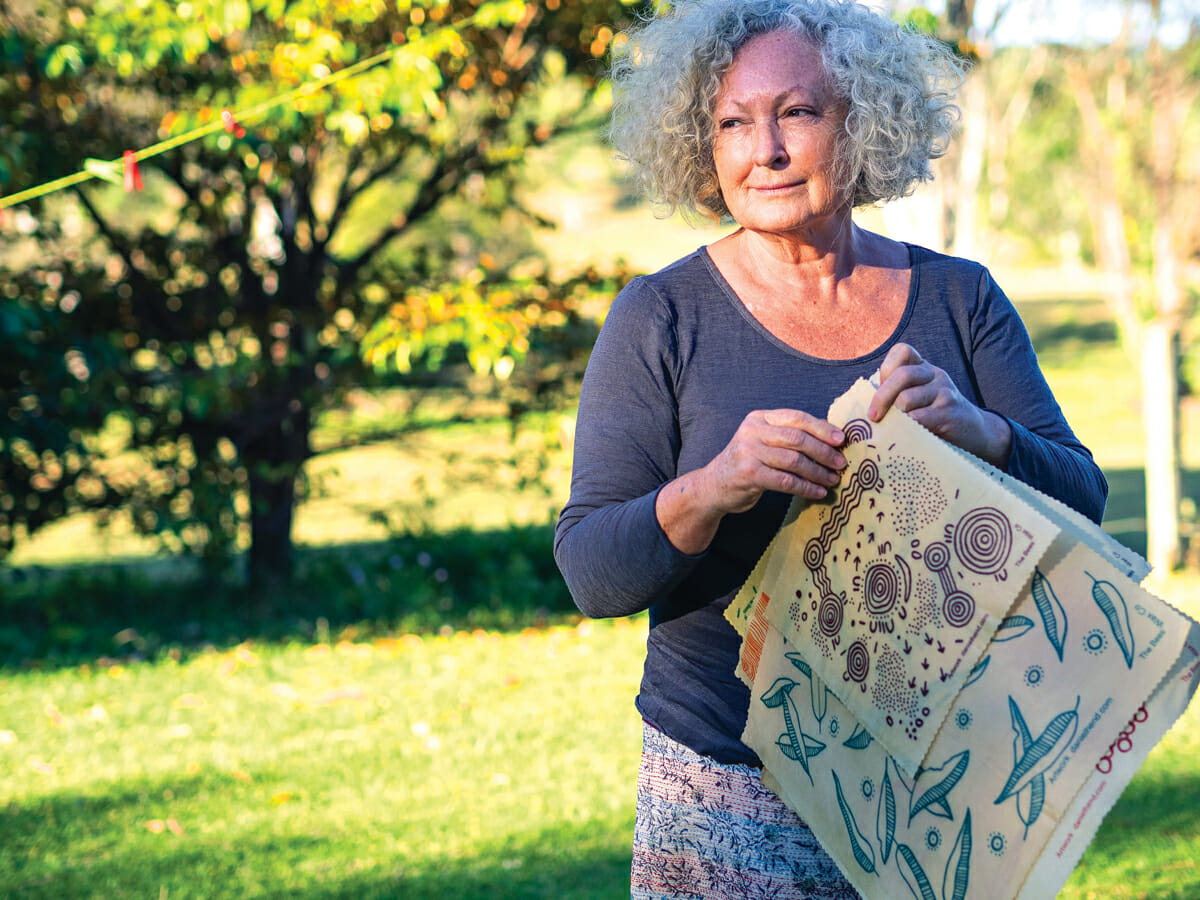 Claire Mason with some of her different wrap designs
"Apart from addressing environmental sustainability, we are trying to support the Indian producers," explains Claire. "By using old seed instead of GM seed the farmers can replant, instead of having to buy single-use seed every year from the multinational seed companies. Debt is a huge social issue among Indian farmers, contributing to a suicide level in the hundreds of thousands every year."
There are many different styles of beeswax wrap available online, but check out the materials that they are made from because why save the world from plastic, only to poison it with unsustainable farming practices and chemicals?
For the crafty folk, Claire has been kind enough to provide a recipe for making your own beeswax wraps. When I ask her if she minds handing over her secrets, she laughs.
"Of course not! That is what this company is all about! The more people walking away from single-use plastic the better. That's why we started The Beeswax Co." Well said, Claire. And that about wraps it up.
For more information or to purchase one of Claire's beeswax wraps see: www.thebeeswaxco.com.au