bcu grows with the North Coast
Originally founded in Macksville during the early 1970s, bcu began as the Banana Growers' Federation Members Credit Union, and today stands as one of the region's great financial industry success stories. Formed by a small group of business owners, mainly banana farmers on the NSW North Coast, bcu was created to offer a local, realistic banking alternative to the big banks.
Fast forward almost 50 years and the bcu network now spans from Port Macquarie to the Sunshine Coast and while they have expanded in size and services, bcu remain a member owned organisation, with a passion for local community banking.
Despite bcu being a relatively small financial institution, they have remained at the forefront of industry innovations. When the New Payments Platform by Osko was rolled out earlier this year, bcu were one of the few financial institutions to have the system up and available to Members the same day it went live in Australia.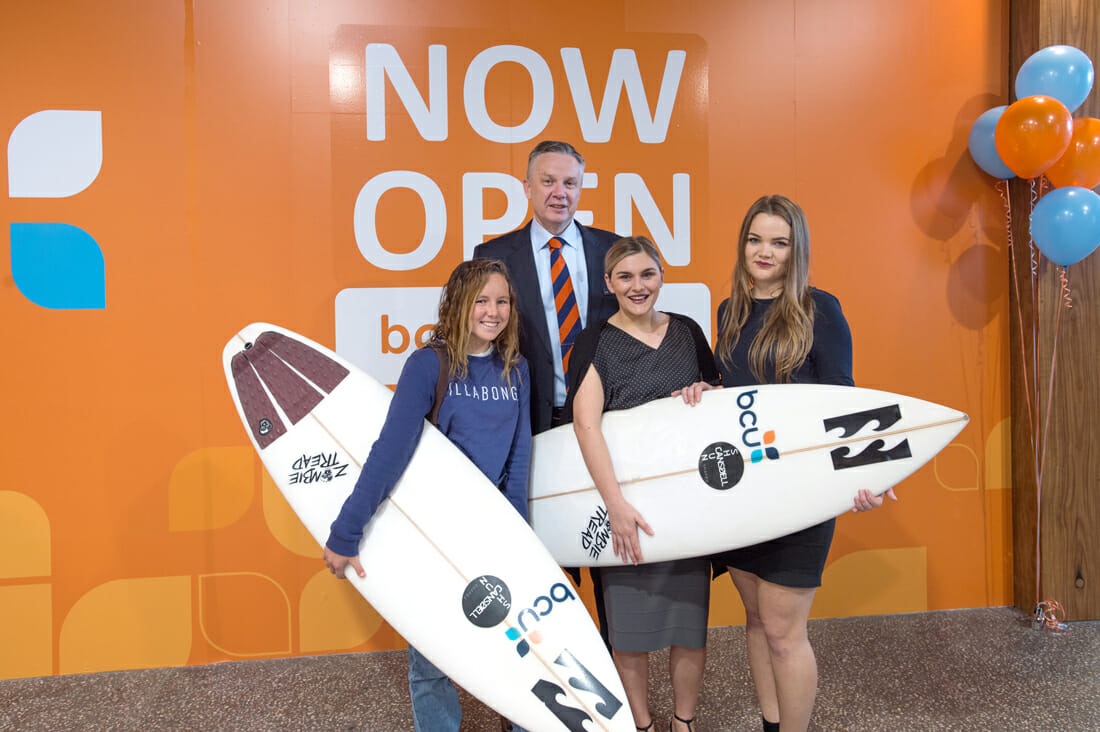 Acting CEO Alan Butler with (l to r) Carly Shanahan, Whitney Bengtson, & Jennifer Buciuman
bcu's dedication to keeping their products relevant, fees fair and Members the priority has proven a winning formula. Membership has grown to over 50,000 and the organisation has been the recipient of a number of awards from companies such as Money Magazine, Canstar and Mozo over recent years.
At a time when many banks are closing regional stores, bcu have gone against the trend, opening a new retail store in Coffs Central earlier this year. Officially opened by Acting CEO Alan Butler and Bryan Ussher, son of bcu's founding Chairman Bill Ussher, the new store is the first part of a move that will see bcu relocating their corporate teams to new commercial premises in Coffs Central. Coffs Harbour Mayor Denise Knight and Company Directors Sinclair Black and Geoff Hardaker were also in attendance. Another of the special guests was Mrs Clarice Amos, one of bcu's longest-standing members.
"This highlights our dedication to supporting the local business community and gives us the flexibility needed to continue to grow with the community into the future," says Alan.
At the heart of bcu's success are the valued team members. "Our staff are our biggest asset. They are dedicated and passionate people, committed to delivering genuine personal service," Alan adds.
Here is some insight on three of the bcu team.
Karen Mills
Karen has lived with her husband and family on the Mid North Coast for 23 years and loves "everything" about the area. "Who can complain when some days before work I can have a run along the beach, a dip in the ocean and off I go?"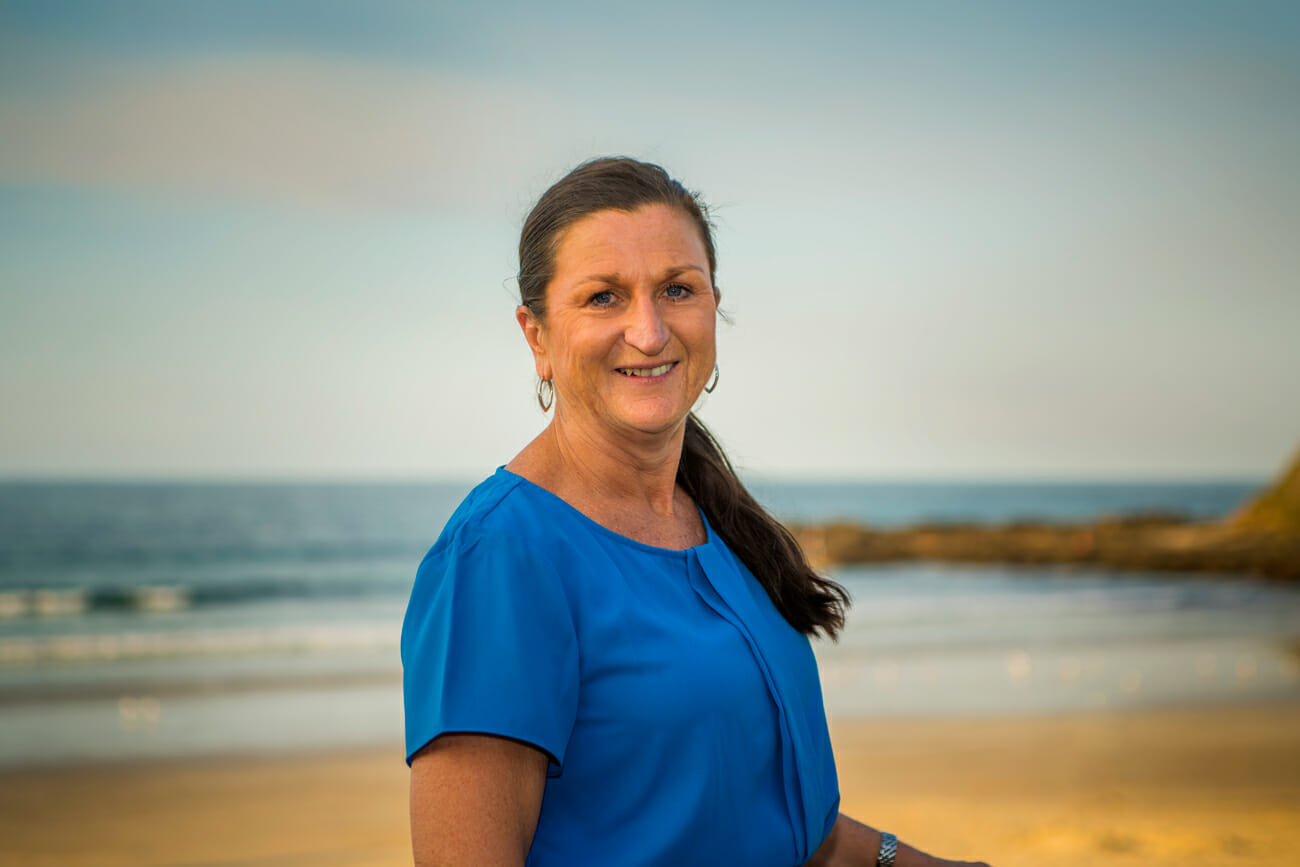 Karen Mills
Starting as a casual cashier in the Bellingen store 18 years ago, Karen's belief in the principles bcu was built on saw her progress quickly to store supervisor. Karen and her husband were drawn back to the coast, moving to Woolgoolga eight years ago, where she took up the role as Team Leader of the Woolgoolga Store. Karen is now the Acting Area Manager of the Clarence Valley, spanning from Woolgoolga to Iluka.
In her acceptance speech at the 2018 bcu Super Achievers Awards Dinner, when Woolgoolga was announced as Store of the Year for the second year running, Karen said the achievement was "made possible because of the teamwork and dedication of the close-knit team".
Cass Wilson
Cass lives with her husband and two young sons in Nana Glen and has been a part of the Coffs community for Five years or so. Cass loves the diversity of the region, with beach on one side and bush on the other. "We love that the boys are growing up in such an awesome part of Australia. It has everything that we would want or need."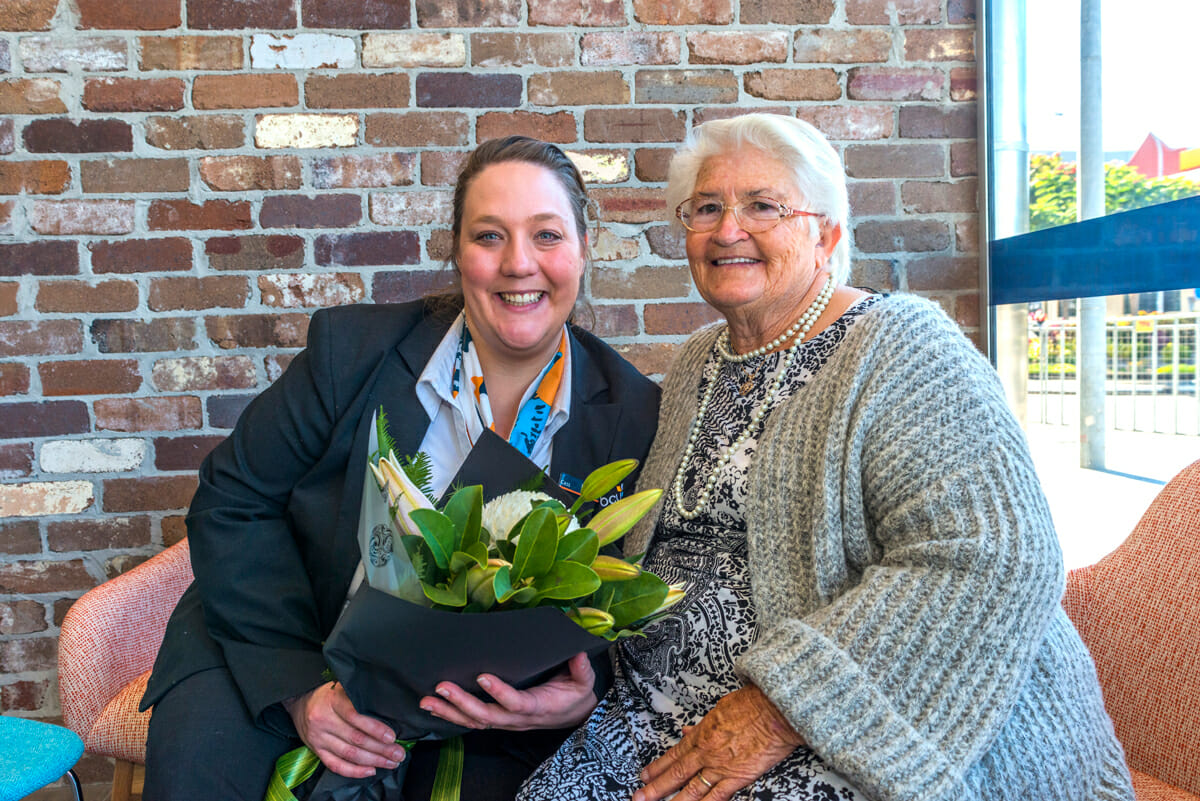 Cass Wilson with Clarice Amos
With over 18 years' experience in the financial industry, Cass brings an absolute wealth of knowledge and skill to her role as Area Manager. Cass is dedicated to working with her teams, helping individuals reach their personal best and achieve their goals.
The community-focused structure of bcu is something Cass is extremely passionate about, and she is a proud advocate for the organisation. One of her Cass's favourite things about
working for bcu is that they create so many great employment opportunities for locals.
Micha Simmons
With over 20 years' experience in the finance industry, Micha recently moved to Macksville to take on the role of Area Manager for Macksville, Urunga and Port Macquarie. Looking for her next challenge within the industry, Micha was drawn to bcu by its unique structure, operating practices and community-focused approach, and relocated with her family from QLD to pursue a career with the organisation. "I knew I wanted to work with bcu and was just really lucky that the organisation is based in such a beautiful location," Micha says.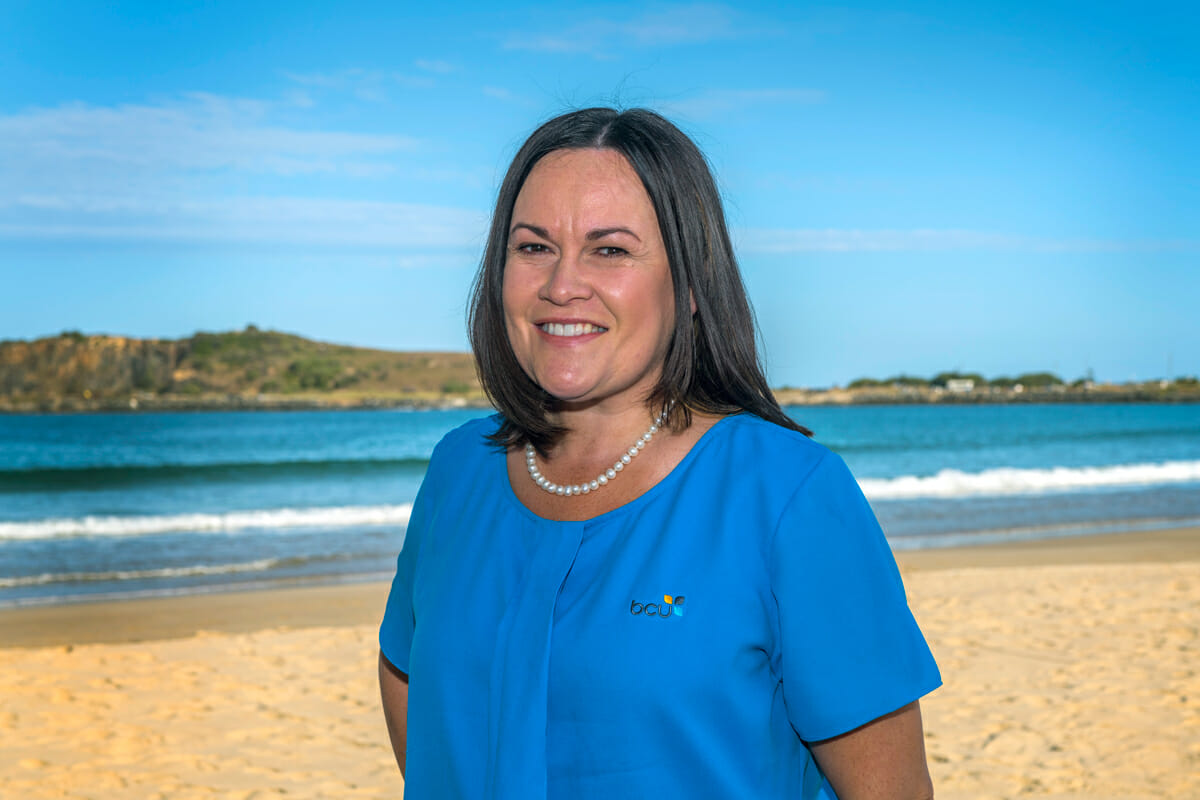 Micha Simmons
Staff development and mentoring is something Micha is extremely passionate about and one of her favourite components of her role with bcu. "Our staff at bcu are incredible; they are motivated and dedicated to doing their absolute best for every Member."
Micha believes that bcu's strong focus on Members and the community is core to the success of the organisation. "Our staff can relate to and connect with our Members. Our team understands that there is a person behind every transaction and always make Members their priority."
To talk to one of the friendly bcu team, visit your local store or head to www.bcu.com.au