Daniel Hend, Mural Master
Artist Daniel Hend can transform a brick wall into rainforest paradise with a magical wave of his brush. A shopping mall becomes a mountain vista, a carpark an underwater wonderland. But it's not magic, it's pure artistic skill that has made this painter one of the most sought-after mural artists in Australia.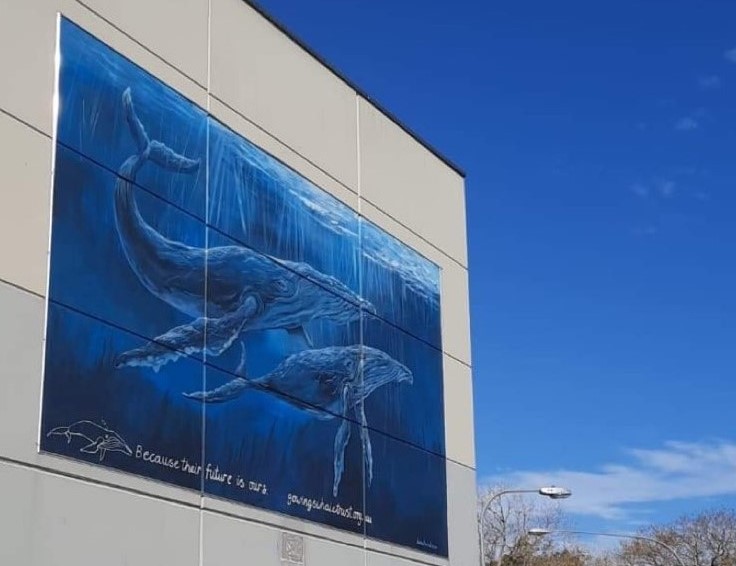 One day it's a blank wall, the next, two whales swim through a sunlit ocean. At the Kempsey Central carpark, Daniel Hend has given the community something beautiful to see.
"As I painted people were waving and honking, giving me the thumbs up,' says Daniel. "Murals do that – people feel a real sense of engagement."
From Kempsey, Daniel headed north to Coffs Central, in the heart of Coffs Harbour. Within hours he had transformed the pillars on the ground floor near Kathmandu into a landscape vista that stretched from rolling hills, to desert to mountains.
"I paint fast," says Daniel. "It's a technique my dad and I developed over the years. We call it our dab-dab method."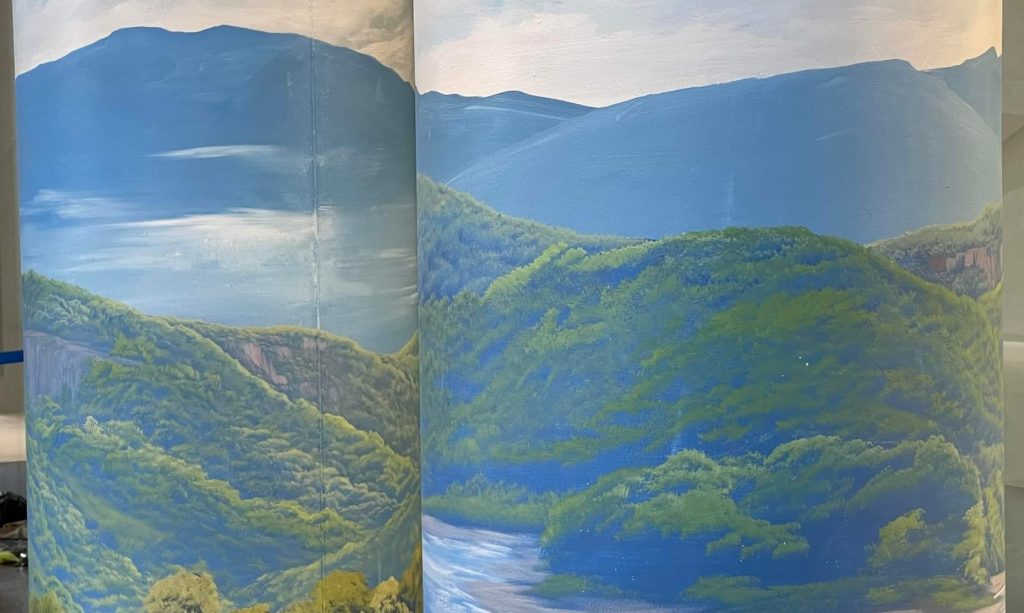 Daniel's father is well-known landscape artist Len Hend. Len taught Daniel to paint when Daniel was nine. After Year 10, Daniel left school to study visual arts and business at Ace Community College Mullumbimby, ready for a career as a visual artist. His career took off immediately. He completed his first major mural at age 18 and has never looked back.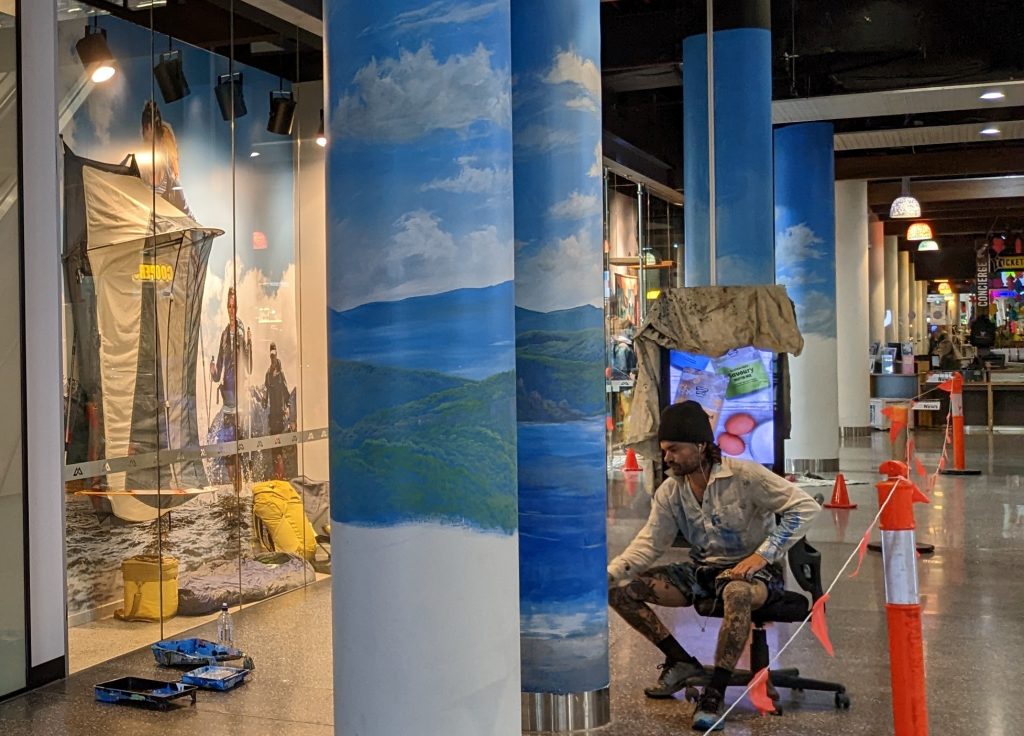 Painting Techniques
Daniel uses house paints, mostly Dulux, and an array of brushes from huge to tiny. He begins by laying down the base colour: for a landscape, sky blue, green for the hills and rough swirls of white above. These form the shapes and outlines. The next layer adds detail: light green to catch the sun on the hillside, blue and violet for the shadows on the hills and white where he imagines light glinting off water. The process happens quickly. Suddenly a whole world emerges.
Watching Daniel paint is like watching a dancer. He moves as if in a trance, but fluidly and in complete control of each brushstroke. He likens his process to meditation and derives great satisfaction from creating to meet a concept.
"I let my brain identify the shapes then I paint the tones as I am feeling," says Daniel.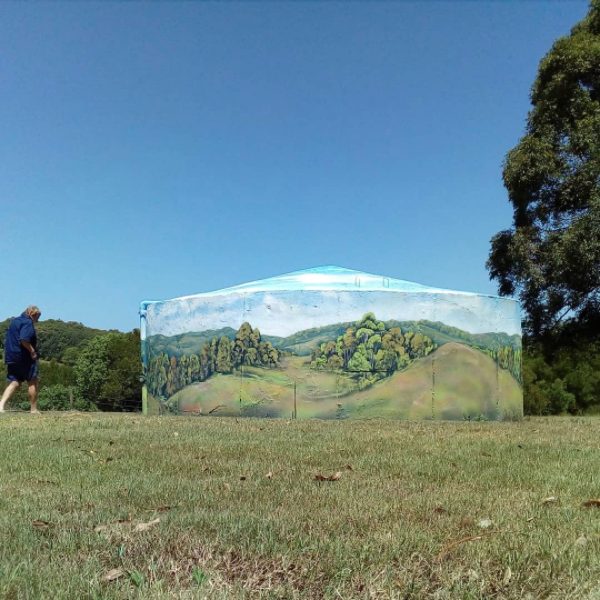 Making the Mundane Magical
Daniel has painted all over Australia, exhibited his fine art work and won numerous painting competitions. He also worked in film and television, creating scenery and props. In fact, there are very few things that Daniel's brush cannot transform.
As well as murals, for public and private spaces, Daniel is sought after for what is called live painting and art battles. Sounds messy!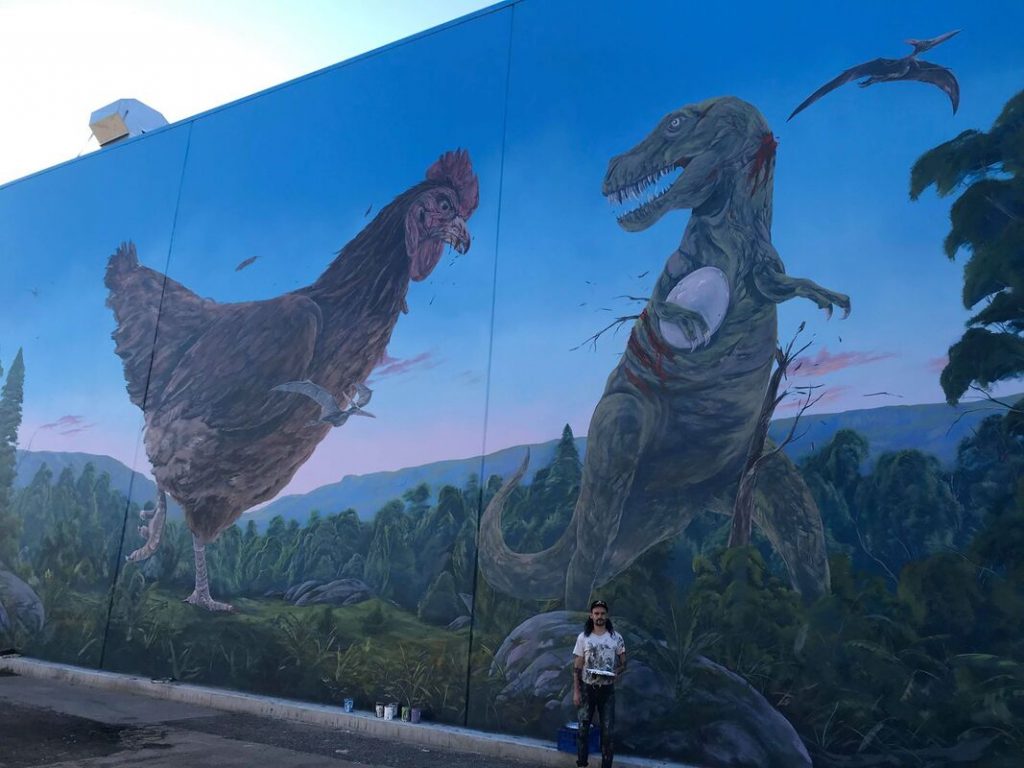 Art Battles
"Art battle is an event from the USA. Like a grand slam, with painters facing off in a live competition," Daniel explains. "And live art is speed painting at a function or event. Often it is themed and sometimes my work is auctioned off afterwards to raise money for a charity or community program. They're challenging events, but fun."
Gowings, who own Coffs Central, plan to have Daniel decorate multiple areas in the centre, as well as adding another whale to the building in support of the Gowings Whale Trust. If you're at Kempsey Central or Coffs Central, drop in and enjoy the art of Daniel Hend.
Visit Daniel's website to view more amazing art.