The Swiss Toymaker
After emigrating from Switzerland to Australia in the 1960s, Armin Koch followed his heart to a workshop on the mid north coast where he began crafting intricate wooden toys finished with fine brush work. More than 40 years after he and his wife Nina opened their toy shop, customers have become like family and the Koch's are enjoying the contentment and satisfaction that comes from a life lived with integrity.
"A lot of the people stop in and tell us they still have the toys their parents bought them 20, 30 or even 40 years ago," says toy maker Armin Koch. "They have their own children now and they've passed the toys down," adds Nina Koch with a smile that makes her eyes sparkle. "For us, that feels good," concludes Armin. "To have made something that they hand on – that's important."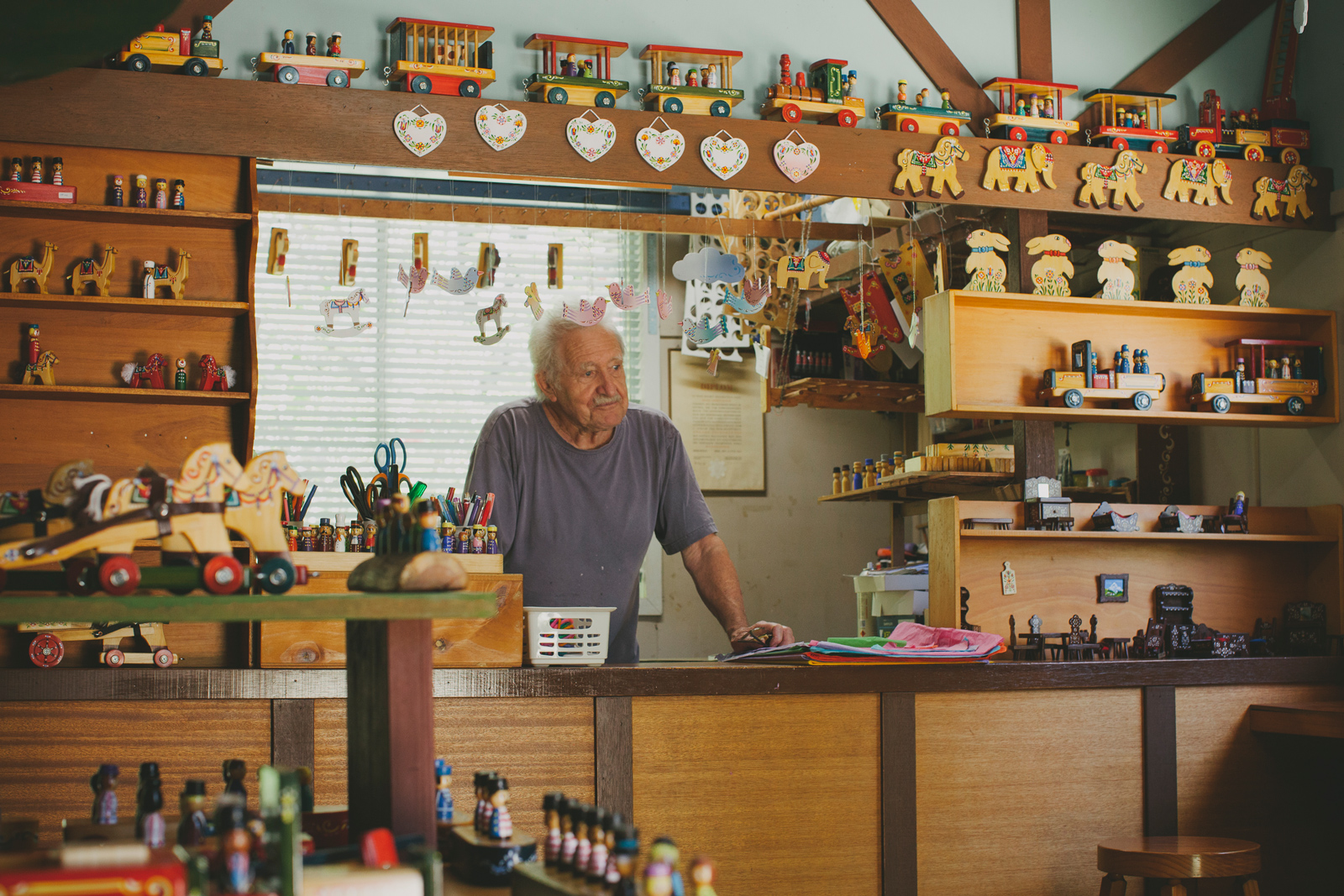 Armin surrounded by his beautiful handcrafted creations
I'm sitting at the Koch's kitchen table, nibbling biscuits and sipping tea as I feel one tear, then another, fall down my cheek. After being so warmly welcomed into this beautiful couple's cottage-style home and hearing their story, it's difficult to keep my emotions in check. Their interactions are playful, and they jokingly goad each other. Armin rolls his eyes every time Nina brings up astrology or numerology and Nina pokes fun at Armin when recalling anecdotes about money management. They have the kind of deep, lasting connection that is only possible after decades together marked by hard work, immense joy, deep sadness and true satisfaction.
"We've had the most beautiful customers over the years, the way they've stayed with us and still come to see us means they're more like family."
"Our policy as a couple is 'come out with it' – so we talk a lot," explains Armin. "We work together and we have the same ideas about life, the world and people. We want to do the right thing."
Now in his eighties, Armin's working life began in Switzerland at age 16. He took a job as a house painter and stayed with the profession until he was 32. But ultimately, his heart wasn't in it.
"In between jobs I did a bit of folk art which wasn't profitable at all," he laughs. "I continued with my day job, but I had all sorts of little escapes into the world of art and craft."
Migration to Australia in the late 1960s brought the exciting prospect of a new life. "Our first stop was the immigration camp at Bonegilla," Armin explains. "Then we moved to Brisbane and jumped right in, even though we didn't speak English." "The woman at the embassy in Geneva had said not to worry about that as we'd learn quickly when we arrived," adds Nina. "And she was right!"
Armin soon gained employment as a house painter – something he hoped to avoid – but Nina reminds him that his toy making career may never have begun had he not accepted the job.
"He would bring home pieces of wood from the job sites," she begins. "It was a combination of my urge to do some fine brush and wood work and the waste of timber I could see," Armin continues.
A friend saw the toys Armin was making and suggested he sell them to local stores. He appreciated her support and encouragement, but it wasn't all smooth sailing.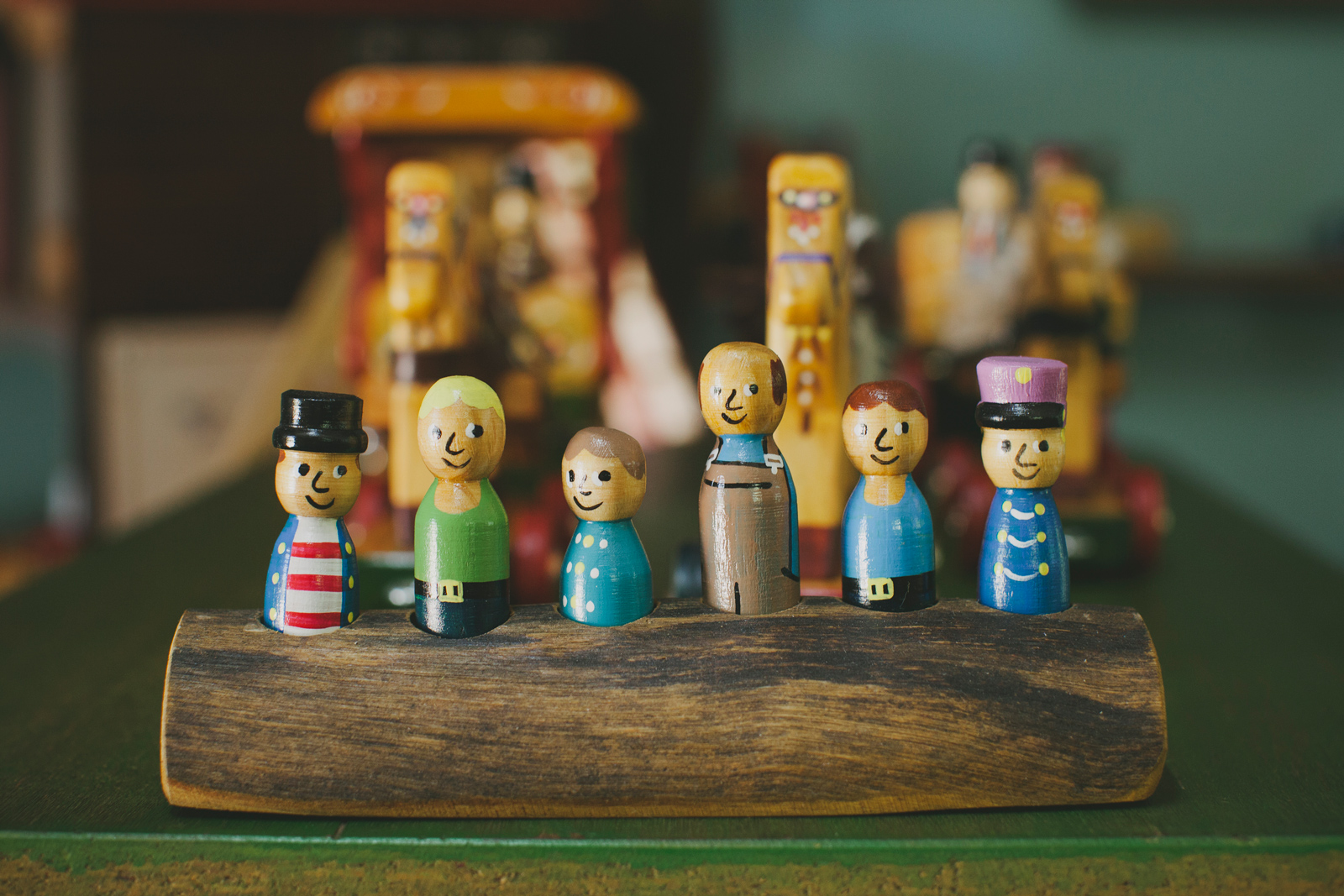 Armin's toys have been delighting families for generations
"People would commission toys and then never pay," he says. "We discovered that our brains were still in Europe and our thinking just didn't fit here. We made the wrong things!"
After four years in Brisbane, Armin and Nina decided it was time to leave the city and find a place to raise their growing family. They bought a house near Nambucca Heads and began to renovate. The new property included a workshop and a shopfront.
"It was 1972 and tourism in the region was taking off," says Nina. "In those days we opened the doors of our toy shop and never closed them, despite having four children in the house!"
"We had a lot of people calling in and we always had time for families," continues Armin. "I would show them the workshop and answer the kids' questions. I think it's so important to do that."
Armin laments the lack of human contact in modern transactions. He makes a point of conversing with the person serving him at the supermarket checkout and always asks questions about the timber in the hardware shop. He speaks of the need for young people to understand how things are made in order to truly value and appreciate what they have.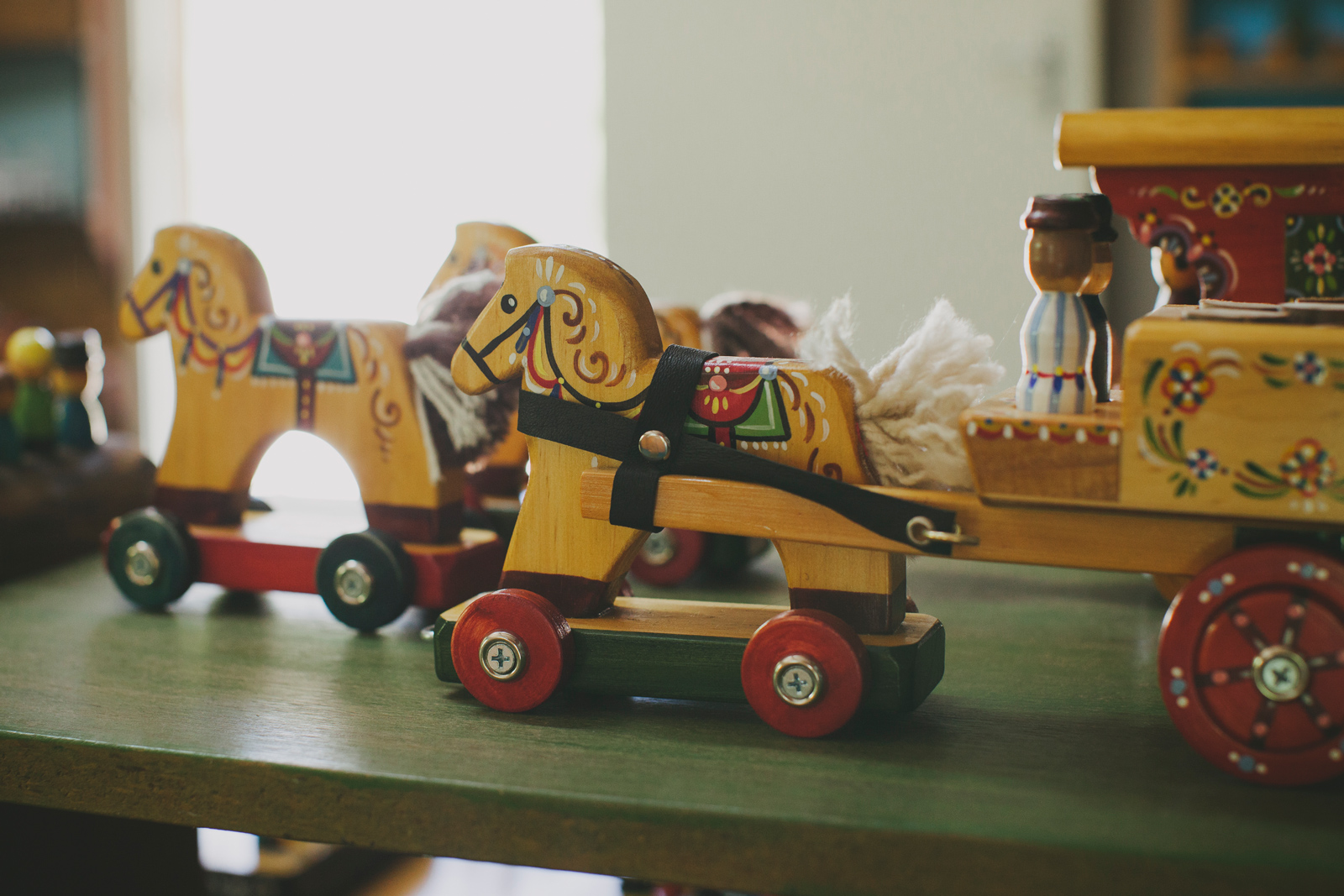 "That's how our childhoods were," remembers Nina. "We saw the shoemaker who fixed the shoes, and we knew the people who knitted our jumpers."
When I ask Armin how long it takes him to make each piece, he throws his hands in the air and laughs. "Too long!" He chuckles before adopting a more serious tone. "Being a craftsperson, time is not important – it's the finished product. That's the true reward."
Watching Armin in his workshop confirms this. The look on his face as he carefully crafts each object reveals deep concentration and genuine satisfaction. A quick glance around the shed and later, the toyshop, shows no signs of a business in decline or a craftsman who wants to slow down. But Armin is adamant he has taken a big step back.
"The day I turned 65 I took my saw and walked to the front gate," he remembers. "It was time to cut our shop sign down." There is a cheeky grin on Nina's face as she adds to the story. "I tried to help him but put my hand in the wrong place," she begins. "He cut my finger so badly I had to go to hospital and have stitches! Would you believe that?"
Armin and Nina share a laugh over the fond memory and explain that "stepping back" meant opening five days a week instead of seven, then three days and now, by appointment.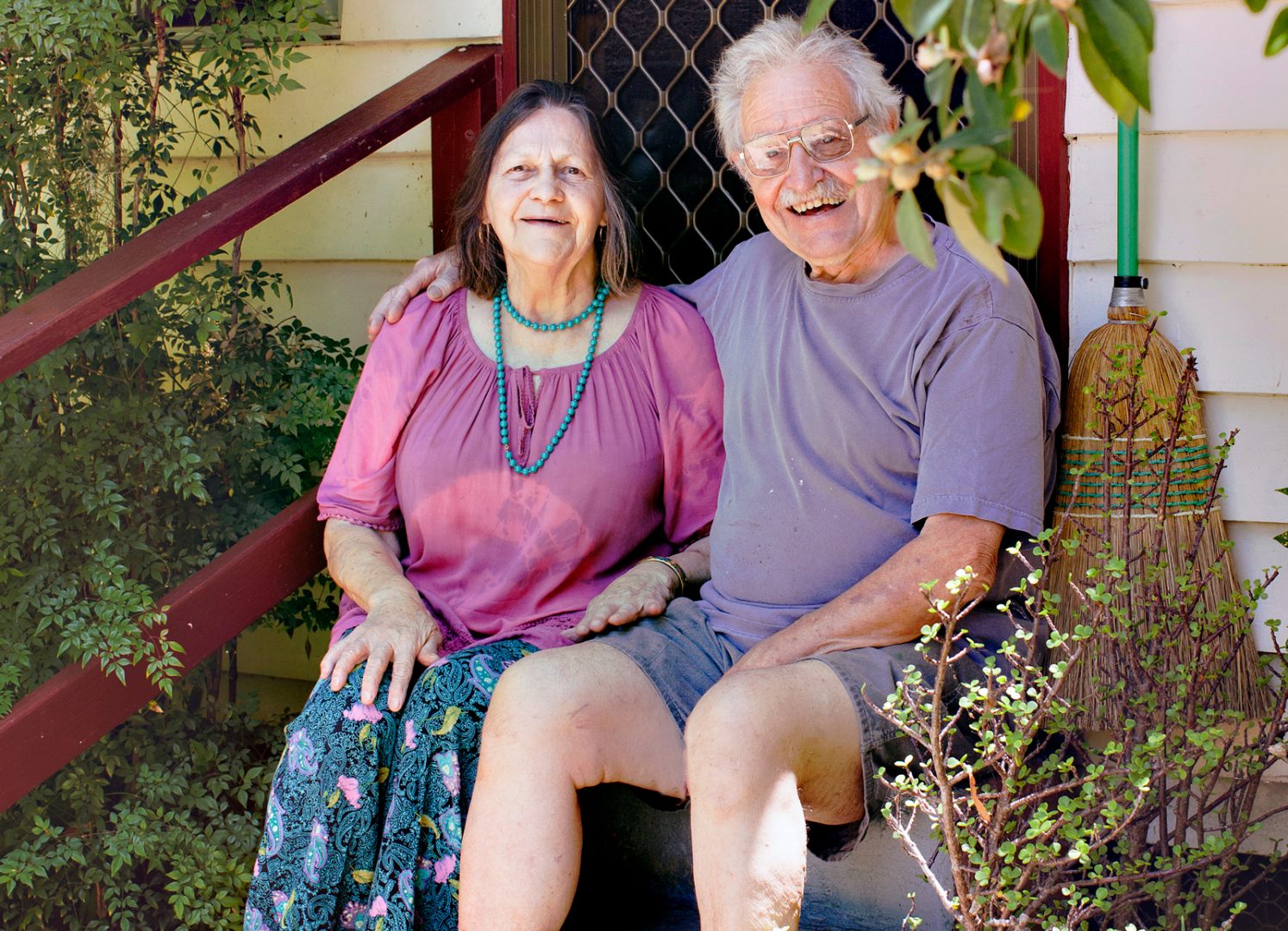 Armin and Nina have enjoyed a partnership of over 60 years
"But if someone knocks on the door I won't turn them away," clarifies Armin. "We have wonderful times with people and I enjoy my work too much."
"We've had the most beautiful customers over the years," says Nina. "The way they've stayed with us and still come to see us means they're more like family."
In the few hours I spend with Armin and Nina, I start to feel like a member of that same family. When it's time to go, Nina gives me one of her warm hugs and hands me a wrapped sandwich and some fruit. Armin invites me into the shop and offers a toy for my young nephew. As I start the car, I look in the rear-view mirror to see them standing together, waving me off. Once again, I feel one tear, then another, fall down my cheek.
If you would like to make an appointment with Armin and Nina, please contact Coastbeat and we can put you in touch: hello@coastbeat.com.au