All Things Foodie & Fabulous on the North Coast
Love food and travel? Why not combine both with some of these delicious north coast foodie destinations. Here are 11 great ideas.
1. Sample the best Byron Bay produce with a meal pod
The northern rivers is a region known for its fertile soil and abundance of fresh produce – something innovative catering company Table Under a Tree has taken advantage of. The Byron-based business delivers 'meal pods' with all the seasonal ingredients needed to whip up a native honey glazed pork cutlet or green curry full of market vegetables in the comfort of your (hopefully divine) accommodation. Yum! The company also offers food tours that explore the villages, road side stalls, farm gates and foodie hot-spots of the northern rivers.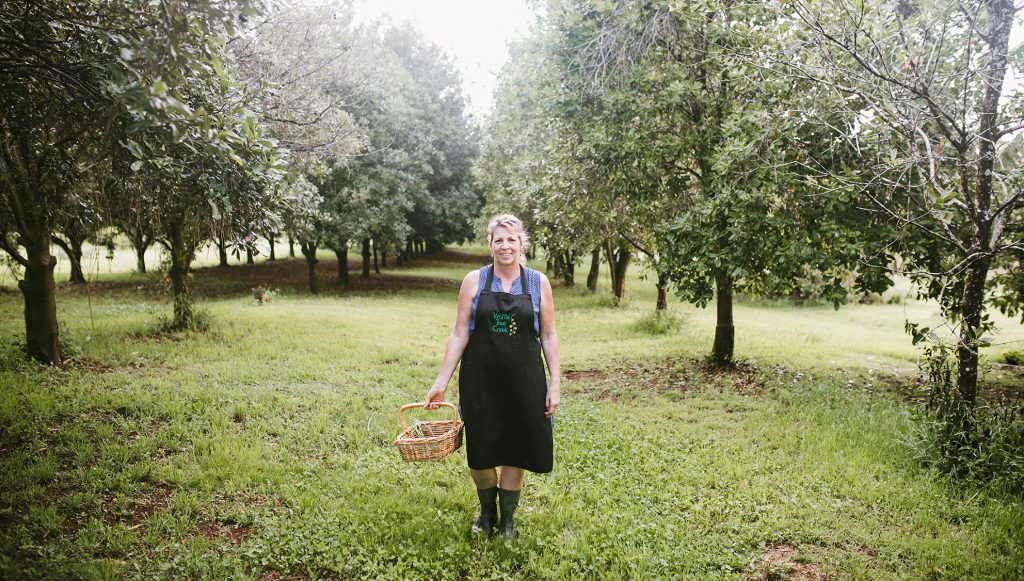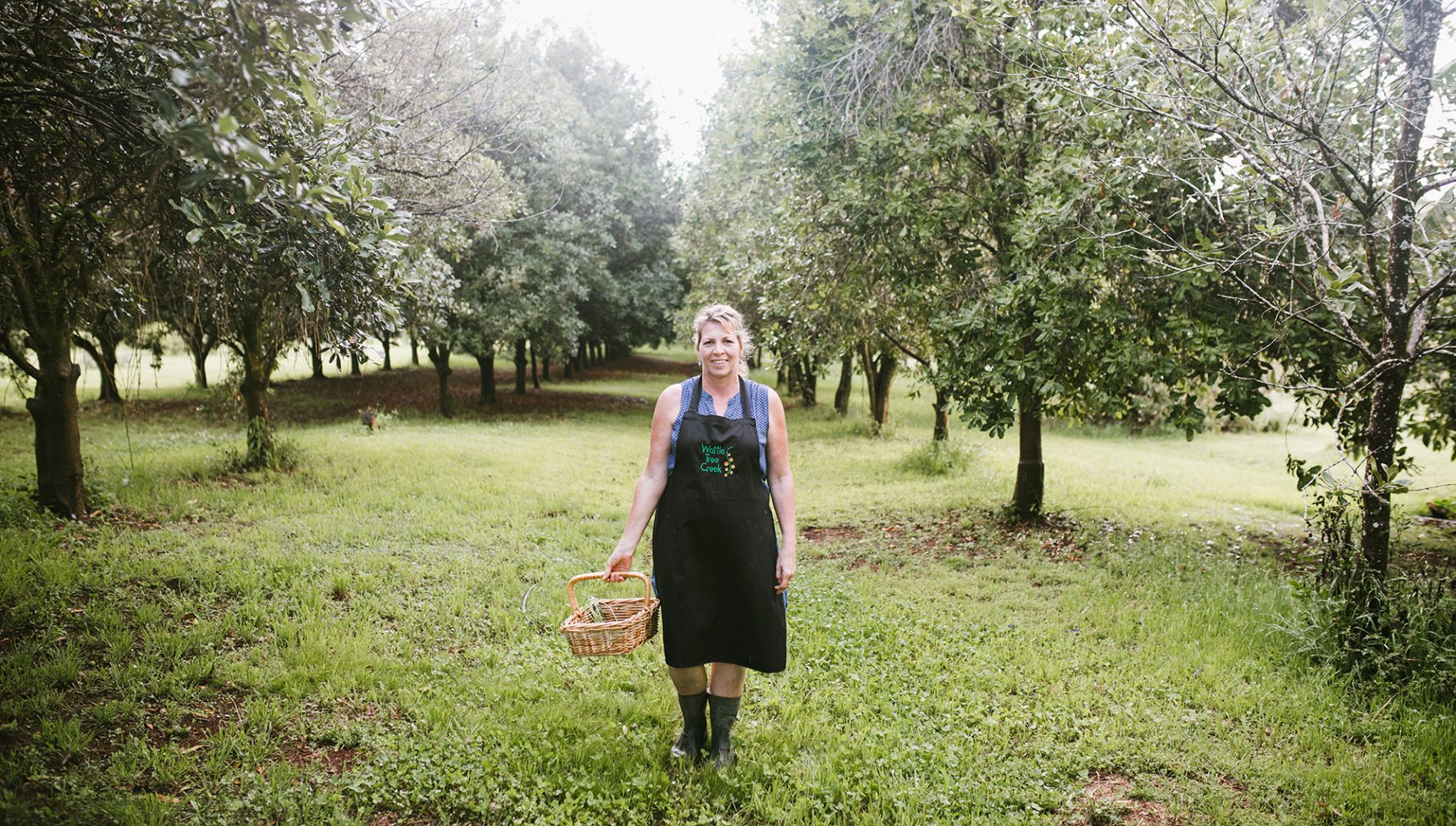 Wattle Tree Creek's Claire Parry is one of the local producers connected to Table Under a Tree. Image by Ben Wyeth
2. Tour a working permaculture farm
Interested in learning how to grow your own amazing produce? Consider a tour of Limestone Permaculture Farm in Stroud with owners Brett and Nici Cooper, whose work in transforming a small parcel of hilly land into a thriving food forest will blow your mind. Even those not interested in gardening will enjoy a morning tea of home-baked, farm-fresh treats, probiotic punch and coffee in the Coopers' beautiful garden.
Shopping in the Heart of
Coffs Harbour
3. Shop at an authentic farmers market
Held every Wednesday from 3:30-6:30pm during daylight savings (2:30-6pm out of daylight savings), the Bellingen Farmers and Producers Market is the place to pick up the best seasonal produce on the lower north coast. If you're into trying new things, the market is also full of interesting home-made delights like medicinal chicken broth, golden milk, fermented drinks, native bio foods and vegan rolls. With live music, an excellent Asian-style market kitchen and distinct community vibe, it's also a great excuse to visit Bellingen, one of the coolest towns on the coast.
Read our story on the Bellingen Farmers and Produce Market here.
4. Follow the Great Lakes Food Trail
Whether you're interested in freshly grown produce, craft beer, fine wines, seafood, sweet treats or other bounties of the region, The Great Lakes Food Trail is an easy to follow guide that will take you to the best local farms, breweries and vineyards. Take an educational tour or simply drop into the many producers and providores along the trail for a tasting experience. See their website or Facebook page for upcoming events.
5. Talk and taste in Yamba
The brainchild of Yamba-based chef, Peter Nicholson, Nicholson Fine Foods produces award winning condiments, vinegars and sauces. Sample all these innovative products by getting a group together and organising a free 'talk and taste' tour at the factory, which includes cooking demonstrations, tastings, learning about new flavor combinations and more.
6. Pick your own strawberries
Experience the pleasure of picking your own delicious strawberries at Ricardoes. Located at Blackmans Point near Port Macquarie, Ricardoes is a hydroponic tomato and strawberry farm that uses computerised technology to control two acres of greenhouses, producing the lush, irresistible fruits the farm is famous for. The farm also has an on-site café where you can enjoy a tasty lunch after filling your buckets with berries. A great day out for the whole family.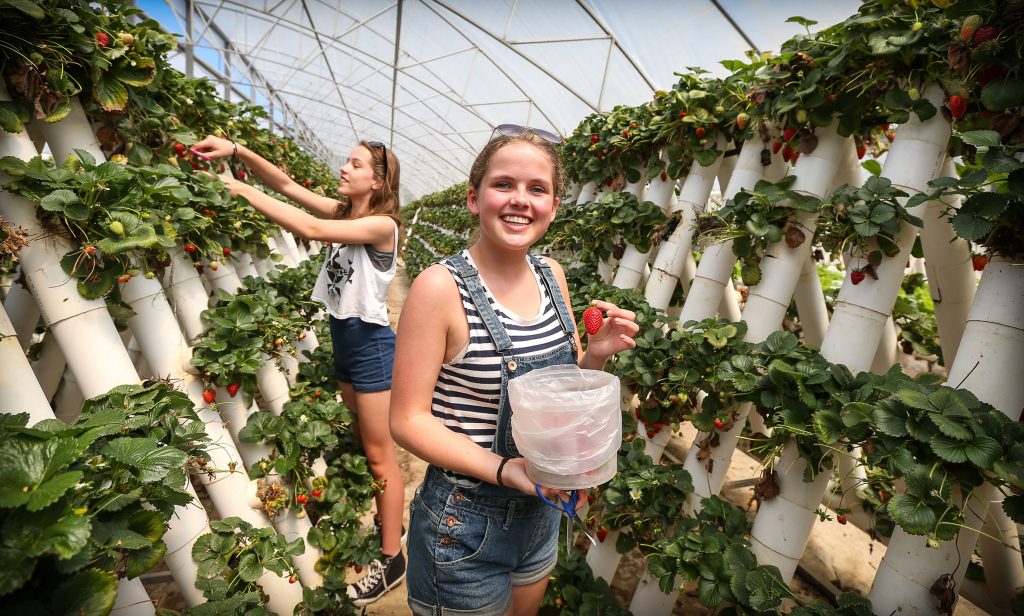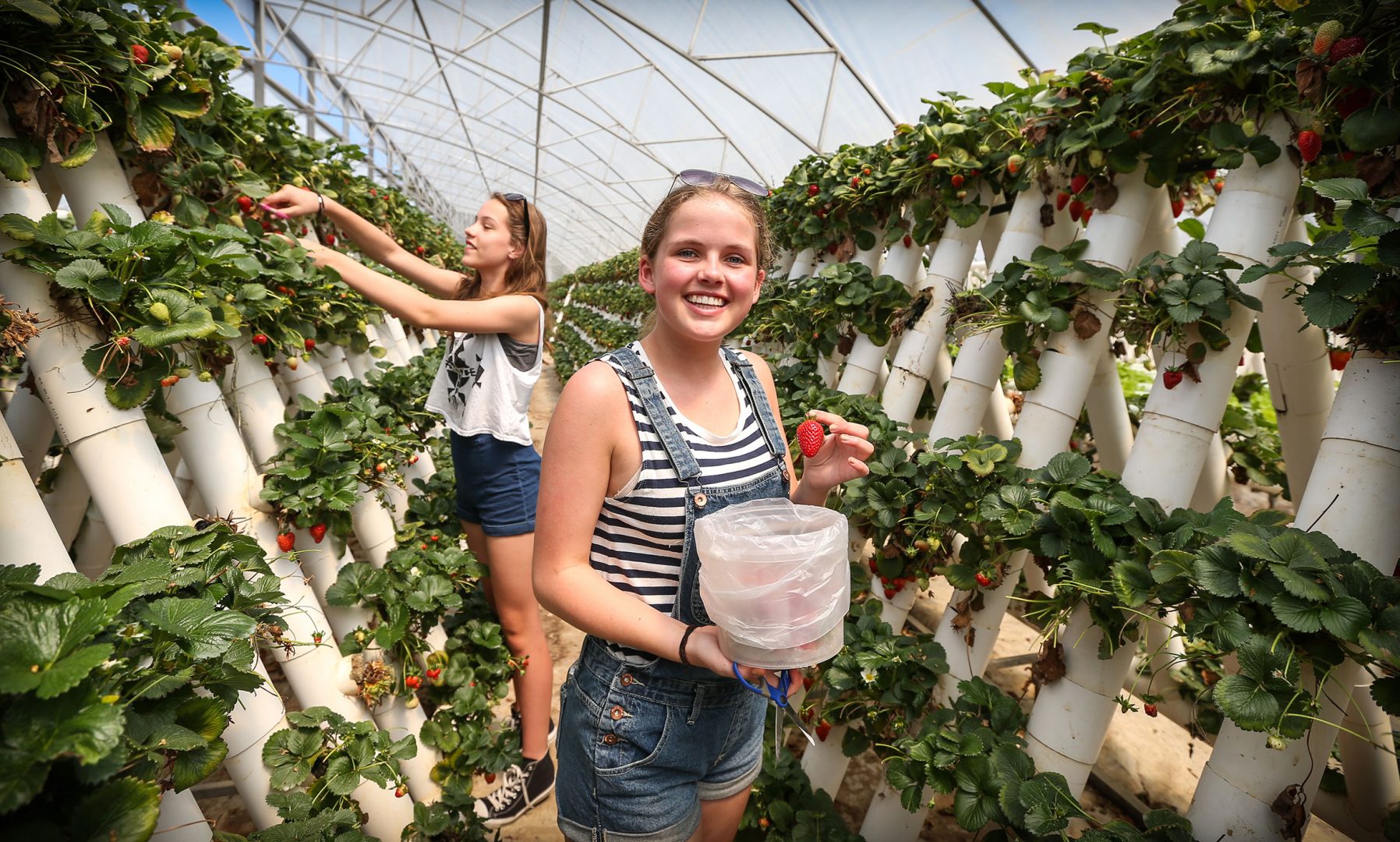 Pick delicious fresh strawberries near Port Macquarie. Image courtesy of Ricardoes Tomatoes & Strawberries
7. Learn how to make cheese
Conveniently located at Coffs Harbour's Big Banana, the Cheesemaking Workshop and Deli is run by a family of artisan cheesemakers who take pride in demystifying the creation of cheese. Learn how to make ricotta, yoghurt, feta or camembert in specialised workshops, or join the cheese club to have fun discussing the delicate balance of factors that make up an amazing cheese. And if cheddar isn't your jam pasta-making workshops are also available!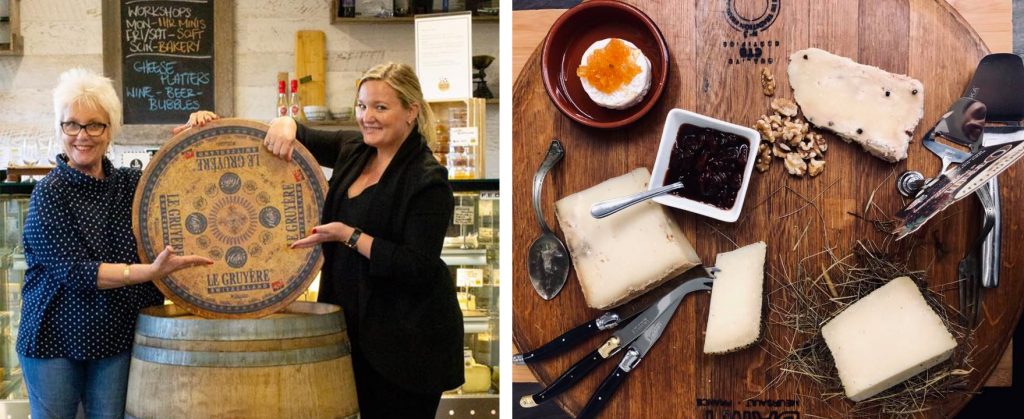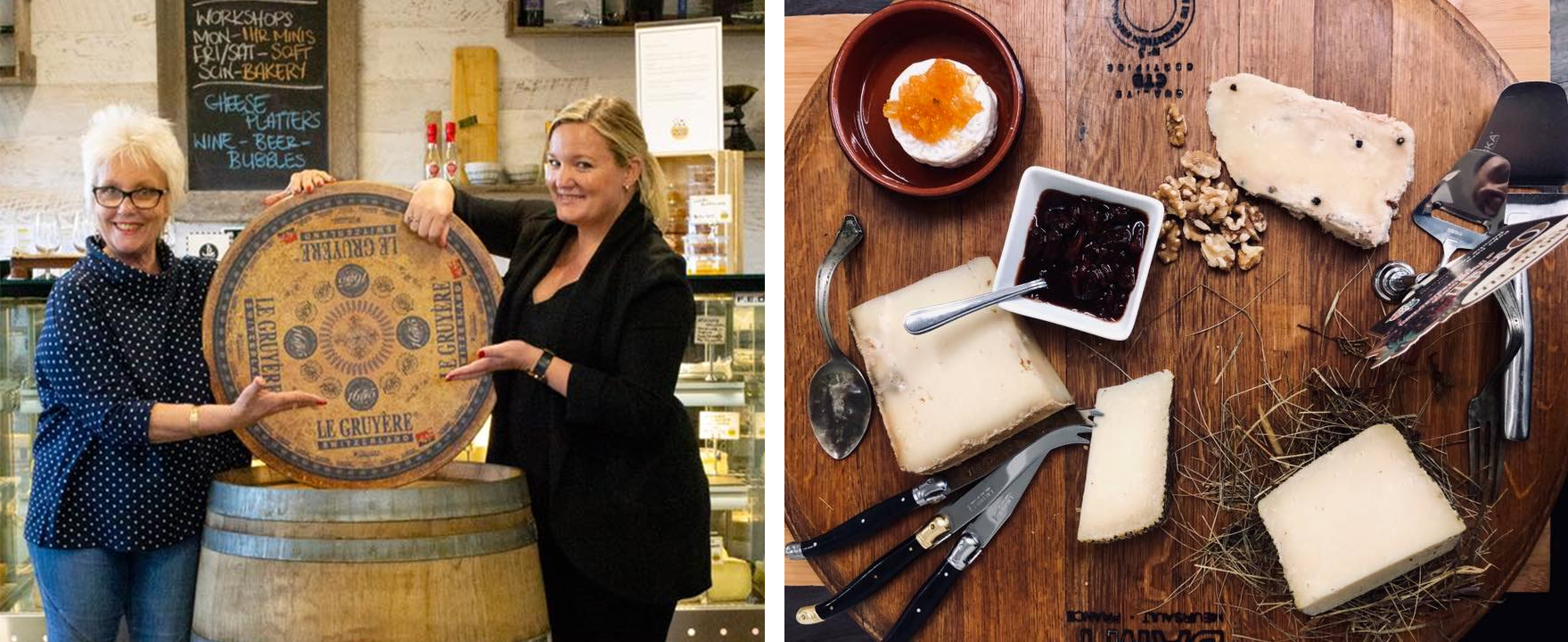 Lyndall & Mel from the Cheesemaking Workshop & Deli (l) and (r) one of their yummy platters
8. Visit a buffalo farm
Explore the lush Nambucca Valley hinterland by taking a scenic drive out to the Eungai Creek Buffalo Farm. Enjoy a creamy bio-dynamic buffalo milk ice-cream from the café as you watch buffalo peacefully grazing below, or tuck into a delicious cheese platter or hearty stew. If you can't make it to the café, be sure to keep an eye out for these guys at the local markets or order their products online.
2020 Events
9. Have yourself a Slice of Haven – Autumn 2020
The Camden Haven region is a beautiful area that many visitors overlook in their rush to get to Port Macquarie. Slice of Haven is changing this situation, enticing foodies to come and sample the delights of this little-known region. Featuring live music, delicious seafood (oyster-lovers will be in heaven), fresh produce, tasty food stalls and, most importantly, craft beer and wine, this food festival is not to be missed. Check out the website for next year's dates.
10. Sample the north coast's best food and drinks – Spring 2020
The 10th annual Sample Food Festival will be held on September 5th 2020 bringing together farmers, food producers, chefs and creatives from all over northern New South Wales. The festival takes place in the village of Bangalow and attracts close to 17,000 visitors. Bring an empty stomach and sample the very best local offerings from over 200 stallholders. Each year, Gold Fork awards are presented to the region's top restaurants and they collaborate on a special luncheon.
11. Get cultural at Curryfest – Spring 2020
Not your average coastal town, Woolgoolga has a unique Punjabi heritage that injects the village with a vibrant food culture. Curryfest has been held in the town for the last 14 years, attracting thousands of visitors who come to soak up Indian culture and sample curries from all over the world. The main festival day features over 180 food and market stalls, a special kids zone with rides and entertainment, a mindfulness and meditation zone for those seeking inner peace and a main entertainment stage.