All about the Coffs Harbour International Marina
From blue nomads to lions on the loose and the best things to do in and around the marina, Coastbeat gets the inside scoop from long-term manager, Elise Currey.
Q) What may surprise people about the marina?
People may be surprised to learn that our marina is filled with predominantly local boats. We have a very enthusiastic sailing and recreational fishing fraternity here on the Coffs Coast.
We also welcome coastal cruisers from all over the world who are known as 'blue nomads'. It's delightful to hear their tales of adventures from all over the globe. Coastal cruisers come through Coffs Harbour throughout the year and are an important contributor to our tourism market. An average of about 40 International yachts visit annually. Their movements are seasonal; they travel with the prevailing winds.
We're also very fortunate to have a Border Force Office here. This allows us to include 'International' in our business name which reflects the fact that vessels travelling internationally can arrive or leave Australia from right here in Coffs Harbour. It's the same as going through Customs at the airport, only on water.
Q) Tell us more about Coffs as a working harbour.
Coffs Harbour is blessed to have a working harbour as well as beautiful beaches, side by side. Our fishing fleet supplies us with yummy, fresh seafood throughout the year and fortunately, Coffs locals really support and feel part of this industry.
When the visiting longliners are in town, the wharf becomes another world; lots of activity, fish being weighed and graded and trucks sending our local product all over the world from Japan to New York.
Q) What are your 'must-do' suggestions in and around the marina?
1. Explore
The beauty of the marina and our harbour foreshore is that you can have an amazing time for no cost at all. I recommend downloading the 'NPWS Self-Guided Tour App' which will take you on walks over Muttonbird Island, the foreshores and other areas of interest nearby. It's ideal for adults and kids and perfect for visitors. Locals may even learn a thing or two as well!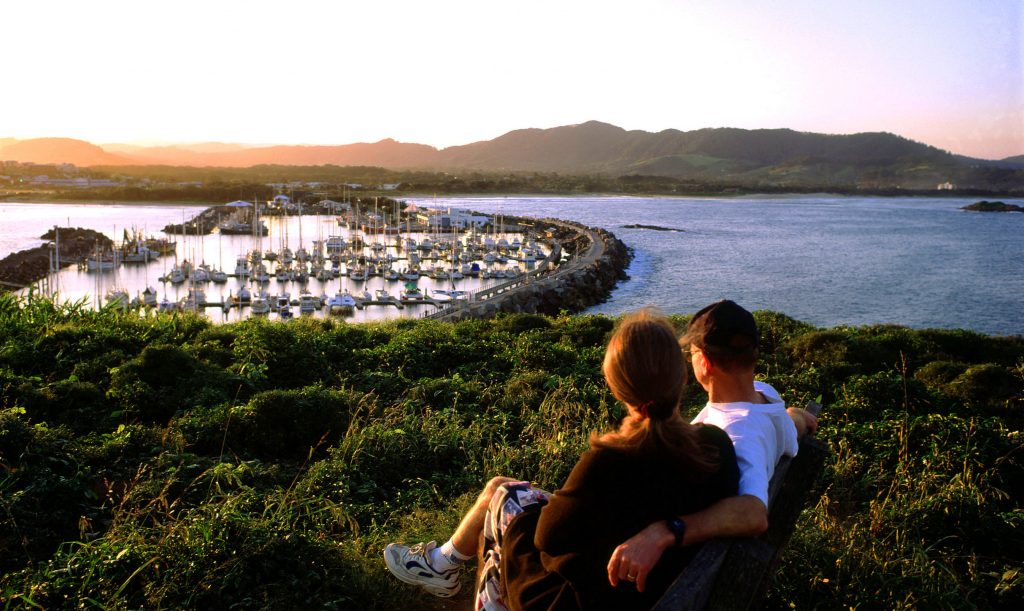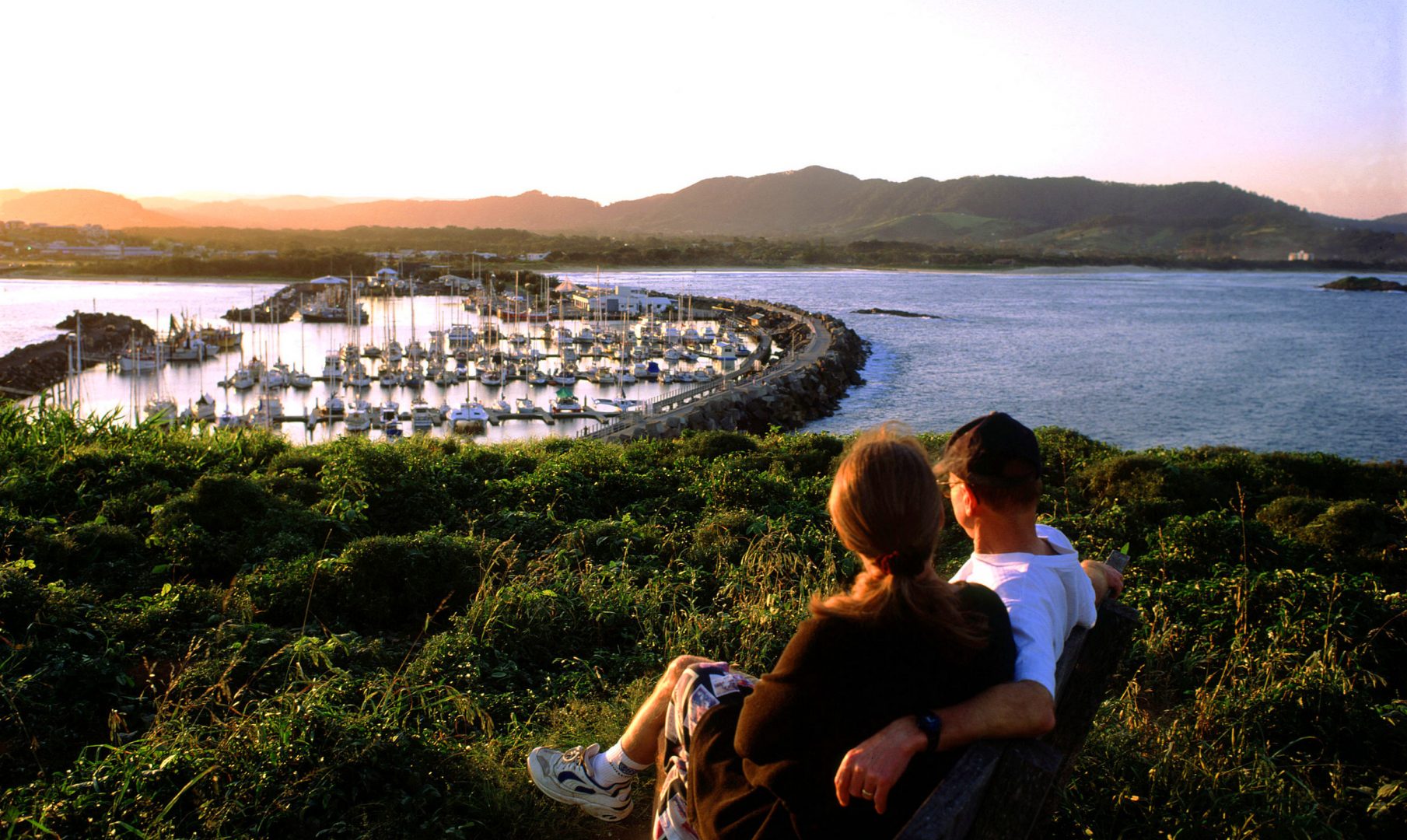 Sunset from Muttonbird Island. Image courtesy of coffscoast.com
2. Enjoy the local marine life and hear a yarn
Walking the foreshores and break walls will almost guarantee sightings of dolphins, turtles and some of the 74 identified species of fish we have living in the marina. Seek out a chatty local to see what else you can discover. I recently heard of the time a visiting circus train crashed and lions escaped, holding Coffs Harbour captive for days until the lions were all rounded up!
3. Whale watch and swim with whales!
Our magical coastline has some of the best vantage points for whale watching on the eastern seaboard. We also have long established charters that offer an up close and personal experience with these giants. Pacific Explorer and Jetty Dive have a wealth of knowledge and Jetty Dive now have, for the very brave, their Swim With The Whales tours – the only one in NSW. Whales begin their migration north in June each year, so be sure to make the most of this opportunity through Winter and Spring.
4. Charter a boat
The marina is home to not only whale watching charters but diving charters, fishing charters and dolphin watch charters. For more information on a memorable day out, the website is the best bet.
5. Simply sit back and take it all in
Watching our local trawlers unload their daily catch on the wharf is an eye-opener and offers great insight into how much hard work goes into the array of delicious seafood available at Coffs Harbour Fishermen's Co-Op. Chatting to the skippers and crew is a wonderful way to find out some local history about the industry and the region.
As you watch smart, modern vessels come and go, it's worth conjuring up images of the old steamers that traversed these waters, hauling logs and supplies off the old jetty. It's also advisable to stand on the break wall and look back at Coffs Harbour and the Great Dividing Range and soak up the view.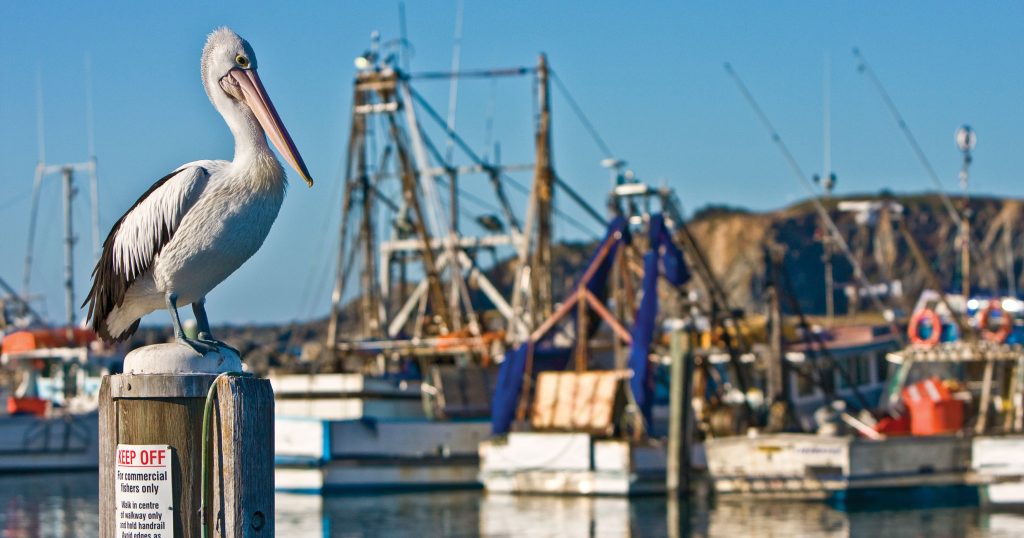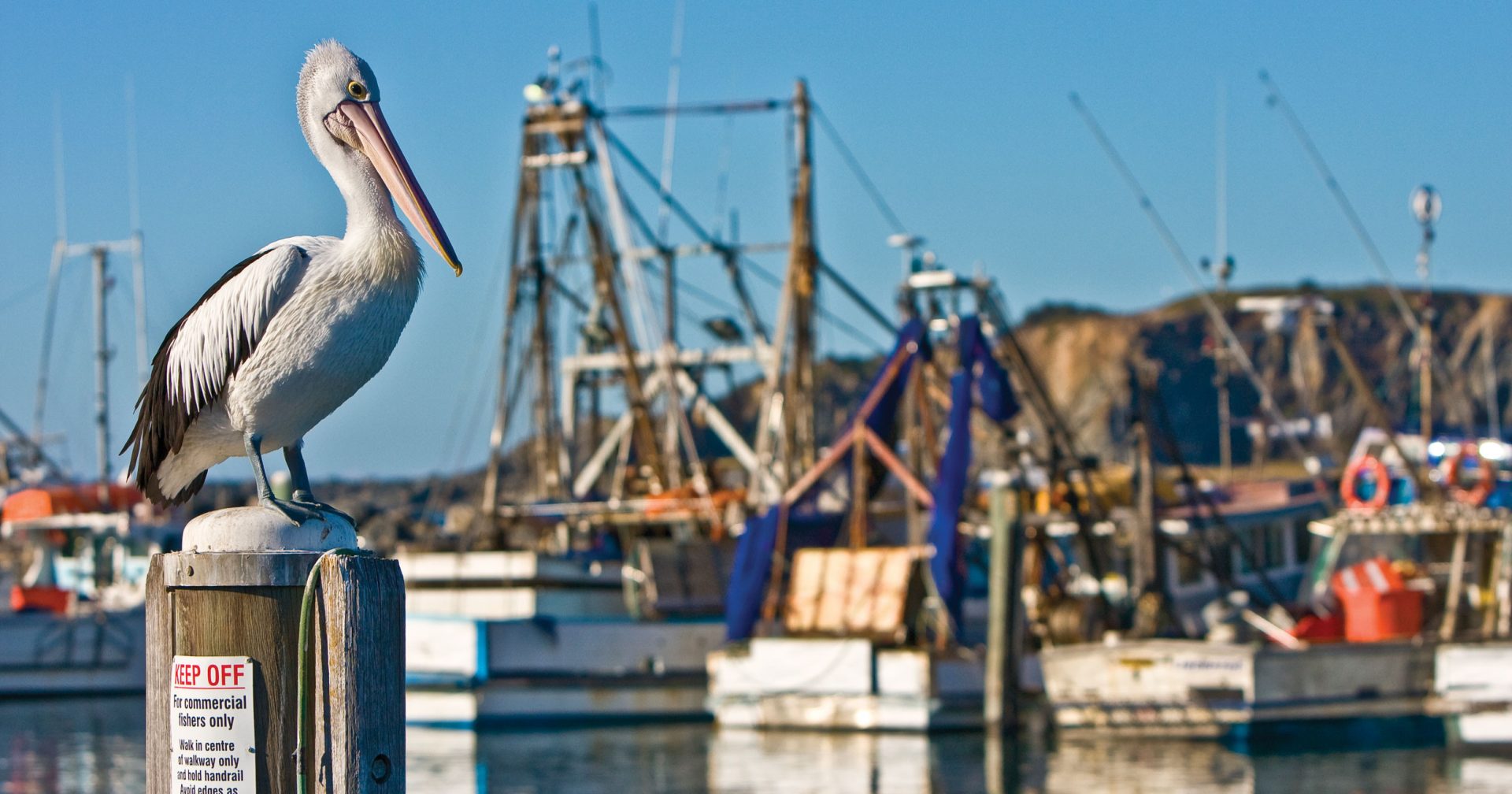 One local eyeing off fish with the trawlers in the background. Image courtesy of coffscoast.com
6. Enjoy Twilight Sailing from October to April
During daylight savings, perch on the end of our lovely wooden jetty and watch the Twilight Sailing racers as they jostle for a place at the starting line, at the end of the jetty. You're so close you'll see the determined faces of the skippers eyeing each other warily as the yachts take off into the open ocean.
7. Grab a bite
Exhausted from lots of walking and sightseeing? Then relax at one of the tasty eateries. The Galley has great coffee and healthy lunch options in their garden by the sea. Proprietors Wayne and Mary-Ann have established an awesome local vibe.
Attitude Burgers pack a punch with their fabulous burger combos, Be sure to try the wings too. There's also beer on tap, live music and a fire pit at night. For a more grown-up vibe, head upstairs to Latitude 30. Panoramic ocean views complement smooth cocktails and a super menu with loads of tapas style share options. Marcus and Colleen have turned this site into one of the most popular eateries on the Coffs Coat.
If you're after a sweet treat, Eric and Debs Ice Creamery have plenty of mouth-watering choices. An institution in the region, their ice-cream is delicious. Naturally, the banana flavour is must-try whilst here on the banana coast!
8. Indulge in a spot of retail therapy
Harbourside Chandlery is a surprising haven for all sorts of bits and pieces. In addition to everything you may need on a boat, there are also souvenirs aplenty.
To get that cool coastal chic, Phoebe at Soda The Store can help with gorgeous clothes, accessories and homewares. Jeffrey Baker Art has punchy, vibrant paintings and artworks. Pop in for a chat, grab a postcard or purchase some artwork to remind you of your visit to the region. Jeff has managed to capture the colours and essence of our coastline with his broadly appealing works of art which also adorn many hotels, restaurants and public spaces.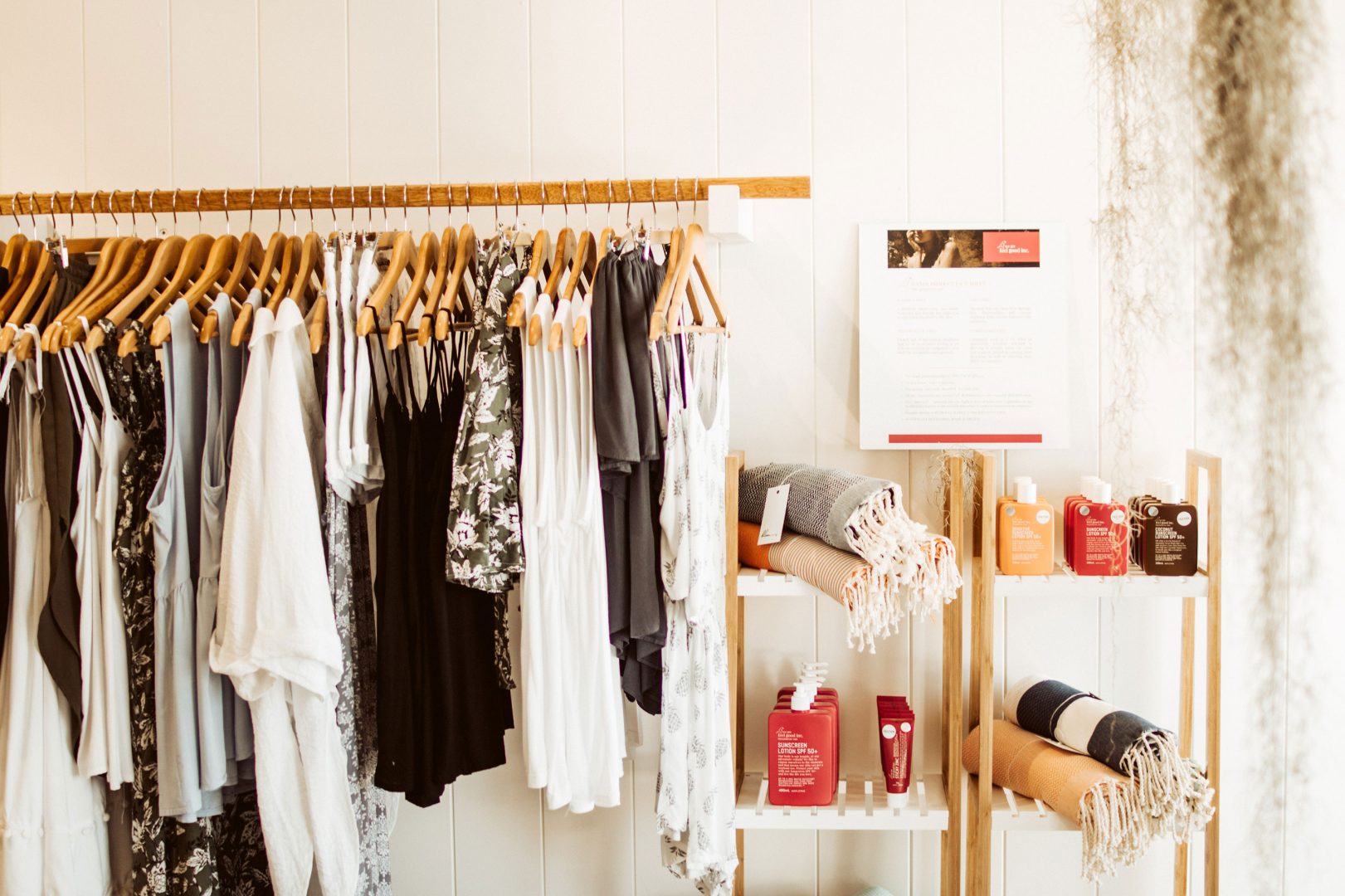 Gorgeous clothing, accessories and homewares are available from Soda The Store
Q) Any exciting changes or plans ahead for the marina?
Plans for a complete rebuild of the marina have been in the pipeline for some time and excitingly, work will begin soon. I often refer to the marina as the Grand Old Lady and she has weathered many storms keeping vessels, tenants and staff safe. However, retirement is looming for her and with that will come a modern facility that I'm sure locals will be very proud of.
Q) Any final words Elise?
Even after 12 years as Marina Manager, I feel really blessed to work here and to interact with amazing locals and visitors that keep returning to us. We have staff here who have worked during some horrific weather conditions and dealt with sinking boats, medical emergencies and all manner of physical challenges. It can be very daunting sometimes dealing with mother nature, but the rewards are unending.
For more info see starmarinas.com.au