Akubra: Hats off to an Australian icon as we go behind the scenes
Coastbeat chats to Akubra's managing director about his commitment to keeping the family business right where it is.
Stephen Keir IV was five years old when his father and grandfather moved the family company to Kempsey at a time when Australian manufacturers were flocking offshore. Forty-five years on, he reflects on the courage it took for his forefathers to stay on Australian soil and his own determination to keep it that way.
Akubra's Kempsey headquarters are decidedly humble for one of Australia's most iconic brands, a fact that is not lost on Stephen Keir IV, whose own office feels like a warm family living room complete with black and white portraits of his grandfather, Stephen Keir II and father, Stephen Keir III.
"I can feel them looking at me," he laughs. "But seriously, I consider what they would do when I'm making decisions."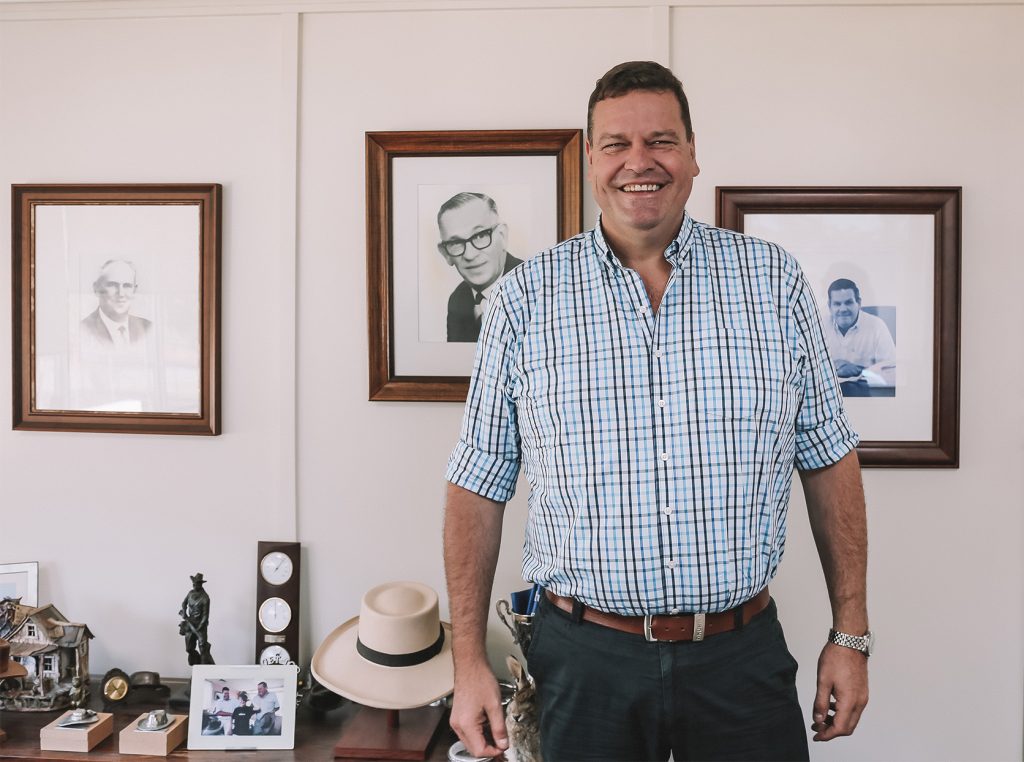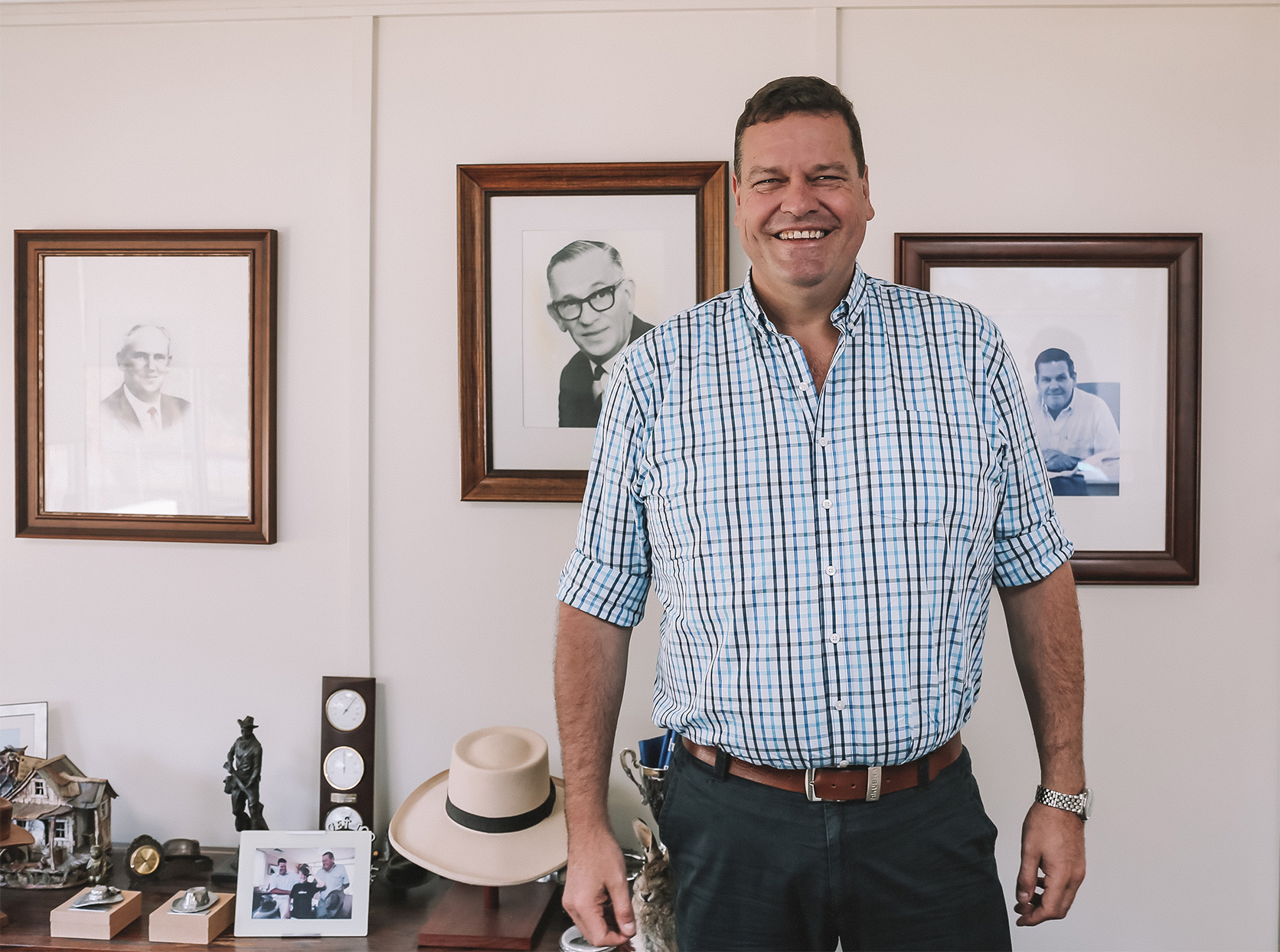 Stephen Keir IV is fifth generation of a family deeply committed to the brand and its quality
Early days
As one of Australia's few large family-owned companies, the story of Akubra has been sewn into the fabric of national history. Beginning in 1874, the hat-making company was established in Tasmania by Benjamin Dunkerley, who moved to Sydney and hired hatmaker Stephen Keir I in the early 1900s. As the business grew, Keir married Dunkerley's daughter, Ada, and became a partner in what soon became known as Akubra in 1912.
The company secured a contract to supply slouch hats to the Australian Army in WWI (an association that continues today) and began to grow its operations to keep up with the demand. When hat sales declined during the Depression over 200 employees, including the company directors, took a 10% pay cut to ensure no one was made redundant.
Shopping in the Heart of
Coffs Harbour
Stephen Keir II took over the reins in 1952 and Akubra was contracted to make Panama hats for the 1956 Melbourne Olympics. The popularity of their range continued to grow and became a fashion accessory championed by the likes of Crocodile Dundee, John Laws and Greg Norman. When Australian manufacturers began the mass exodus overseas to reduce labour costs in the '60s and '70s, Akubra, now joined by Stephen Keir III, built a factory in Kempsey and moved their operations out of Sydney to stay afloat.
It was tough for them initially, Stephen says. "Both my grandfather and my father, as well as the company secretary, took out second mortgages to keep everyone employed. They were very family orientated and ingrained in us that if you don't look after people they won't look after you. This has been proven over the years."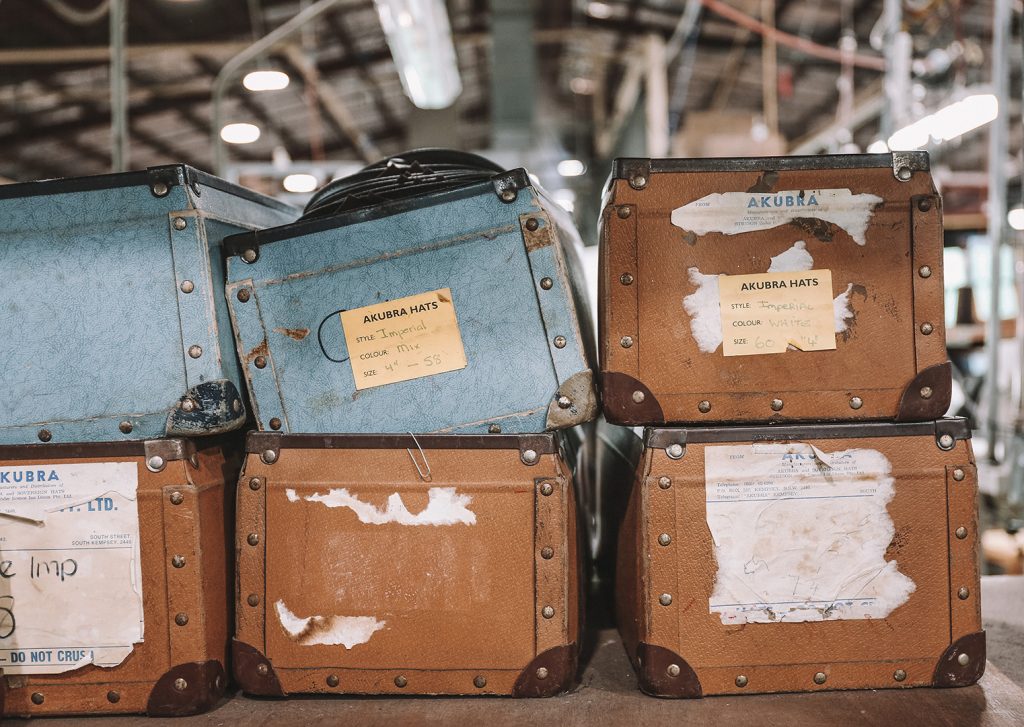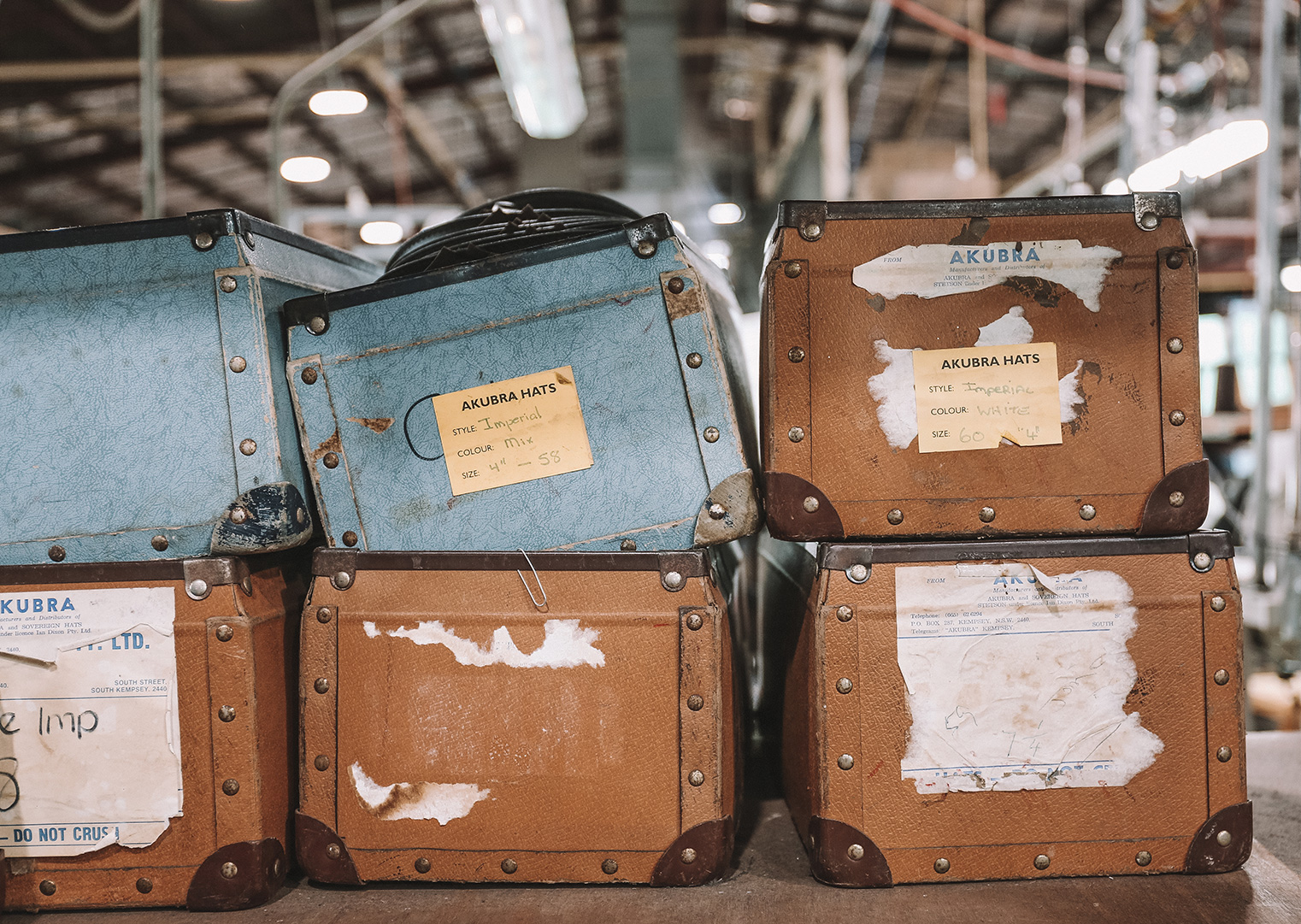 Old suitcases store leather straps and other items used on the much-loved hats
Company growth, ethics & famous faces
Akubra survived and flourished, fed by secure relationships with the Australian Army and a strong rural customer base. A young Stephen Keir IV joined the company in 1990 and is now managing director.
While Akubra's timeless values of honesty, fairness and commitment to quality lie at the heart of its longevity and success, Stephen acknowledges that he lives in vastly different times to those of his grandfather and father, who could never have imagined the world of mobile phones and social media.
"We used to have one office phone that employees could be contacted on and we'd get maybe one phone call a month, he says. Now, everyone is reachable all the time and mobiles cause distraction and mental health issues that we have to navigate. It's a real challenge."
Despite its pitfalls, social media has become a major marketing tool for Akubra, whose Instagram following sits around 77,000. When world champion surfer Mick Fanning posted a picture in a hat, Akubra leveraged the association to build contracts with surf stores.
A photo of another famous fan – none other than the Dalai Lama – also garnered the brand worldwide attention. "A few years ago, we snapped a fantastic photo of the Dalai Lama wearing an Akubra in Adelaide, Stephen relays. He had this big smile and we thought he looked great."
While the snap garnered plenty of likes, it was also seen by the Chinese government, who shut down the Akubra website in China for an entire year. "We didn't see that coming!" Stephen laughs. "These days you have to think about how everything is perceived. We didn't mean to get political, it just happened. Social media has changed everything."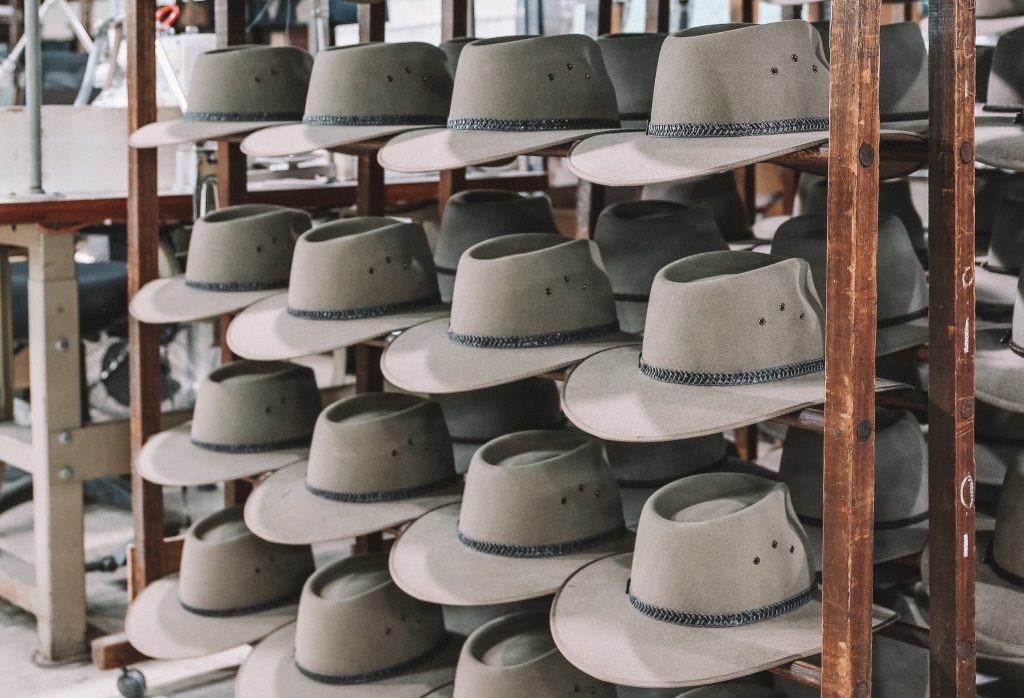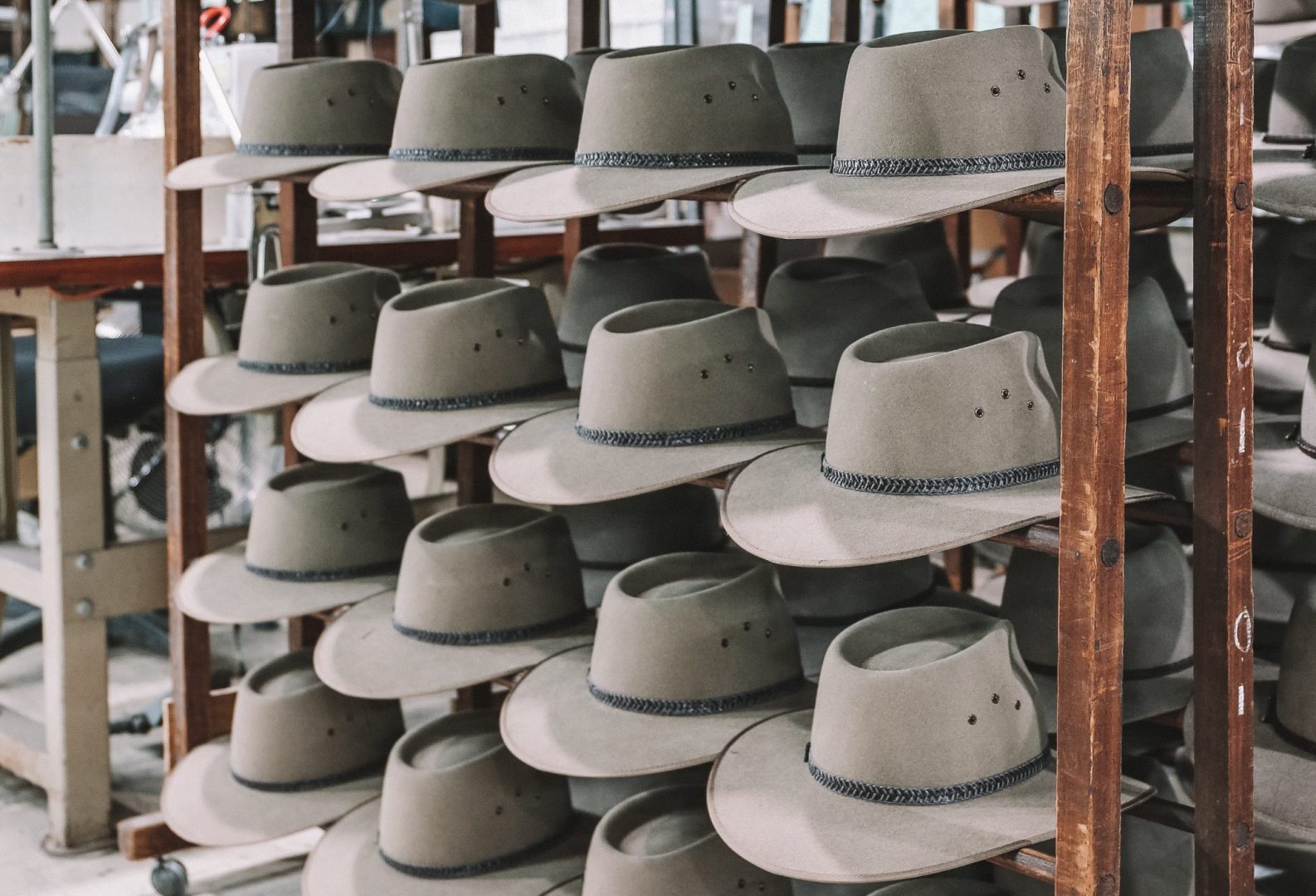 The iconic hats lined up and ready to go
Proudly Australian and family-owned
Instagram mishaps aside, the iconic brand continues to go from strength to strength carried by its traditional values, high-quality product and the fact that Stephen and his family are steadfastly committed to manufacturing the hats in Australia.
"Our sales have gone through the roof in the last three years, he says. Like much of our success, it's happened organically. We don't have a huge advertising budget so we let the product and our history speak for themselves."
Stephen is justifiably proud of Akubra's history and the fact that the company continues to prove the naysayers wrong. "People can't believe we still manufacture here," he says, gesturing to the Kempsey factory. "The reason we've been able to hold onto our values is that we're not answering to shareholders and we're not a massive margin company. If we were a public company, the first thing they'd do is move us overseas and that's not what we're about."
"Between my sisters and I, we have seven kids, so we're hoping one of them will take over when I retire! We've been going for 140 years, and want to go for another 140 if we can. I'm proud of the fact that we've proven everyone wrong by still being here. I'm proud that we pay our bills on time and that we're renowned for our fairness. And I'm proud that this company has been through five generations and is moving onto the sixth generation which is unheard of."
One gets the feeling that if Stephen's forefathers were here, they'd be pretty proud too.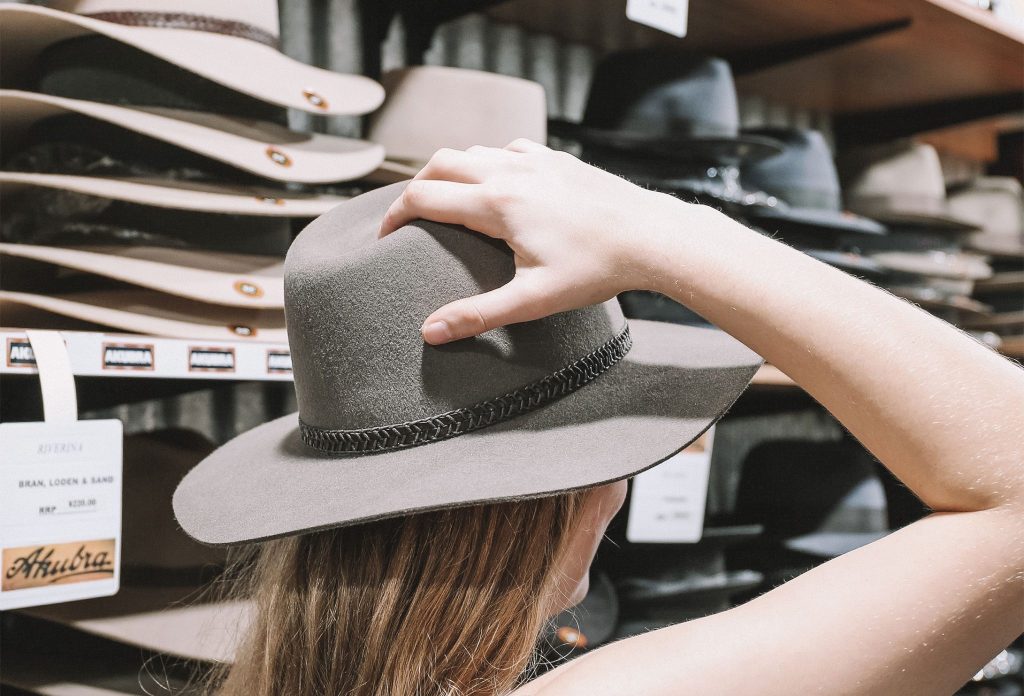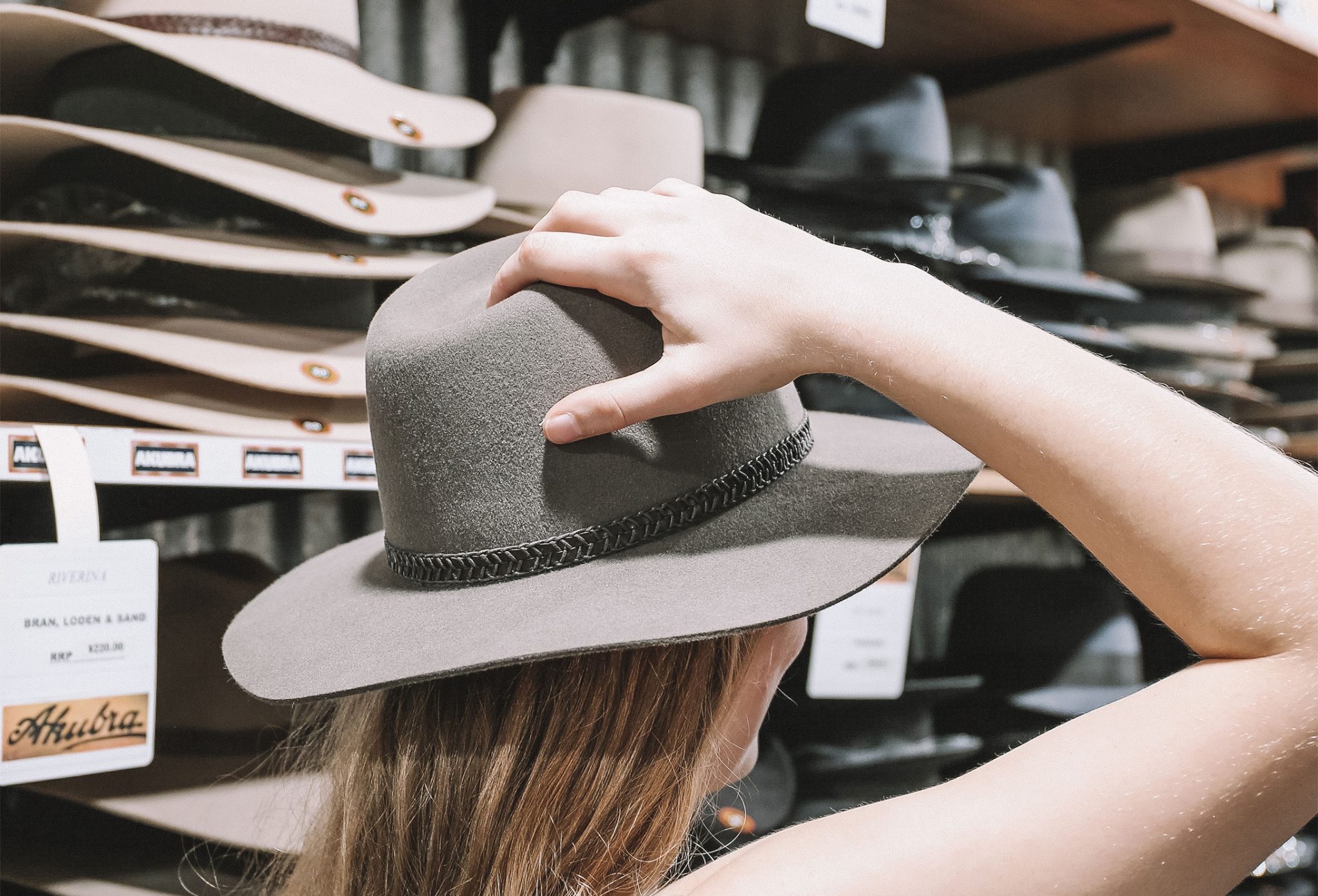 A customer tries on an Akubra at the on-site store in Kempsey
Hats can be purchased on site at 89 South St, South Kempsey or visit akubra.com.au for more information.
Do generational stories interest you? You will certainly enjoy our articles on Saxbys and Croker Oars.