A Weekend Away in Crescent Head
For those seeking a quintessential Australian coastal holiday, look no further than the ever-charming town of Crescent Head on the Macleay Valley Coast.
Crescent Head is a seaside hamlet famed for its world class surf breaks and magnetic natural beauty. I recently spent a totally stress-free weekend there and can vouch for it being the ideal destination to escape the daily grind and unwind by the sea. Think rolling surf, casual eateries, a spot of golf and of course, a daily vitamin sea fix spent relaxing on the pristine beach.
Whether you're coupled up and looking for a weekend away in a low-key setting or a family seeking a range of activities, this village will appeal. Outdoor adventures such as surfing, kayaking in the crystal-clear estuary, a spot of rock fishing and or a gentle hike around Big Hill Rainforest walking track are part of makes Crescent Head a wonderful getaway.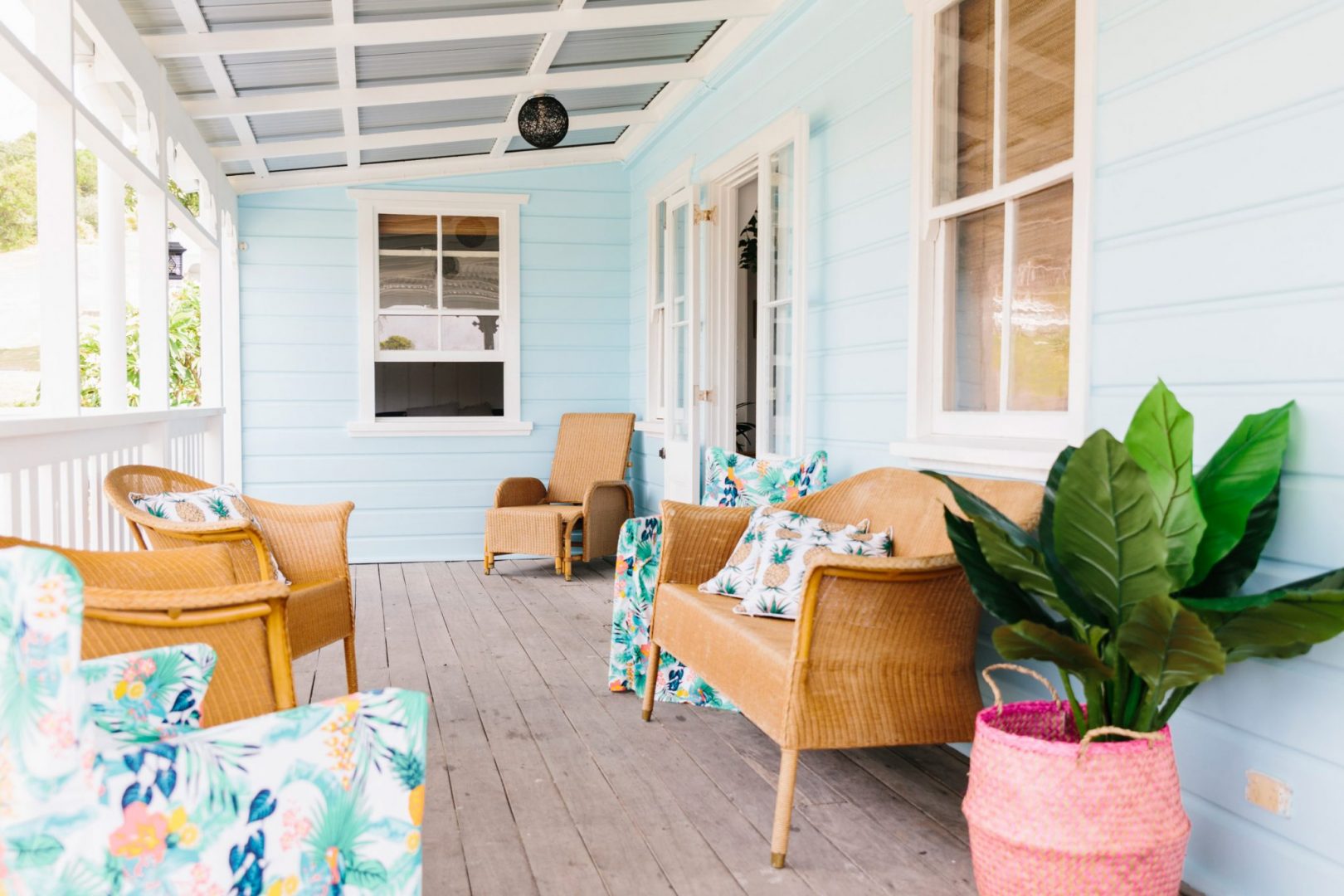 Big Wednesday is a grand ol' Queenslander that has been lovingly restored
Location
Crescent Head's mid north coast location makes it top spot to break up a Sydney to Brisbane road trip (or vice versa). Many travellers choose to stay at the caravan park (absolute prime beachfront land) or hire a holiday rental for their stay.
Our Stay
Big Wednesday, Crescent Head
Given that my partner and I are keen surfers we chose to check into the aptly named 'Big Wednesday' – named after the classic American surf film of the late '70s. The home is a grand ol' Queenslander situated in the centre of this laid-back town.
Upon arrival I was pleased to see the spacious wraparound veranda and looked forward to amazing sunset vistas during our stay. Remarkably tranquil views caught my attention from each vantage point, and I hadn't even opened the front door yet!
Upon stepping inside, it was clear that the owners of the property have an eye for design. The interior has a blend of pastel tones and bright colourways that complement the home's open plan layout. The three bedrooms all have a different style but work together well as part of the 'Big Wednesday' / surf theme.
Shopping in the Heart of
Coffs Harbour
My favourite room boasted panels of stained-glass windows that effortlessly filtered the natural light. With its tropical artworks, light crochet throws and fun, patterned pillows there was a Hawaiian aloha vibe going on and yes, super comfy beds to rest our heads after days spent in the sunshine.
One of the first things you notice at Big Wednesday is the collection of retro surfboards throughout the property; the boards help to shape the identity of each of the rooms. The restoration of this lovely home has been stylishly completed. The hardwood floorboards emit a sense of comfort and history and the tiled areas with their striking prints catapulted me back to childhood.
For meals, we made use of the BBQ and enjoyed our feasts on the huge balcony (with plenty of seating for extra visitors if you're hosting a feed). The outdoor shower earned bonus points from me – it was perfect for a post surf refresh.
All in all, it was delightful to spend time at this property and Big Wednesday's photogenic setting made for some holiday snaps we'll treasure. The home had an ambiance that sparked memories of Summer holidays spent at coastal towns just like Crescent Head, so it felt like coming full circle.
Note: Standard stay inclusions are free Wi-Fi, linen, beach towels and bathroom essentials.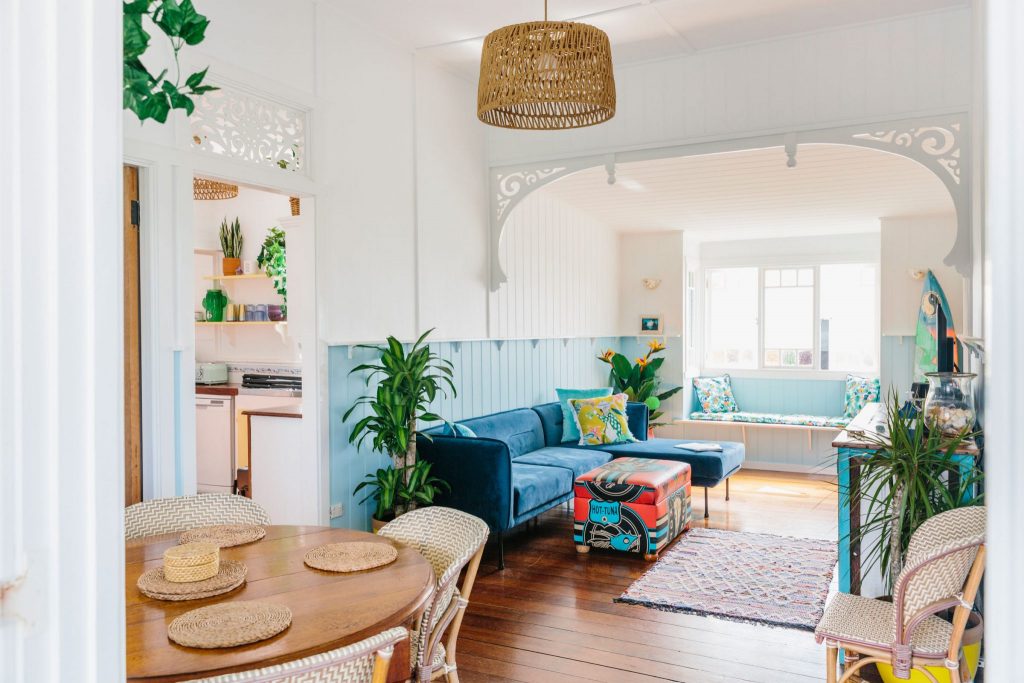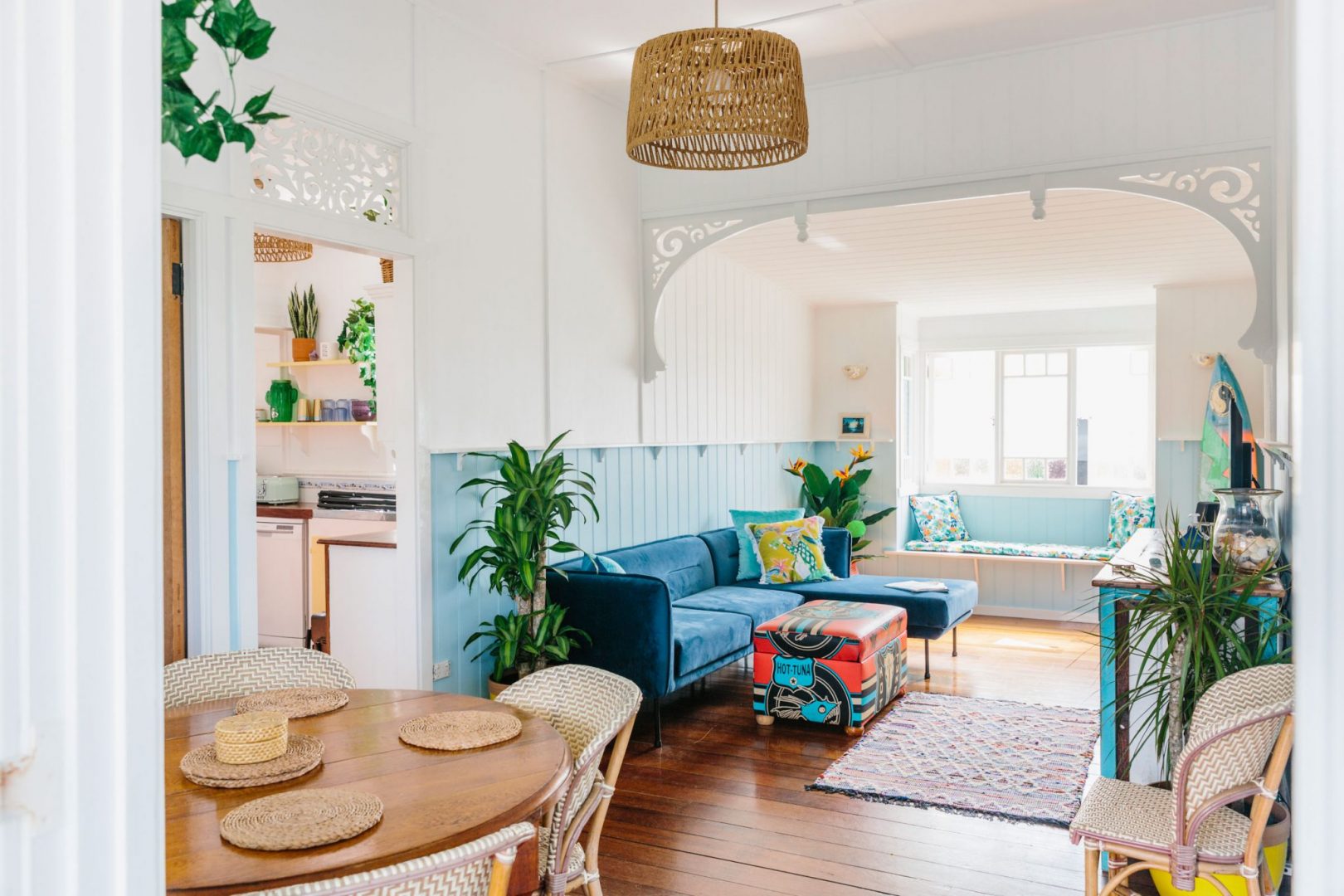 The home has great natural light and an open plan layout
Crescent Head Cafes and Dining
If you're expecting fancy restaurants and silver service, you're in the wrong location. Crescent Head is a small community with a country feel and limited dining options. With that said though, the eateries that are here are terrific.
Here's my rundown the best places to eat in Crescent Head.
Blackfish Café – this eatery, frequented by locals and tourists alike was our choice for a deluxe brekky and a bold barista coffee. With friendly staff and a chilled vibe, Blackfish is a must try!
Point Break Café – this surf club based café (under new management) prides itself on 'service with a smile' and with some of the best beach views around, it's the ideal spot to enjoy a brekky of smashed avo or an acai bowl with a coffee or smoothie. We recommend tucking into a tasty burger on brioche for lunch. They're open 7 days.
Pandanus Crescent Head – a contemporary wine bar come tapas sharing gem. It boasts an extensive (and affordable) wine list with vinos from premier domestic and international regions. The menu boasts fresh, seasonal produce and all dishes are designed to be shared with companions. I loved the locally sourced crustacean plate of salt and pepper soft shell crab and garlic sesame, kafir lime and chili banana prawn skewers. Vegetarians are well catered for here too.
Barnett's Bakery – this establishment has been trading through five generations, so they've got their products well and truly sorted. They have excellent coffee, yummy pastries, healthy wraps and sandwiches and, of course their celebrated meat pie. Tip: the butcher next door is a star too. I visited both places to shop for my 'Big Wednesday' barbies.
Vick's Chinese Restaurant (Crescent Head Country Club) is ideal for family gatherings and huge feeds after a big beach day. Go all in for banquet dining and/or a mix of classic Chinese meals.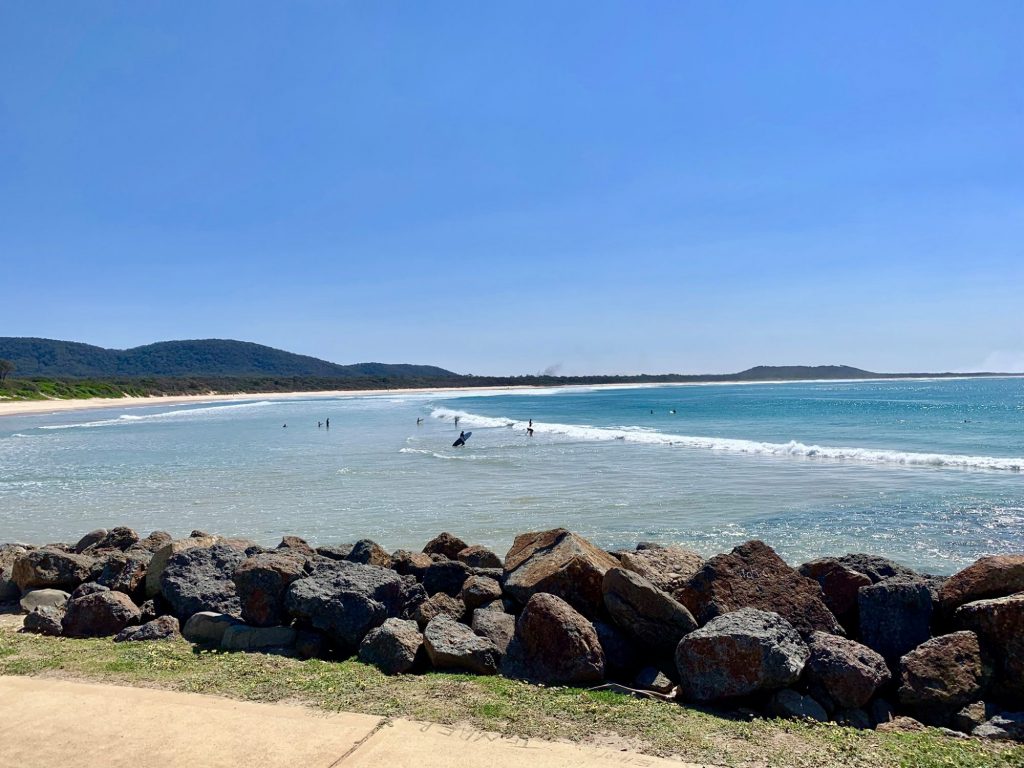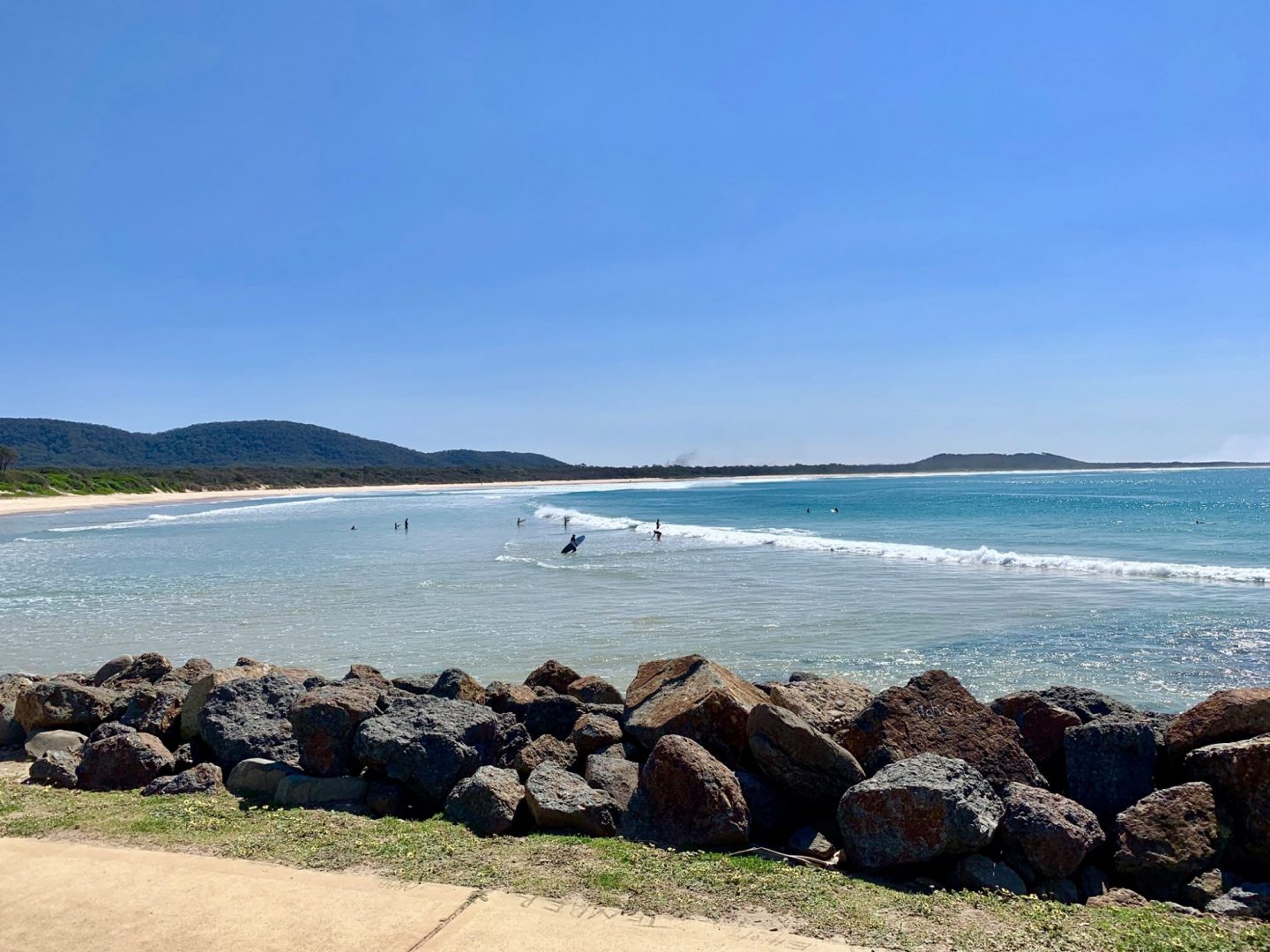 Start your day with brekky and a unbeatable view! Image courtesy of Point Break Cafe
Activities
Connecting with nature is more than important than ever these days and brings some necessary balance to our busy lives. I highly recommend stepping out of the normal day-to-day and checking into Big Wednesday or another quality coastal rental for some well-deserved fun in the sun. That beautiful sea breeze at Crescent Head feels like it brings a sense of freedom which I loved.
How about a surf lesson while you're here? After all, this is a town known for its great waves.
Keen to focus on wellness? Why not book a massage (be it sports, remedial, deep tissue or relaxing ) with naturopath Alison Lee.
If golf is your thing, tee off at the unique 6-hole golf course perched high on the headland (green fees; Adults $16 & under 12's just $6 for the day).
And of course, be sure to swim in Crescent's inviting sea – saltwater therapy really is surely a cure-all.
Crescent Head and nearby South West Rocks are perfect for whiling away time in the ocean as well as enjoying water-based activities like kayaking, paddle boarding or scuba diving. South West Rocks is home to Fish Rock – considered one of the best 10 diving destinations in Australia.
For those of you who love nothing better than donning the walking shoes, you'll appreciate the Smoky Cape Trail and headland walk at Hat Head.
Crescent Head Holiday Hints
The locals here a friendly lot with kind faces and a cruisy approach to life. In saying that, holiday makers always need to be mindful that we're just visiting – especially in the surf because no-one likes a wave hog! Be sure to follow the usual surfing etiquette when it comes to that great point break swell.
If you're headed north from Crescent, be sure to take the scenic coastal drive to neighbouring South West Rocks. It's a far prettier route than the highway commute with its vast stretches of lush green paddocks, flowing waterways and rustic cottages lining the way.
South bound travellers should definitely put Point Plomer on their road trip itinerary. It's close to Crescent and has a bunch of wildly beautiful beachside campgrounds.
Happy holidays in 'Creso'!
Keen to find out more about this beautiful region? Read about a week away in Macleay Valley Magic as well as our Top 10 on South West Rocks.