A Three-Day Whale Watching Adventure
Pack your binoculars to experience the majesty and grandeur of these oceanic giants. This epic three-day drive showcases the best places to whale watch all along the NSW coastline. Humpback whales and southern right whales sail north for warmer waters throughout June and into July. They return southwards from around September to November.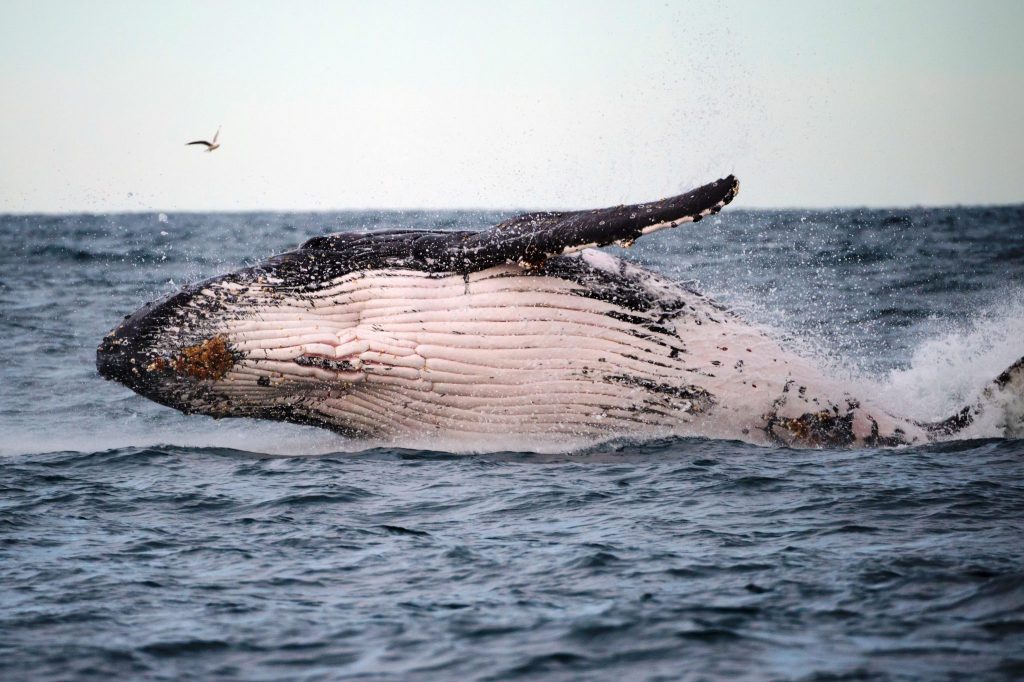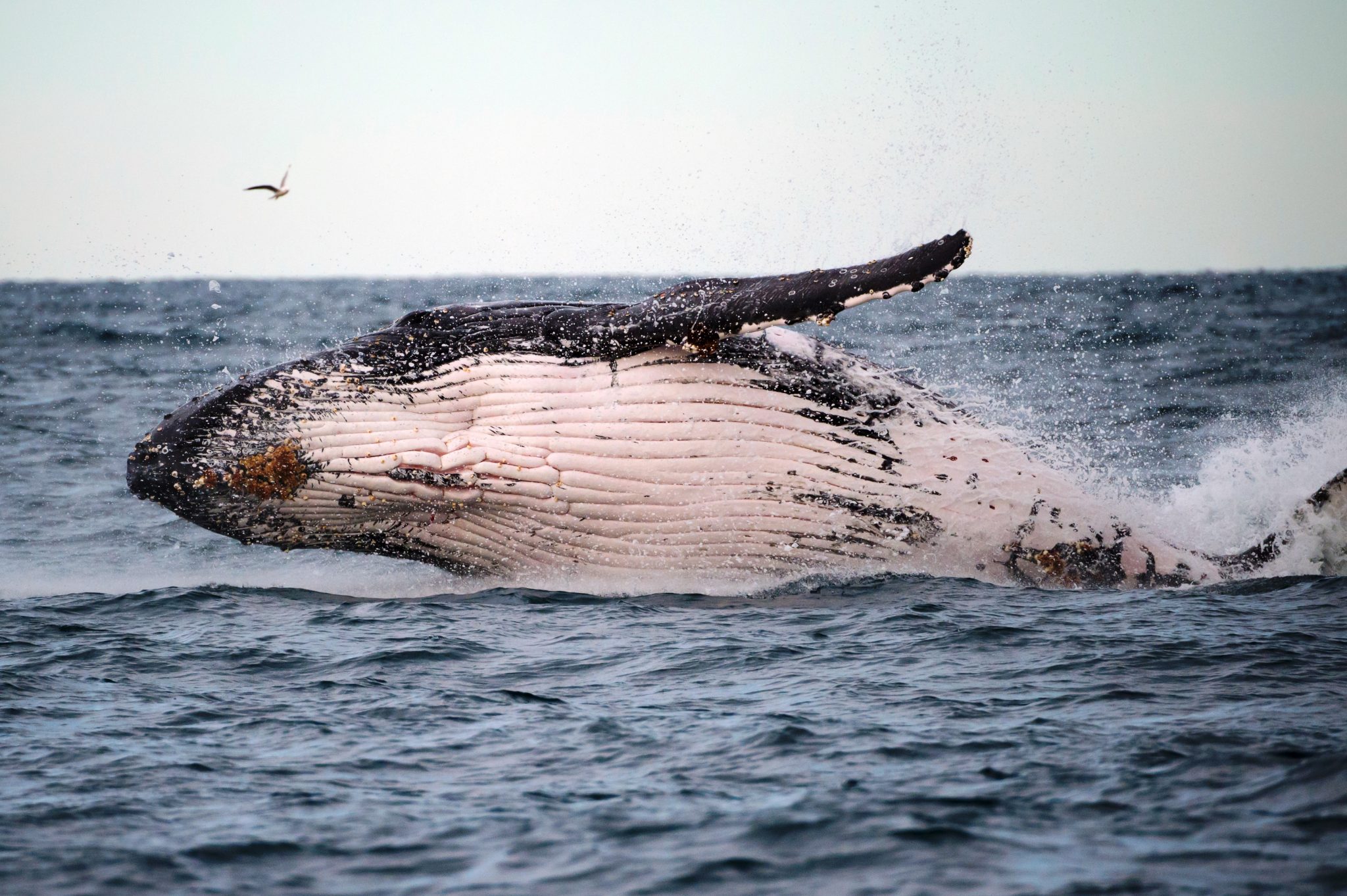 Day 1: A Guaranteed Fluke
Start your adventure in Cape Byron State Conservation Area, which sits at Australia's most easterly point and is a sensational location for whale watching. Follow the coastal walk to the Cape Byron Lighthouse, looking out for the majestic whales which often frolic just a hundred metres offshore. To get closer, join a whale watching tour or go kayaking from the beach. Spend the night in a classic beach cottage such as Partridge Cottage and Geoff's Shed or Thomson's Cottage.
Day 2: Whale Watching Headquarters
Continue down the Pacific Coast to Coffs Coast Regional Park, where the Solitary Islands coastal track winds past rocky headlands that are perfect for whale watching. Don't miss Arrawarra Headland and Woolgoolga Headland, which the locals have nicknamed 'whale watch headland' for a reason. Continue on to Bongil Bongil National Park, for a night in the spacious, self-contained beach house of Tuckers Rocks Cottage.
Day 3: A Sea of Possibilities
Drive to the holiday haven of Port Stephens and explore Tomaree National Park, where the easy walk to the top of Tomaree Head offers panoramic views across the north coast and surrounding ocean. Stop at the picnic area for more chances to catch whales gliding past the headland. You can also spot the majestic mammals from Fishermans Bay foreshore, the Wreck Beach walk or in Worimi National Park, where you can see the huge Stockton sand dunes and camp on the beach.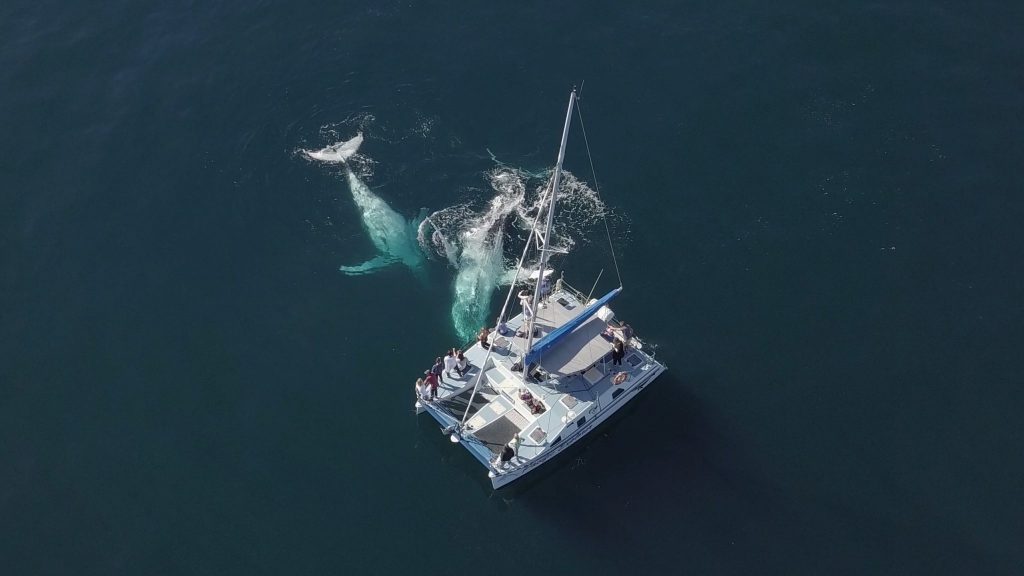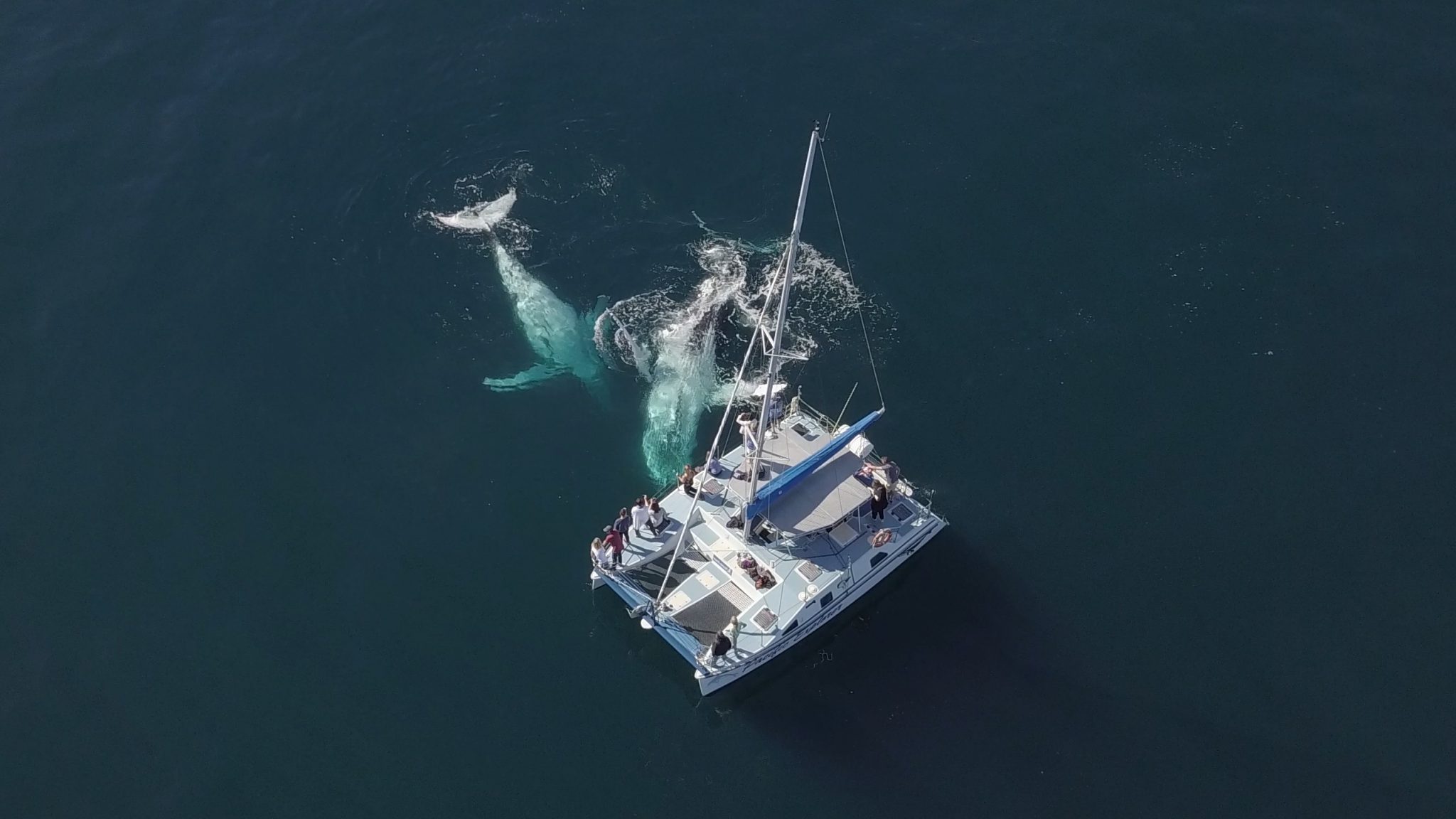 Typical Whale Behaviour
Whales are quite active in the water and display a range of spectacular surfacing behaviours that are amazing to witness. Experts believe that some of these behaviours help them to work out their position in relation to land or allow them to communicate with other whales. Fin slapping may also be a warning of danger nearby. Another theory is that whales launch themselves out of the water and fall back with a splash to rid themselves of skin parasites. Of course, they may just be having fun!
Top Whale Watching Spots
Coffs Coast
Yuraygir coastal walk in Yuraygir National Park
2. Solitary Islands coastal walk in Coffs Coast Regional Park
3. Dammerels history walk in Moonee Beach Nature Reserve
4. Arrawarra Headland in Coffs Coast Regional Park
5. Woolgoolga Beach and Headland in Coffs Coast Regional Park
6. Wilsons Headland walking track in Yuraygir National Park
7. Look At Me Now Headland walk in Moonee Beach Nature Reserve
Port Macquarie and Forster
1. Front Beach in Arakoon National Park
2. Port Macquarie coastal walk in Sea Acres National Park
3. Little Bay to Smoky Cape in Hat Head National Park
4. Charles Hamey lookout in Kattang Nature Reserve
5. Wallabi Beach in Saltwater National Park
6. Smoky Cape Lighthouse in Hat Head National Park
7. Perpendicular Point walking track in Kattang Nature Reserve
8. Mermaid lookout track in Crowdy Bay National Park
9. Little Bay picnic area in Arakoon National Park
10. Green Island walking track in Hat Head National Park
Check out the NSW National Parks and Wildlife Service website for more information.