A Long Weekend in Pacific Palms
About 35 years ago, our family spent the first of many summers in Pacific Palms. I'll never forget looking out over Boomerang Beach on Boxing Day for the first time (having been more familiar with the likes of Sydney's Freshwater and Palm Beach on public holidays) and wondering where all the people were. The beautiful, inviting stretch of shoreline and ocean before me was practically deserted.
When our family got together over Easter as a clan – nine kids and nine adults, we returned to that special stomping ground. Wonderfully, little has changed, and the area remains as gorgeous as ever. Sure, holiday rentals cost more as Sydneysiders have cottoned on to what a great getaway it is (three hours or so north of Sydney) but it has retained its beauty, easy charm and village atmosphere.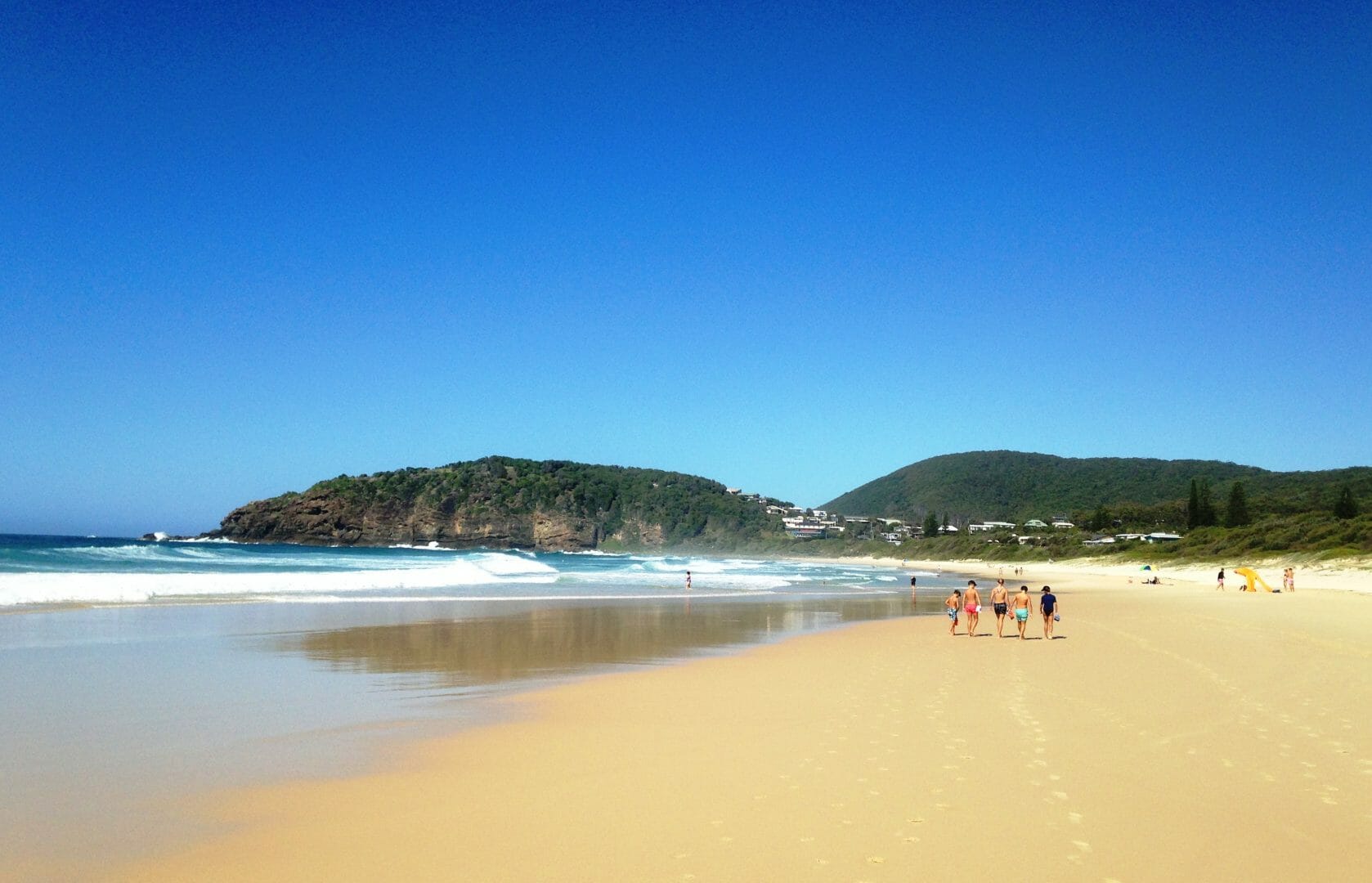 Even on a sunny Easter long weekend, there's not many people taking in the natural beauty of this area 
The various family members booked holiday accommodation close to the headland between Boomerang and Blueys beaches with the small group of shops of Blueys within easy reach.
Our rental, booked through Stayz, was an absolute cracker. It slept eight, offered plenty of space, a pool (ideal for my oldies whose balance in the surf isn't what it used to be) and a breathtaking view. We really had to drag ourselves away from there come Monday morning.  See 'Blue Horizons' booking info below.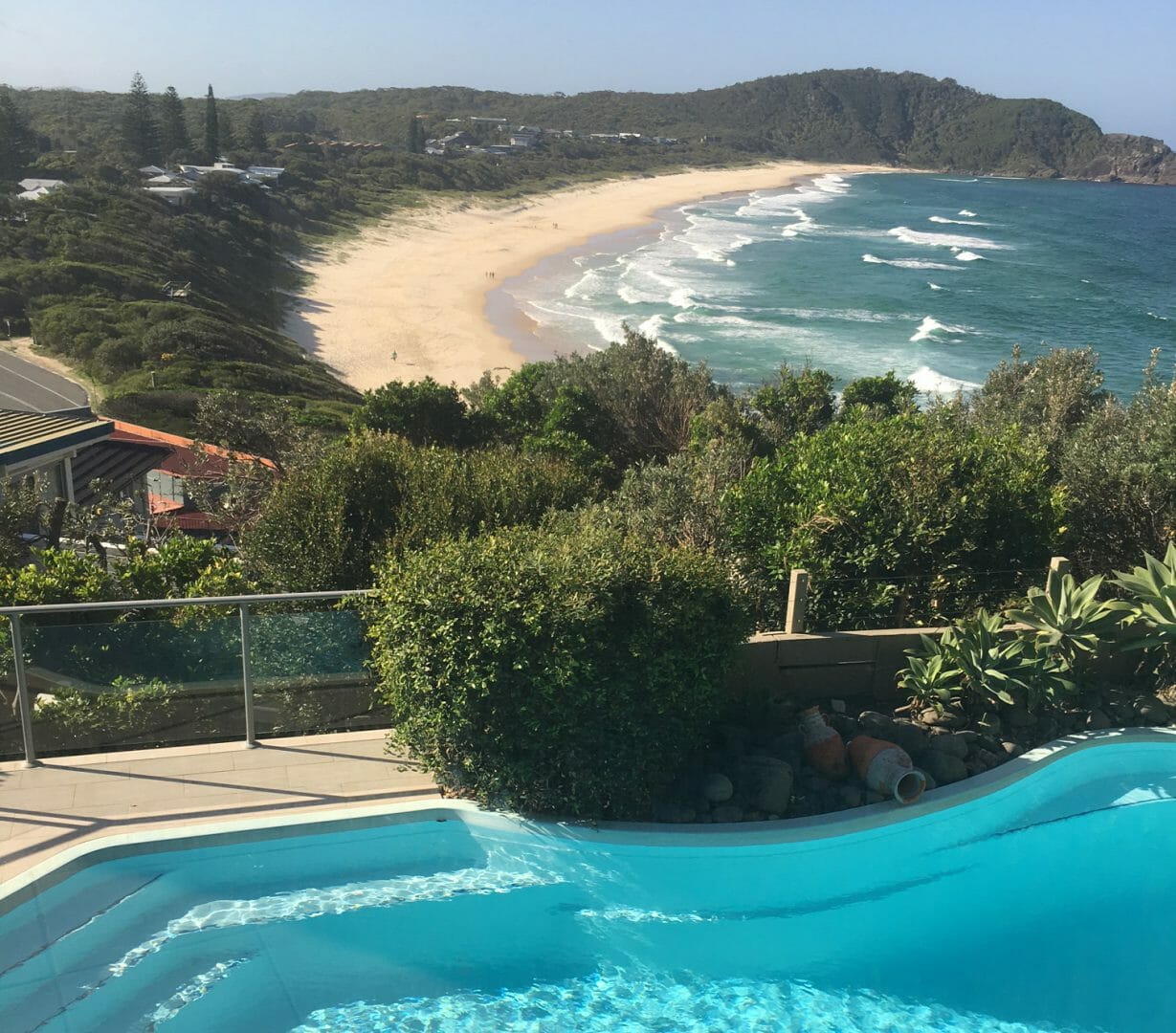 Our accommodation, Blue Horizons had amazing views over Boomerang Beach
Needless to say, the cousins had a blast together. Plenty of beach time (oh, what fun that shore break delivered), Easter eggs, meals out and learning poker from the bigger cousins– what's not to love? The grown-ups had a wonderful weekend too. Some surfed, some fished (the seven-year-old coming out on top in the fishing) but mostly, we all just came and went as we pleased between the two beaches and the different houses.
One breezier morning, my sister and I wandered to Elizabeth Beach and up the bush track to the nudie beach. On a calm day, it's as pretty as a picture and well worth a visit. Stepping onto Shelly Beach and we were both reminded of being little girls again giggling away as we observed those birthday suit beachgoers.
Like all holiday weekends, food and drink was plentiful. Hueys at Blueys was a great choice. Yummy pizzas and top value for the nine of us there at dinner that first evening.
We grabbed coffees daily from Drift Café – it was their opening weekend and probably a bit of a baptism of fire I expect. Being Easter with plenty of tourists and locals out and about making the most of the stunning weather, many were after a morning brew and keen to try the new cafe.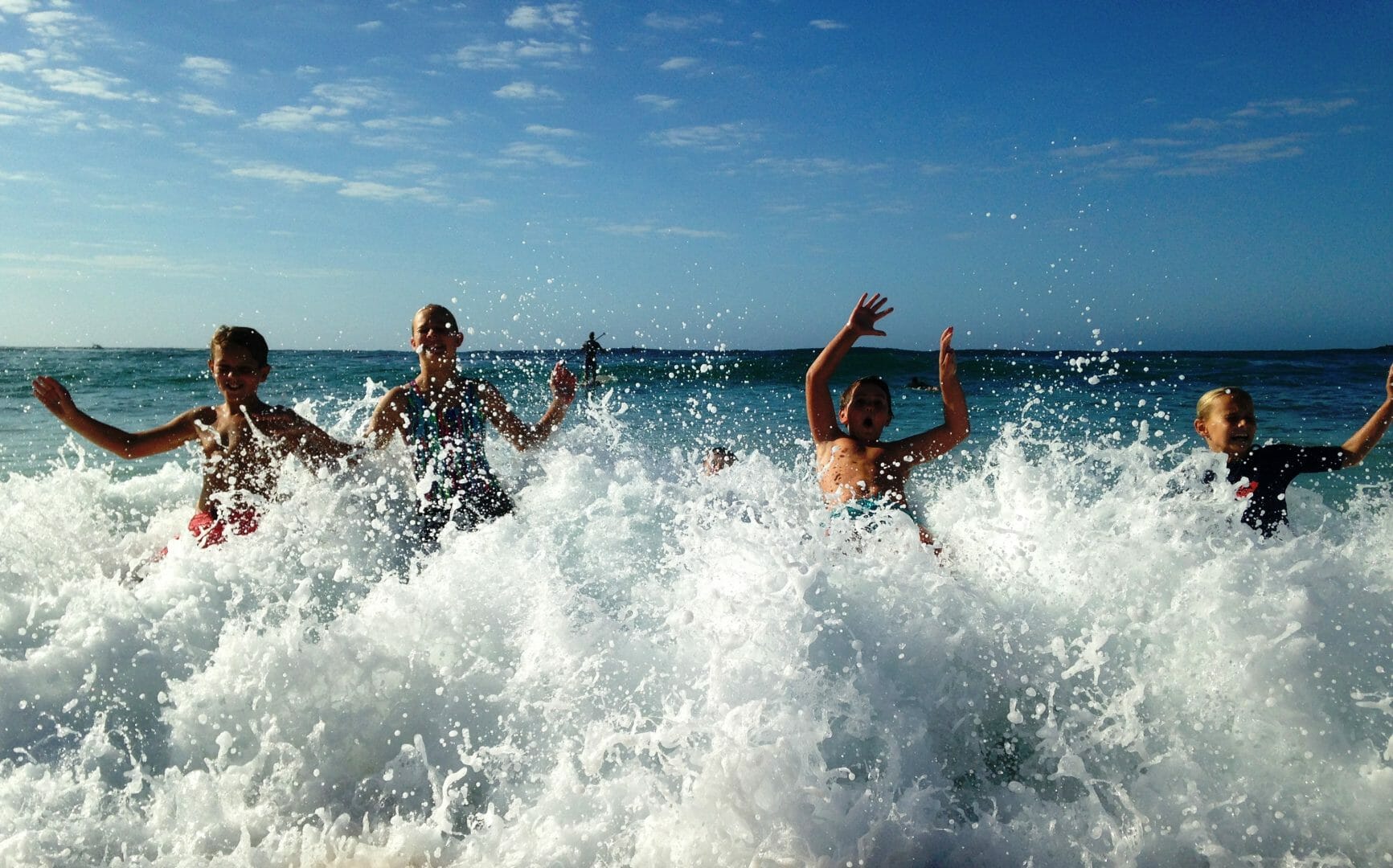 My three boys and their cousins enjoy the shore break action at the northern end of Boomerang Beach 
On the Sunday night, off we went to 'The Recky' – 19 of us for an all-in dinner.
We had high hopes of watching the sun set over Wallis Lake as the kids ran around on the grass as we did so often all those years ago but unfortunately, everyone else had the same plan! The wait was going to be long and the kids whingy and so it was a quick drive instead to the bistro at the Bowls Club which certainly fit the bill. Throughout the weekend, we tucked into gorgeous nibblies and beautiful wine from Blueys Cellars and Deli.
Now that the cooler temps have come to the coast, I wish I was floating in that crystal-clear ocean again on that 28-degree day….
So often we return to a place we knew and loved as children and find little resemblance to that simple holiday town full of memories. Snapshots flick through my mind as I think back on it all – Mum rocking a Ken Done cozzie, bonfires on the beach as teens, learning to windsurf, summer romances and first kisses – it really was bliss at Boomerang Beach – then and now.
——–
Part of our family group stayed at Blue Horizons and would highly recommend it-
You can book directly @ bluehorizonsholidayhome@gmail.com or find them through Stayz