A Haven in the Hills
From catching camels in the desert, to travelling the globe, creating a successful fashion label and now, opening a lifestyle concept store; Byron Bay designers, Kaidee and Bulan Casley would make even Oprah proud in how they're 'living their best life.'
Together and individually, Kaidee and Bulan have achieved some incredible things. They've travelled all over the world, worked with international designers and created their own successful label, Kultcha Collective. But wherever their travels take them, the Byron hinterland is home and very much where the heart is. It makes sense then that their latest project celebrates the place they so love.
Lifestyle concept store, The Hills Emporium in the village of Federal is a labour of love for the Casleys. Not that they knew that to start with. It began as a simple search for the ideal studio / workshop space for Kultcha Collective. Kulcha Collective is a collaborative effort between the two and has evolved over their 10 years together.
When Kaidee and Bulan met, Kaidee was building her own fashion label, Kaidee Peel. She had already found success in the industry including showing at Mercedes-Benz Fashion Week in Sydney. Knowing she needed to expand her knowledge, Kaidee jumped at the chance when offered to work under renowned textile and fashion designer, Colin Heaney in Byron Bay. She made the move north in 2007.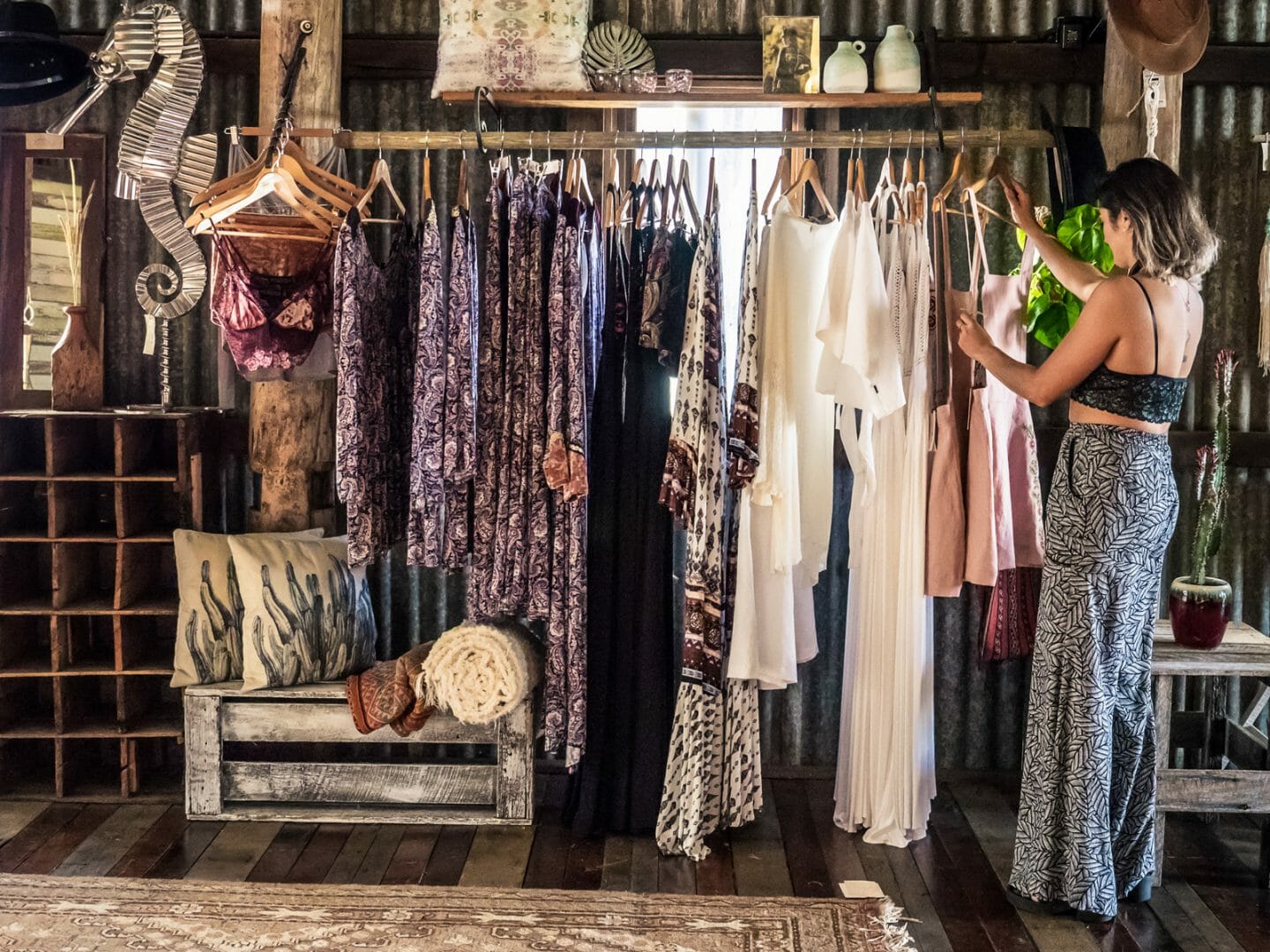 "It was in the Byron region that I was really exposed to the abundance of creative talents and I fell in love with the area."
Bulan grew up as a traveller. From the age of three, his family wandered the Australian desert capturing and training wild camels. It was Bulan's family that started the iconic camel rides on Broome's Cable Beach. His father took him all over Asia and Bulan watched him sourcing textiles and master leather-working, making saddles for the camels.
When the couple met a decade ago, their shared love of travel saw them head off around the world where they were inspired by the creatives they met along the way. Kaidee says, "We loved the traditions of cultures from around the world; weaving, embroidering, natural dying and silver work."
"It was totally natural for us to buy anything shiny and textile and we soon began working on ideas. We'd create and collaborate with people we'd meet along the way – and that's how Kultcha Collective was born," she adds.
Just two years after their adventures began, they fell pregnant with daughter, Inca. It didn't slow the pair down though. Before she was two, Inca had travelled to Thailand, Mexico, the US, Bali and Malaysia. A little over two years later they welcomed son, Ari. And as much as they loved travelling as a family, with Inca ready to start school, they decided to set down some roots.
"We spent a bit of time on the Coffs Coast after the kids were born to be closer to family, but we felt a definite pull to return to the Byron shire. We've always felt this was home," Kaidee says.
The couple had lived in Federal previously and knew it was the perfect place to settle their young family. They love the friendly faces and being surrounded by people with similar passions and values.
"We meet up at the park for playdates and skating, get together at the café and there's a movie night at the hall each month with dinner. There's just such a wonderful community vibe here," explains Kaidee.
Once they had found their home, the next mission was finding a space to showcase Kultcha Collective. Kaidee had been eyeing off a rustic shed for a while which happened to come up for lease. She says, "I loved the space. It had so much character with the big timber exposed beams and corrugated iron. We applied for the lease and got it."
There was one catch though. It was much larger than they required for the family. The Casleys started to think about how they could best use the space and the idea for The Hills Emporium was born.
According to Kaidee, "It really kind of evolved on its own." She adds, "We worked really hard to make sure we had lots of Kultcha stock to open with, but it wasn't long after opening that we started meeting amazing artists who were creating beautiful things right here in Federal. People started to come in and show us what they do and that's how our product range has grown. You know you're on the right track when things come together naturally like that."
On any given day Kaidee and Bulan (and possibly their little helper, Ari who is not yet at school) are likely to be found toiling away at their work station, creating jewellery or designing their next samples for Kultcha Collective. Those familiar with the label recognise their unique style, described by Kaidee as 'Nomadic Boho Gypsy Luxe'. Australian made and sustainably sourced, their designs are regularly featured at the designer markets in Byron Bay and are available at selected stockists around Australia.
Children's label, Child of the Wild can also be found in store along with an eclectic array of homewares, candles, furniture, art works and feature pieces, all sourced from local artists and collectors. Each piece comes to the store directly from local artists or collectors and the range is always evolving.
What sets The Hills Emporium apart is that every item has a story. The stories are all fascinating and some are truly remarkable. Take 'Biscuit' for example, the eight-foot wooden hand-carved horse statue. Sourced from a local antiques collector, 'Biscuit' is originally from India and more than 70 years old. The statue is one of only four of its kind in the world and the only one in Australia.
Then there are the hand-blown glass chandeliers with hand-made copper fittings; unique pottery from local artists, candle holders and lamp bases made from recycled local timber, beeswax candles and wraps which are also made on-site.
Yet it's not all about the treasure trove of products. Bringing the community together is something Kaidee and Bulan are passionate about and they hope to continue to foster that at The Hills Emporium. The next stage of evolution will be to host workshops and small social events for the community.
This family have truly found their haven in the hills and hope to be showcasing beautiful things and sharing their stories for a long time to come.
For more information find The Hills Emporium on Facebook, on Instagram @the_hills_emporium or visit www.thehillsemporium.com