Paddling beneath a full moon on the Bellinger River
The Coffs Coast is celebrated for its diversity of outdoor experiences with nature reserves, uncrowded beaches, pristine creeks and inviting estuaries. From the Bellinger River to Boambee Creek and the estuaries of Moonee and Red Rock, locals and visitors are spoilt for choice when it comes to exploring the beautiful waterways of the region. Here, one local photographer heads to Bellingen to experience our region from a whole new perspective…
The Bellinger River by moonlight
My past canoeing experience involved glorious sunshine, a gentle breeze on my face, cool water splashing up from the paddle and more often than not, sunburn. A canoe tour beneath a full moon on the Bellinger River had never crossed my mind and certainly piqued my curiosity.
Situated on the outskirts of the picturesque town of Bellingen, along the Waterfall Way, is Bellingen Canoe Adventures. I was excited about my paddle up the river and looking forward to meeting owners, Daniel and Jody who have been running the business for 20 years.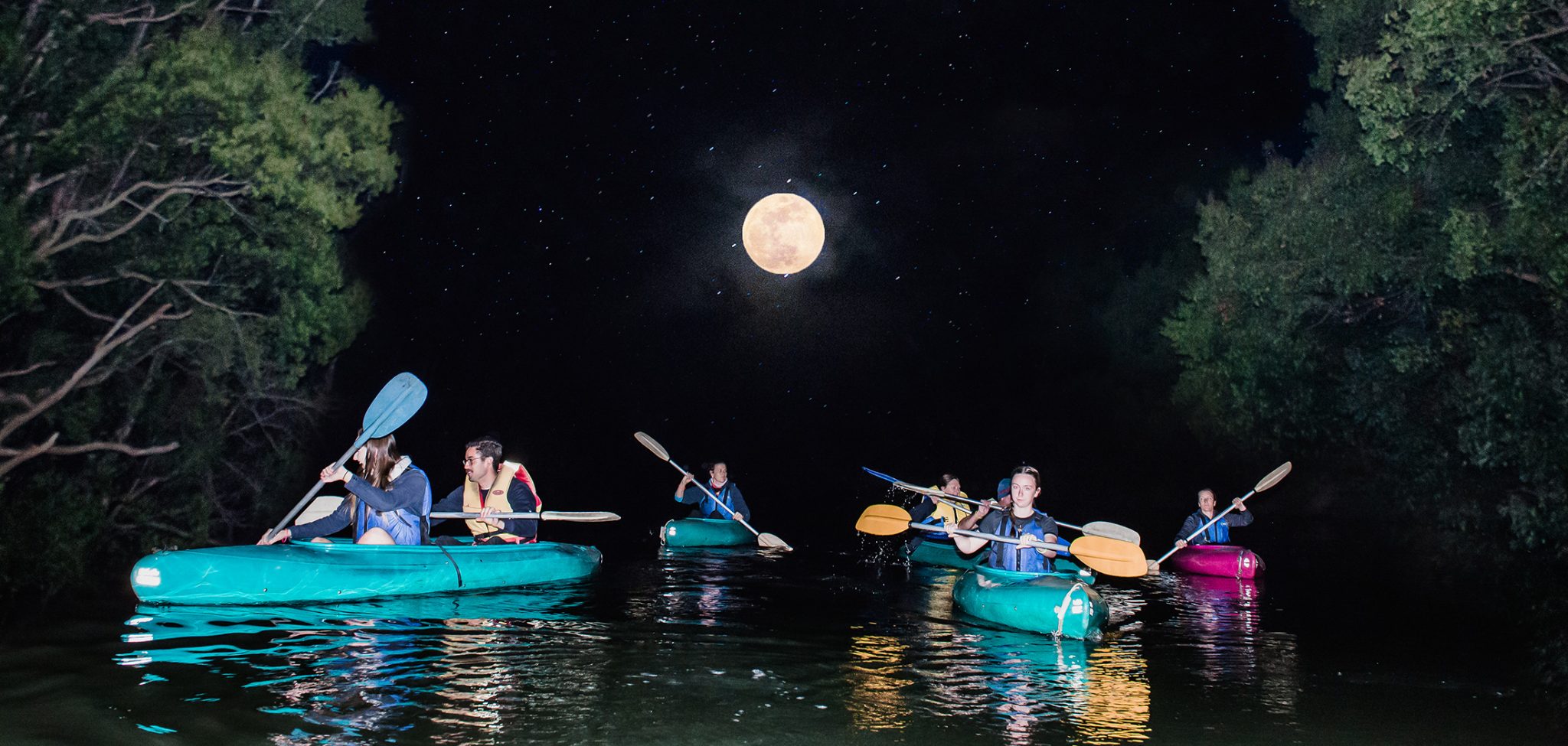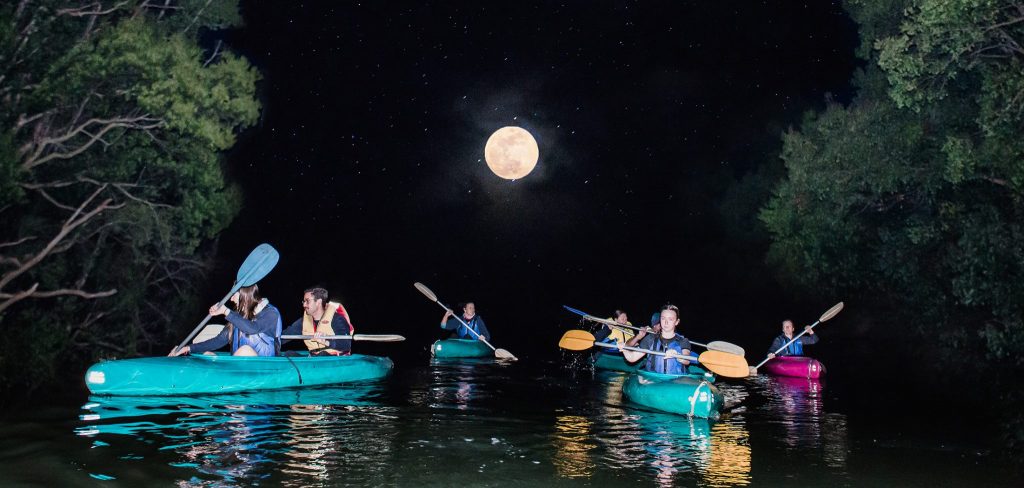 Paddling under a full moon is a wonderful new way to enjoy the Bellinger River
Heightened senses
We arrive after sunset with eager tour members being welcomed by Daniel, who provides us with glowsticks and life jackets. I catch glimpses of the moon through the clouds as we follow the path to the riverbank where our canoes await. Here, we receive instructions on safety and navigation.
Heading upstream, I am surprised at how quickly my eyes adjust to the dark of night. My ears are adjusting too, and I hear the adorable tune of the willie wagtail singing its night song. I soon notice a campfire in the distance where people are enjoying a beautiful evening by the river. Picking up the pace, I notice that the clouds have disappeared, and the sky and river open up before me.
Magical moments
A rich, earthy smell fills the air and we see old farmland all around us before making a turn up Hydes Creek. Overarching trees line the banks and, seemingly, stretch out to touch the trees on the opposite side of the creek. For a moment, I'm reminded of a scene from a Tolkien book; it feels magical and surreal.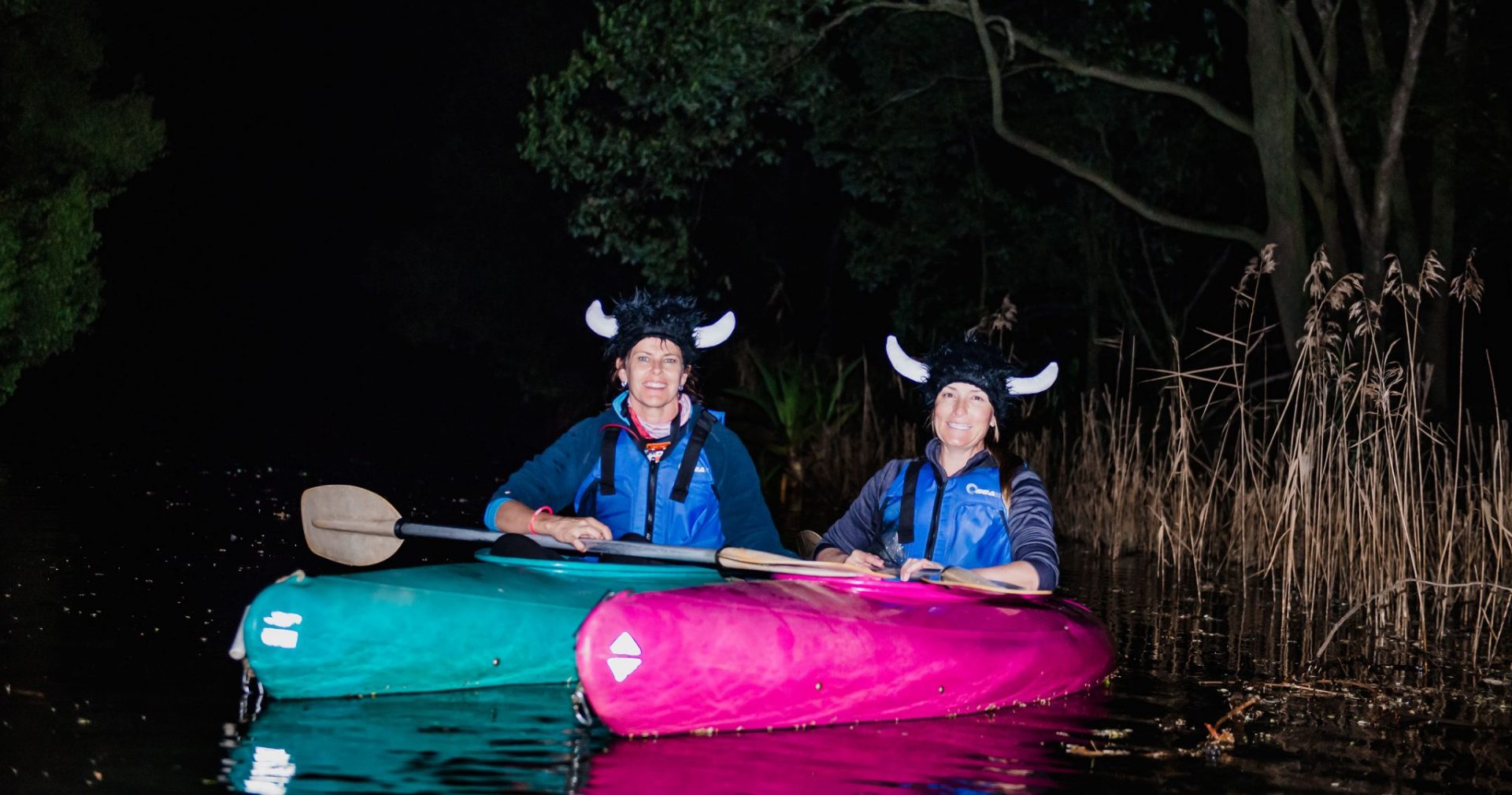 My fellow canoeists are all smiles on the river
As we glide along, Daniel tells us that fireflies visit for just a few weeks a year in September, so it's worth timing a canoe experience to see them light up the night sky. We arrive at the best viewing spot and take in the gorgeous full moon that highlights the surrounding landscape. We sit for a while absorbing the beauty and tranquillity.
As we paddle back to meet the Bellinger River again, Daniel tells us tales, looks for shooting stars and points out different constellations and planets. We then canoe along the final stretch of water and return to our starting point. After disembarking from our canoes and handing back the lifejackets, Jody greets us with a glass of champagne.
It's the perfect way to end our evening with the stars!
For details on the full moon experience visit canoeadventures.com.au
Keen to explore more gorgeous waterways? Bellingen-based photographer Sooz Myhill also went kayaking at Boambee Creek near Sawtell and at Red Rock.