A family holiday in Crescent Head on the Macleay Valley Coast
We had such a blast holidaying as a family on the Macleay Valley Coast last winter that we decided to return for a week over summer. Instead of venturing to South West Rocks again, fabulous as it was, we decided it was time to experience Crescent Head.
The town
Crescent Head or 'Creso' as it's known to the locals, has long been famous among surfers but it also makes for a top holiday if surfing is not your be-all and end-all. The village has a laidback atmosphere and lots of friendly locals (yes, even in the last week of school holidays when they probably just wanted their town to themselves again!)
'Town' consists of Main Street with most shops and cafes positioned on the one side. Follow Main Street down to the beach where you'll find the caravan park, surf club and a small skate ramp located on the beachfront. While many surfers wander over the rocks to venture into the surf, most people access the beach by crossing over the bridge at Killick Creek.


Our boys loved floating along Killick Creek with the current. Image courtesy of Macleay Valley Coast
Activities & Day Trips
Walk up to the lookout
We did this on our last afternoon but it's better to do this activity at the start of your stay – it gives you a wonderful perspective of the town and beautiful surrounding areas. With Goolawah Reserve on one side and Limeburners Creek Nature Reserve on the other, this coastal village is wonderfully positioned.
Killick Creek Estuary
When the sun was out and the beach calm, the estuary was busy with families enjoying summer days, many with younger kids, not quite surf-ready, splashing about but our three particularly enjoyed cruising along on their backs and on boogie boards when the weather was overcast, fewer people were about and the current (after a big swell) had some real oomph.
Shopping in the Heart of
Coffs Harbour
Point Plomer
Point Plomer is about 30 minutes' drive from Crescent via a bumpy dirt road. Point Plomer and the surrounding Limeburners Creek Reserve is home to gorgeous beaches, lush rainforest, wonderful walks, great fishing, a range of accommodation from campgrounds to higher-end stays and the drive itself offers some spectacular views up the coast. Local families have long loved holidaying here. Read about our Point Plomer exploration here.
Day Trip to South West Rocks
It's a lovely 45-minute scenic drive to 'The Rocks' from Crescent as you take in dairy farms and large fig trees lining the Macleay River and stop to buy fresh produce at the roadside as we did.
Gap Beach
We made a beeline for Gap Beach having only discovered it by accident last time when we got lost on the Little Bay to Smoky Cape walk. Access to Gap Beach is via a dirt road with 4WD vehicles advised.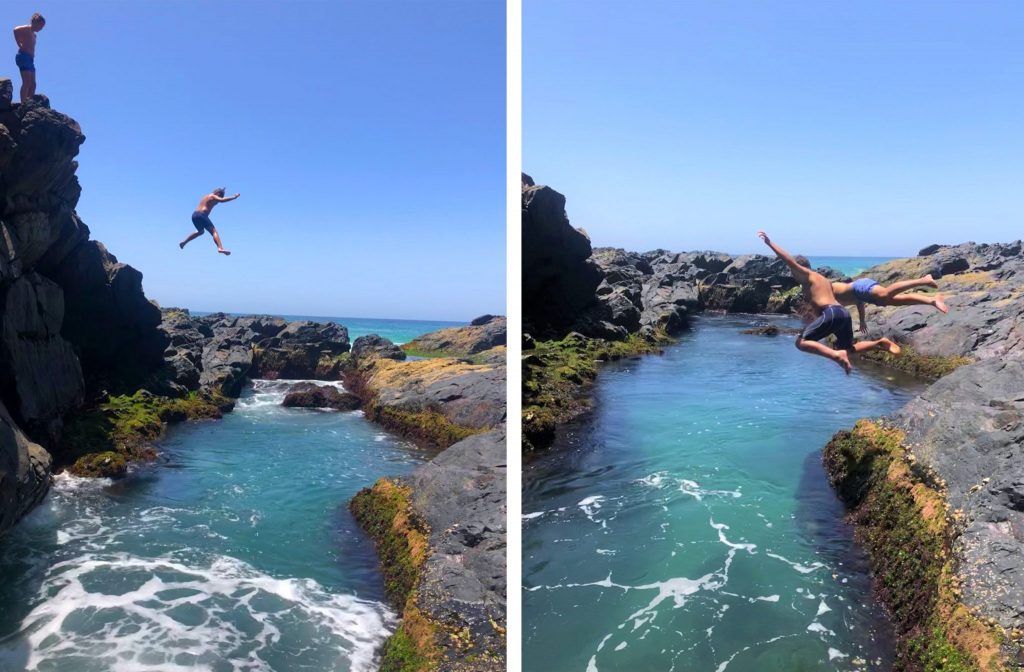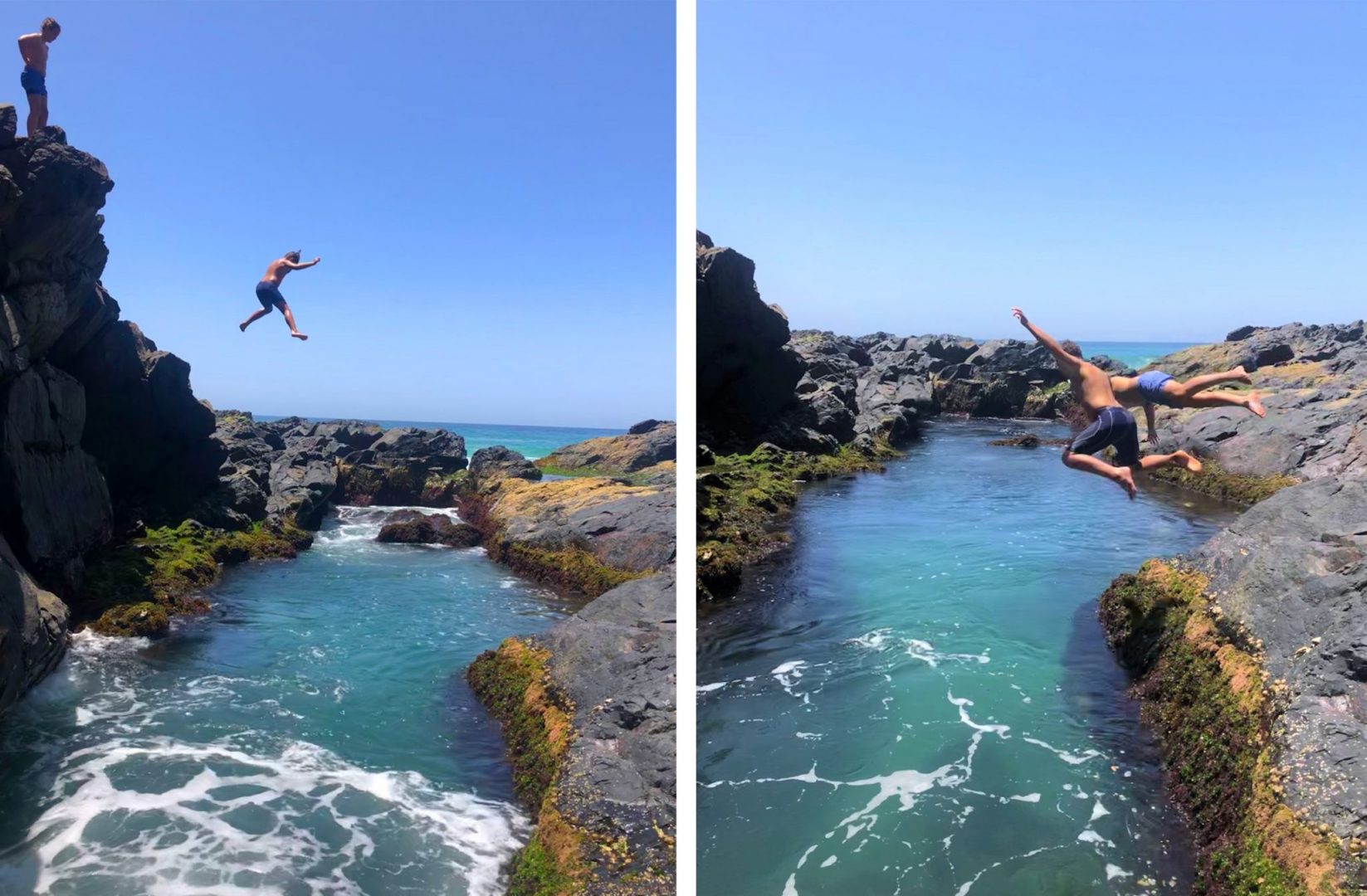 The rockpool discovery at Gap Beach was a winner for the boys
This was probably one of the most beautiful locations we visited. The ocean was crystal clear, we saw dolphins frolicking and shared the long, pristine beach with just a couple of others. Earlier Instagram research tipped the boys off to an amazing rockpool reached by rock-hopping at the northern end. The rockpool certainly delivered.
North Smoky Beach
This was one of our favourite spots from our previous trip and the kids were busting to return. To access the beach, park at the Smoky Cape Lighthouse and wander down to the beautiful beach below.
Pub lunch
We made sure to call into the Seabreeze Hotel on the day they serve pork knuckle for lunch. It was a big hit with our middle son last time (a dedicated carnivore). Post lunch, a scoop or two from Chillati Gelato went down a treat.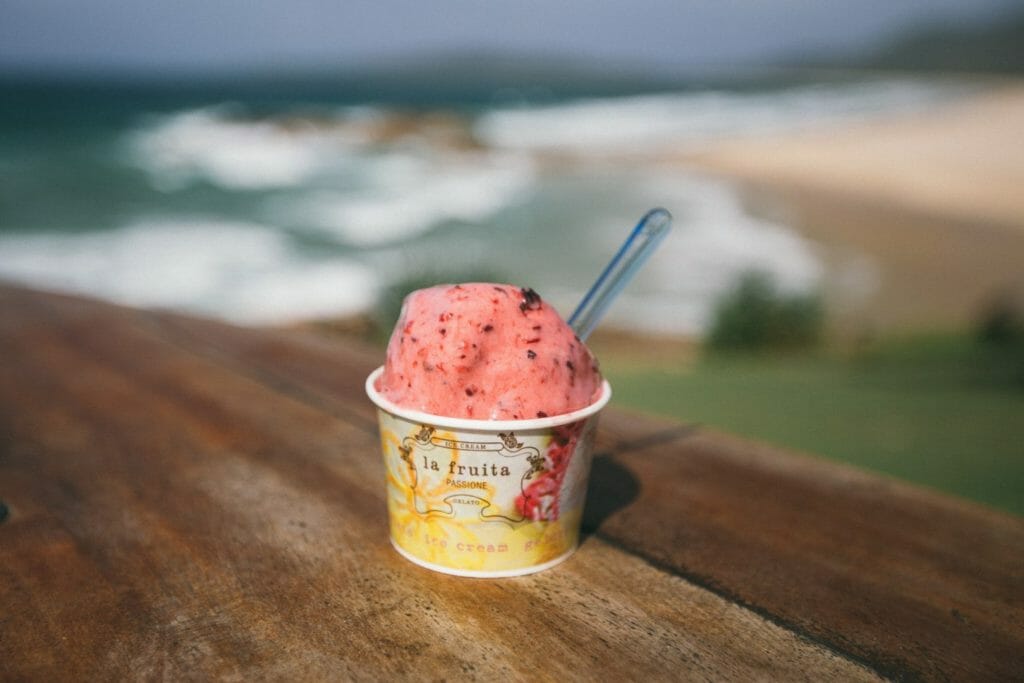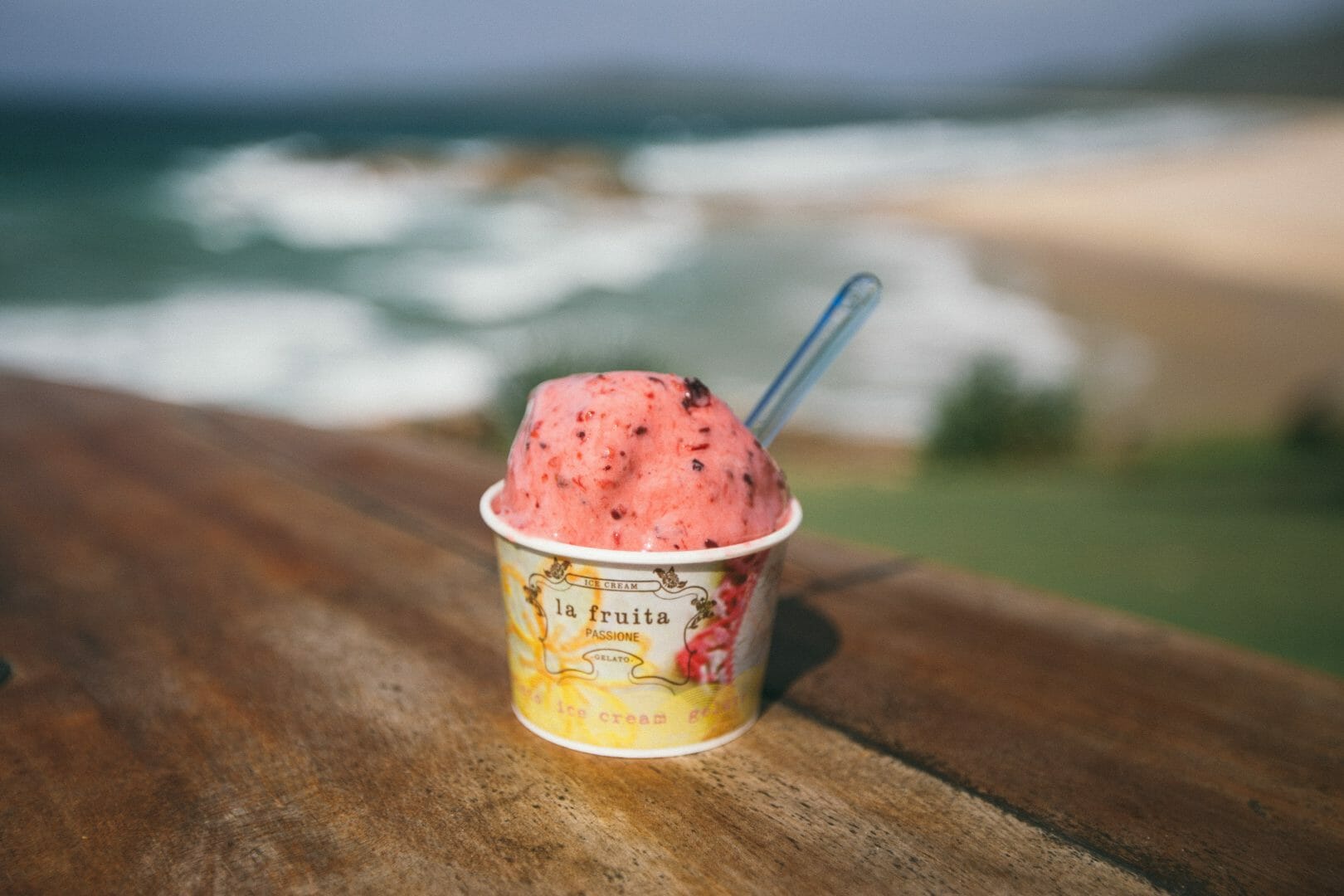 A scoop or two from Chillati Gelato kept everyone happy
Stoney Park Aqua Park
This aqua park is located in Telegraph Point- about 35 minutes from Crescent Head. We had Christmas gift vouchers to spend and the boys couldn't wait to launch themselves off the various inflatable structures. I had been to an aqua park before and remember being fairly ordinary at it and having to rely on my husband for help. This time, even with the 'easy' pull up handles, I was worse than I recalled!
I decided to leave my husband to jump, swing, dive and run with the kids and I think we were all happier with that decision. I didn't see too many other grown-ups on the course. Perhaps they'd had a better look at the website and words like 'strenuous', 'strength' 'stamina' and 'fitness'…Needless to say, my husband was utterly exhausted by the end of the session whilst the kids begged for another round.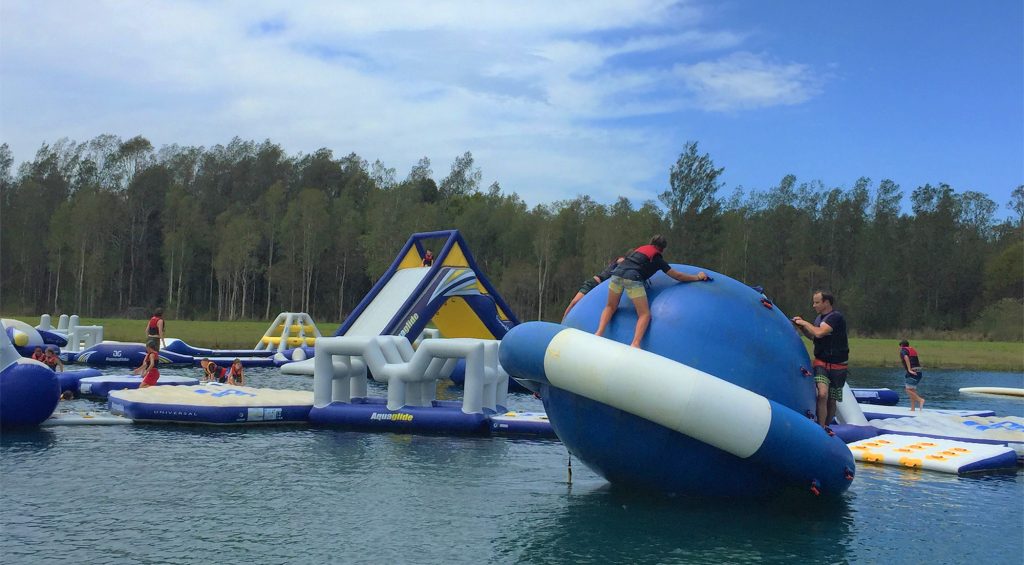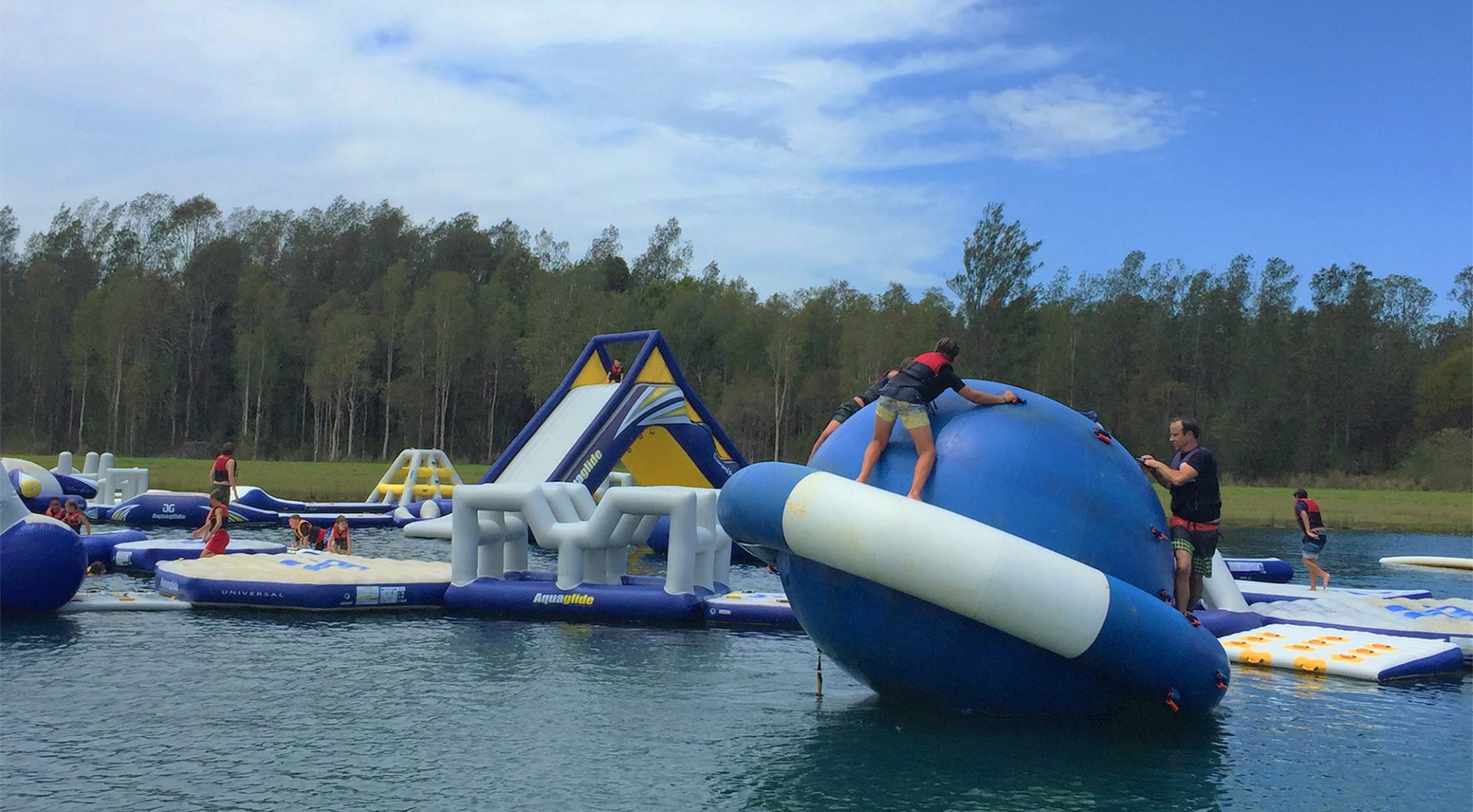 While I may not have lasted, my husband and kids couldn't get enough of the aqua park (that's them on the ball)
For foodies
We kept wining and dining to a minimum, opting to have most meals at home but you'll certainly find some delicious fare in Crescent Head.
Blackfish Café sure does a tasty brew and has a relaxed and welcoming vibe.
Point Break Café – When it comes to beach views, look no further than Point Break Café at the Surf Club. Chat to owner Mel and the team as you hoe into smashed avo with halloumi or enjoy a burger on brioche as you watch the waves roll in. My kids highly recommended the milkshakes.
Barnett's Bakery – This bakery is a long-established favourite (trading for five generations) and was consistently busy during our stay. Our boys would have happily snacked on something twice daily from the bakery if we'd let them. When we did grab lunch, our teenage son declared his Butter Chicken Pie the best pie he's ever tasted! Read customer reviews and check out the mouth-watering photos of bakery goodies on Trip Advisor.
There are lots of other great options for dining and we look forward to trying out Chanchitas, Lumah, Pandanus, CH Dining and more offerings on the foodie front when we return. Need more restaurant info? Read about the Top 10.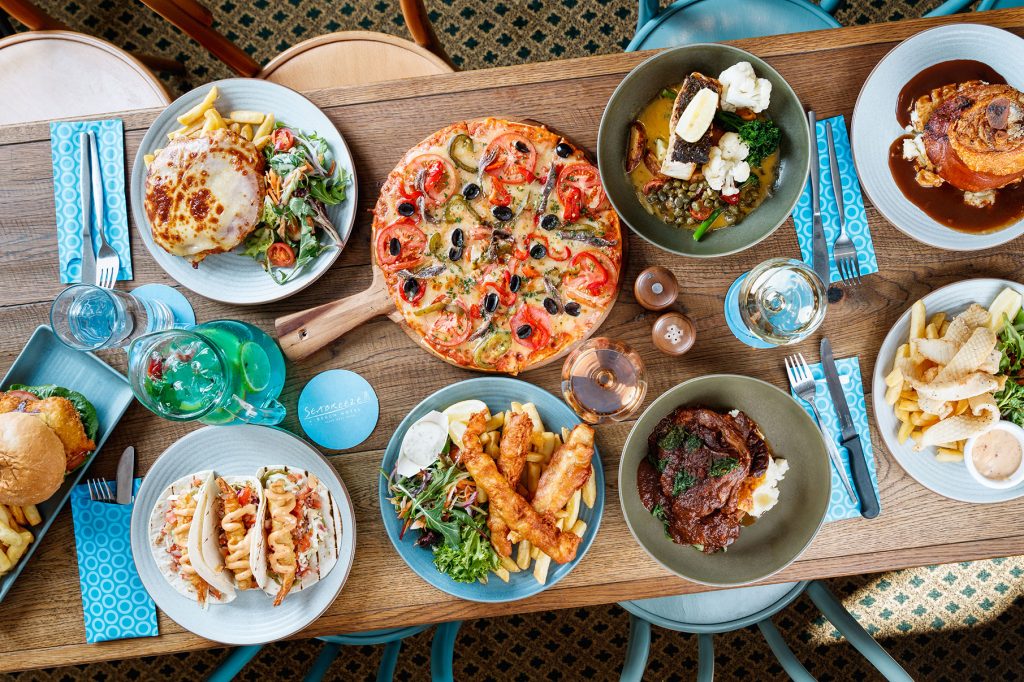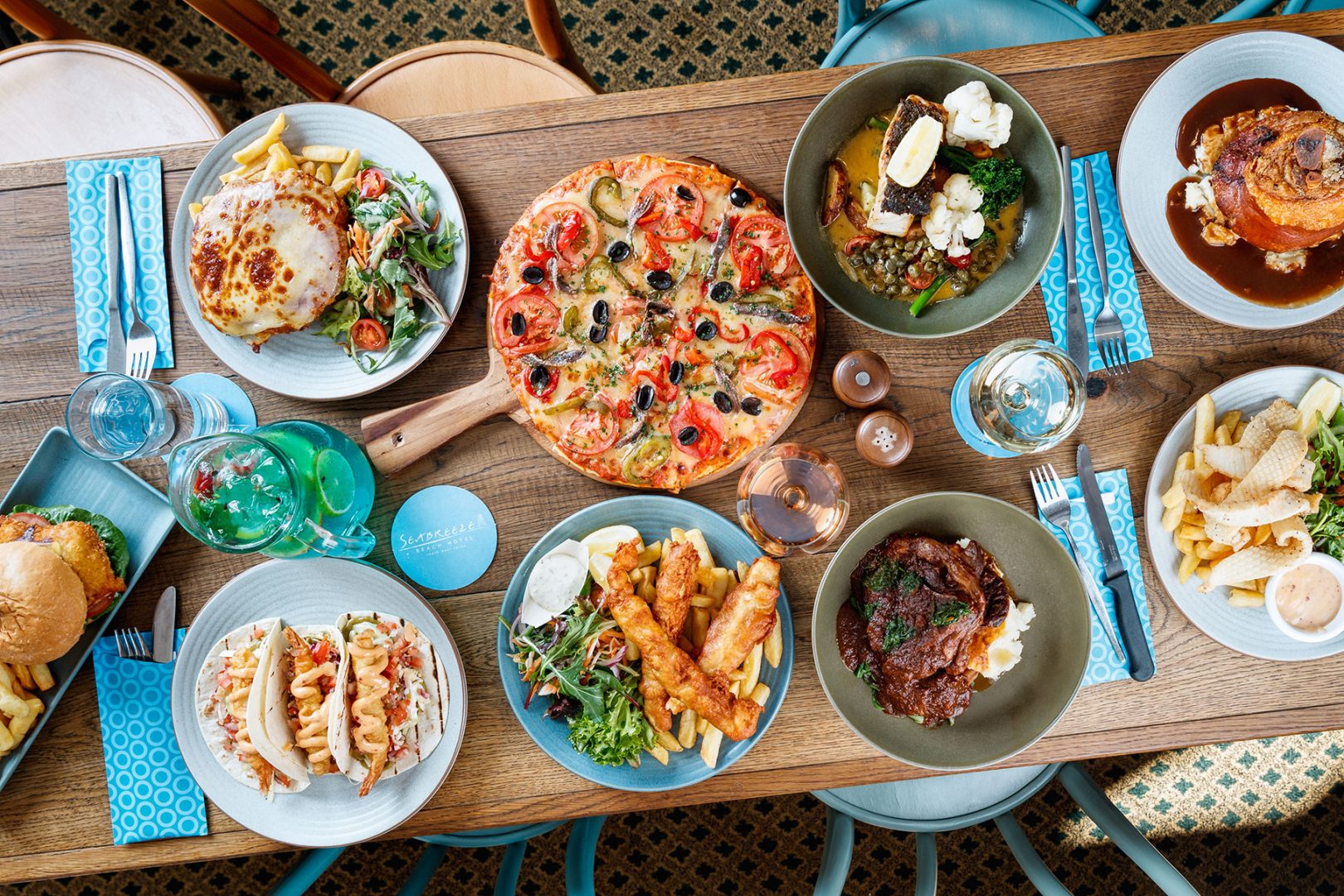 The Seabreeze Beach Hotel in South West Rocks is always a tasty and relaxed experience. Image by Steven Woodburn
Shopping
I pride myself on finding good buys wherever I go (and there is something lovely about having the time to browse when on holiday) and Crescent did not let me down.
The kids all got first time sunnies from the pharmacy, my son bought a big wide-brimmed surfy hat from the post office but I found my fix at Kahana and Moku in the main street – just a couple of doors up from the bakery. Kahana and Moku is the same designer and owner behind Mokea in Gladstone and has gorgeous clothing, jewellery, homewares and more. It was easy to find beautiful things here. This boutique opened last year.
Another lovely new addition to Crescent is Coastal Folk – just on your way out of town. Coastal Folk is offers a range of clothing (kids included), homewares and giftwares like cool surfing books and other delightful trinkets handpicked to reflect the coastal lifestyle.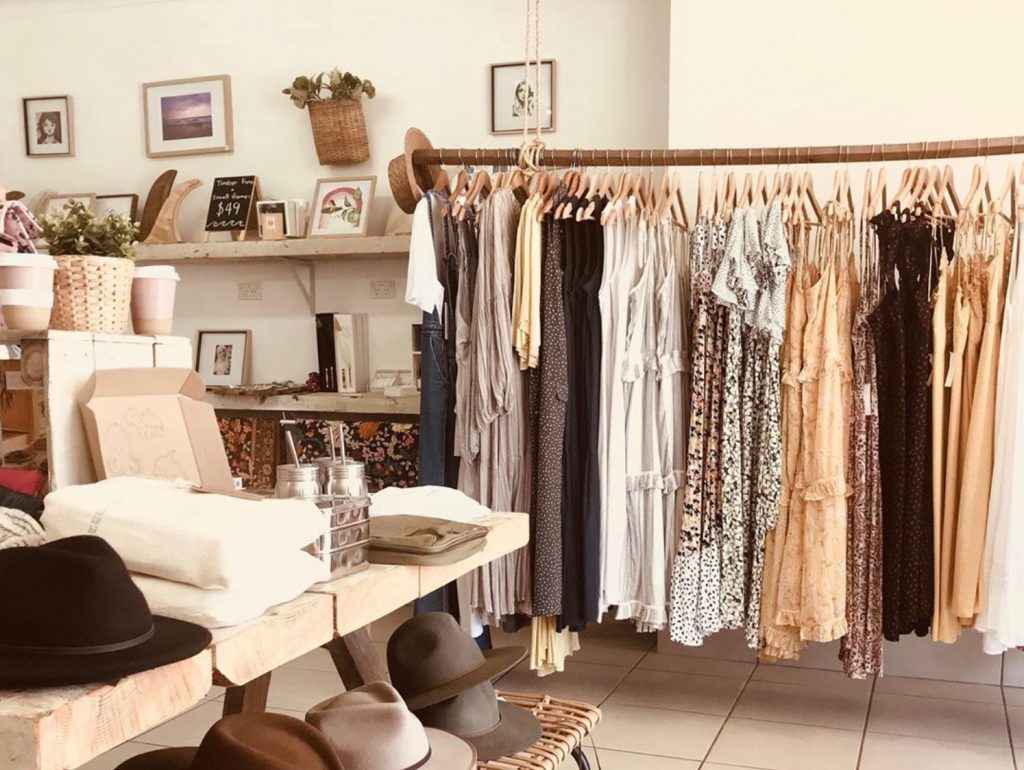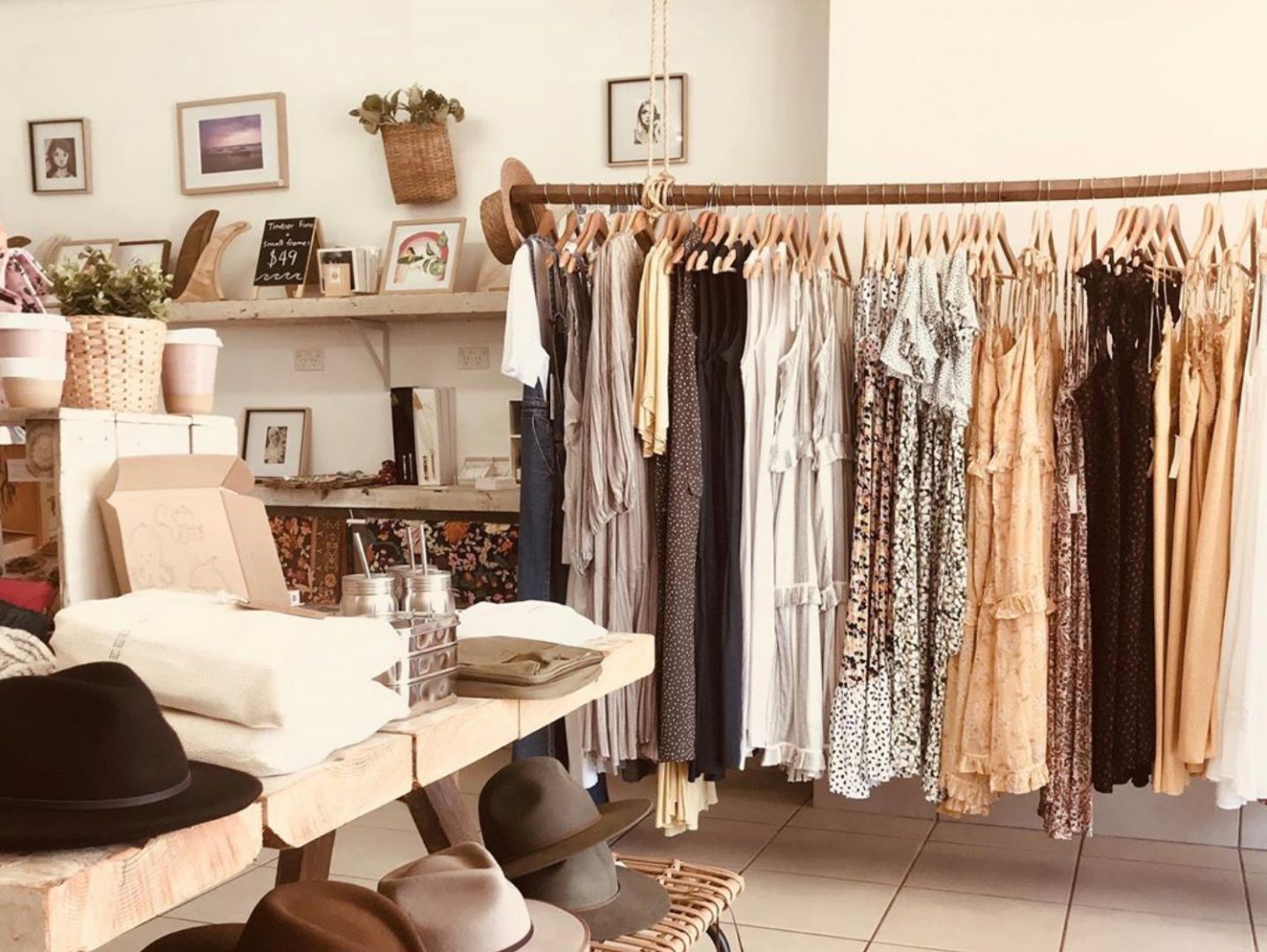 Coastal Folk is a lifestyle store owned and operated by a local Crescent Head family. Image courtesy of Coastal Folk
Accommodation
We booked a spacious holiday rental through one of the local real estates. It was a few minutes' drive out of town on an acre of two and came with a pool. The pool got plenty of use especially as we had a couple of windy days when the ocean was quite rough for swimming and surfing.
Plenty of travellers and holidaymakers head to this coastal village because of its renowned surf break but Crescent Head has a whole lot more to offer than its long right-hander off the point. Just don't tell anyone, people like it just as it is.
Coastbeat also spent a weekend in Crescent. Read more about our Big Wednesday stay. Keen to find out more about South West Rocks? See our Top 10 or spend a week there.