4D Thrills and Spills at the Big Banana Coffs Harbour
I recently learned just how noisy a group of boys (aged 8 to 12) can be in a small space when presented with countless thrills and spills on a huge screen before them.
To celebrate my son's 9th birthday I took six boys to experience the 4D Ride Simulator at the Big Banana and judging by the giggles throughout and the excited chatter in the car on the way home, this attraction was a big hit!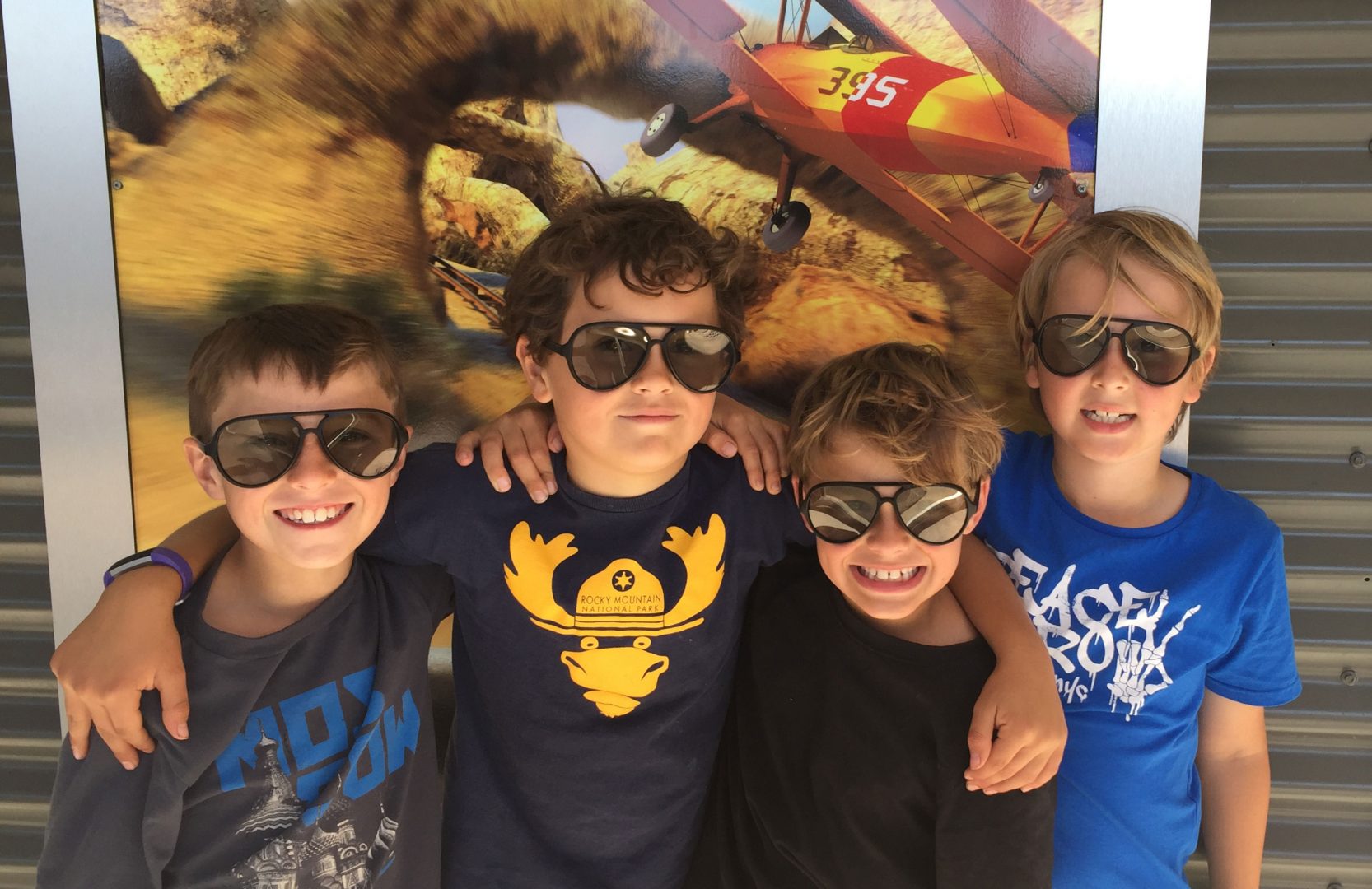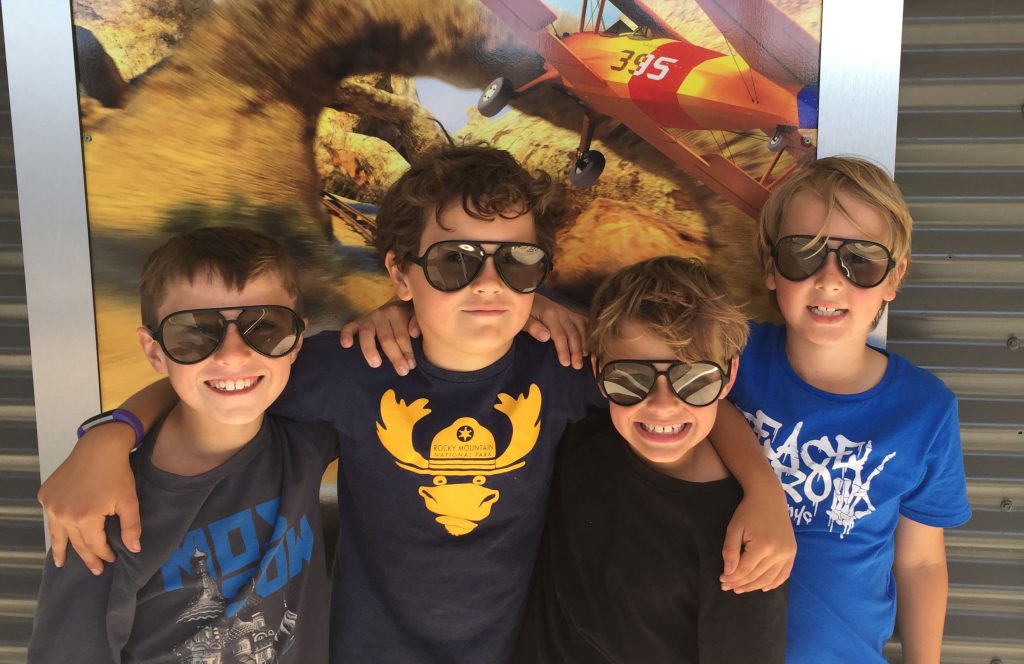 The glasses are on and the lads are set for their first 4D movie experience
Considering we're local it was surprising that we were all first timers to this 4D experience which was installed late last year and is the only one of its kind on the east coast of Australia. Some of our group had seen a 4D movie before at one of the theme parks on the Gold Coast but given that they're shown in a 300+ capacity theatre while we sat back in one with just eight seats, it really can't be compared. The Coffs Coast option certainly feels up-close and personal which accentuates the whole experience.
We saw all four films on offer and being a group of seven, had the cinema to ourselves each time. We were looked after beautifully by Big Banana staff member, Paris who surprised us with the movie selection (this also avoided any squabbling between the lads). All films have a running time of around five minutes and offer 'riders' something different as far as themes and storylines.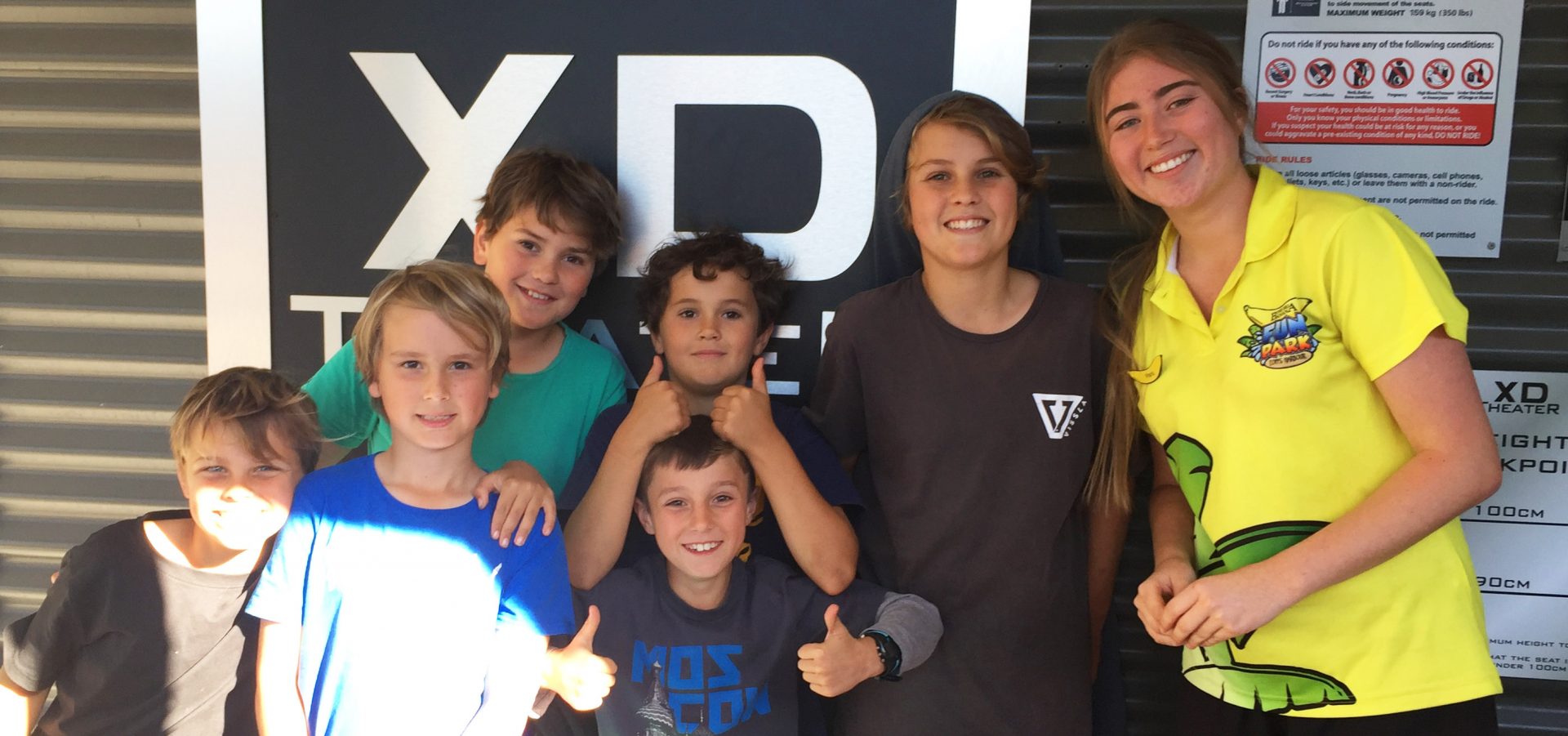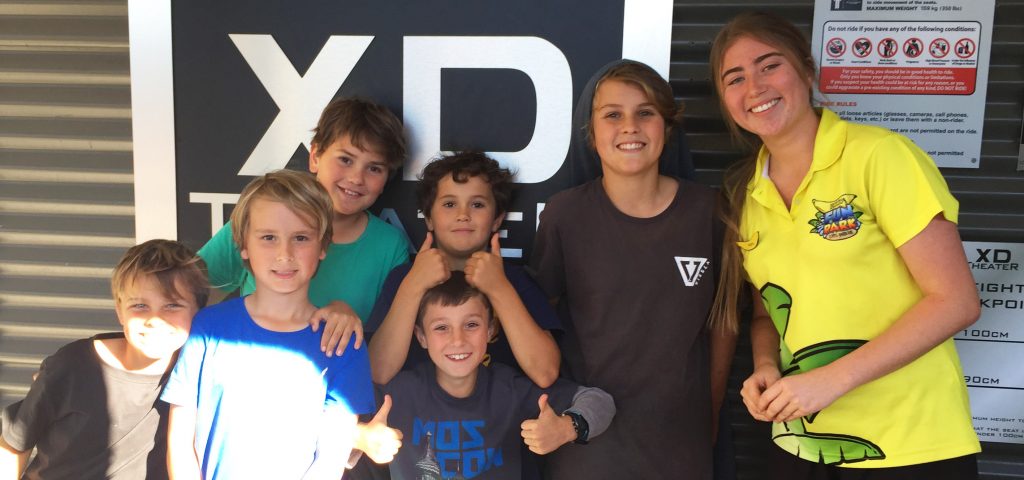 Big Banana staff member Paris looked after us all beautifully
After a quick intro, seatbelts were buckled up and we were set! We kicked off with Moon Thunder and for some of the boys, this was their pick of the bunch. As the title suggests, this movie has a space theme.
Did I mention that the seats move (holding onto the sides of the chairs also enhances the overall experience) and there's surround sound so you really do feel like you're blasting off in a spacecraft or tearing across the moonscape in a dune buggy.
Some of the boys were very sweet and held hands through some of the scarier bits in the different movies. One of the boys said to me as the first movie was underway, "I want my Mummy" but a big laugh immediately afterwards assured me that he was just fine.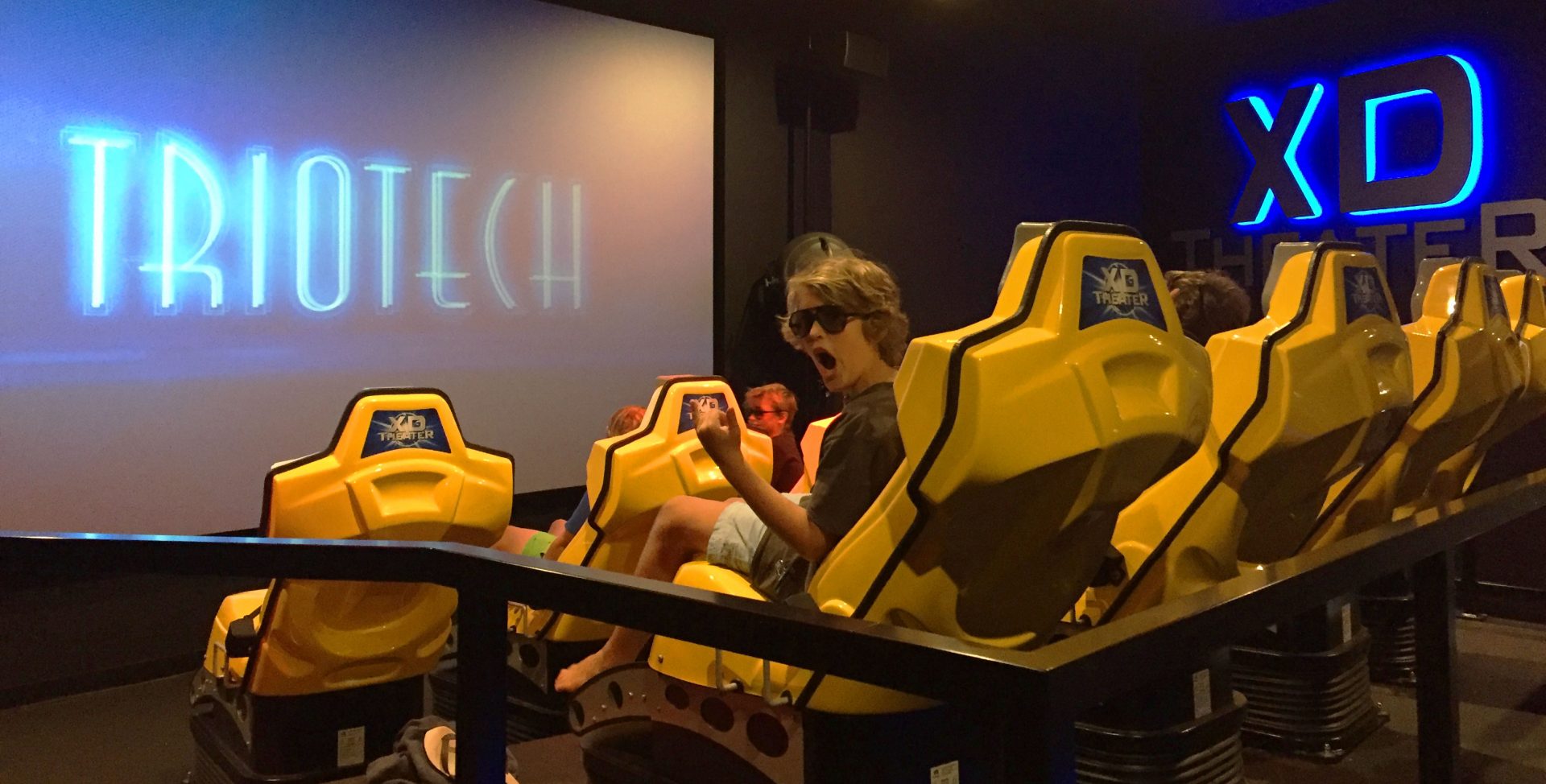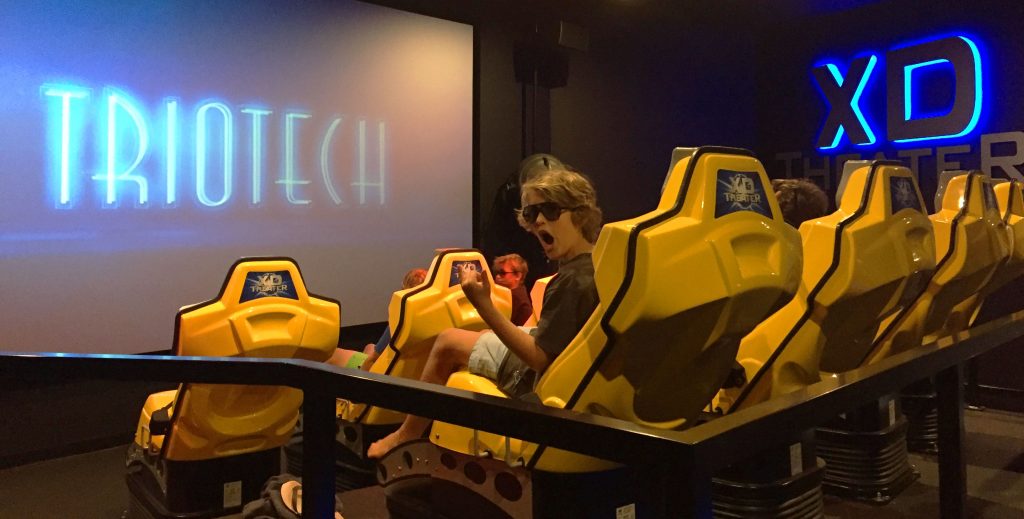 One of the boys excitedly awaits the next movie in the eight seater cinema
Canyon Coaster was next, and this was my favourite. I used to love rides – all of them – dodgems that gave you momentary whiplash, roller coasters that went the full loop and hung you upside down for several seconds….no worries at all but a family theme park trip north a few years ago proved to me that motherhood has definitely made me more chicken. I realised then that the fun bits were outweighed by feelings of pure terror and so, I think my rollercoaster days are behind me. Fortunately, I've found the next best thing. Without giving too much away, Canyon Coaster definitely delivers the sensations you know well from the zippy little open carriages hurtling along the track on the real rides but here, you can unbuckle anytime!
Dino Safari 2 was Paris's next choice and while the boys loved it, I expect some younger kids might find this one a bit scary. In this world, we found ourselves in an open-top vehicle chasing some bad guys trying to steal a dinosaur. We were in amongst many a mean dinosaur – some of whom tried to chomp our vehicle a few times too. This was action central!
Last in the line-up was the Wild West Mine Ride and it's fair to say, that this one delivered the most giggles. This western storyline feels a bit more old school with a mean-looking bag guy robbing a bank and a young cowboy (with touches of Woody about him) and his horse on the chase. When the good guys landed in cacti and were thrown high in the air with cactus thorns in their butts, the loudest laugh of the day was had by the birthday boy and his mates. It seems slapstick comedy never goes out of style.
All in all, it was a really fun attraction and the boys had a blast. Party goers were delivered safely home after a couple of hours with just a little more sugar in their systems and with huge smiles on their faces having experienced something new and different.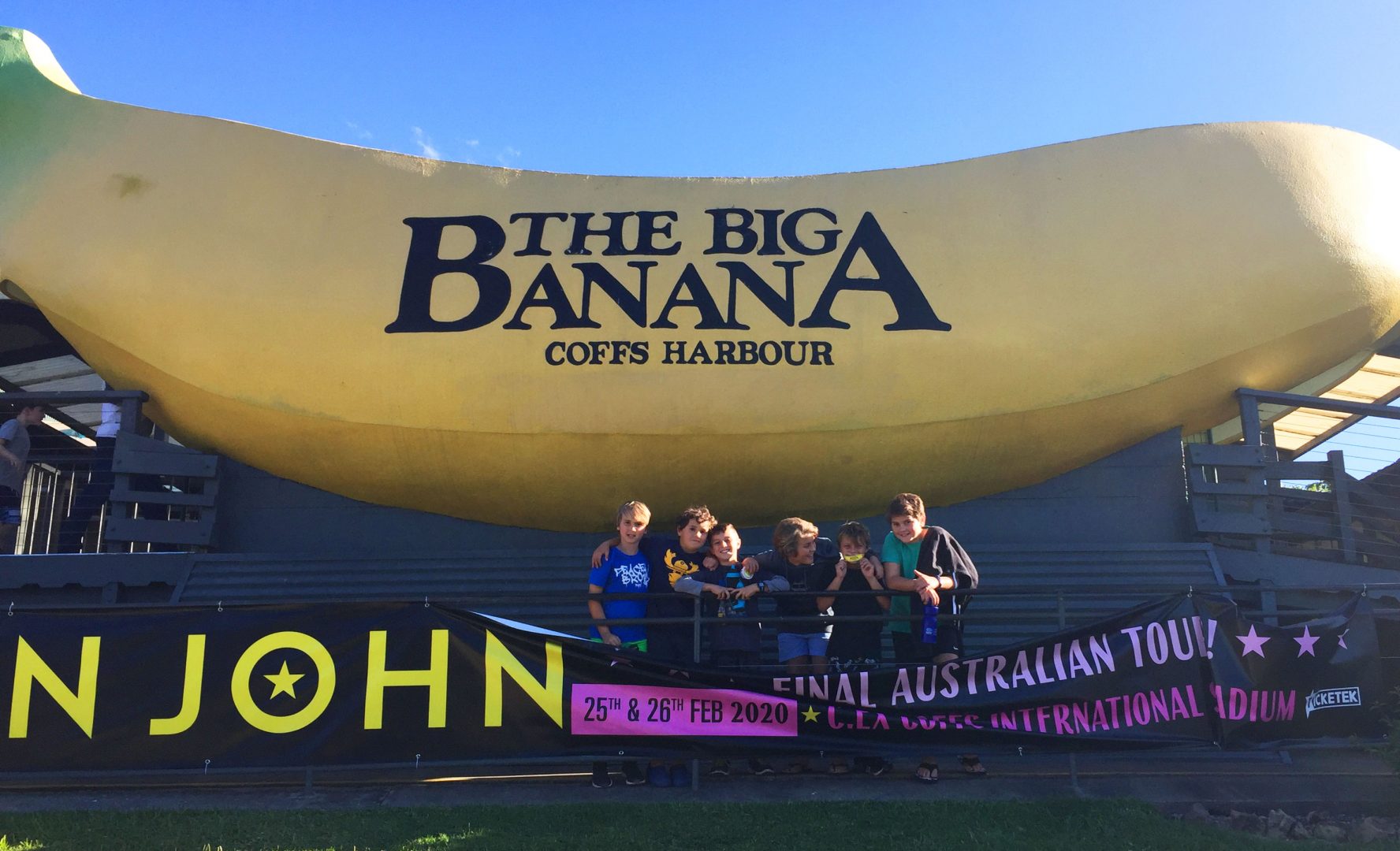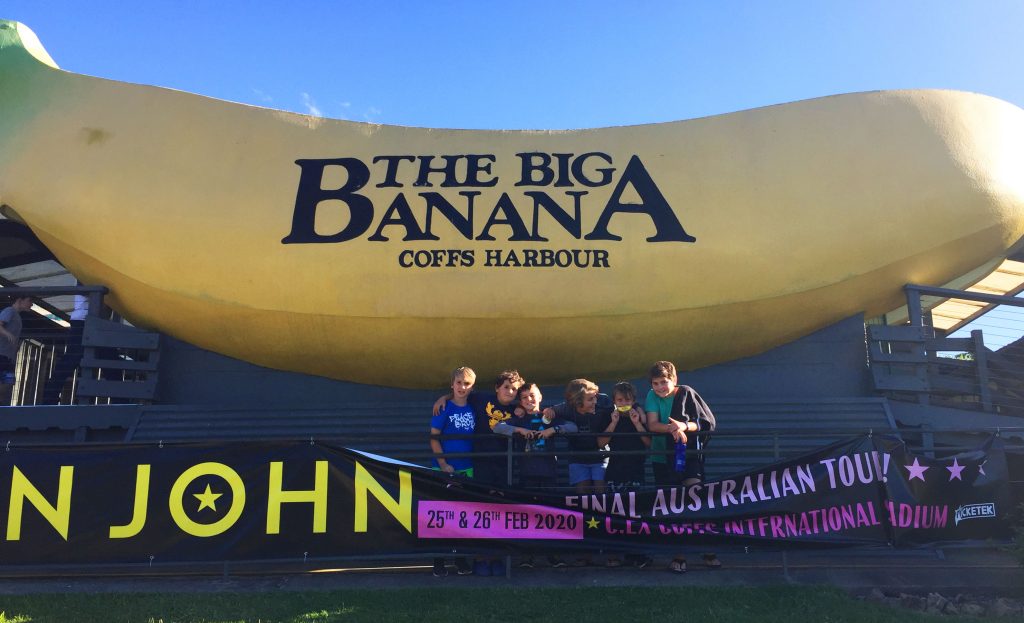 No visit is complete without a photo in front of the Aussie icon
The 4D Ride Simulator at the Big Banana Fun Park has four films to choose from. The virtual reality experience can be enjoyed by everyone from littlies (over 90cm in height) to grown-ups. For prices and opening hours, the Big Banana website has all the info you need.