2021 Jacaranda Festival to Go Ahead
A COVID-safe Grafton 2021 Jacaranda Festival will go ahead next month. This continues the Festival's 87-year tradition while recognising some events are not possible due to the pandemic. The Festival will still take place from Friday October 29 through to Sunday November 7 with many of the regular highlights.
Keeping Traditions Alive
Festival Manager Mark Blackadder says the Committee has been working hard to work out what's possible while the lockdown exit strategy is still evolving.
"We've had to straddle the need to continue the Festival and provide arts and entertainment for the community," he explains. "All while recognising some of the things we want to do just aren't possible."
"I think what we've come up with achieves this and keeps the extremely important tradition of the Festival very much alive."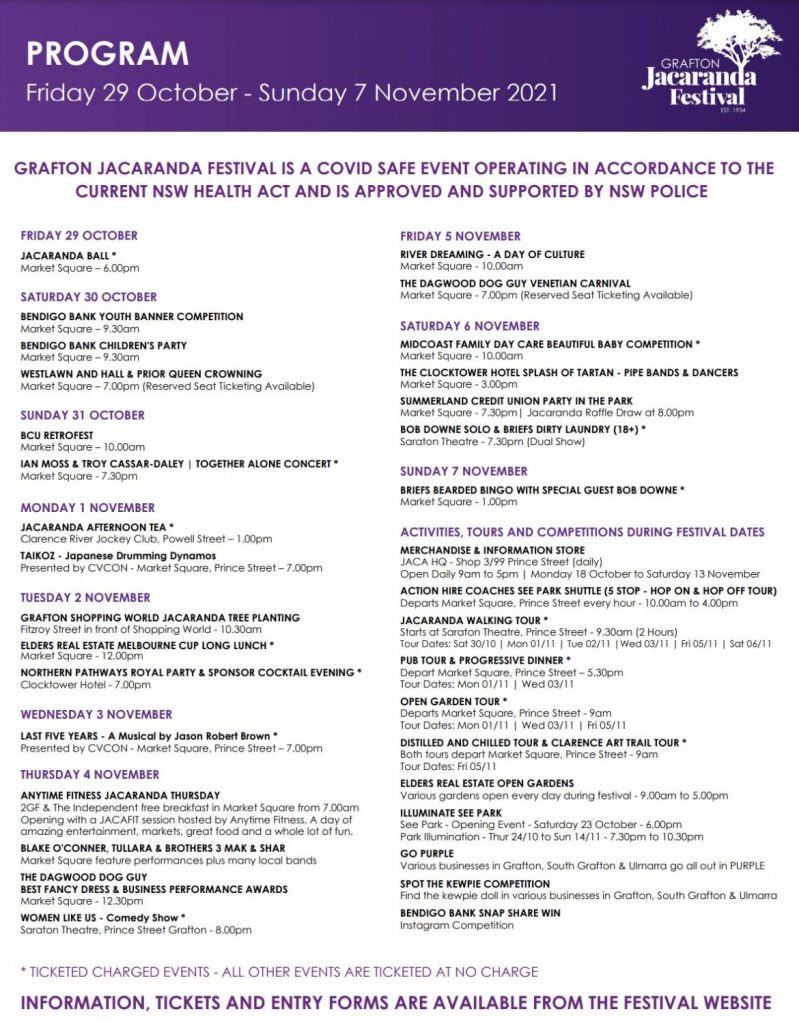 COVID-Safe Events
Most of the events will be held at a specially designed outdoor facility in Market Square. It has the capacity for up to 2000 people and allows for social distancing. The park will be fully-fenced with designated entry points with QR code scanning.  Sanitiser stands will also be accessible. The Saraton Theatre and See Park will also be used for ticketed festival events.
Chief Inspector Joanne Reid is Officer in Charge of Grafton Police Station – Coffs/Clarence Police District. She's confident the plans in place will provide for a safe and compliant festival.
"NSW Police has reviewed the festival's event plan and the designation of Market Square as a major recreation facility within the definition of the Public Health Orders and support the event," she says.
The Float Procession and the RiverRun won't be included this year. But many favourites will go ahead and new ones added.
The Grafton Jacaranda Festival is the oldest floral festival in Australia and its broad appeal has cemented it as a must-do calendar event.
Follow the Jacaranda Festival on Instagram and buy tickets here.