"Waves and clouds over black rocks…"
Adorning the water's edge and taking in an exceptional vista of Forster, seamless and spacious areas combine with clean lines to make this home an architectural masterpiece.
You know what they say about 'location, location, location' and when your home is in an incredible spot like this, you're certainly onto a winner.
"The building had to be worthy of its very special space," says the architect responsible for the bold design, Taree based, Dylan Wood.
Home-owners Tania and Dale wanted to give the building a new and modern 'skin' – something contemporary that would maximise their gorgeous ocean views whilst also dealing with their privacy concerns. Unit blocks on both sides of the property certainly meant Dylan had his work cut out for him.
With the home now complete, everyone reflects on what has been a wonderful and harmonious process. Tania admits to feeling quite sad when it all came to an end – sentiments rarely expressed by anyone at the end of a long building process!
And now, thanks to Dylan and builder, Joss McNamara, the family (Tania and Dale have a teenage daughter, Cassidy) are enjoying their beautiful home and Coastbeat was lucky enough to have a little sticky beak…
Entering the kitchen and living space, you can't help but be blown away. The living room is graced with floor to ceiling windows, making the ocean feel so close you could almost touch it. The kitchen is chic and minimalistic, lending to the creation of a lightweight space.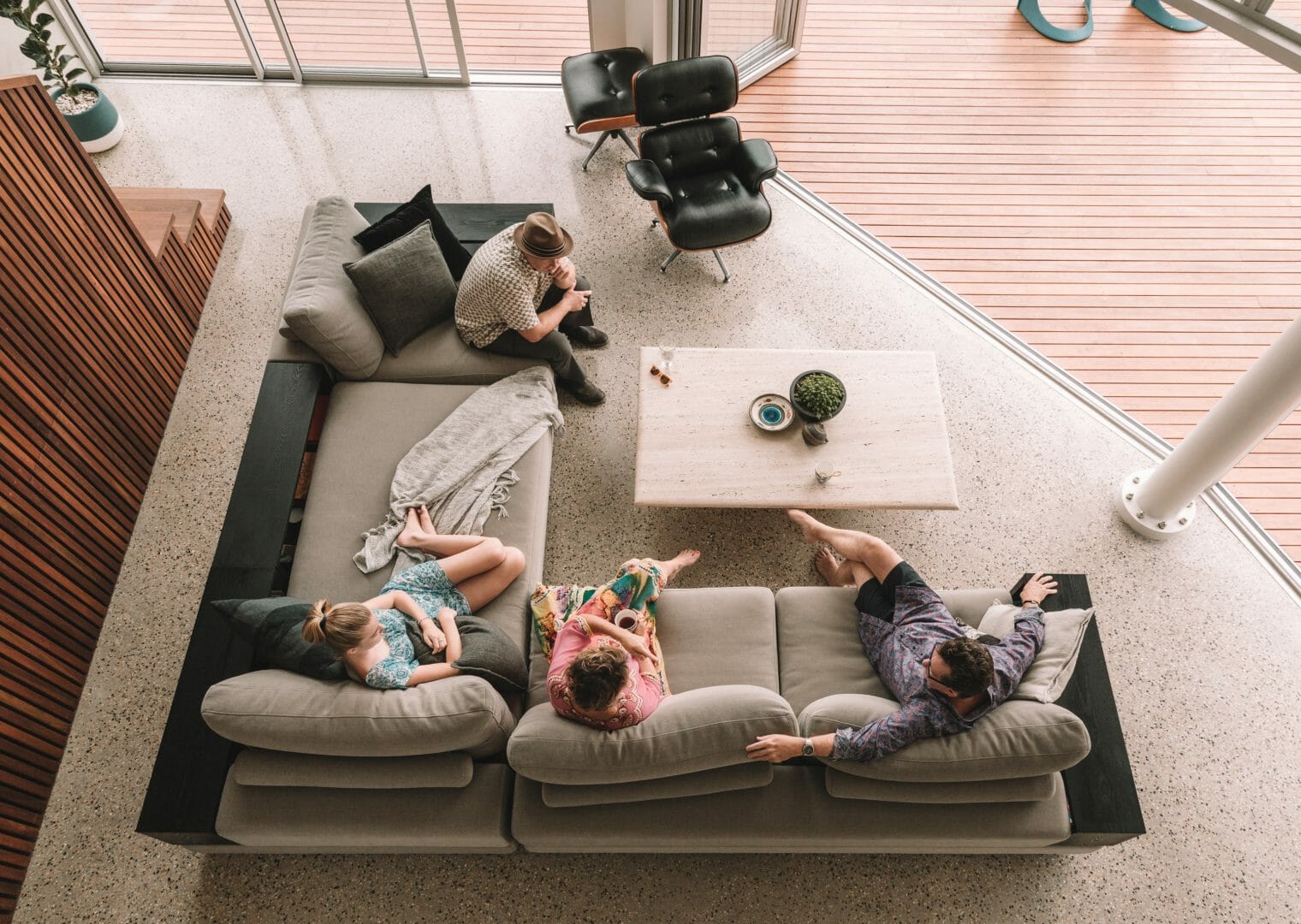 "The building is both urban and coastal – disparate elements blending together in the one space which is fascinating. It's a lightweight, ephemeral form suspended over a defensive masonry platform. Waves and clouds over black rocks," says Dylan.
The visual impact of the home is certainly enhanced by the choice of materials. Dylan opted for a lot of masonry for the structure – polished concrete slabs, dark bricks and honed concrete blocks. Tallowwood decking, spotted gum joinery and timber slats completed the look.
The upper level is surrounded by a translucent fibreglass screen suspended from the building, providing shade and privacy.
"I always preference materials that age well and require minimal maintenance," says Dylan.
There is no shortage of places to relax in this three-bedroom sanctuary, with two open living spaces, an expansive timber deck overlooking the ocean and a beautiful private backyard complete with masterful decking and an enviable lawn.
Everyone worked well together from start to finish. According to Dylan, "the building team had a 'we'll make it happen' attitude throughout the project which made the whole process a pleasure."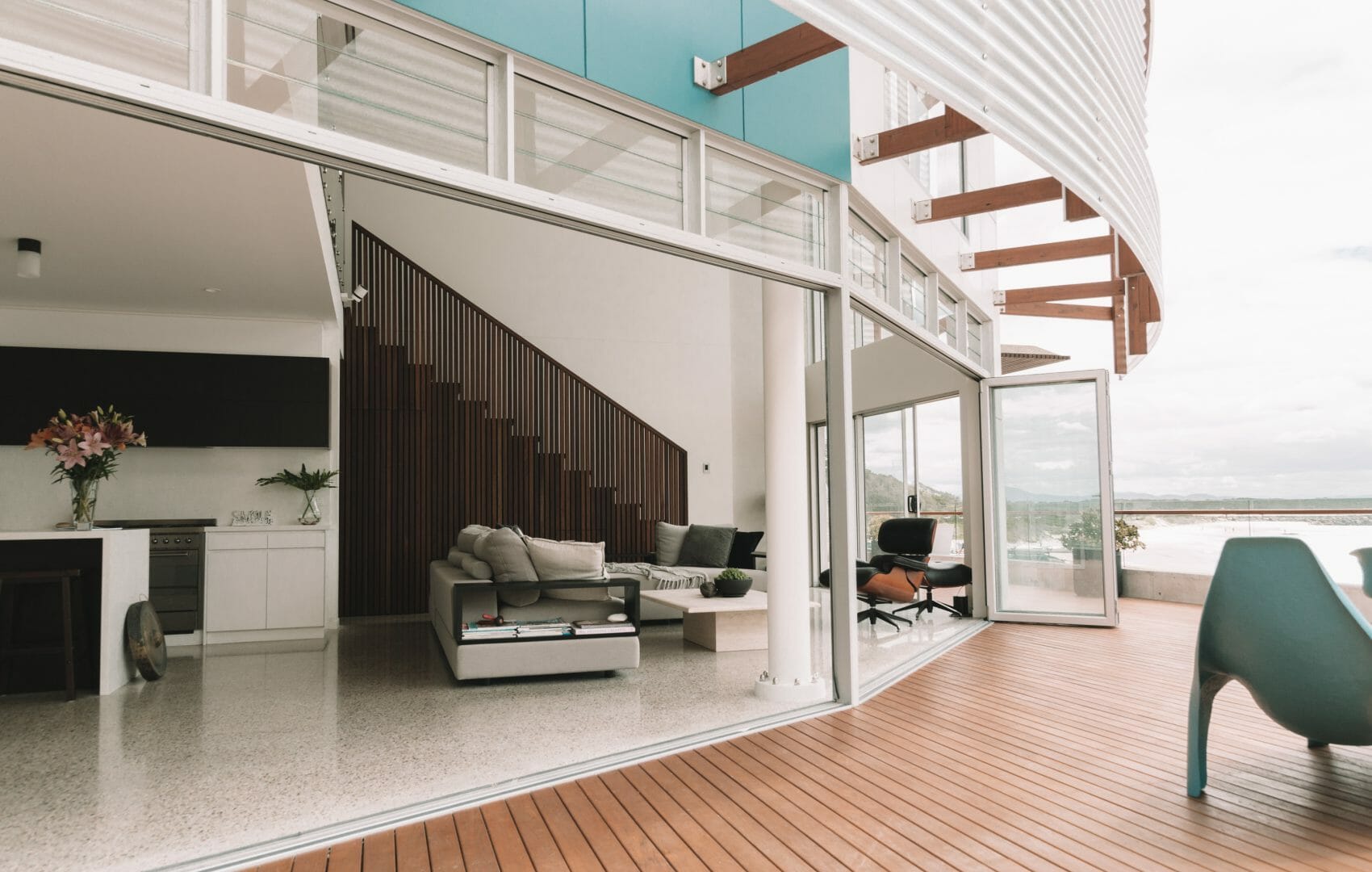 One integral part of the team was builder, Joss McNamara and Tania cannot sing his praises highly enough. "The carpentry in exceptional thanks to Joss's amazing attention to detail. Some of the features he was responsible for, such as the beautiful timber staircase have become some of our favourite in the house."
Working with Tania and Dale was a unique experience for Dylan. "This project was really inventive and interesting – a private house surrounded by units is not what you are supposed to do. I particularly liked the contrarian nature of the project."
The architect was also pleased to be creating a home that, in addition to being a really positive contribution to Forster, was for a local family who would be living there permanently.
Fortunately for Dylan, Tania and Dale supported his design from the moment they saw it, despite its unconventional appearance. Dylan admits that it was an ambitious project that took a bit of courage from everyone involved to see it through to its completion.
While a little unusual and unorthodox in its design, this home is very much suited to Dylan's style. "Each project presents a unique set of circumstances and challenges; however, I do have particular obsessions that I return to on a regular basis – natural, unfinished materials that age gracefully, computer cut slot-together plywood and camphor laurel slabs. One of the most unique things about my practice of architecture is that I often make furniture and joinery myself and have a very strong grasp of the technical aspects of making things which I like to incorporate into a build."
And so, what's the feedback on the finished product from the architect's perspective and more importantly, how do the home-owners feel now that the project has come to an end?
Dylan believes that something "refined, elegant and properly celebratory of its place," has been created. Tania and Dale couldn't agree more. "We're ecstatic and just love living here. While it's right on the beach with a café underneath, there is a lot going on, but it's still a very private place. We love the open, light and airy spaces. It's our dream home."
A little more about Dylan Wood
Dylan has recently completed 3 x three-storey timber and concrete tower dwellings which explore the middle ground between single dwellings and unit development. They are located at 113 Albert Street in Taree.
The goal for this project was to create housing that was small and space efficient but still comfortable enough for long-term living. Dylan has other projects ranging from minor to major alterations and additions to new dwellings, units, apartment buildings and even a small eco-tourism resort.
Dylan is best reached by email at architects@dylanwood.com.au
Accommodation
Beneath this gorgeous home and located on ground level are 3 x 2-bedroom apartments available for guest accommodation.
To enquire, call 6554 6587