From the Sky to the Sea, Amy Smith's Ossix Swimwear
Discover the success story behind eco swimwear line Ossix.
Many people dream of leaving their dependable day job to go after the one thing they're passionate about, but few actually make it happen. Port Macquarie designer, Amy Smith tells Coastbeat that with a little help from her friends and a lot of hard work, her eco swimwear dreams are becoming a reality.
Late on a Friday night when most people have either gone to bed or are still out partying, you'll find 37-year-old Amy in her garage, sewing the swimmers we'll be wearing this summer. She turns down invitations to the pub, hasn't been to the beach in months and moved back in with her mum in an effort to devote as much time and money as possible to her swimwear label, Ossix (a play on the year 2006, when she began tossing around label names with friends).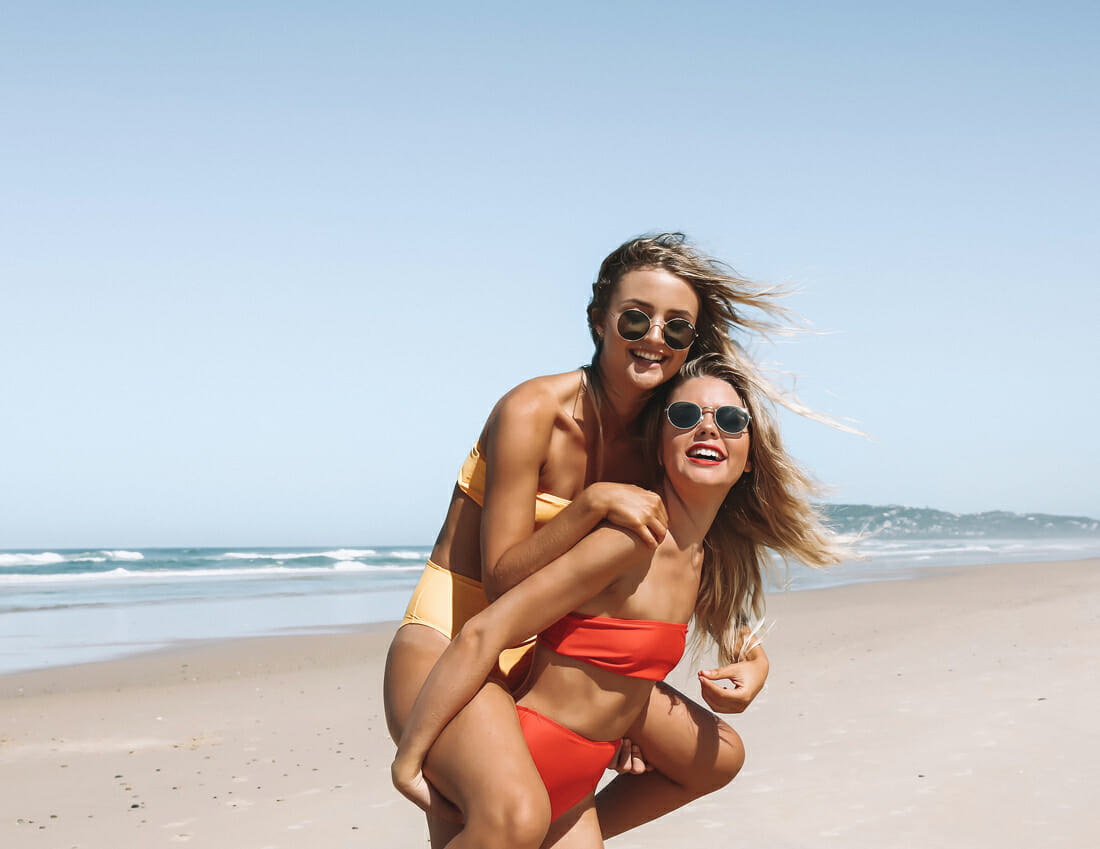 Image Courtesy of TDK Creative
"I think that's what it takes when you're just one person trying to get things off the ground," Amy says. "I've had to say no to so many social events and friends definitely question my approach, but this is the route I want to take and it's already paying off."
The fashion industry is notoriously fickle with many labels popping up and disappearing within a season or two. Customers are becoming more discerning and want to know who's behind the garments they're folding into their reusable canvas shopping bags.
Amy admits that it would be much easier and cheaper to outsource her manufacturing but says ethical and sustainable practices are her priority. "I'm not interested in mass production or fast fashion," she says. "I love the fact that I can look at each swimsuit and say, 'I made that!'".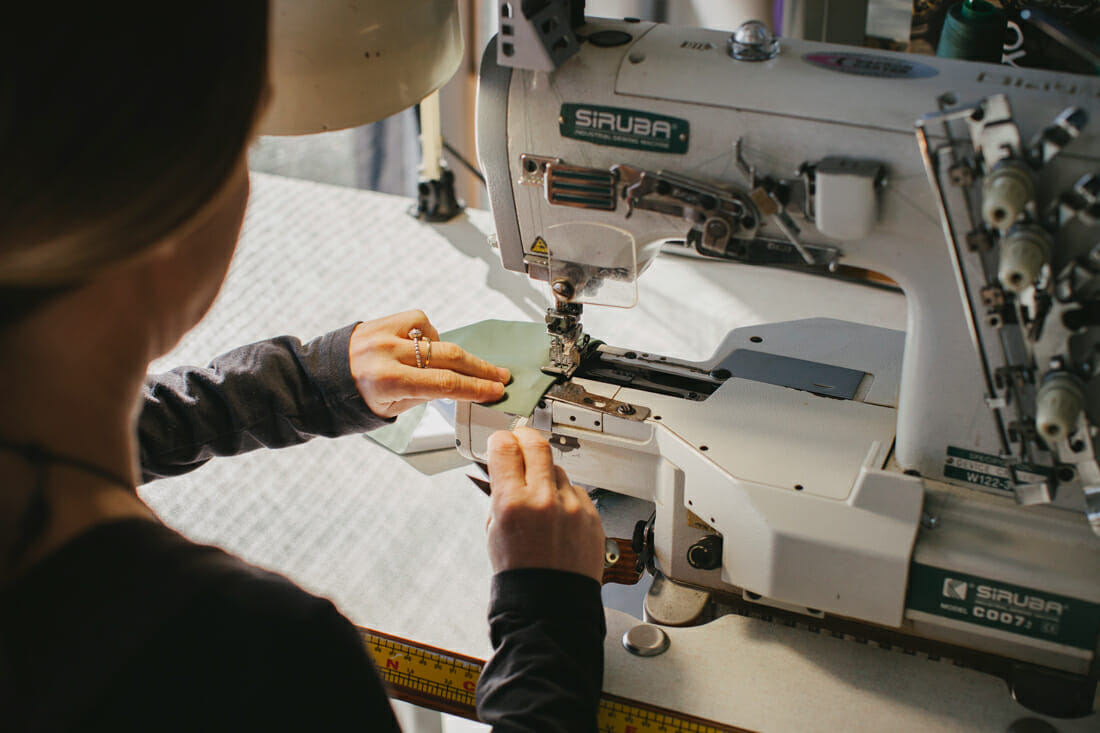 Amy at work on her sewing machine
Designing, producing and selling locally is a commendable approach but Amy has chosen to make an even greater effort to reduce consumption and her carbon footprint. "I use an Italian fabric that contains a material called Econyl," she explains. "It's made from regenerated fishing nets and industrial plastic."
While it can cost her up to three times the price of regular swimwear fabric, Amy has been won over by the combination of high quality and green credentials. Faced with a sea of choice, she hopes her customers will get behind a brand with a conscience.
Ossix has been in full-time operation for almost three years but Amy's journey to this point began much earlier. After finishing high school, Amy tried to enrol in a graphic art course at TAFE but was told it wasn't on offer that year. She put her name down for fashion design instead. Initially, Amy thought fashion was "a bit prissy" but ended up loving the course and winning various awards. She worked in retail in Sydney before resettling in Port Macquarie and taking up a job as Guest Services Supervisor with Virgin Australia.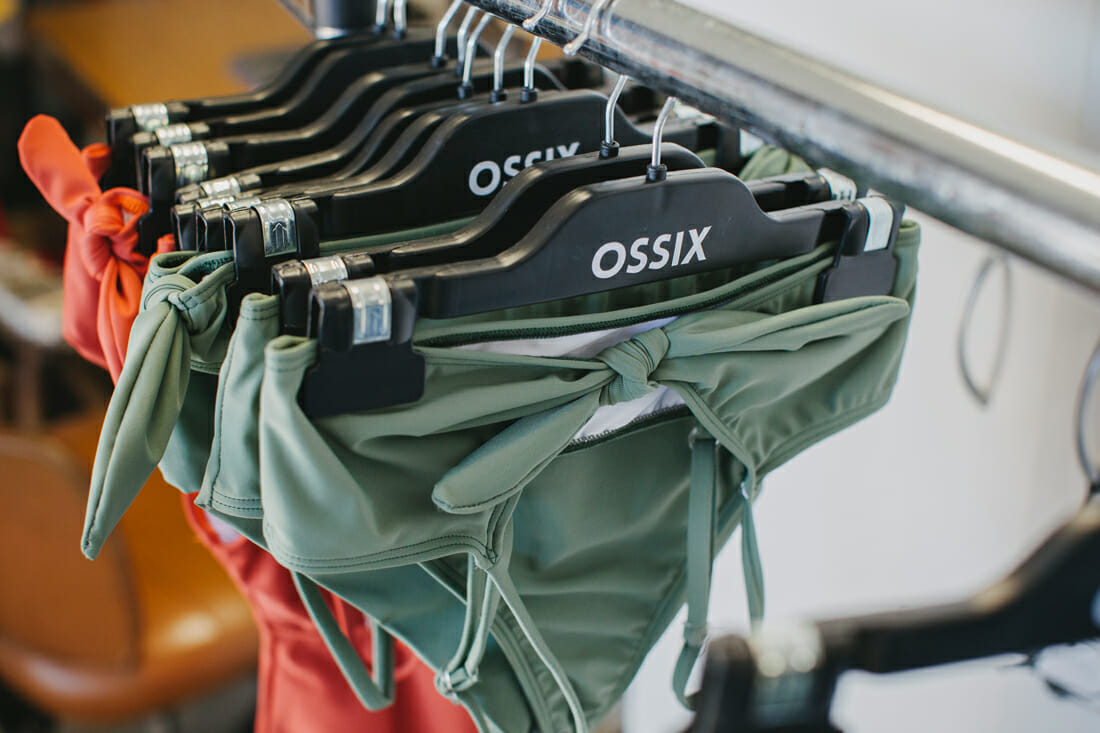 Ossix bikinis on the rack
Amy lived the life of a high flyer for seven years and had a lot of fun but the idea of starting a swimwear label was never far from her mind. Leaving a respectable, well-paying job would be a tough – perhaps impossible – call for most but Amy felt the decision was clear. "It was definitely the right time," she says. "Fashion was my passion and doors just started opening for me to pursue it again."
She found a casual job at a surf shop and threw herself into the Bachelor of Business she'd started while working with Virgin. Amy did one of her university work placements with performance sportswear and uniform manufacturers Soft Edges in Port Macquarie. "David and Diane from Soft Edges really took me under their wing and let me do all of the sewing for my very first little collection," she says. "They recently retired, and I bought four of their sewing machines and inherited quite a few patterns."

Image Courtesy of TDK Creative
While clearly possessing the tenacity and drive to make Ossix work, Amy feels very lucky to have such a strong and supportive local network. "Anthony Wilson, owner of Saltwater Wine Surf Centres and Stormriders is one of my biggest inspirations," she says. "I work with the best people – they're so smart and know the industry well." She adds, "I've also collaborated with some awesome local artists
and my studio used to be in with Simon Luke's (Director of Port Macquarie's Festival of the Sun) storage space. It was a privilege being able to spend time with him."
As the weather warms up, why not head out and pick up a pair of locally made, ethically sourced swimmers. Amy Smith, hard at work on the sewing machine, will thank you. The earth will be pretty pleased, too!
For more information go to www.ossixswimwear.com or follow Amy on Instagram @ossixswim
Ossix swimwear is stocked at Stormriders Port Central, Stockland Forster and Kempsey Central as well as in Sublime & Blossom in Port Macquarie.