Carly Shanahan – Rising Surf Star
It was a beautiful morning in Wooli the day Carly Shanahan caught her first wave. Just six years old, a tiny thing out in the deep blue of her family's favourite break but even then, she says, she knew that surfing was going to be her life.
We all had dreams like that when we were kids. A poll cast among the Coastbeat team garnered one Olympic swimmer, two movie stars and a fireman…sigh, so predictable. But fast forward eight years in Carly Shanahan's life and it's a very different outcome: she has just won another NSW North Coast Regional title and has her sparkling blue, somewhat mischievous eyes set on the July State Finals, a competition she has aced for two years running.
"My age-group is Under 16 and the standard is high, so I feel pretty happy to be qualifying for State: I've made the state team for the last two years," says Carly.
She also has her sights set on the Pro Junior competition which prepares younger surfers for the WSL Championship Tour. This year, Carly made the semi-finals in one Pro Junior event and the quarter finals in another.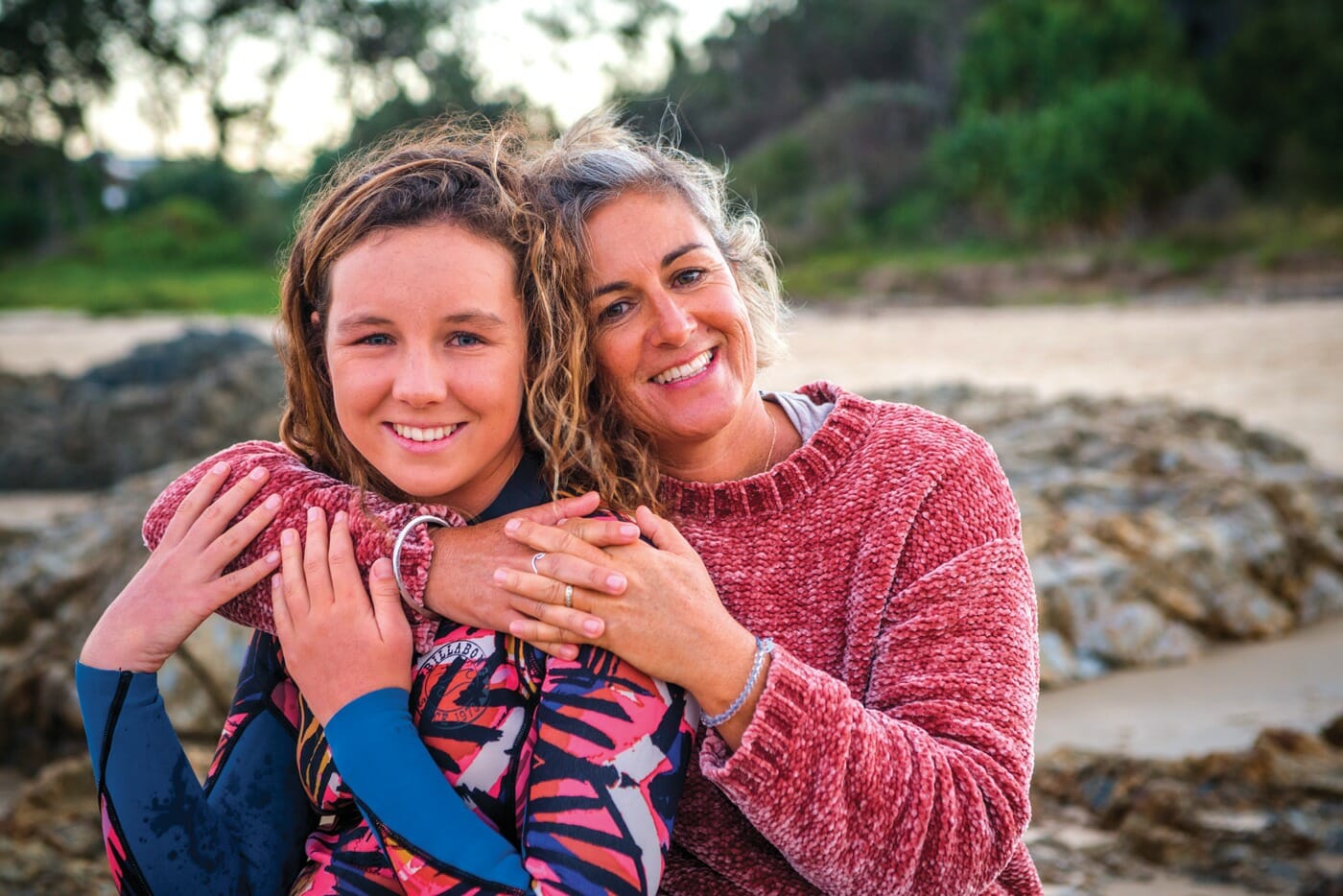 Carly with her mum, Mel by Brendan Ray
"I'm pretty positive about this year: it's great experience for next year when I feel I'll be in with a chance," she says.
Apart from the thrill of success, this is important for sponsorship. As Carly spends every weekend away at a surf competition somewhere in Australia, sponsorship is really important to help towards the expenses that this entails. Carly is sponsored by Billabong, BCU and Zombie Treads and her boards are shaped by Shaun Cansdell. Credit to them all for supporting such a young female surfer.
Support is one of the elements that sets dreamers apart from doers. When I compliment Carly on her success, she is quick to point out that she could not have succeeded without the support of her mother Mel, father Kevin and her three siblings.
"I couldn't do it without them," she says. "But they don't think of me as a champion surfer when there are dishes to be done!"
The whole family surf and her father was her first coach. As well as surfing before school every morning, Kevin augmented Carly's technique with training on a skateboard. Kevin still works with her, alongside trainer Lee Winkler and fitness trainer Brett Caller.
Carly's day starts at 6am with strength and fitness training at her home gym. Then a surf until lunchtime. After lunch it's time for schoolwork and then back to the beach for an afternoon surf.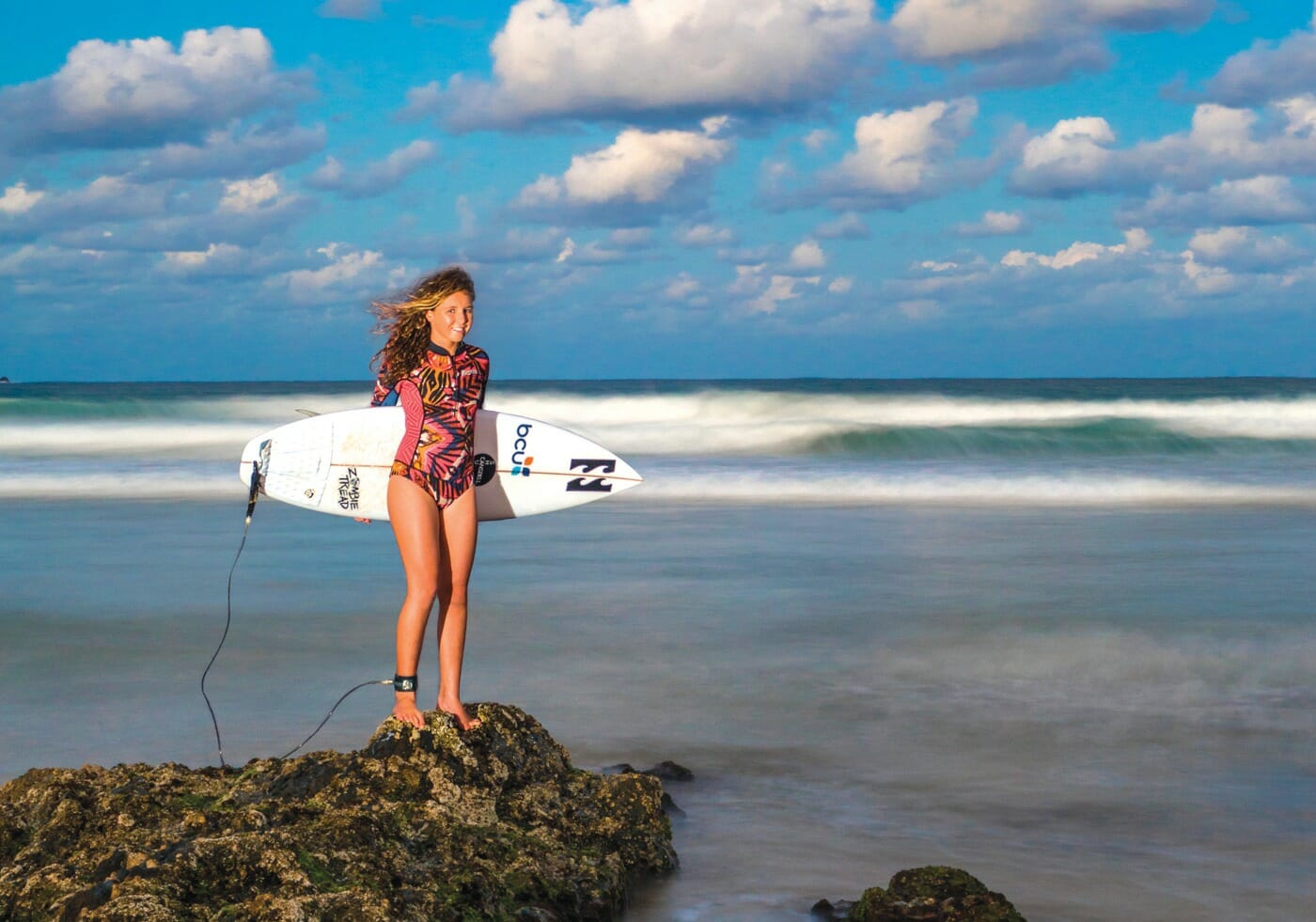 Photograph by Brendan Ray
She is aiming for the World Surf League Championship Tour, starting with the Pro-Junior and she is well on her way. In 2017, Carly qualified for three Pro Junior events out of the five on offer and had one semi-final finish, again, as the youngest surfer in the water.
Carly interrupts my questions at this point to make sure I note down the "massive support" she receives from the Coffs Harbour Board Riders. And her grandparents, who are very important to her.
"I look after all my own social media, mostly because my grandparents follow me, and they like to know what I'm up to," she says, laughing.
The conversation segues naturally to role models and heroes.
"Oh, there are so many great female surfers," Carly says. "Sally Fitzgibbons, Tyler Wright, Stephanie Gilmore, Layne Beachley, Wendy Botha and Felicity Palmateer. There's a lot of respect for women on the circuit. In the last five years the gender gap has been closing fast."
I asked her about the reaction she gets outside competitions from regular surfers when they see a young girl lining up out the back.
"I don't let them intimidate me but sometimes you have to be assertive. After they see that I know what I'm doing they treat me like anyone else. Every break is different and often it's not sexism, it's just a really crowded break! I train with some elite male surfers and they know that the girls surf really well."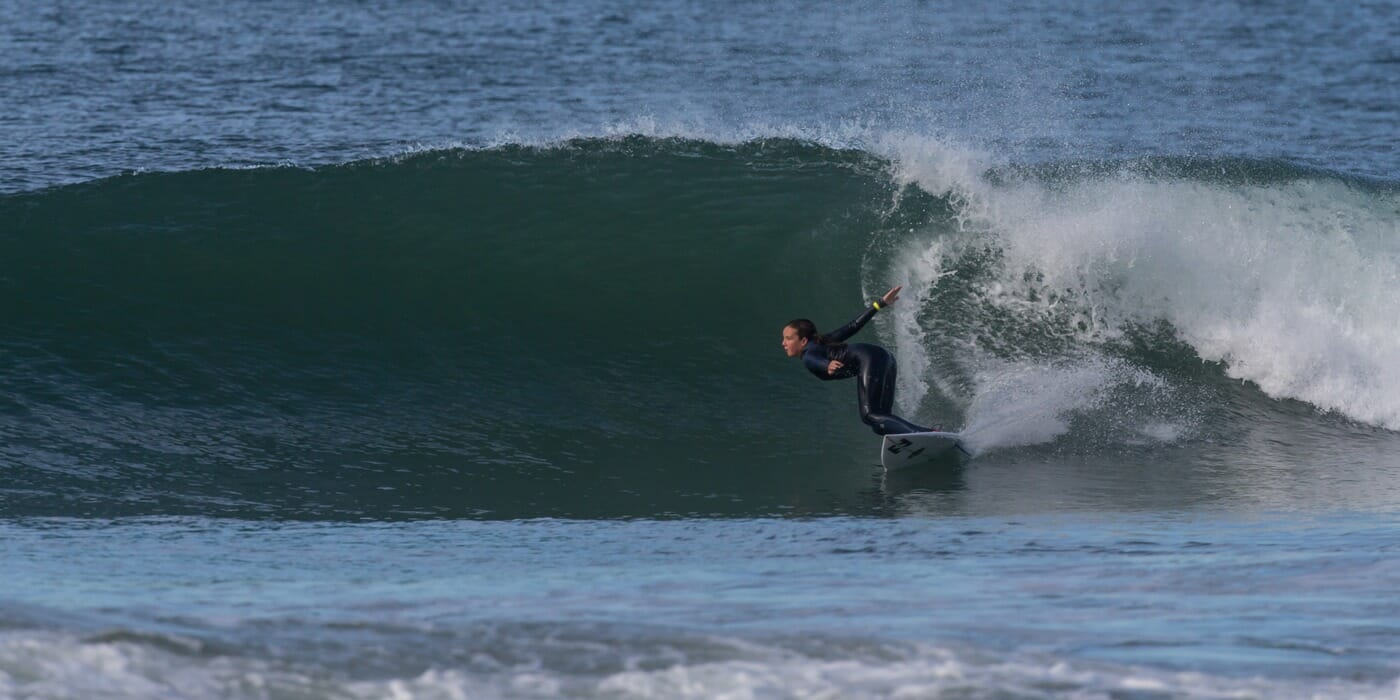 Image of Carly courtesy of Adrenalin Shots
But what about school, friends and a social life?
"I have so many friends on the circuit. We're rivals in the water but once we're out of the surf, everyone hugs and congratulates each other. One of my best friends is Tahlia Marsh who's a BMX champion; we both understand the lifestyle and what it takes. And I've got some great friends from home. This year we hung out at Bluesfest together which was so cool, spending the time catching up with each other. School's good too – Mum home schools me and I do short courses in anything that interests me. I've been getting into film and video editing recently."
Carly hopes one day to win a world title – that's where she's heading. And after pro-surfing?
"I've been making some short videos about surfing. When I was little there weren't as many great surf movies for girls, so I'd really like to do that."
Watch out Witzig and McCoy – you might have competition.
Find Carly on Instagram @carlyjazzshanahan